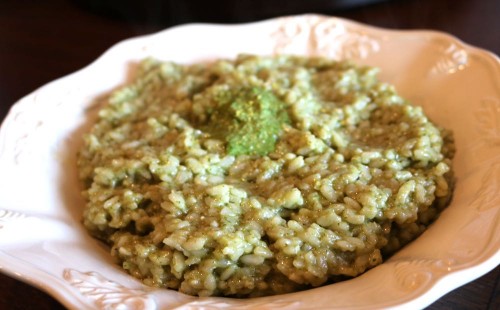 Risotto is one of my most favorite sides and ever since I made this Arugula Pesto last week I have been trying out new ways to use it in all sorts of dishes, and this one is my favorite so far.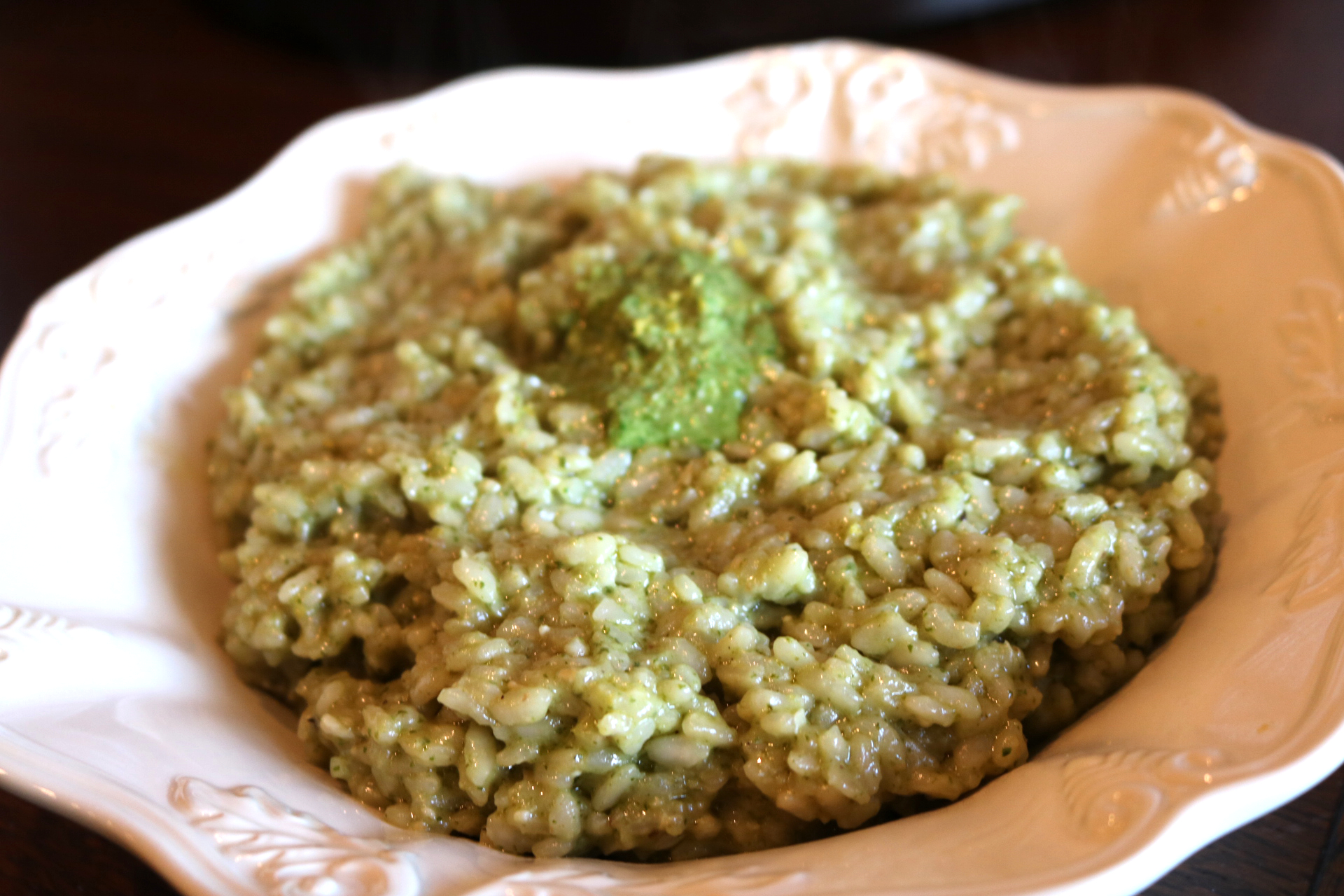 Oh how I love Risotto
I am a big, big fan of risotto. I love it simply done with a little parmesan or something more exotic such as with truffles, but this pesto version is pretty good too. Not only is it delicious but it is also pretty easy to make, making this a perfect side for dinner tonight.
Yes, you can make it tonight…a weeknight. You will be surprised just how easy it is.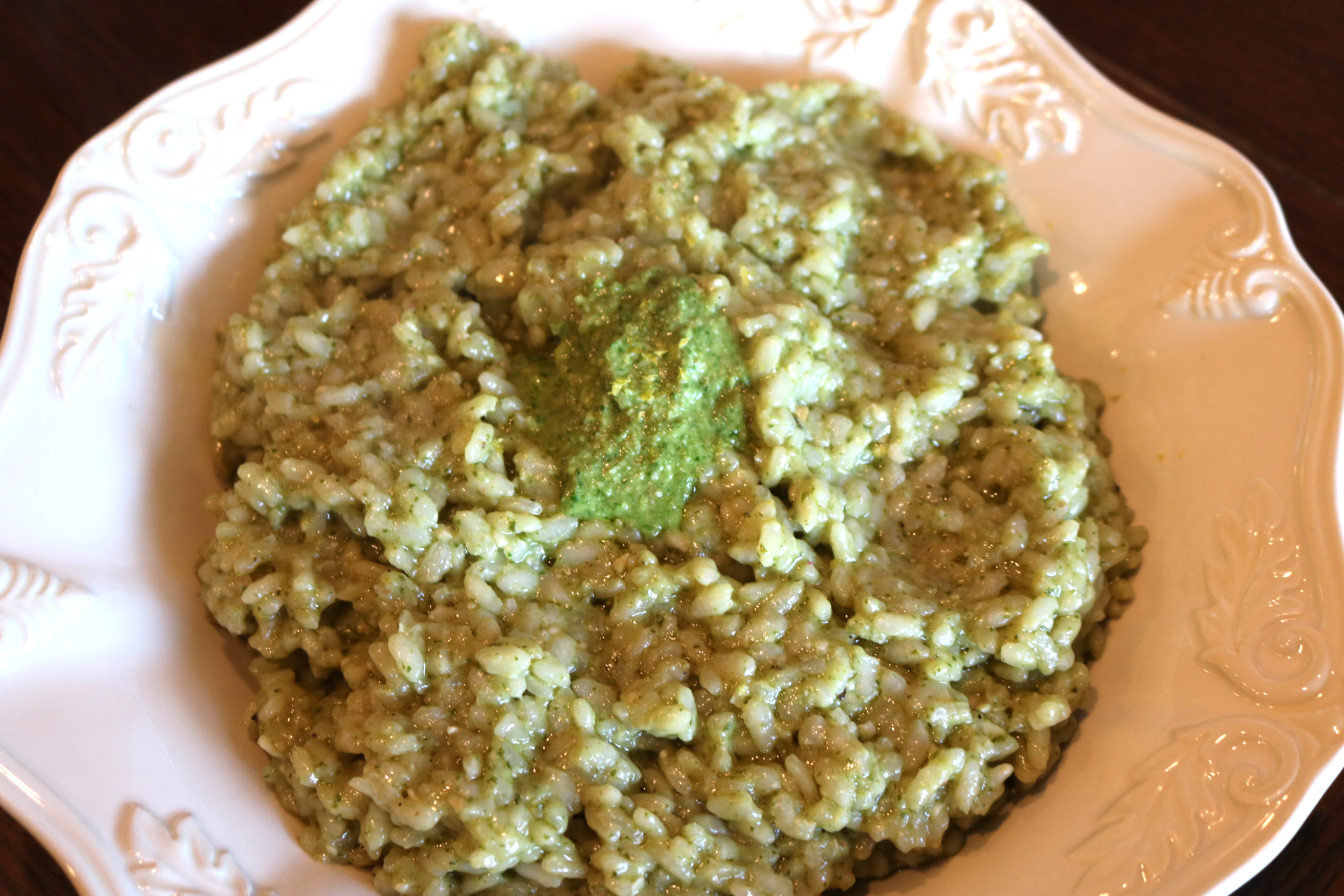 Just keep stirring
The key to any good risotto is to keep stirring. Whether you are using water, stock or a combo it is all about stirring it until the risotto absorbs it. Now I know how time consuming this can be, but trust me it is SOOOOO worth it.
For me I prefer to use a stock as I think it adds a ton of flavor to the dish itself and also makes for a creamy base as it cooks down. If you want you can use beef, chicken or veggie stock or water. Just make sure you keep stirring.
One more thing, make sure the liquid is warm.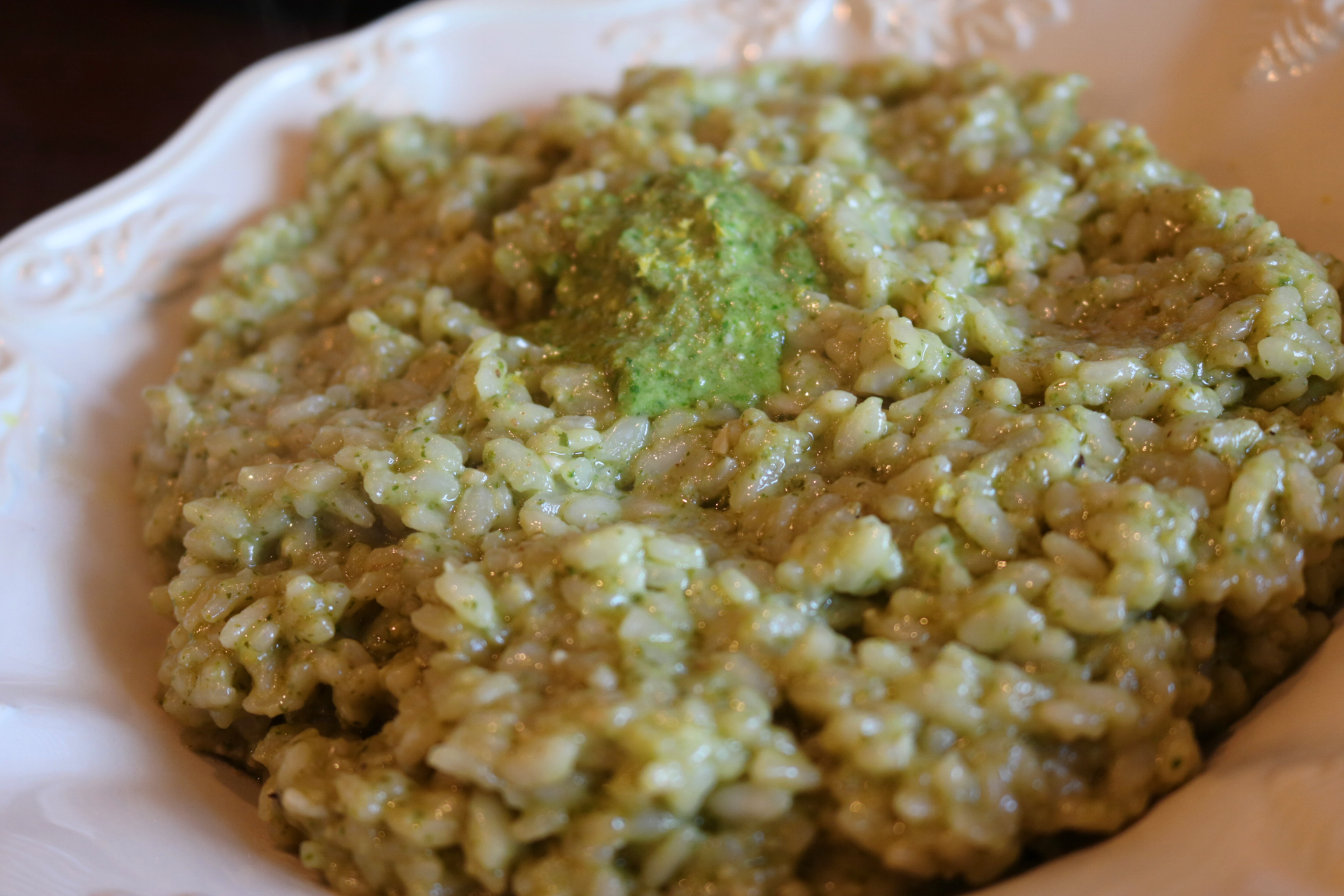 Now for the pesto
Any pesto will work for this recipe, I prefer my Arugula Pesto. I just love this pesto as it is a little hearty and has a nice peppery bite from he arugula.
If you have your own favorite homemade or store bought version feel free to use it…just make sure to add in the lemon for a little extra brightness.
It is time for risotto
Chelle Chelle
6 servings
Pesto Risotto
A rich and creamy risotto loaded with tons of flavor without a ton of ingredients making this a perfect side for dinner this week
5 minPrep Time
30 minCook Time
35 minTotal Time
Ingredients
1 tablespoon extra virgin olive oil
3 cloves minced garlic
1 cup Arborio Rice
4 cups chicken stock
1-2 teaspoons salt
1 teaspoon black pepper
2-3 tablespoons grated parmesan
1 lemon juiced & zested
3 tablespoons Arugula Pesto (or your favorite)
Directions
In a medium saucepan heat olive oil over medium heat
Add in garlic and arborio rice and cook for 2-3 minutes, or until rice begins to look toasted, stirring often to keep garlic from burning
While rice is toasting heat chicken stock in a separate saucepan to a simmer
Add in 1/2 - 3/4 cup of stock at a time, stirring constantly until liquid is al all absorbed, repeating until liquid is all used or rice is tender and creamy
Stir in salt, pepper, parmesan cheese, lemon zest & 1/2 the juice & pesto until well combined
Taste and adjust seasoning as needed
Serve immediately
ENJOY!
Notes
Each serving is 6 WW Smart Points
Nutritional Info
Calories 207 - Calories from Fat 54 - Total Fat 6 g - Saturated Fat 1.3 g - Monounsaturated Fat 2.8 g - Polyunsaturated Fat 2.4 g - Trans Fat 0 g - Cholesterol 5 g - Sodium 982 mg - Potassium 43 mg - Total Carbohydrate 29 g - Dietary Fiber 0 g - Sugars 1 g - Protein 6 g
Vitamin A 0 % - Vitamin C 0 % - Calcium 4 % - Iron 0 %
7.8.1.2
332
https://sparklesnsprouts.com/2017/05/31/pesto-risotto-love/
All images are the property of Sparkles n Sprouts, to use image please contact the webmaster at michelle@sparklesnsprouts.com
Don't let the idea of risotto intimidate you…you can make this risotto tonight. It will be a HUGE hit with the family for sure!!