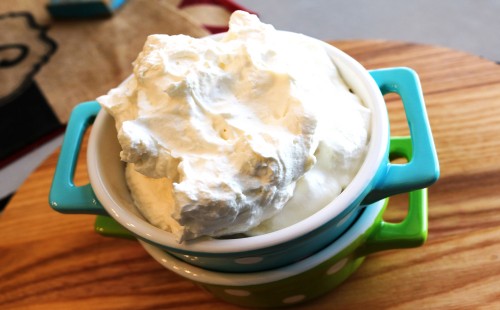 I LOVE HOMEMADE WHIPPED CREAM!!  Ok there I admit it…I LOVE homemade whipped cream.  The first step is admitting it right??  Well there you go…I admit it…I not only love it but I am kinda obsessed with it a little bit.  
My mom would always make homemade whipped cream for special occasions and I was always so excited.  The problem was she would always have to leave the gathering and pull out the mixer and whip it up while her guests were enjoying their drinks because it would deflate if she made it before they arrived…so over the years I have been experimenting with several different stabilizing options to help maintain a fluffy whipped cream for a longer amount of time and finally I found the secret….gelatin.
OK, so the secret is to let the gelatin and water sit of a few minutes before you you dissolve it into the water and then add it into the whipped cream.  This allows the gelatin to set up completely so when you add it into the whipped cream it stabilizes it and will keep it nice and fluffy for hours and hours…making it perfect for Holidays and special occasions.  Or if your like me in the refrigerator for a few days for me to snack on…yes I am that obsessed.  
MJ
12 servings
All Day Whipped Cream
Fresh whipped cream that will last all day and not deflate...it is stabilized making it perfect for all your Holiday plans
5 minPrep Time
20 minTotal Time
Ingredients
1 (tbsp) or envelope unflavored gelatin
1/4 cup water
4 cups heavy whipping cream
1/4 cup sugar
2 tsp vanilla (or any additional flavored extracts you prefer, such as almond or peppermint)
Directions
Place bowl and whisk attachment of a stand mixer (or a large bowl and beaters) into the freezer and freeze for at least 30 minutes
In a small saucepan gently stir gelatin and water together
Let sit for 5 minutes
Over low heat gently stir gelatin mixture until it is completely dissolved
Remove from heat and let cool for 10 minutes
To the very cold bowl add in whipping cream and begin to whisk on medium speed
Slowly add in sugar and gelatin mixture, whipping until soft peaks form
Drizzle in vanilla and continue whipping until stiff peaks form
Spoon whipped cream into a bowl and store in the refrigerator until ready to serve or use in a dessert
Will stay stiff for 12-18 hours
ENJOY!!
Notes
Each serving is 4 WW+ points:
Nutritional Info Calories 158 Calories from Fat 133 Total Fat 14.8g Saturated Fat 9.2g Cholesterol 55mg Sodium 17mg Potassium 31mg Total Carbohydrates 5.4g Sugars 4.3g Protein 1.1g Vitamin A 12% Vitamin C 0% Calcium 3% Iron 0% Nutrition Grade F
7.8.1.2
129
https://sparklesnsprouts.com/2015/11/24/whipped-cream/
All images are the property of Sparkles n Sprouts, to use image please contact the webmaster at michelle@sparklesnsprouts.com
Homemade whipped cream makes any dessert extra special and this all day whipped cream makes it easier than ever!!
Happy (half) Baked Life – MJ