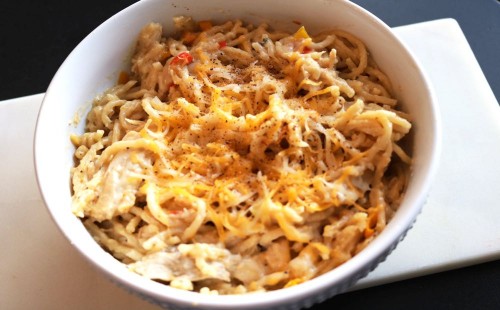 Chicken Spaghetti…from scratch!!
Chicken spaghetti has been a favorite of mine for many, many years.  Ever since one of my oldest friends, Bonnie, made it for me.  Back then we used canned everything (including canned chicken) and processed anything we could find, and it was SOOOOO good.

Remaking a favorite
As much as I love this classic I decided Iw anted to remake it…all from scratch.
OK I know from scratch can sound kinda scary but don't worry this from scratch recipe is super easy.  To add in a ton of flavor and a little color I start with red, orange or yellow bell peppers.  Most of the time I will use 1 red and 1 orange or yellow one, some chopped onion and of course a little garlic.  This really is like my own version of the trinity.  Instead of celery I use garlic (I am not a big fan of celery).
To make it super special I add in sour cream to the sauce…yes sour cream.  It adds a perfect bit of tang and creaminess to the casserole that makes this chicken spaghetti something to remember.
As for the chicken I used rotisserie chicken.  I love this option as it a huge timesaver, tastes delicious and it super easy.  If you are not a fan, feel free to roast your own and use whatever cuts you like.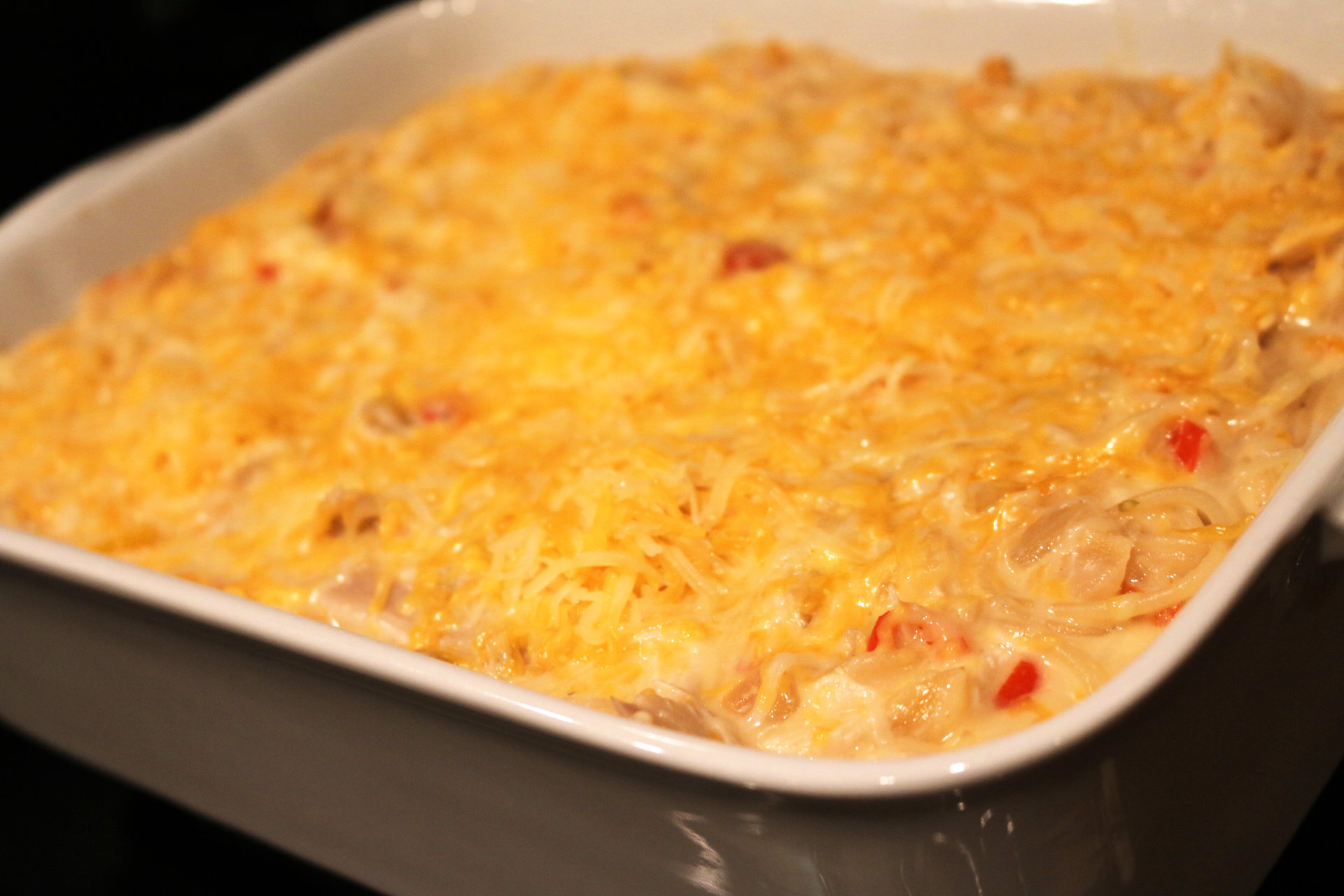 Don't forget the cheese
One of my favorite parts of my friends Chicken Spaghetti is the tons of cheese.  There is cheese on the inside and on the top, giving each bite a ton of cheesy goodness.    The original recipe uses velveeta cheese, which I LOVE…but I wanted to change it up a bit so I used 1 cup of shredded cheddar and 1 cup of mexican blend cheese.
I prefer this combo as the cheddar adds a perfect little bite and the mexican blend melts into a cheesy river of goodness.  Yes I love cheese, I admit it.  It's ok. I am getting help for it.
Get to making this NOW…
MJ
16 servings
Chicken Spaghetti
A rich and creamy chicken spaghetti without any canned soups...it is made from scratch but done in no time
20 minPrep Time
45 minCook Time
1 hr, 15 Total Time
Ingredients
16 ounces spaghetti noodles
1 tablespoon extra virgin olive oil
1 tablespoon butter
2 large bell peppers, chopped (I used red & yellow)
1 large onion, chopped
2 cloves garlic minced
2 teaspoons salt
2 teaspoons black pepper
2 teaspoons chili powder
2 tablespoons all-purpose flour
2-3 cups Chicken stock
1 cup sour cream
2 cups, shredded Mexican Blend or Cheddar Cheese, divided
2 cups shredded rotisserie, skin removed
Directions
Preheat oven to 350
Spray a large casserole dish with nonstick spray, set aside
n a large stock pot cook pasta to al dente according to box instructions and drain
In a separate sauce pan or large skillet heat olive oil and butter over medium heat
Add in bell peppers & onion, cooking until softened (about 4-5 minutes)
Stir in garlic, salt, pepper & chili powder, cooking for another 1-2 minutes
Whisk in flour and cook for 3-4 minutes, stirring often
Stir in chicken stock, starting with 2 cups, and bring mixture to a boil
Reduce to a simmer and let mixture thicken, adding in more chicken stock if mixture is too thick
Remove from heat and stir in sour cream and 1 cup of cheese until well combined
Stir in chicken
Taste and adjust seasoning as needed
Add in cooked noodles and toss to combine
Pour into prepared casserole dish
Sprinkle remaining cheese over the top
Cover and bake for 20 minutes and then remove foil and continue baking for another 15-20 minutes, or until sauce is bubbly and cheese is browned
Remove from oven and let stand for 10 minutes before serving
ENJOY!!
Notes
Each serving is 7 WW Smart Points
Nutritional Info
Calories 225 - Calories from Fat 81 - Total Fat 9 g - Saturated Fat 4.8 g - Monounsaturated Fat 3.1 g - Polyunsaturated Fat 0.7 g - Trans Fat 0 g - Cholesterol 26 g - Sodium 458 mg - Potassium 216 mg - Total Carbohydrate 25 g - Dietary Fiber 1 g - Sugars 2 g - Protein 9 g
Vitamin A 19 % - Vitamin C 67 % - Calcium 13 % - Iron 6 %
7.8.1.2
305
https://sparklesnsprouts.com/2017/03/01/chicken-spaghetti-from-scratch/
All images are the property of Sparkles n Sprouts, to use image please contact the webmaster at michelle@sparklesnsprouts.com

Great for now and later
One of my friends just had a baby and this was what I took over to them.  The beauty is you can get the casserole ready to bake and then freeze it or bake it right away, and it will be AMAZING either way.
I love having this option especially when bringing food to someone who just had surgery, experienced a loss or just because your awesome and decided to be a blessing to someone.
I usually make a double batch (because it is just so easy) and that way I always have one in the freezer ready to go.
Oh yeah…the new dad LOVED this casserole and ate 4 helpings the night we brought it over.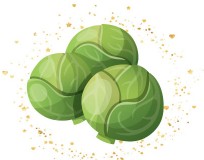 Make today sparkle – MJ