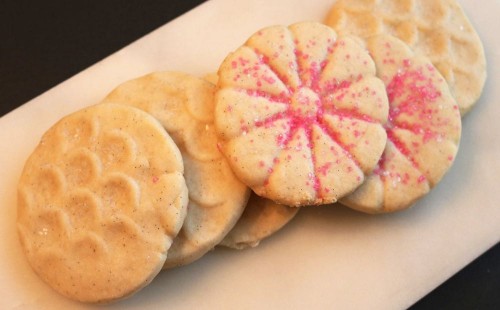 this ain't your normal sugar cookie
Sugar cookies are my mom's favorite cookie.  She would eat them everyday, if I made them for her everyday.  Thankfully for her I don't…or her time at the gym would be a lot more than it is right now.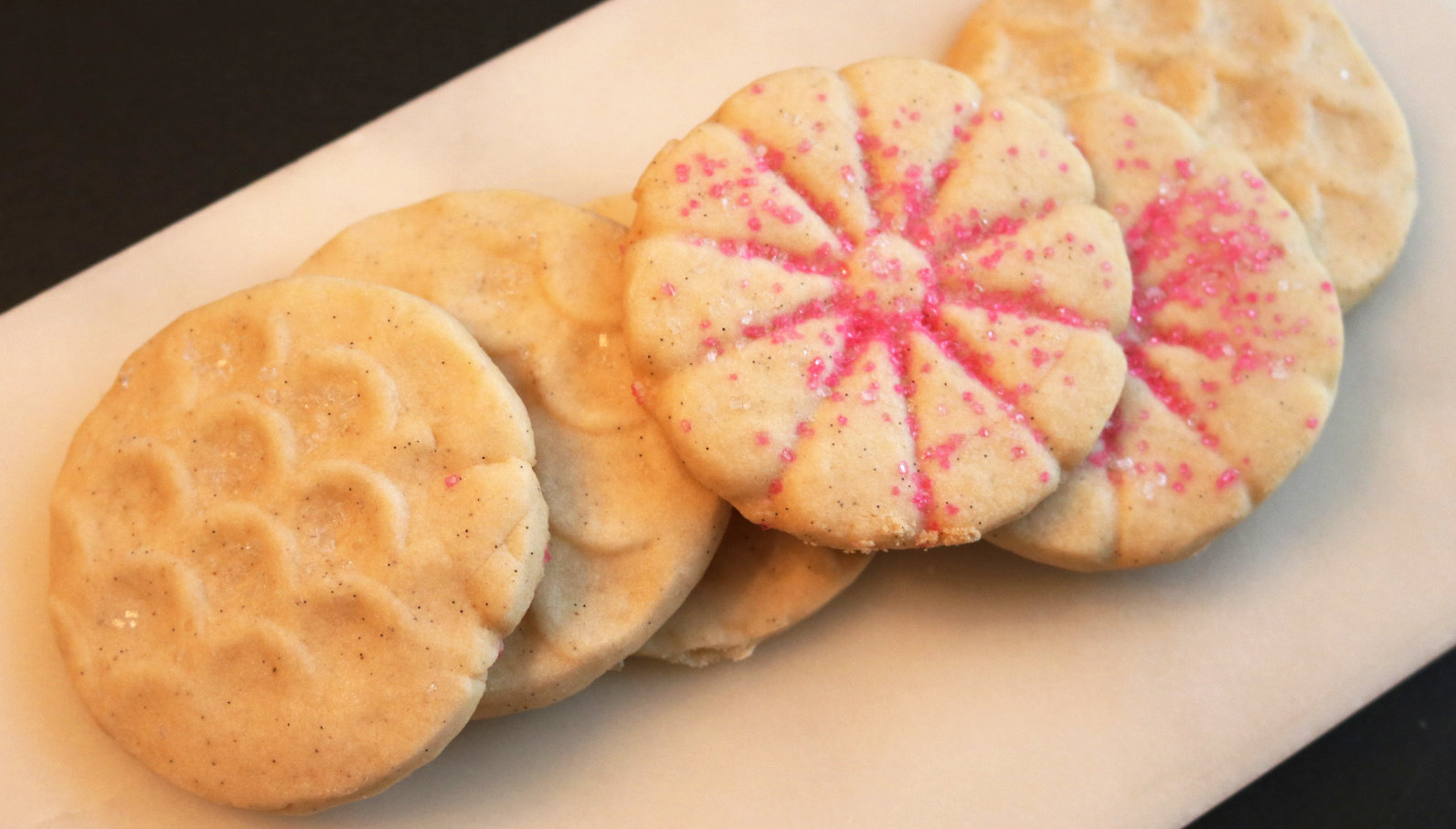 Time for something new
My Mom is not the only one who loves sugar cookies though.  I am also a HUGE fan so when I was at one of my favorite  cooking store (Sur La Table) and saw these cookie stamps I knew it was time to make these shortbread sugar cookies.  Since I was going to be using a new technique I decided to use a new recipe.
I have been eying this recipe for quite some time.  It is from a old church cookbook my MeeMaw gave me then I got married from a church in Missouri.  It is loaded with tons of amazing recipes, but this sugar cookie has always caught my eye.
I have always been a huge fan of shortbread cookies, but to give them a sugar cookie spin I knew they were going to be amazing…and I was SO, SO RIGHT!

And they are pretty
The minute I saw these cookie stamps I became immediately obsessed.  They turn an ordinary cookie into a little piece of art (that you can eat).  Even better you do not have to have any decorating abilities AT ALL to make these cookies beautiful…all you have to do is stamp.
Admittedly I am not the best decorator in the world, ok really I don't have any decorating skills in my body, so these stamps have changed my world.  I can take an ordinary sugar cookie and turn them into something that I could give as a gift.  I love that so much!!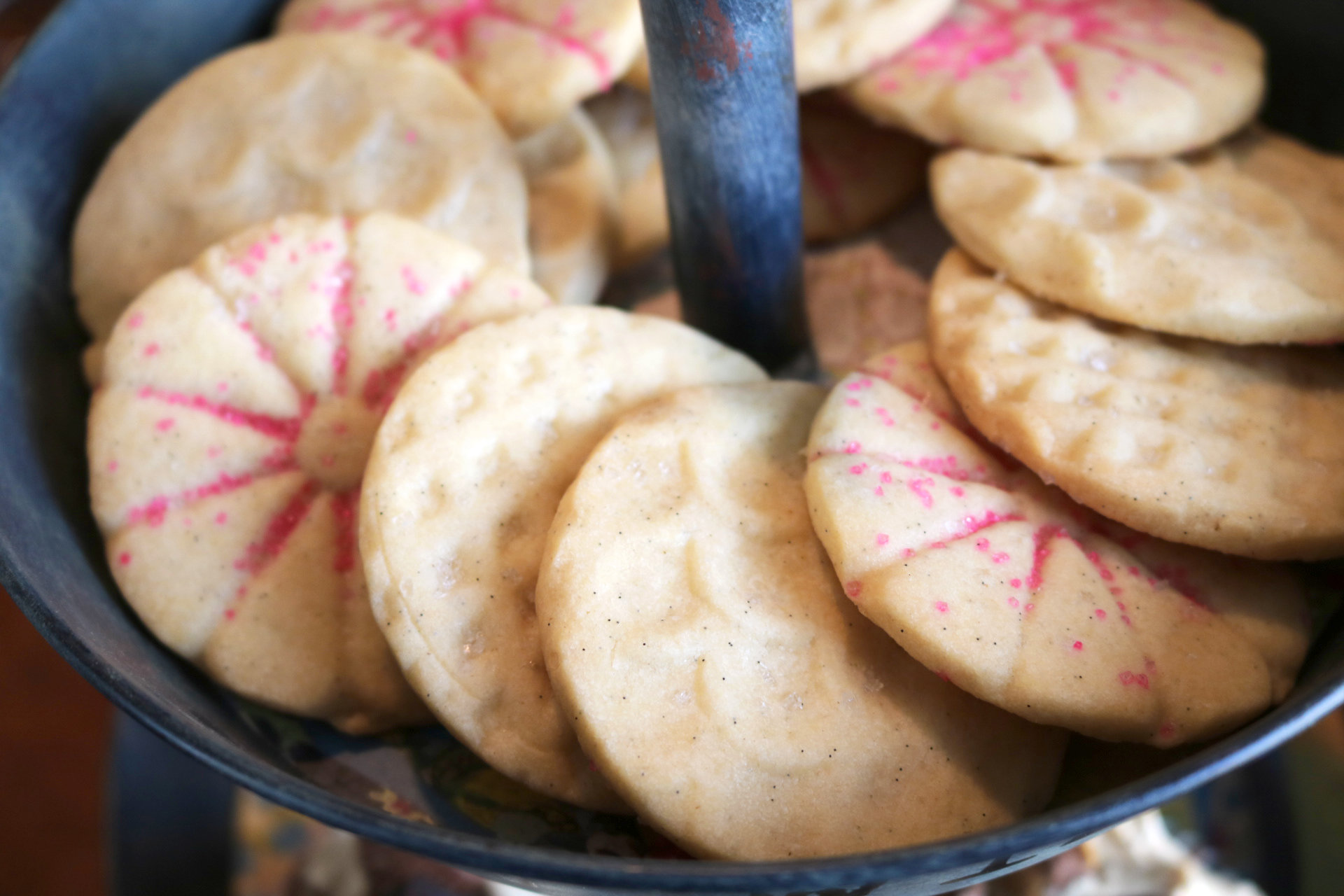 Perfect for your next party
Anytime I entertain I always try to have a variety of dessert options.  Some chocolate, some not and these are perfect for the non-chocolate people in your life.  They have a nice sweetness to them but they are not overly sweet, making them a nice option for everyone.
They also have a great crumble to them, which is something I LOVE about shortbread.
For an fun family get together with some old friends I served these cookies with my Oreo Whoopie Pies and these Espresso Salted Caramel Brownies.  All were a hit, but these cookies were a BIG Hit!!
Plus look how cute they look in the dessert stand!!
Get the butter out!!
MJ
48 cookies
Shortbread Sugar Cookies
A crisp shortbread sugar cookie that is a perfect treat for any occasion
15 minPrep Time
15 minCook Time
45 minTotal Time
Ingredients
1 cup butter, room temperature
1 cup powdered sugar
2 teaspoons vanilla bean paste (or vanilla extract)
2 1/4 cups all-purpose flour
1/2 cup course sugar, or sprinkles, for sprinkling
Directions
Preheat oven to 350
Line cookie sheets with parchment paper, set aside
In the bowl of a stand mixer cream together butter and sugar until light and creamy
Add in vanilla bean paste and mix until just combined, scraping down the sides as needed
Slowly add in flour, mixing until just combined, make sure to not over mix
Remove dough and divide into fourths
On a lightly floured surface roll 1/4 of dough out to about 1/4" thick
Using a round cookie cutter cut cookies out and place onto prepared pan
Using a cookie stamp gently press design onto cookie round
Sprinkle with sugar (or sprinkles)
Bake for 13-15 minutes, or until cookies are just starting to brown on edges
Remove and let cool on cookie sheet for 4-5 minutes and then place on a cooling rack to cool completely
Serve immediately or store in an airtight container for 4-5 days
ENJOY!!
Notes
Each cookie is 4 WW Smart Points
Nutritional Info Calories 79 - Calories from Fat 27 - Total Fat 3 g - Saturated Fat 1.9 g - Monounsaturated Fat 1.6 g - Polyunsaturated Fat 0.2 g - Trans Fat 0 g - Cholesterol 10 g - Sodium 27 mg - Potassium 7 mg - Total Carbohydrate 10 g - Dietary Fiber 0 g - Sugars 6 g - Protein 0 g
Vitamin A 2 % - Vitamin C 0 % - Calcium 0 % - Iron 0 %
7.8.1.2
315
https://sparklesnsprouts.com/2017/03/03/this-aint-your-normal-sugar-cookie/
All images are the property of Sparkles n Sprouts, to use image please contact the webmaster at michelle@sparklesnsprouts.com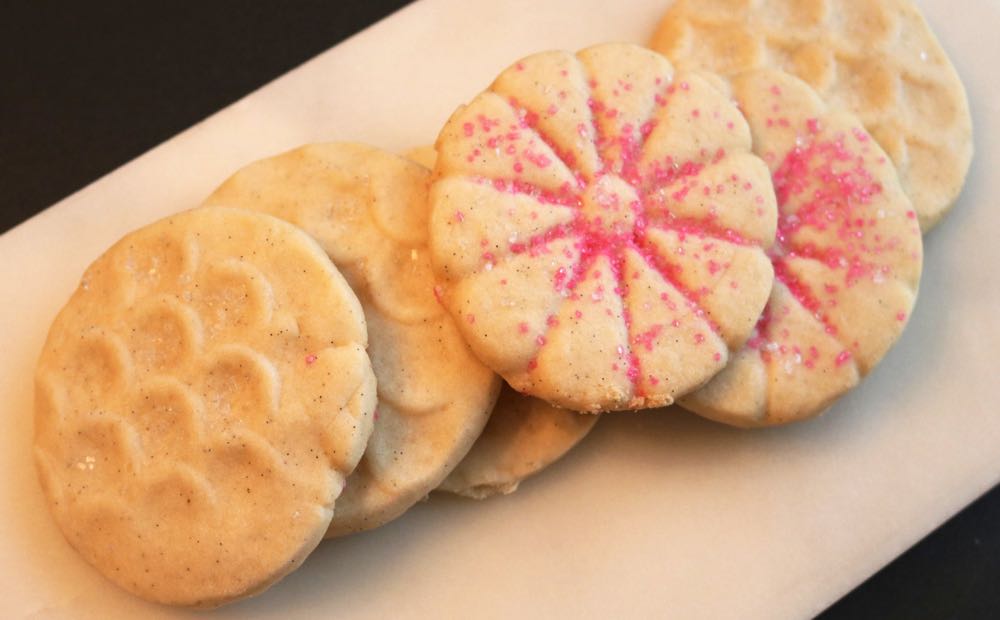 Whether you are entertaining for a big crowd or just want a fun treat for your family these cookies are a perfect option.  They are super easy to get together and are just SOOOO good.
If you don't have cookie stamps don't worry, just roll them out and use whatever cookie cutter you have.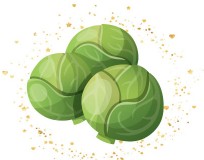 Make today sparkle – MJ