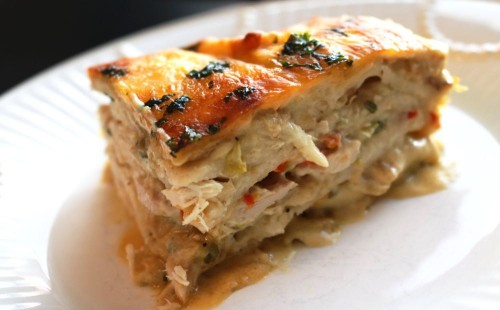 King Ranch Chicken…my way
Living in Texas I grew up eating a delicious layered casserole called King Ranch Chicken.  It is a rich and very cheesy mexican inspired casserole that always was a huge hit with family, friends and any pot luck it was brought too.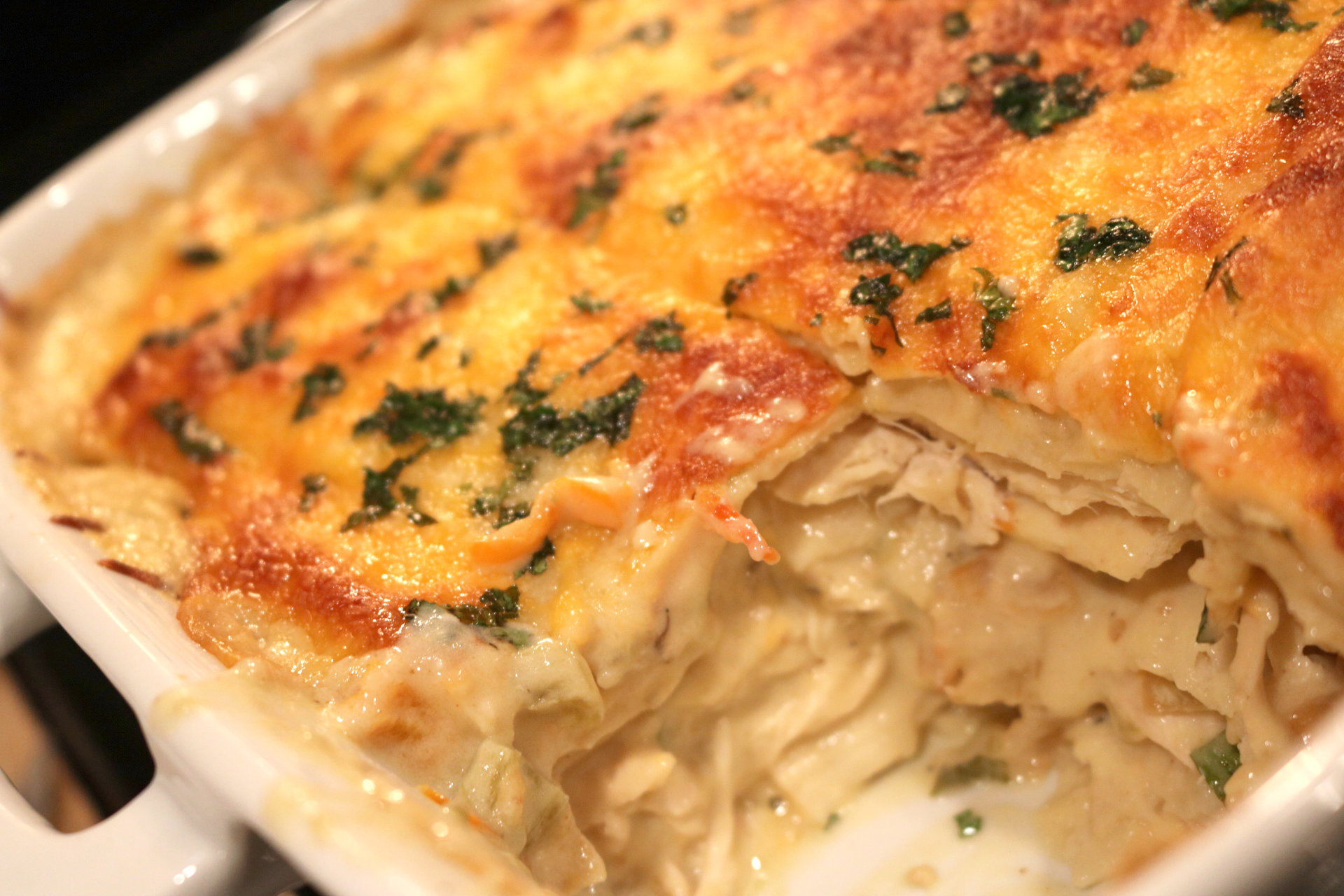 A throwback made my way…
Since I was little my mom has been making this casserole.  Sometimes she uses corn tortillas, sometimes flour.  She has used grilled chicken, rotisserie chicken and even canned chicken.  Every once in a while she throws in some veggies, but we try to discourage such healthy behavior.  I mean this cheesy & creamy casserole does not need any veggies to make it more healthy (you know I'm kidding, kind of).
My mom always makes this casserole with canned cream of chicken soup.  Canned soup is not my cup of tea so I am changing it up a bit.   I decided to make my own creamy base, but don't worry it is so easy, you will never use the canned version again!
I also used rotisserie chicken but you could use roasted chicken breasts or thighs.  Canned chicken would work as well, it really is that versatile.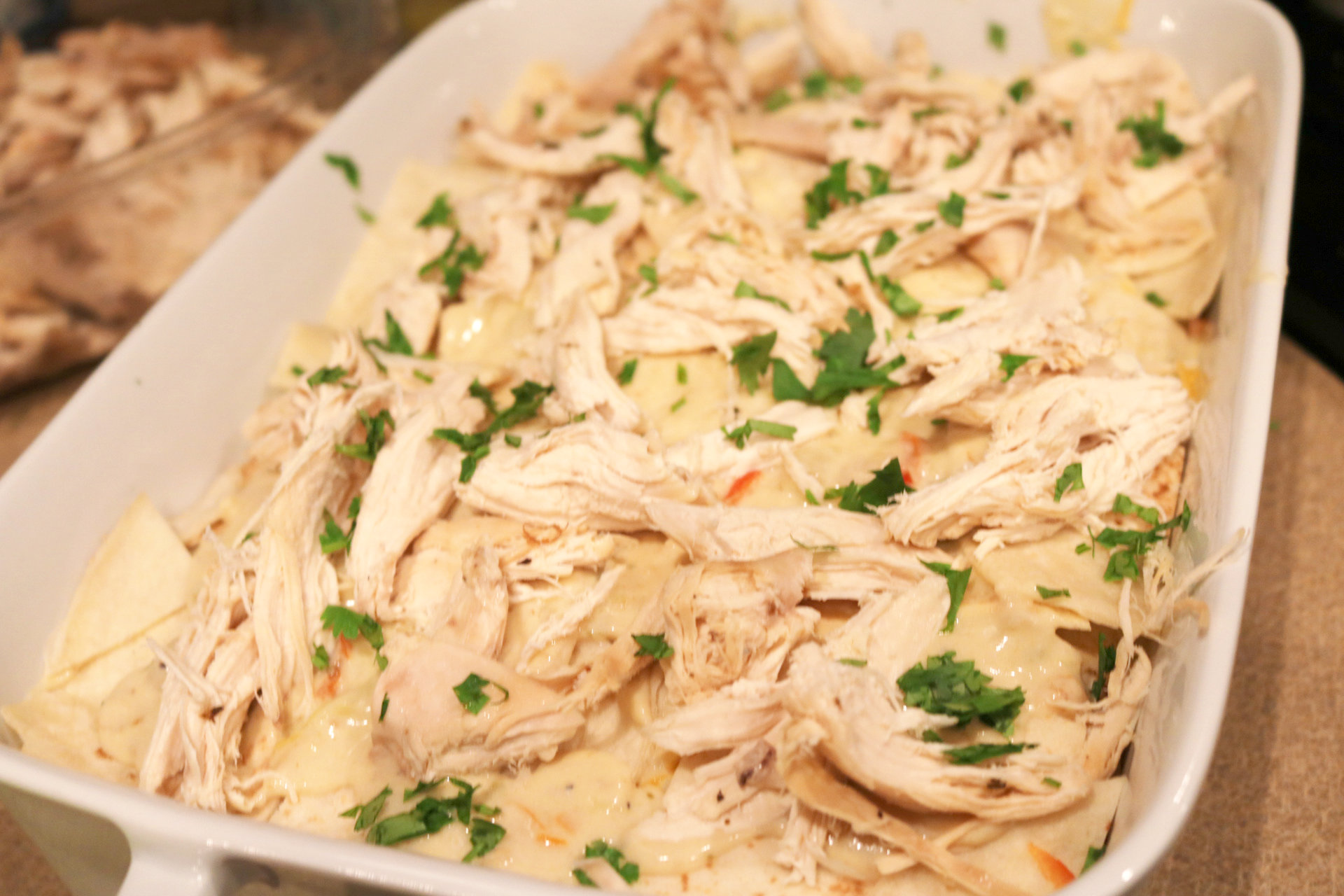 Layers Upon Layers
One of the best parts of this casserole are all the layers.  It starts with some of the creamy sauce, and then tortillas, chicken, cilantro, sauce, cheese…repeat again and again.  It is always fun to see how many layers you can get.  For this casserole I got 3 1/2 (I ran out of chicken).
The key is to use a deep casserole dish so you can a bunch of layers…it really is all about the layers.  It really, really is.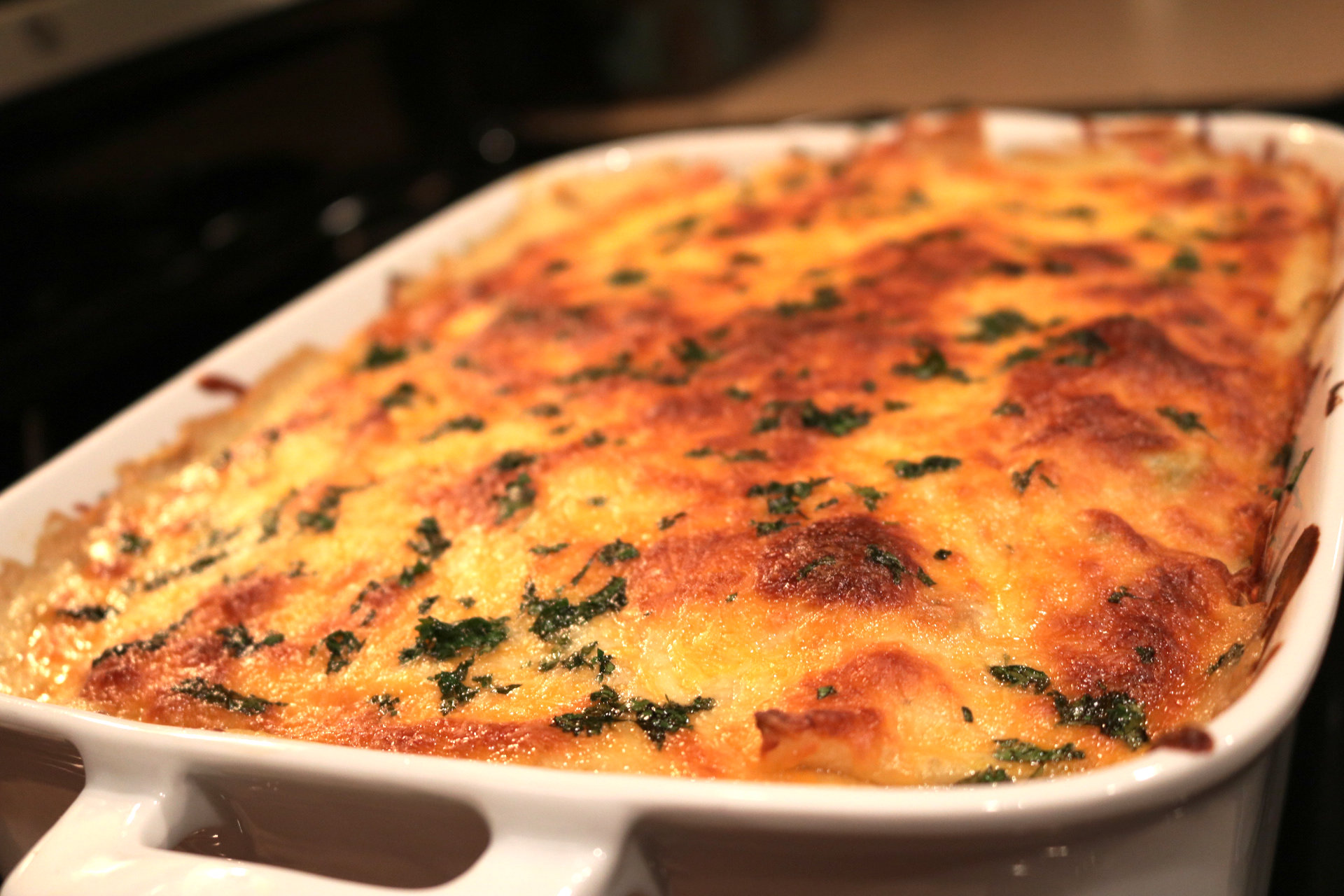 Brown it up
After all the layers my favorite part is the browned cheese on top.  I always start baking the casserole with foil covering the casserole dish.  This help to ensure all the flavors come together inside and make sure the creamy sauce gets nice and bubbly.  After 20 minutes though the foil comes off so the top that has been covered with a nice layer of cheese can get nice and browned.
It is from this browning that you get just one more layer of flavor…and this layer is a must have for me.  My favorite piece is always the corner, it is just so yummy.

Plan to make this ASAP
MJ
16 servings
King Ranch Chicken
A rich and creamy King Ranch Chicken that is loaded with tons of flavor but comes together easily. It is all made from scratch and no canned soups are used.
15 minPrep Time
45 minCook Time
1 hr, 20 Total Time
Ingredients
1 tablespoon extra virgin olive oil
1 tablespoon butter
1 large Onion, chopped
2 medium bell peppers, chopped - I used 1 red & 1 orange
2 cloves garlic minced
8 oz chopped Green chiles
2 teaspoons ground cumin
1 teaspoon chili powder
2 tablespoons all-purpose flour
2 cups chicken stock
1 cup Light Sour Cream
8 ounces salsa verde
2 cups, shredded Mexican Blend or Co-Jack cheese, divided
5 cups chopped chicken - I used rotisserie chicken
1/2 cup fresh cilantro, chopped (optional)
12 flour tortillas (approx 10") - you could use corn if you would like, cut into 8 sections
Directions
Preheat oven to 400
Spray a large casserole dish with nonstick spray, set aside
In a large skillet heat olive oil and butter over medium heat
Add in chopped onions and peppers and cook until softened, about 4-5 minutes
Stir in garlic, green chilies, cumin and chili powder and cook for another 2 minutes
Stir in flour, and cook for 2 minutes, stirring constantly
Whisk in chicken stock and bring to a boil, stirring often
Reduce to simmer and let cook for 5-7 minutes, or until sauce thickens
Remove from heat and stir in sour cream, salsa, and 1 cup of shredded cheese, until smooth and cheese is melted
Spread 1/2 cup of sauce into bottom of casserole dish
Lay tortilla pieces in a single layer over sauce
Spread 1/3 of the chicken over tortillas and some fresh cilantro (if using)
Pour 1/4 of the remaining sauce over chicken
Repeat until all the chicken is used
Cover with remaining tortillas and the last of the sauce
Sprinkle remaining cheese over the top
Cover with foil and cook for 20 minutes
Remove foil and continue cooking for another 15-20 minutes or until cheese is browned and sauce is bubbly
Let stand for 15 minutes before slicing
Serve & ENJOY!
Notes
Each serving is 10 WW Smart Points
Nutritional Info Calories 333 - Calories from Fat 126 - Total Fat 14 g - Saturated Fat 6.2 g - Monounsaturated Fat 5.8 g - Polyunsaturated Fat 1.4 g - Trans Fat 0 g - Cholesterol 38 g - Sodium 482 mg - Potassium 252 mg - Total Carbohydrate 35 g - Dietary Fiber 2 g - Sugars 1 g - Protein 15 g
Vitamin A 17 % - Vitamin C 48 % - Calcium 20 % - Iron 11 %
7.8.1.2
307
https://sparklesnsprouts.com/2017/02/15/king-ranch-chicken-my-way/
All images are the property of Sparkles n Sprouts, to use image please contact the webmaster at michelle@sparklesnsprouts.com
Perfect for a busy week
Another thing I love so much about this casserole is that you can prep it ahead of time and then bake it when you get home.  The last time I made this I prepped everything the night before (after I cleaned up dinner) covered it and put it in the fridge.  Then when I got home after a crazy day all I had to do was get it in the oven.
Please note if you are baking straight from the refrigerator bake for 35 minutes with the foil on before taking it off.
Trust me this is a must make!!

Make today sparkle – MJ