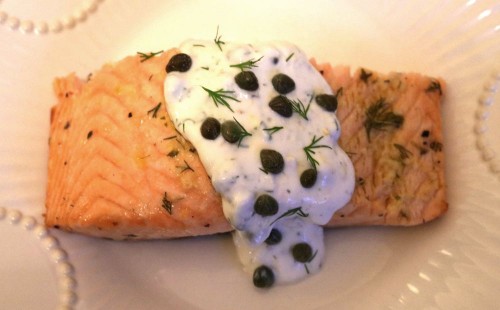 Salmon is a go to dinner for The Hubby and I.  We always have some in the freezer.  Quick tip, we buy in bulk on sale and cut into serving size portions.  It is quick to thaw and quick to fix, my kind of weeknight dinner.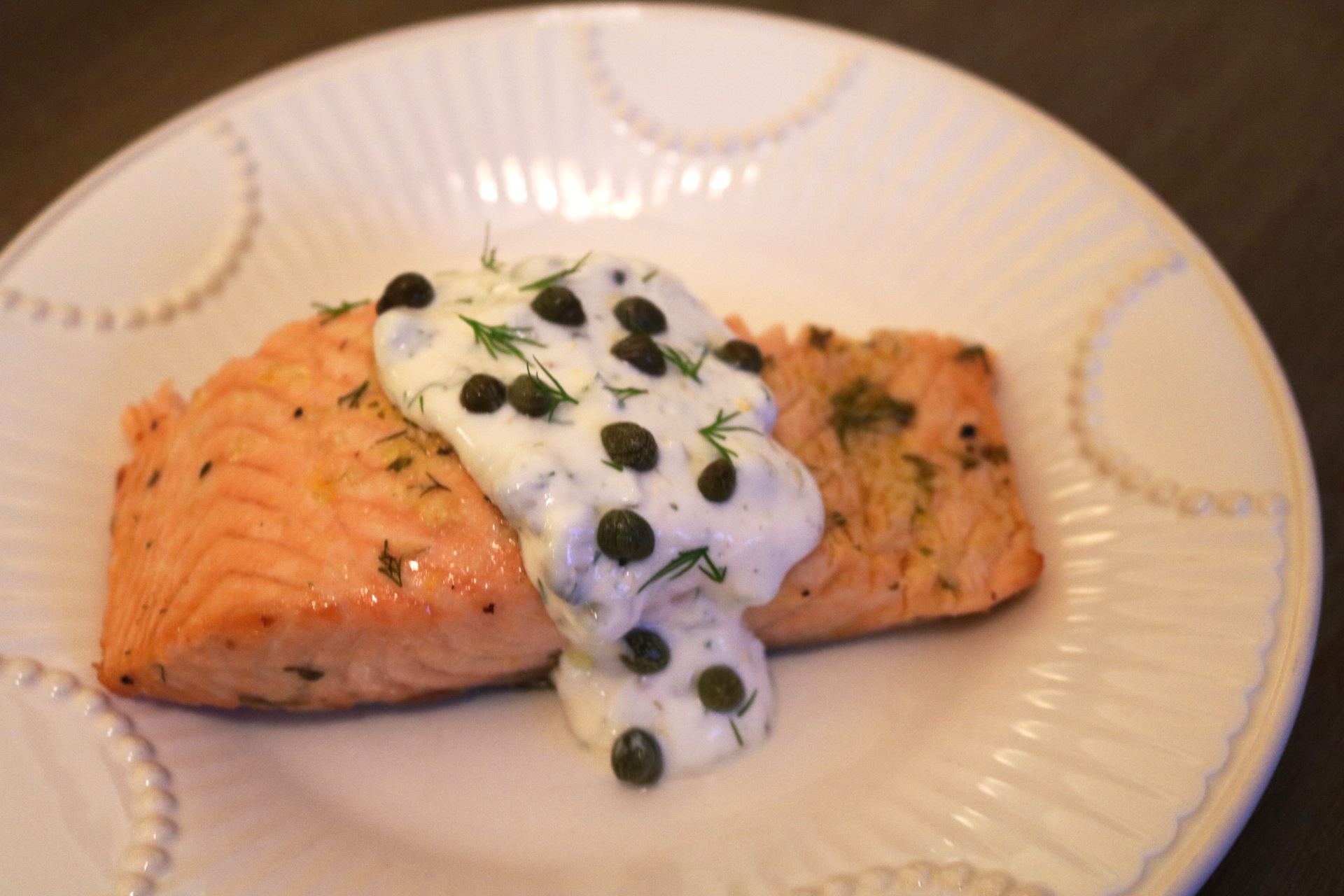 A fan or not….
Dill is one of those herbs that people love or hate it seems.  Me I am a big fan, The Hubby thinks he is not…well that is until now.   Now I completely understand that there be some out there who are not big fans of this little herb.  It can be very overpowering, but it doesn't have to be.
This salmon made The Hubby a dill fan, and trust me if I can turn The Hubby into a fan you can become one as well.

Dilly, Dill, Dill…
To really bring the freshness of dill out I used it both in the marinade for the salmon and in the sauce.  So why both, you ask?
First lets talk about the marinade.  I love to marinade salmon.  It is the perfect fish to soak up all the yummy from a marinade.  The beauty of this marinade is that it is only a few simple ingredients but it packs a ton of flavor.  The lemon with the dill and other spices really works to make this perfect for salmon, or even chicken.
Now lets talk about the sauce.  Oh this sauce.  I could literally eat this sauce with a spoon and nothing else…I love it that much.  It is rich, creamy and loaded with flavor.  The capers add a perfect little salty hit and the sour cream and yogurt add a little tang, the dill brings freshness and the lemon some brightness.  It really is a perfectly balanced sauce that is perfect for salmon, flounder, chicken…heck even chips.  Yes I ate the leftover sauce with chips, and I am proud of it.
Bring on the salmon
MJ
4 servings
Salmon with Creamy Dill Sauce
A delicious roasted salmon topped with a creamy dill sauce that will make this salmon dish something to remember
5 minPrep Time
20 minCook Time
50 minTotal Time
Ingredients
16 ounces, boneless and skinless salmon filet
Salmon Marinade
1 tablespoon extra virgin olive oil
1 lemon, zested and juiced
3 garlic cloves, minced
1 teaspoon salt
1 teaspoon fresh dill weed
1/2 teaspoon dried oregano
1/2 tablespoon crushed red pepper flakes
Creamy Dill Sauce
1/2 cup fat free plain Greek plain
1/2 cup light sour cream
2 tablespoons capers, drained
1 lemon, zested and juiced
2-3 tablespoons, fresh dill weed, chopped
1 teaspoon salt
1 teaspoon black pepper
Directions
Place salmon filet in a large zip top bag
In a small bowl whisk together all the marinade ingredients until well combined
Pour marinade into bag and turn to make sure salmon is evenly coated
Place into refrigerator and let marinate for 20-30 minutes
While fish is marinating in a medium bowl whisk together yogurt and sour cream until smooth
Stir in caper, lemon zest & juice, dill, salt & pepper
Taste and adjust seasoning as needed (you may need a little more dill or salt)
Place into refrigerator until ready to serve
Preheat oven to 425
Line a rimmed baking sheet with parchment paper
Place fish onto prepared baking pan
Place into oven and cook for 20-25 minutes, or until cooked thorough
Remove and let stand for 5 minutes
Cut into 4 oz servings
Serve with 2-3 tablespoons of sauce
ENJOY!!
Notes
Each servings (4 oz salmon filet with 3 tablespoons of dill sauce) is 8 WW Smart Points
Nutritional Info
Calories 288 - Calories from Fat 153 - Total Fat 17 g - Saturated Fat 5.5 g - Monounsaturated Fat 5.8 g - Polyunsaturated Fat 2.3 g - Trans Fat 0 g - Cholesterol 89 g - Sodium 1374 mg - Potassium 566 mg - Total Carbohydrate 7 g - Dietary Fiber 1 g - Sugars 3 g - Protein 26 g
Vitamin A 6 % - Vitamin C 35 % - Calcium 7 % - Iron 6 %
7.8.1.2
301
https://sparklesnsprouts.com/2017/02/17/dill-has-a-new-friend/
All images are the property of Sparkles n Sprouts, to use image please contact the webmaster at michelle@sparklesnsprouts.com

One more thing…it is just so pretty
I made this for a quick weeknight dinner for The Hubby and I, but once I saw how pretty it turned out I decided this needed to be made for a dinner party ASAP.  It is so pretty and looks so fancy, but it is so easy to make it is perfect to impress your friends and family.  LOVE dishes like that!!
Make today Sparkle – MJ