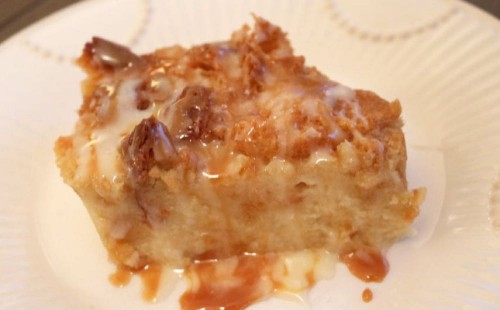 my favorite bread pudding
My dad and I are HUGE fans of bread pudding.  Since I was a little girl I have always loved bread pudding.  I have tried many over the years but there is one that is my favorite.  I love the White Chocolate Bread Pudding from Ruggles Green here in Houston.  If you ever make it here…you have to go there!!

It starts with the bread
For a bread pudding to be AMAZING it starts with the bread.  For this recipe I went with a brioche.  It is a rich and buttery bread that absorbs the custard while not falling apart.
I was not planning on making this bread pudding but I was at the most precious little farm to table restaurant, Provisions, and they had some fresh baked brioche bread for sale, and I love their brioche bread.  They have a grilled cheese that I always order on this bread so I knew I had to have the loaf.  Once I got it home I started thinking about all the ways I wanted to use it and then it hit me…bread pudding.
Since bread pudding is not something I make everyday I knew I had to make my favorite…at least my version of it.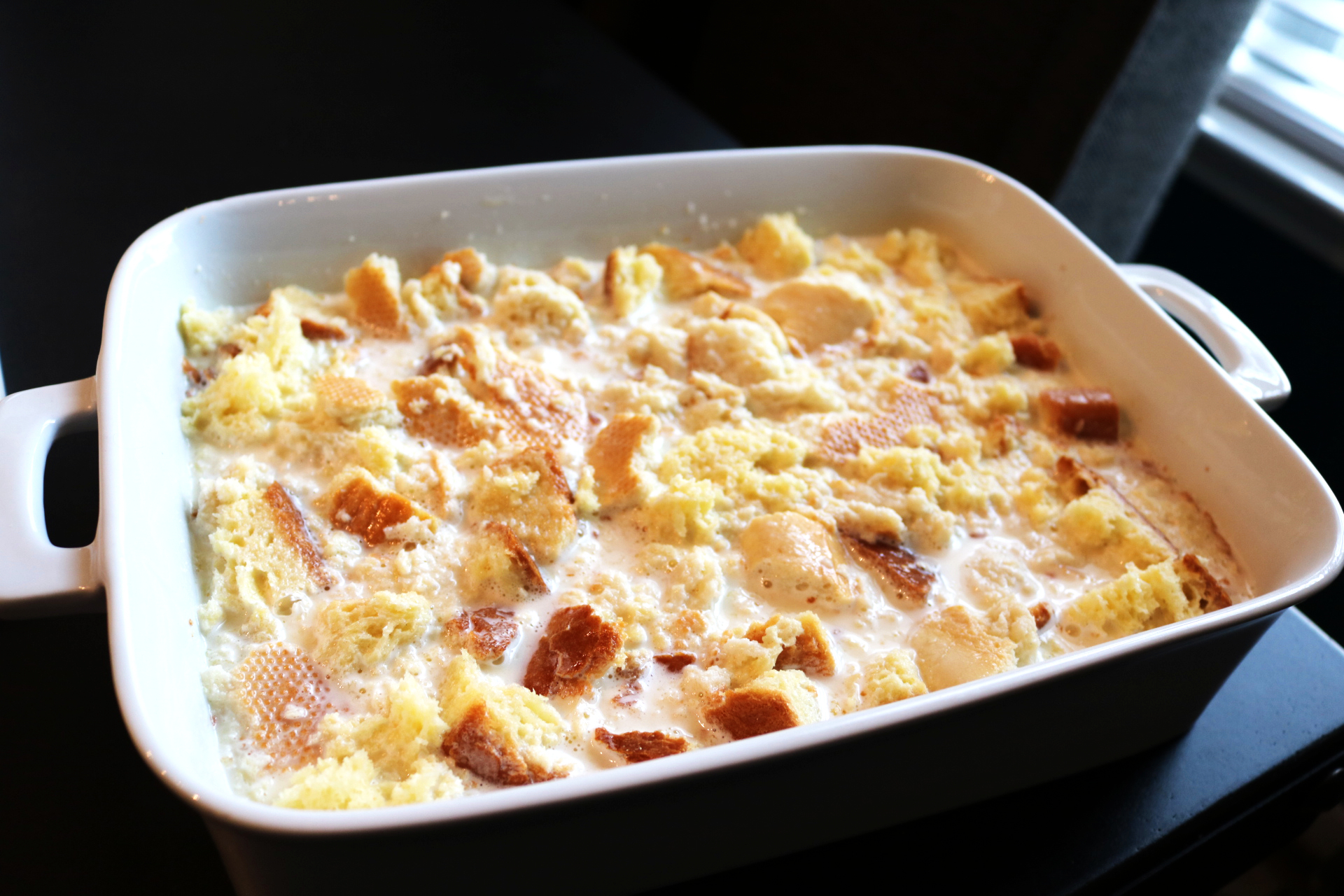 The deeper the better
At Ruggles they serve the bread pudding in individual oval ramekins, but for The Hubby and I wanted to make it in a big casserole dish.  I made sure to use one of my deeper casserole dishes as I wanted to make sure to be able to get as much custard in there as possible. The custard is where all the yummy lives, so the more the better.
I also like the big thick servings you get when making it in a casserole dish.  If you would prefer to make them in ramekins though feel free to do so.  Just adjust cooking time as needed, but make sure to still cook in a water bath.
It is worth the wait
MJ
16 servings
Whit Chocolate Bread Pudding
This White Chocolate Bread Pudding is inspired from my favorite bread pudding ever, only with a few additions to make it a little extra special
20 minPrep Time
1 hr, 30 Cook Time
2 hrTotal Time
Ingredients
1 loaf brioche bread (or challah, or french bread) - that is a day or so old
2 cups whipping cream
2 cups half & half cream
2 teaspoons vanilla bean paste (or vanilla extract)
4 oz white chocolate
8 large egg yolks
1 1/2 cups sugar
1 teaspoon salt
Optional Toppings
White Chocolate Sauce
Caramel Sauce
Chocolate Sauce
Whipped Cream
Directions
Preheat over to 325
Spray a large casserole dish with nonstick spray
Tear bread into small pieces (or cut into cubes) and layer into casserole dish
In a medium saucepan bring whipping cream, half & half & vanilla bean paste to a simmer (do not let boil)
Stir in white chocolate, stirring constantly until chocolate is melted
Remove from heat to let cool for 5-10 minutes
In a bowl whisk together egg yolks, sugar & salt until smooth and a little lighter in color
Slowly add in cream mixture to egg mixture, mixing until well combined
Pour mixture over bread and let sit for 10 minutes
Place casserole dish into large broiling pan and fill broiling pan with boiling water until it is about 1 inch deep
Place into oven and bake for 1 1/2 hours, making sure to cover pan with foil after 45 minutes
After 90 minutes, check and see if it is pulling away from the sides a little and if a toothpick comes out clean when inserted about 1 inch away from the side
Remove and let cool for 15-20 minutes before serving
Cut into squares and serve with any toppings you prefer
ENJOY!!
Notes
Each serving (without toppings) is 16 WW Smart Points
Nutritonal Info
Calories 363 - Calories from Fat 180 - Total Fat 20 g - Saturated Fat 10.3 g - Monounsaturated Fat 5.8 g - Polyunsaturated Fat 1.2 g - Trans Fat 0 g - Cholesterol 168 g - Sodium 320 mg - Potassium 104 mg - Total Carbohydrate 38 g - Dietary Fiber 0 g - Sugars 19 g - Protein 6 g
Vitamin A 14 % - Vitamin C 0 % - Calcium 9 % - Iron 6 %
7.8.1.2
300
https://sparklesnsprouts.com/2017/02/16/bread-pudding/
All images are the property of Sparkles n Sprouts, to use image please contact the webmaster at michelle@sparklesnsprouts.com
Finishing it off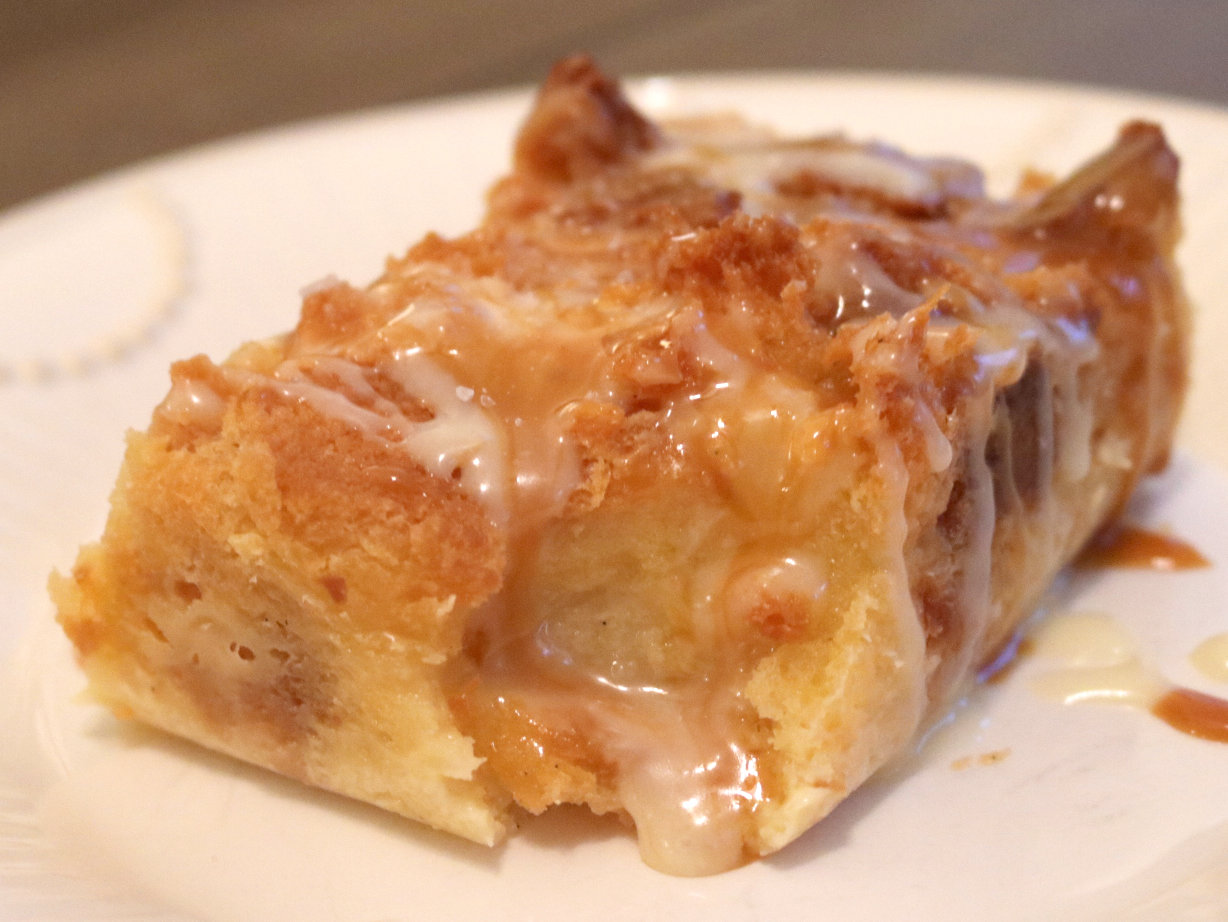 To really make this bread pudding something super special I topped it with some melted white chocolate and this salted caramel sauce. It really is the perfect wait to top this already amazing bread pudding even better. 

Make today sparkle – MJ