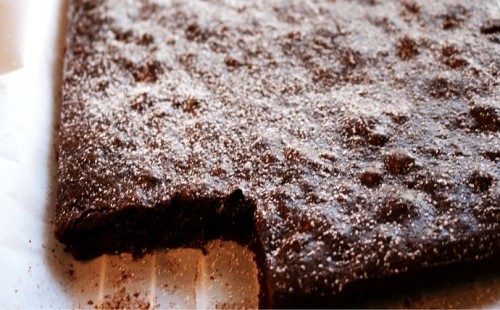 brownies always make for a sweet finish
Sweets are a must have for Cinco de Mayo…after indulging in something cheesy and yummy I have to finish it off with something sweet and its even better when there is a little kick involved.   Truth be told…I also love to have a margarita or two as well, but since I can't have alcohol right now (it doesn't mix with pain meds evidently) I will have a double dose of brownies instead.
Now these brownies are not your ordinary box brownies, or these caramel brownies or even these oreo brownies they are super fudgy with a little kick.   
Ok I hear ya…brownies with a kick?  What kind of kick, you ask?  How about a little cayenne, some chili powder, some cocoa powder and a little cinnamon?
The first time I had this combo was in a chocolate bar in Mexico when we went for vacation.  I loved the idea of it immediately…I mean the combo of heat and sweet is a favorite but most of the time I have it in margarita form (yes, I am a big fan of the margarita)…so trying it with chocolate sounded delicious.    The bar was dark chocolate with a little cayenne and cinnamon throughout and boy of boy was it AMAZING!!  It had the perfect bit of heat, while not being too much when paired with the chocolate.  And then the cinnamon…oh the cinnamon…it was pure perfection.  Trust me there was more than an few of these bars bought (& consumed) before we came home.
MJ
30 Brownies
Mexican Brownies
Fudgy brownies with just a hint of spice making them something very special and perfect for Cinco de Mayo...or just a fun treat
10 minPrep Time
20 minCook Time
40 minTotal Time
Ingredients
4 oz unsweetened baking chocolate, chopped
3/4 cup unsalted butter
1 cup granulated sugar
3/4 cup, packed brown sugar
3 large eggs
1 tablespoon vanilla extract
2 tablespoons unsweetened cocoa powder
1 teaspoon espresso powder
1 teaspoon cinnamon, ground
1/2 teaspoon cayenne pepper
1 teaspoon chili powder
1/2 teaspoon salt
1 cup all-purpose flour
1 cup mini chocolate chips
2 teaspoons powder sugar
Directions
Preheat oven to 350
Line a 9x13 pan with parchment paper, or spray with nonstick spray, set aside
In a medium saucepan melt chocolate and butter over medium heat until well combined
Remove from heat
Stir in sugar & brown sugar until well combined
Whisk in eggs, until just combined
Stir in vanilla, cocoa powder, espresso powder, cinnamon, cayenne pepper, chili powder & salt
Stir in flour & chocolate chips until just combined
Pour batter into prepared pan
Bake for 20-25 minutes, or until brownies are just set
Remove and let cool in pan for 5 minutes
Remove brownies from pan and let cool completely
Once cooled completely dust powder sugar over top
Cut & serve
ENJOY!!
Notes
Each brownie is 8 WW Smart Points:
Nutritional Info
Calories 169 Calories from Fat 81 Total Fat 9 g Saturated Fat 5.7 g Monounsaturated Fat 2 g Polyunsaturated Fat 0.3 g Trans Fat 0 g Cholesterol 33 g Sodium 50 mg Potassium 72 mg Total Carbohydrate 22 g Dietary Fiber 0 g Sugars 16 g Protein 2 g Vitamin A 4 % Calcium 1 % Iron 6 %
7.8.1.2
23
https://sparklesnsprouts.com/2016/05/04/mexican-brownies/
All images are the property of Sparkles n Sprouts, to use image please contact the webmaster at michelle@sparklesnsprouts.com
When I started thinking about Cinco de Mayo last week I decided to recreate the chocolate bar into a brownie…everyone loves brownies!  Don't worry though the kick is not too much, it is just a hint.  My 2 year old nephew (ok almost 2) and my 6 year old neighbor both loved them so trust me everyone is sure to love them.  They were so good that my mom even dove into them before I had a chance to photograph them…good thing I caught her, or there could have been one left. 
Finish Cinco de Mayo with a  sweet treat that everyone will love (& be talking about for a while)!!
Make your life sparkle – MJ