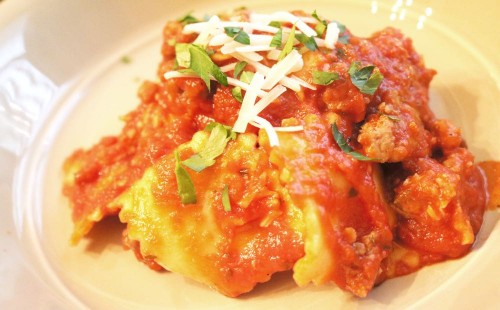 Do you love lasagna?  Do you love how long it takes to make a traditional lasagna?  Probably not (at least I know I don't)…so how about a lasagna that comes together in less than a hour and brings together all the best flavors of your favorite traditional lasagna?  Yes, that sounds good?  GREAT… then I have a perfect recipe for you.
This recipe came together very quickly…I thought The Hubby had a dinner meeting but I was wrong and he came home hungry and ready or dinner. Thankfully I had been to the store earlier in the day and I had picked up some sausage, I just like to have it on hand, the ravioli (for my nephew) and some jarred sauce (again for my nephew) and now it was going to become dinner for The Hubby and I.
Now I had seen a similar technique for ravioli on pinterest a 1000 times but I wanted to take the recipe to the next level with some Italian turkey sausage and some additional spices to make the sauce seem like you spent hours letting it cook on the stove…all the while it came out of a jar.  For the ravioli I used just a cheese ravioli, as this is what I keep on hand for my nephew and honestly it is what I like as well, but a spinach ravioli or meat ravioli would be great as well.  Don't even get me started on the cheese…a good lasagna has tons of yummy cheese and this lasagna has tons of cheese for sure…making it just as good as a traditional version (even if it is made with ravioli).
MJ
6 Servings
Ravioli Lasagna
A great baked pasta dish that is an update of your favorite lasagna that comes together in no time and with tons of flavor
10 minPrep Time
40 minCook Time
1 hr, 50 Total Time
Ingredients
1 lbs lean Italian turkey sausage
2 (24 oz) jars of pasta sauce (or 3 cups of homemade sauce)
1 tbsp dried basil
1 tbsp pepper
9 oz - 4 Cheese Ravioli (I used the package I found in the refrigerated section)
1/2 cup fancy shredded Italian blend cheese
1/2 cup mozzarella cheese
Optional toppings:
Fresh chopped parsley
Additional shredded cheese
Directions
Preheat oven to 350
Spray a casserole dish with nonstick spray, set aside
In a medium skillet cook sausage over medium heat, making sure to remove sausage from the casings, breaking it up as it browns
Once sausage is cooked through drain and return to the same skillet
Stir in pasta sauce, basil & pepper, heating for 5 minutes
Spoon 1/3 of the sauce into the bottom of the casserole dish into the bottom of the casserole dish
Layer 1/2 of the ravioli onto the sauce in a single layer
Sprinkle with 1/4 cup of the italian cheese blend
Spoon next 1/3 of sauce over cheese to just cover ravioli and cheese
Place remaining ravioli over sauce and then sprinkle with cheese
Spoon remaining sauce over the top and top with mozzarella cheese
Cover with foil and bake for 20 minutes
Remove foil and continue baking for an additional 10-15 minutes or until cheese is melted and sauce is bubbly
Let sit for 5 minutes before serving
Top with any additional toppings you prefer
Serve & ENJOY!!
Notes
Each serving is 9 WW Smart Points: Nutritional Info Calories 283 Calories from Fat 124 Total Fat 13.7g Saturated Fat 4.5g Trans Fat 0.0g Cholesterol 48mg Sodium 669mg Potassium 4mg Total Carbohydrates 19.2g Dietary Fiber 0.5g Sugars 8.7g Protein 17.0g Vitamin A 10% - Vitamin C 4% - Calcium 17% - Iron 13% Nutrition Grade C+
7.8.1.2
19
https://sparklesnsprouts.com/2016/05/10/lasagna-in-no-time/
All images are the property of Sparkles n Sprouts, to use image please contact the webmaster at michelle@sparklesnsprouts.com
When I told The Hubby we were having lasagna he got super excited and then he came into kitchen and looked rather confused…I could see it written all over his face…lasagna or ravioli?  Once I explained we were having ravioli lasagna, he smiled and walked out…I know he taught this was going to be one of those recipes that never makes it to my blog but oh he was so, so wrong.  When I served it up I could tell he was pleasantly surprised, and then he took a bite he was very happy.  All the flavors come together to make it taste like a delicious lasagna that took hours to make, but in reality it took less than a hour…Love dinners like this!!
Make lasagna in less than a hour..making this a perfect dinner for this busy week!!
Happy (half) Baked Life – MJ