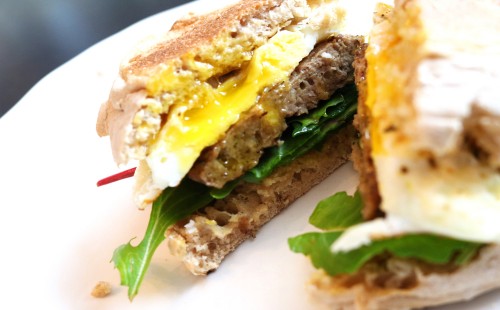 They say breakfast is the most important meal of the day (I'm not sure I agree with that, being I am not a must eat breakfast kinda gal) but if I could have one these sassy little skinny McMuffins sandwich every morning I might just change my mind.
The whole idea of this skinny McMuffin came from The Hubby actually.  He has been trying to eat breakfast every morning (you know like your supposed to) and he normally fixes his famous omelette but one day he realized that we were out of egg whites so we had to come up with plan B…and this sandwich was born.
First up was toasting the english muffin and then seasoning it a bit…in my world we could have stopped there but The Hubby likes a little more to his breakfast, so I knew there had to be an egg involved, some breakfast meat of some sort and just to make it pretty some greens as well.
MJ & The Hubby
1 sandwich

Skinny McMuffin

A skinnier version of the classic fast food breakfast, plus you can make it at home in no time with all the same great flavor

5 minPrep Time

10 minCook Time

15 minTotal Time

Ingredients

1 light multi grain english muffin

1 egg

1 tsp salt

1 tsp pepper

1 Heat 'N Serve Jimmy Dean Turkey Sausage Patty (or whatever turkey sausage you prefer, you could also use canadian bacon or turkey bacon)

1/2 cup Power Greens (or spinach)

Directions

Toast english muffin, set aside

Heat a small skillet over medium heat, spraying lightly with nonstick spray

Crack egg into center of skillet

Sprinkle with salt & pepper

Let egg cook until edges are cooked through and then gently flip, cooking to desired doneness

Place powder greens onto one half of the toasted english muffin and top with heated turkey sausage

Place cooked egg on top of sausage and then place other half of english muffin on top

Serve & ENJOY!

Notes

Each sandwich is 6 WW Smart Points

Nutritional Info

Calories 233 Calories from Fat 85 Total Fat 9.4g Saturated Fat 2.6g Trans Fat 0.0g Cholesterol 169mg Sodium 2781mg Potassium 148mg Total Carbohydrates 26.8g Dietary Fiber 7.0g Sugars 1.3g Protein 15.2g Vitamin A 24% - Vitamin C 13% - Calcium 27% - Iron 21% Nutrition Grade B+

7.8.1.2

44

https://sparklesnsprouts.com/2016/03/29/skinny-mcmuffin/

All images are the property of Sparkles n Sprouts, to use image please contact the webmaster at michelle@sparklesnsprouts.com

 
To make breakfasts easier I usually keep some of the heat n serve turkey sausage patties on hand and they worked perfectly for this sandwich, not only was it delicious but they also fit the McMuffin perfectly.  I fried the egg until it was just cooked through (The Hubby does not like runny eggs) , but a runny egg, scrambled eggs or egg whites would be great.  You could also add some cheese if you wanted but for us it was not needed…but if you were to add cheese I would suggest a great cheddar or gruyere but The Hubby would go with american and call it great!
Make these sandwich's the night before and then heat them up real quick in the morning for a quick, but filling breakfast that is sue to start your day off right for sure without the guilt of the drive thru!
Make everyday Sparkle – MJ