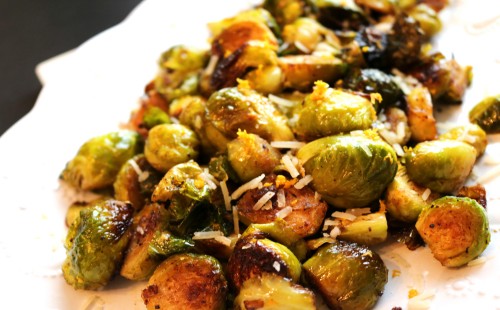 turning The Hubby into a sprout…
It is no secret that I love brussel sprouts.  As I have mentioned before my sis-in-law started me on this brussel sprout love affair, and it has only continued over the years, but The Hubby has never been a fan.  I have made many variations of these cute little bundles of veggie goodness trying to win him over but nothing has worked…UNTIL NOW.
My journey of the brussel sprout started with this simple roasted version and then I feel in love with bacon & balsamic sprouts but these lemon parmesan brussel sprouts are a new favorite for sure.  
I started these by simply roasting them with my favorite spice combo and then the fun began.  So just over half way into the roasting process I drizzled some lemon juice over these already beautiful little bundles and then let them continue roasting which not only intensifies the brussily goodness but also the lemon flavor…both of which are amazing and especially together.  Just when its time to serve them I drizzle with the remaining lemon juice, some lemon zest and some shredded parmesan….because lets just be real anything with a little parmesan sprinkled over the top is so, so good!
mj
6 Servings

Lemon Parm Brussel Sprouts

Take roasted brussel sprouts to the next level with seasoning, lemon and some shredded parmesan...trust me everyone will love them (even those who don't love them already)

10 minPrep Time

45 minCook Time

1 hrTotal Time

Ingredients

1 lb brussel sprouts

1 tbsp extra virgin olive oil

2 tsp salt

2 tsp pepper

2 tsp garlic powder

2 tsp chili powder

1 tsp onion flakes

1 lemon, zested & juiced

2 tbsp shredded parmesan cheese

Directions

Preheat oven to 375

Line a rimmed baking pan with parchment paper (or foil), set aside

Trim brussel sprouts and cut in half

Layer brussel sprouts in a single layer on the prepared pan

Drizzle olive oil over brussel sprouts, tossing to evenly coat

Sprinkle salt, pepper, garlic powder, chili powder and onion flakes over brussel sprouts, then toss once again to make sure each are evenly coated

Bake for 20 minutes, remove and toss

Drizzle half of the lemon juice over brussel sprouts and continue roasting for an additional 15 minutes

Remove and place on a serving platter

Drizzle with remaining lemon juice, & sprinkle the lemon zest & shredded parmesan cheese over brussel sprouts

Serve & ENJOY!

Notes

Each serving is 2 WW Smart Points

Nutritional Info

Calories 76 Calories from Fat 34 Total Fat 3.8g Saturated Fat 1.1g Trans Fat 0.0g Cholesterol 3mg Sodium 847mg Potassium 334mg Total Carbohydrates 8.9g Dietary Fiber 3.4g Sugars 2.0g Protein 4.5g Vitamin A 17% - Vitamin C 108% - Calcium 7% - Iron 7% Nutrition Grade A

7.8.1.2

42

https://sparklesnsprouts.com/2016/03/31/hubby-sprouts/

All images are the property of Sparkles n Sprouts, to use image please contact the webmaster at michelle@sparklesnsprouts.com

 
OK so back to The Hubby and his conversion into being a brussel sprout lover.  Like I said before he has never been a fan, but he promised he would try everything I fix so he had to take at least a bite…and one bite was all it took.  He very cautiously took his bite and then all of a sudden there was a huge smile on his face and then something I never imagined I would hear…he liked them.  What?  I'm sorry, what was that?  You like what?  YES The Hubby likes brussel sprouts!!  MY dreams had come true…I was so excited I immediately called my sis-in-law with the good news…this was a big deal.  Just beware there are more brussel sprout recipes coming…The Hubby even asked me when I was making them again.
 Trust me this recipe can turn a brussel sprout hater into a lover in just one bite…don't believe me…give it a try and let me know how it turns out.
Happy (half) Baked Life – MJ