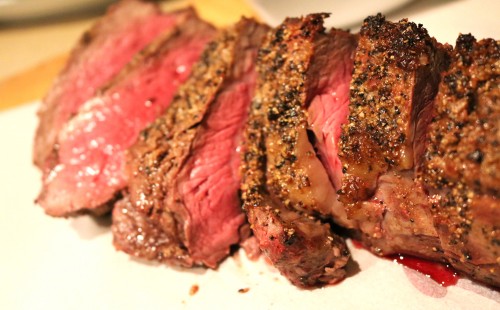 A special treat…beef tenderloin
In my family beef is always on the menu for special events and this Peppercorn Crusted Beef Tenderloin is quite the treat.   As I have mentioned before my Mammaw is in a memory care facility and sometimes leaving there can be difficult for her (especially in the evening) so to make Christmas special for her we did an early Christmas lunch at our home.  To make this super special I decided to make this beef tenderloin and boy oh boy was it AMAZING!
After researching several different cooking methods and seasoning  combos I decided to keep it simple, in my opinion simply seasoned beef really seems to be best most of the time and this tenderloin did not disappoint. 
To start with I let the beef come to almost room temperature, I find this to be very important when it comes to red meat especially.  It will cook more evenly and also take hold of the seasoning better (I think) so I let it sit out for about 30 minutes on the prepared pan before seasoning it.  To season it I used an all-purpose seasoning , course salt and fresh cracked peppercorns, and a little butter.  I made sure to season all sides of the meat and press it in to help it adhere to the meat as much as possible.  After the seasoning is done you throw it in a hot oven and let it cook until your desired temp is reached and then you let it rest and VOILA it is done!
MJ
12 servings
Peppercorn Crusted Beef Tenderloin
A juicy and very tender peppercorn crusted beef tenderloin that comes together in no time...trust me you will not believe just how easy it is
30 minPrep Time
40 minCook Time
1 hr, 30 Total Time
Ingredients
4 1/2 lb trimmed beef tenderloin
2 tbsp all purpose seasoning (I used Lowry's)
1 tbsp course salt
4 tbsp freshly cracked peppercorns
4 tbsp butter, cut into cubes
Directions
Preheat oven to 475
Remove tenderloin from packaging
Trim any excess fat
Tie up the skinny end (if needed) with kitchen twine to make it the same width as the rest of the tenderloin
Line a rimmed baking sheet with several layers of foil
Lay a cooling rack onto the baking sheet
Place tenderloin onto rack and let tenderloin start to come to room temperature (about 20-30 minutes)
Spinkle tenderloin liberally with all-purpose seasoning, on all sides
Repeat with salt and cracked peppercorns, pressing it into the meat to make sure it adheres as much as possible
Place cubed butter on top of tenderloin
Place into preheated oven
Cook until tenderloin reaches desired temperature (130 degrees for medium rare, 140 degrees for medium) remembering meat will continue to cook while it rests
Remove from oven and cover with a foil tent and let rest for 20-30 minutes before cutting to allow juices to redistribute into the meat
Cut and serve
ENJOY!!
Notes
Each serving is 9 WW Smart Points:
Nutritional Info Calories 390 Calories from Fat 175 Total Fat 19.5g Saturated Fat 8.4g Cholesterol 167mg Sodium 178mg Potassium 635mg Total Carbohydrates 1.4g Dietary Fiber 0.6g Protein 49.5g Vitamin A 2% - Vitamin C 1% - Calcium 4% - Iron 22% Nutrition Grade B-
7.8.1.2
116
https://sparklesnsprouts.com/2015/12/24/beef-tenderloin/
All images are the property of Sparkles n Sprouts, to use image please contact the webmaster at michelle@sparklesnsprouts.com
In my family we have grown-up eating beef, one of my brothers is even a cattle rancher, but everyone agreed this is one of the best pieces of meat they have had…trust me that says a lot if my family says that.
If you have people who like their meat cooked at different temps (my family likes medium rare but The Hubby has to have medium) remember the ends will be cooked more than the center, so serve those as needed.  
I hope your Christmas and Holidays are filled with much love, family, friends and tons of memories…and hopefully this beef tenderloin will be a great addition to your table.
Make everyday special – MJ