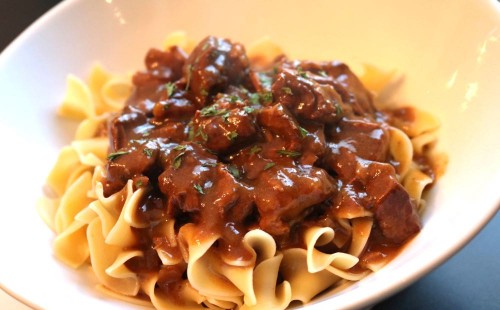 bring on the cool weather and the slow cooker
So in 80% of the country it is Fall.  There are cooler temps, leaves changing colors and the smell of burning fireplaces in the air (oh how I love that smell).  Where in live in SE Texas we are still in the 80's (that feel like the 90's some days) and haven't put away our flips flops just yet…but that doesn't mean we can't enjoy some cool weather yummies from the slow cooker.

One of the first requests each Fall…
The Hubby always has his requests when it comes to food, he even looks on Pinterest to get inspiration from time to time, but each Fall he always requests Beef Tips & Gravy.
He grew up eating this meal, and it is a favorite for sure.  The first time I made it for him I was a little nervous, as I hoped it would be as good as he remembered.  It has taken a few times, but finally I think we have found a version of this favorite that we both love.

What's the Secret?
I'm not sure there is a real secret for the recipe, but I did find that adding a bit of ketchup made the gravy "just right" at least according to The Hubby.  It seems to add just the right amount of sweetness and tang, while also giving it some body.
I also found that browning the meat, onions and garlic before adding to the slow cooker it really helps to give the dish that little something extra that makes it something special.  It helps to bring out the seasoning and while adding a ton of flavor to the gravy as it cooks.

It's really all about the GRAVY!
As I mentioned The Hubby grew up eating beef tips and gravy, while I grew up eating meatballs and gravy.  As different as these 2 dishes may be they do have one thing in common…GRAVY!    If there is gravy involved I am in (& so is The Hubby).
This gravy is rich & velvety smooth.  There is a hint of spice and a hint of sweet in each bite with a little tang to round everything out.  I could eat this gravy all on it's own…not kidding.  I could eat it like soup….FOR REALS!
Trust me you need to make this ASAP
MJ
10 servings (about 1/2 cup)
Slow Cooker Beef Tips
A rich and very hearty slow cooker meal that is perfect for a weeknight meal that everyone is sure to love
15 minPrep Time
8 hrCook Time
8 hr, 15 Total Time
Ingredients
3 pounds beef sirloin, trimmed and cut into 1 in pieces
2 teaspoons salt
2 teaspoons black pepper
1 teaspoon garlic powder
1/2 cup all-purpose flour
1 tablespoon extra virgin olive oil
1 large onion, chopped
2 garlic cloves, minved
2 cups beef stock
2 tablespoons Worcestershire sauce
1 tablespoon Ketchup
1 tablespoon balsamic vinegar (or red wine vinegar)
2 tablespoons water
1 teaspoon pepper
1/4 cup cornstarch
1/4 cup cold water
2 tablespoons parsley, chopped
Directions
Lay trimmed meat in a single layer
Sprinkle with salt, pepper and garlic powder and toss to coat
Sprinkle with flour and toss to coat
In a large skillet heat olive oil over medium high heat
Add in beef, working in batches if needed, and brown meat, cooking on each side for 2-3 minutes, until meat is nicely browned
Remove beef a slow cooker
Add onion to the skillet and cook until it is softened, about 3-4 minutes
Stir in garlic and cook for 1 additional minute
Pour onions over meat in the slow cooker
In a large measuring cup, or bowl, whisk together beef stock, Worcestershire sauce, ketchup, vinegar and water until well combined
Pour over beef in slow cooker
Sprinkle pepper over beef
Cover and cook on low for 7-8, or until meat is tender
30 minutes before ready to serve, in a small bowl whisk together water and cornstarch
Pour into slow cooker and stir
Cook, uncovered, on high for 15-20 minutes or until sauce is thickened, stirring often
When ready to serve stir in parsley, keeping a dash or two to garnish with
Serve over cooked egg noddles, mashed potatoes or rice
ENJOY!!
Notes
Each serving is 10 WW Smart Points
Nutritional Info Calories 356 - Calories from Fat 180 - Total Fat 20 g - Saturated Fat 8.1 g - Monounsaturated Fat 9.4 g - Polyunsaturated Fat 0.9 g - Trans Fat 0 g - Cholesterol 70 g - Sodium 687 mg - Potassium 557 mg - Total Carbohydrate 11 g - Dietary Fiber 0 g - Sugars 1 g - Protein 28 g Vitamin A 2 % - Vitamin C 3 % - Calcium 5 % - Iron 11 %
7.8.1.2
162
https://sparklesnsprouts.com/2016/11/02/slow-cooker-beef-tips/
All images are the property of Sparkles n Sprouts, to use image please contact the webmaster at michelle@sparklesnsprouts.com
Just one more question to answer…Noddles or Mashed Potatoes
So with my meatballs and gravy we typically had My MeeMaw's Mashed Potatoes, but The Hubby always had noodles with his beef tips, so this time we went with noodles.  You can use what ever variety of noodle you prefer but we went  egg noodles…but next time I am making mashed potatoes.
Whether you are a noodle or a potato fan these beef tips are a MUST MAKE this fall!

Make today sparkle – MJ