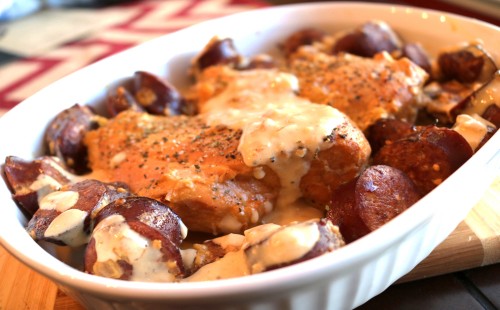 chicken & sausage = comfort
I know I have said this before but there is just something so comforting about walking into the house after a busy day and being greeted with the wonderful aroma of your dinner being almost all done…and this chicken & sausage is a real treat.  It really is one of my most favorite things!
This slow cooker dish is rich, creamy and so full of flavor in each bite it screams comfort!  
The Hubby loves smoked sausage and it always looking for ways that I can incorporate it into dinner, but little did I know just how much he loved it.  We went to Costco one afternoon to get some essentials and when we walked out with 8 links of smoked sausage I knew I was going to be incorporating smoke sausage into EVERYTHING!  For me I love sausage with chicken so the first dish I wanted to experiment with was a combo of the two, and the slow cooker seemed to be the solution.  To add in even more flavor I browned the sausage…there is just something so delicious about the browned bits that happen when you brown a already delicious smoked link.   When The Hubby took his first bite he immediately fell in love with it, and asked me to make it again before he even finished his first helping (yes he went on to have 2 helpings)…so I knew it was a big hit for sure.
MJ
6 servings
Slow Cooker Chicken & Sausage
A delicious slow cooker recipe that is full of flavor and covered in a rich gravy
20 minPrep Time
6 hrCook Time
6 hr, 20 Total Time
Ingredients
1 package smoked sausage
1 onion, chopped
2 garlic cloves, minced
1 tsp salt
1 tsp pepper
1 tsp chili powder
1 lb boneless, skinless chicken breasts
8 oz reduced fat cream cheese, room temperature
1 1/2 cups chicken stock
1 tsp salt
1 tsp pepper
1 tsp dried basil
Directions
In a medium skillet brown sausage over medium heat
Remove browned sausage and place in slow cooker
Add onion to same skillet and let soften, stirring often, about 5 minutes
Stir in garlic, salt & pepper & chili powder and continue cooking for an additional 2 minutes
Place chicken breasts into slow cooker, spreading out sausage as necessary to create a single layer
Pour cooked onions over chicken and sausage
In a bowl whisk together cream cheese, chicken stock, salt, pepper and basil until smooth
Pour over chicken and sausage
Cook on high for 3-4 hours, or low for 6-7 hours or until chicken is cooked through
Serve on it's own or over mashed potatoes, rice or noodles
ENJOY!!
Notes
Each serving is 7 WW+ points:
Nutritional Info Calories 281 Calories from Fat 166 Total Fat 18.4g Saturated Fat 8.0g Trans Fat 0.0g Cholesterol 94mg Sodium 1112mg Potassium 227mg Total Carbohydrates 4.7g Dietary Fiber 0.6g Sugars 2.7g Protein 23.7g Vitamin A 10% - Vitamin C 3% - Calcium 8% - Iron 7% Nutrition Grade B-
7.8.1.2
142
https://sparklesnsprouts.com/2015/11/09/slow-cooker-chicken-and-sausage/
All images are the property of Sparkles n Sprouts, to use image please contact the webmaster at michelle@sparklesnsprouts.com
I used boneless, skinless chicken breasts but thighs would work great in this dish as well.  For a lighter version use turkey or chicken sausage, just make sure to brown the sausage.  
A new slow cooker favorite that everyone is sure to LOVE!!
Make everyday sparkle  – MJ