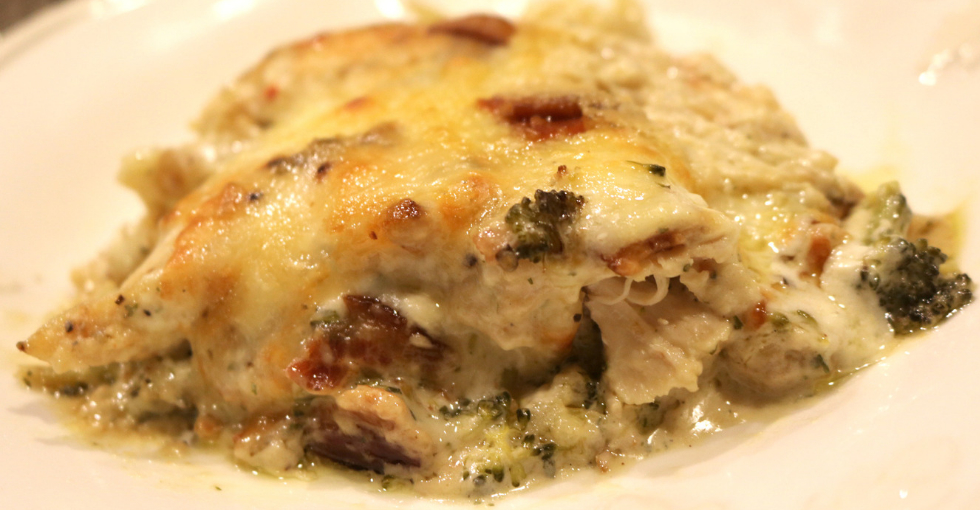 Chicken Bacon Ranch Casserole (KETO Friendly)
I don't know about you but I love a good casserole on a cold night. Now I know a lot of people love a good stew or soup but for me I am a casserole girl and this KETO friendly Chicken Bacon Ranch Casserole was AMAZING!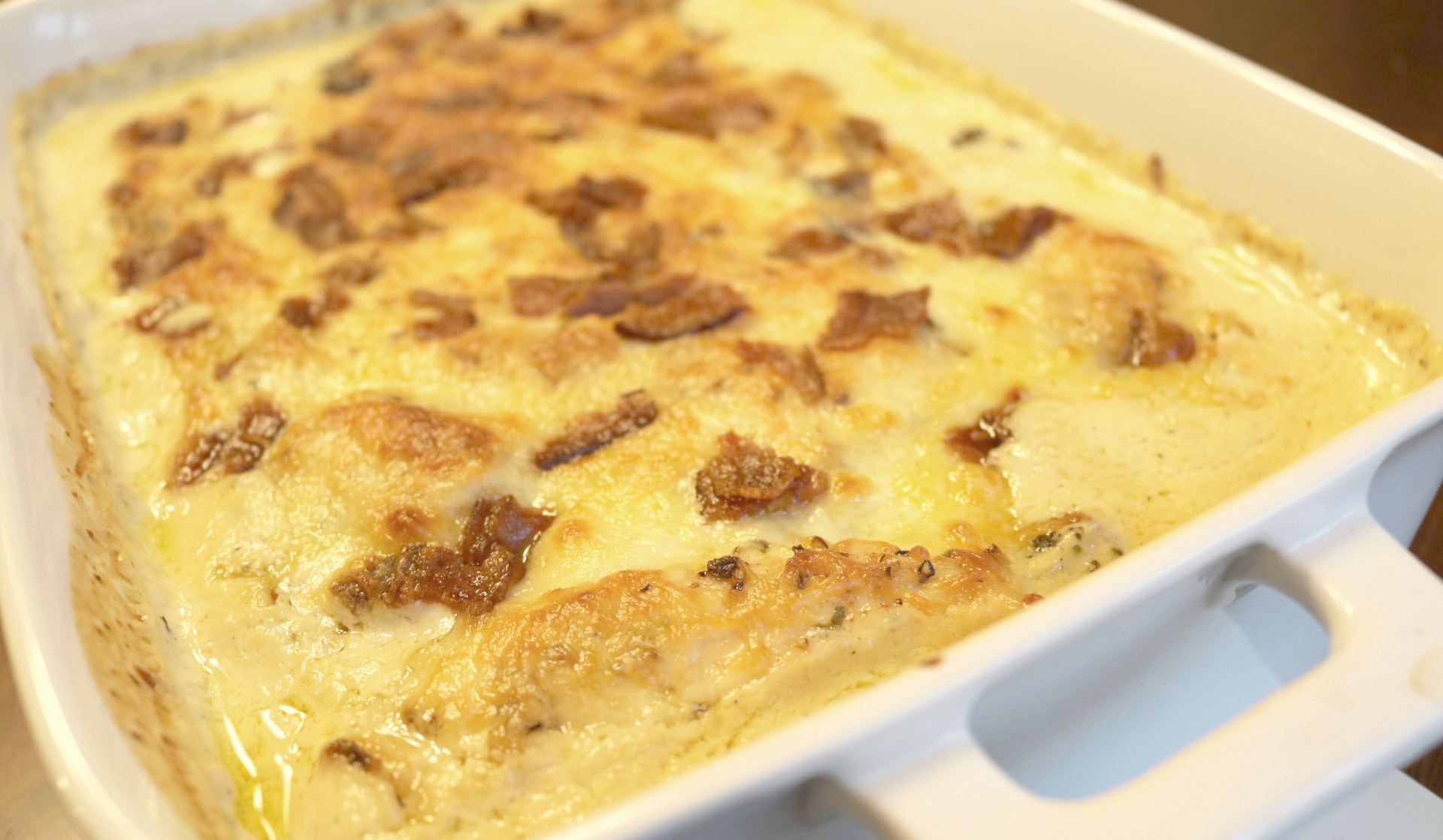 Loaded with flavor
This casserole is loaded with tons and tons of flavor. It all starts with seasoning the chicken with your favorite all purpose seasoning. I love this seasoning because it is course not overly salty (and there are no carbs in it) but any seasoning blend will work.
I also make sure and season the veggies before I roast them. This really amps up all the yumminess of the roasted veggies while adding one more level of flavor. Of course the cream cheese and ranch take it to the next level. Last but not least comes the bacon.. yep bacon. Anything with bacon is good, right?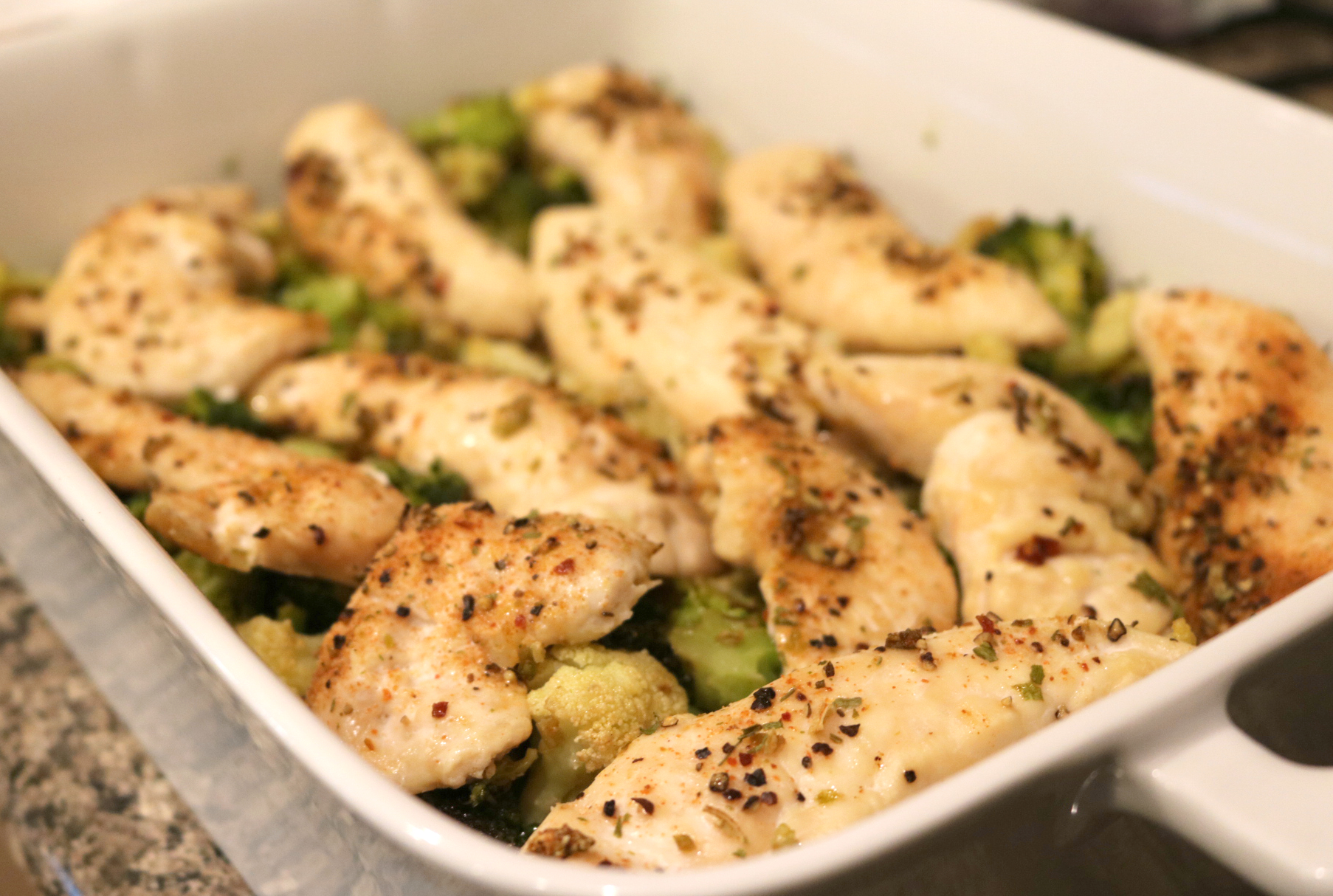 Sneaking in the Veggies
The beauty of this casserole is you can sneak in veggies and your kids (or big kids) won't even notice. There is so much flavor in each bite that the veggies are hidden. My mom is not a fan of broccoli and she had NO IDEA there was broccoli in here… you know that is a good recipe
The beauty of this dish is you can any combo of veggies you would like, I chose broccoli and cauliflower because I had them on hand and they are lower in carbs than some other options like carrots or peppers.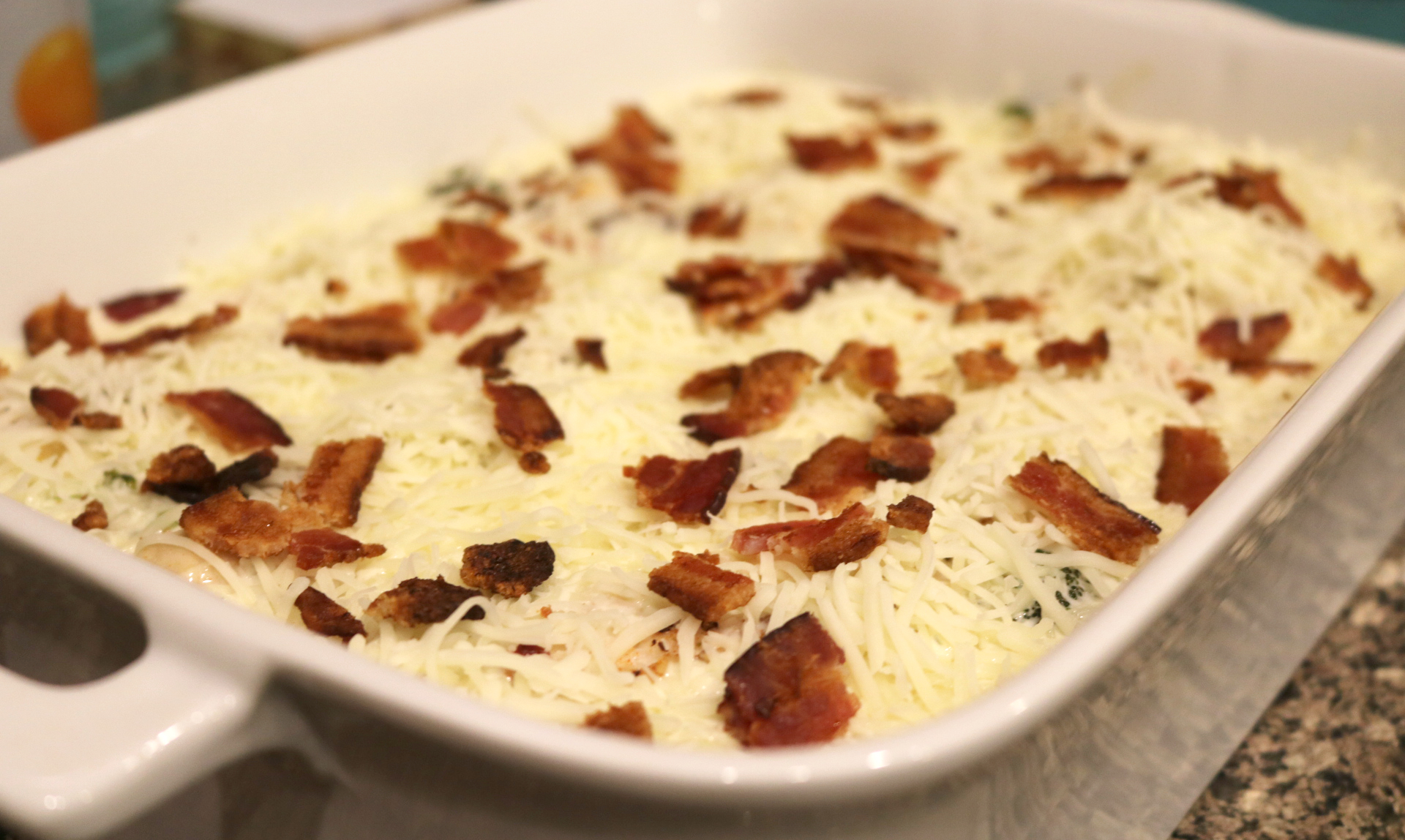 Bring on the Cheese & Bacon
What really makes this casserole super special is the cheese and bacon in my option. The cream cheese sauce is all brought together with the cheese and bacon.
I chose to use Monterey Jack cheese as I love how it melts but I also wanted to keep it all white, but you could use whatever cheese or cheese blend you prefer.
The bacon also adds a great smokiness and bacon-y yumminess to each bite, and like I said before anything with bacon is good.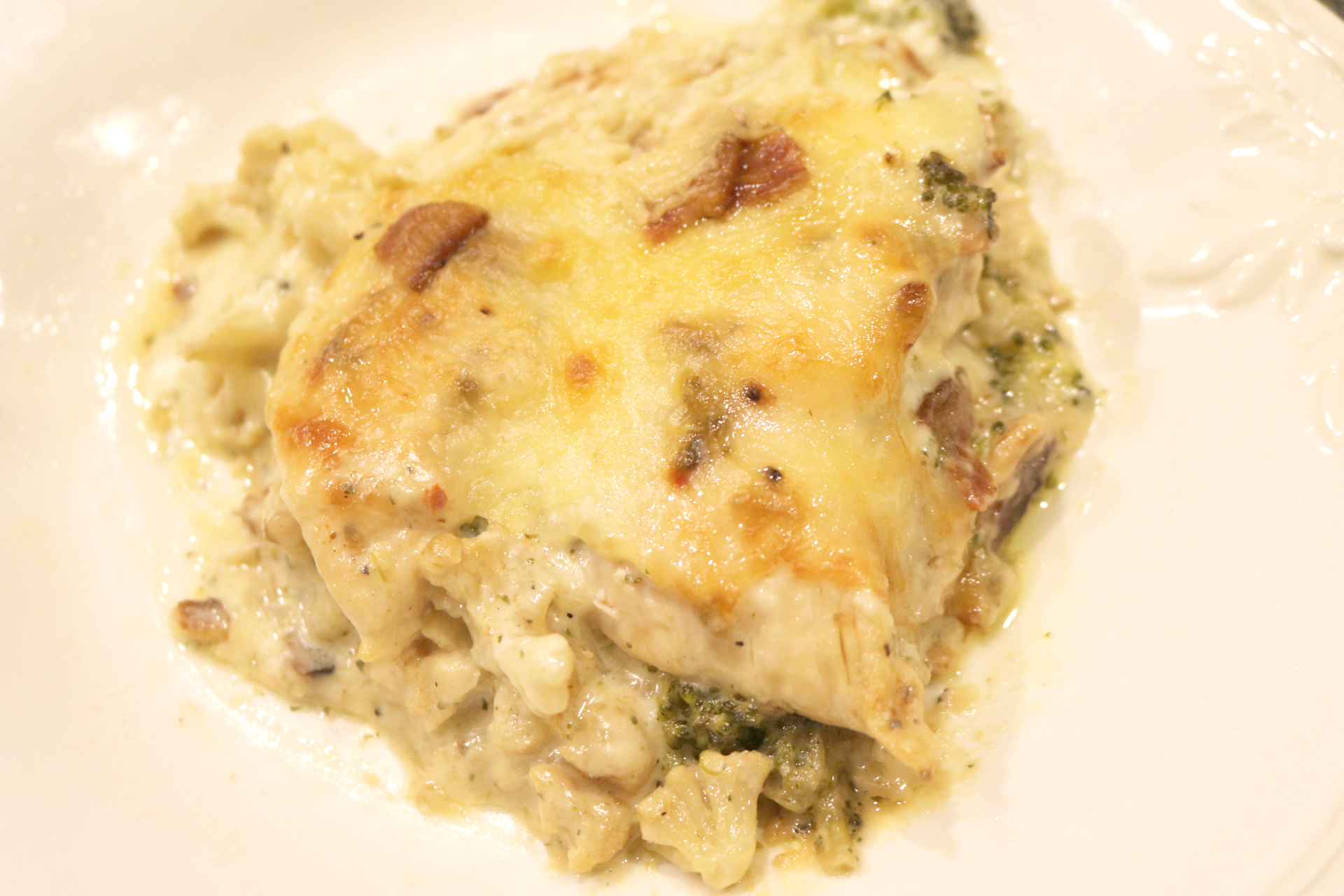 Dinner Tonight
Chelle Chelle
6 servings
KETO Chicken Bacon Ranch Casserole
KETO Chicken Bacon Ranch Casserole is a decadent, devious and crowd pleasing casserole that everyone is sure to LOVE
15 minPrep Time
45 minCook Time
1 hr, 15 Total Time
Ingredients
1 1/2 chicken breast tenders, or boneless skinless breasts cut into strips
2 tablespoons all purpose course seasoning, divided
1 1/2 cup broccoli, chopped
1 1/2 cup cauliflower, chopped
1 tablespoon extra virgin olive oil
1 teaspoon salt
1 teaspoon pepper
4 tablespoons butter
1/2 packet ranch seasoning (or 2 tablespoons)
1/2 cup heavy whipping cream
1 cups chicken stock
8 ounces cream cheese
1 1/2 cup cheese, shredded (I used monterey jack)
8 slices, bacon cooked
Directions
Preheat oven to 375
Spray a large casserole dish with non stick spray and set aside
Line 2 baking sheets with parchment paper
Spread chicken onto parchment paper of one of the pans and sprinkle with 1 tablespoon all purpose seasoning
On the second pan spread broccoli and cauliflower into a single layer
Drizzle with olive oil and sprinkle with remaining all purpose seasoning, salt & pepper and toss to combine
Place both pans into oven and roast for 18-20 minutes or until chicken and veggies are just starting to brown
Place roasted veggies into prepared casserole dish and place chicken on top of veggies
In a medium saucepan melt butter over medium heat
Stir in ranch seasoning, whipping cream and cream cheese until melted and well combined
Stir in 1 cup shredded cheese and 4 slices bacon crumbled
Pour cream cheese mixture over chicken and veggies
Top with remaining cheese and crumbled bacon
Place into oven and cook for 20-25 minutes
Remove once cheese has started to brown and sauce is bubbly
Let cool for 10 minutes before serving
ENJOY!
Notes
*Each serving is 6 net Carbs as based on the Carb Manager App
**You can use all cauliflower or broccoli if you prefer
7.8.1.2
481
https://sparklesnsprouts.com/2019/02/01/chicken-bacon-ranch-casserole-keto-friendly/
All images are the property of Sparkles n Sprouts, to use image please contact the webmaster at michelle@sparklesnsprouts.com
Don't forget to Pin this recipe so you don't lose it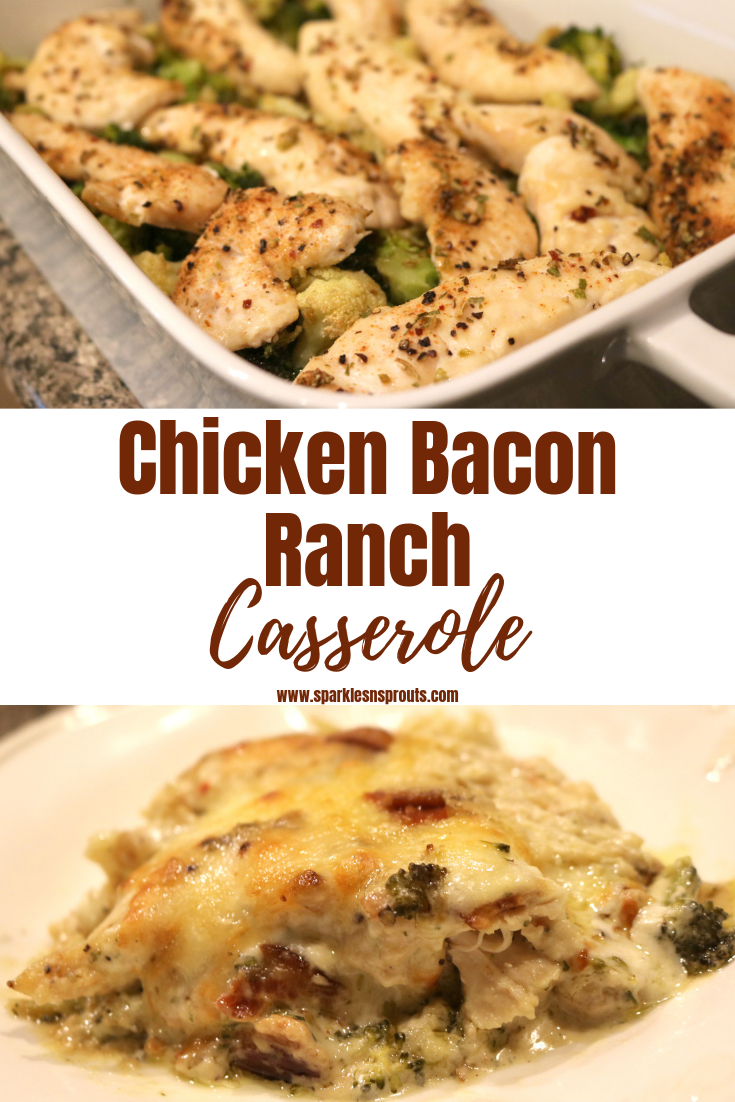 Follow us below so you never miss anything