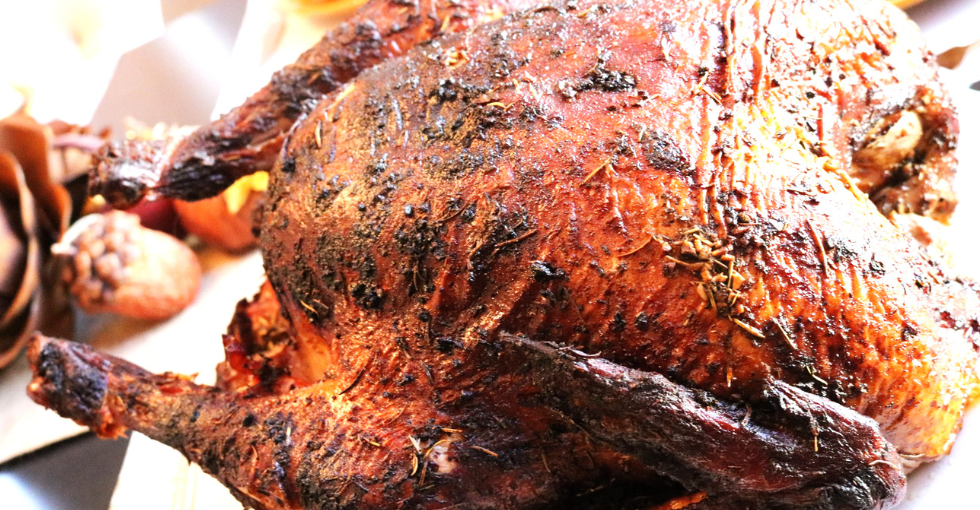 Turkey Day (aka Thanksgiving) will be here before we know it (like in 2 weeks ) and it is time we talk smoked turkey!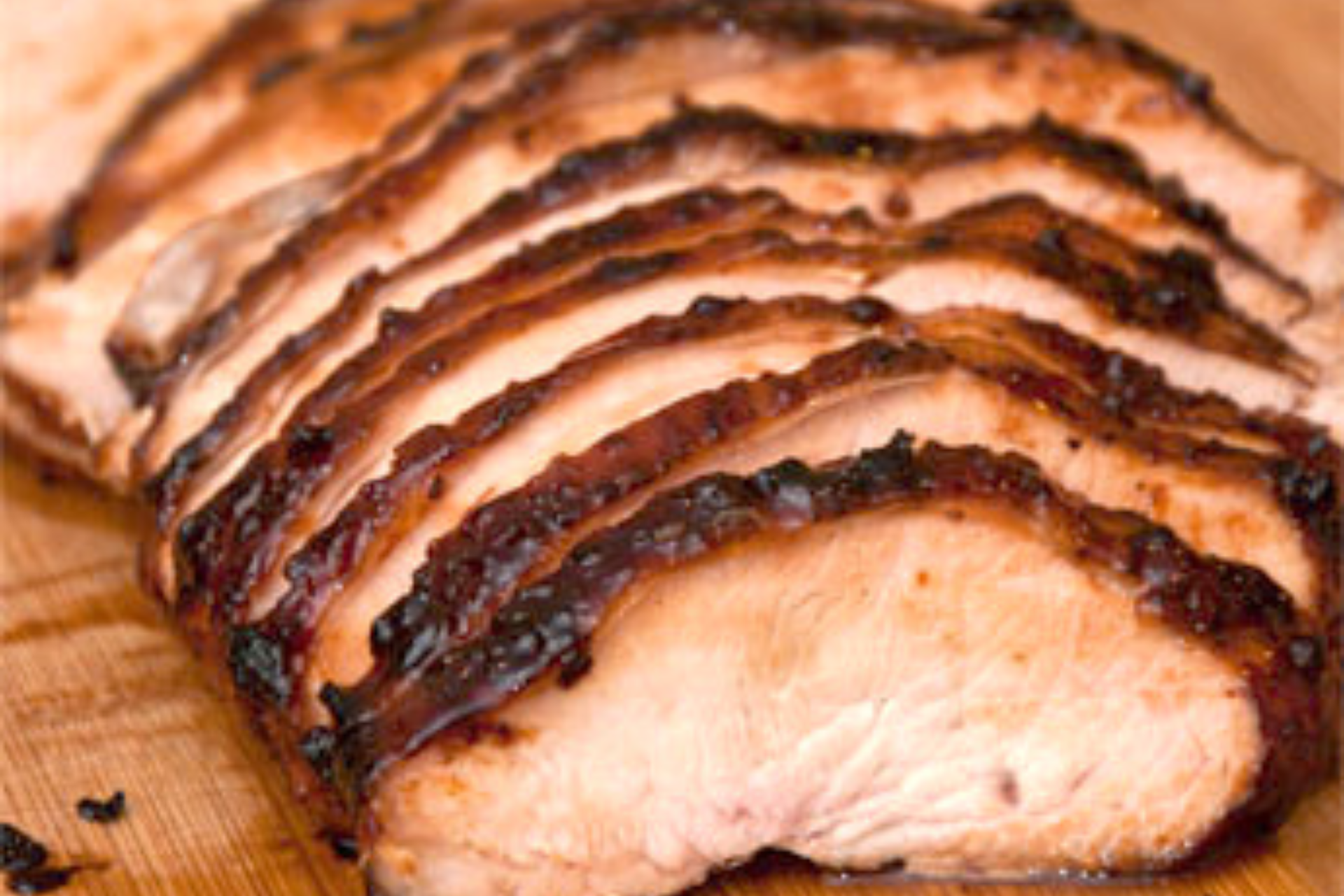 let's talk SMOKED TURKEY
I know most of us will roast or fry our Thanksgiving turkeys but this Smoked Turkey is the only way my family does it now. My brother and his Father-in-Law have perfected this recipe and it is just amazing!!
To be safe you want to have between 3/4 – 1 pound per person (or more for leftovers). Also make sure you give it enough time to thaw, We thaw our turkey in an ice water bath in a cooler (still in the plastic wrapping) allowing it to thaw for about 3-4 hours per pound.

Brine the Bird
Over the fast several years we have determined it is ABSOLUTELY necessary that you brine the turkey. Whether you roast it, smoke it or fry it, brining makes a HUGE difference.
For this turkey the brine was pretty simple, salt, pepper, brown sugar, worcestershire sauce and garlic. As simple as it sounds it adds a TON of flavor, tenderness and moisture to the turkey as it cooks. Some brines call for some form of citrus or apple cider vinegar…and I love them all. Whatever flavor profile you decide to go with…just make sure you brine.
OK I will get off my soapbox about the brining, lets move on to something even better…BUTTER!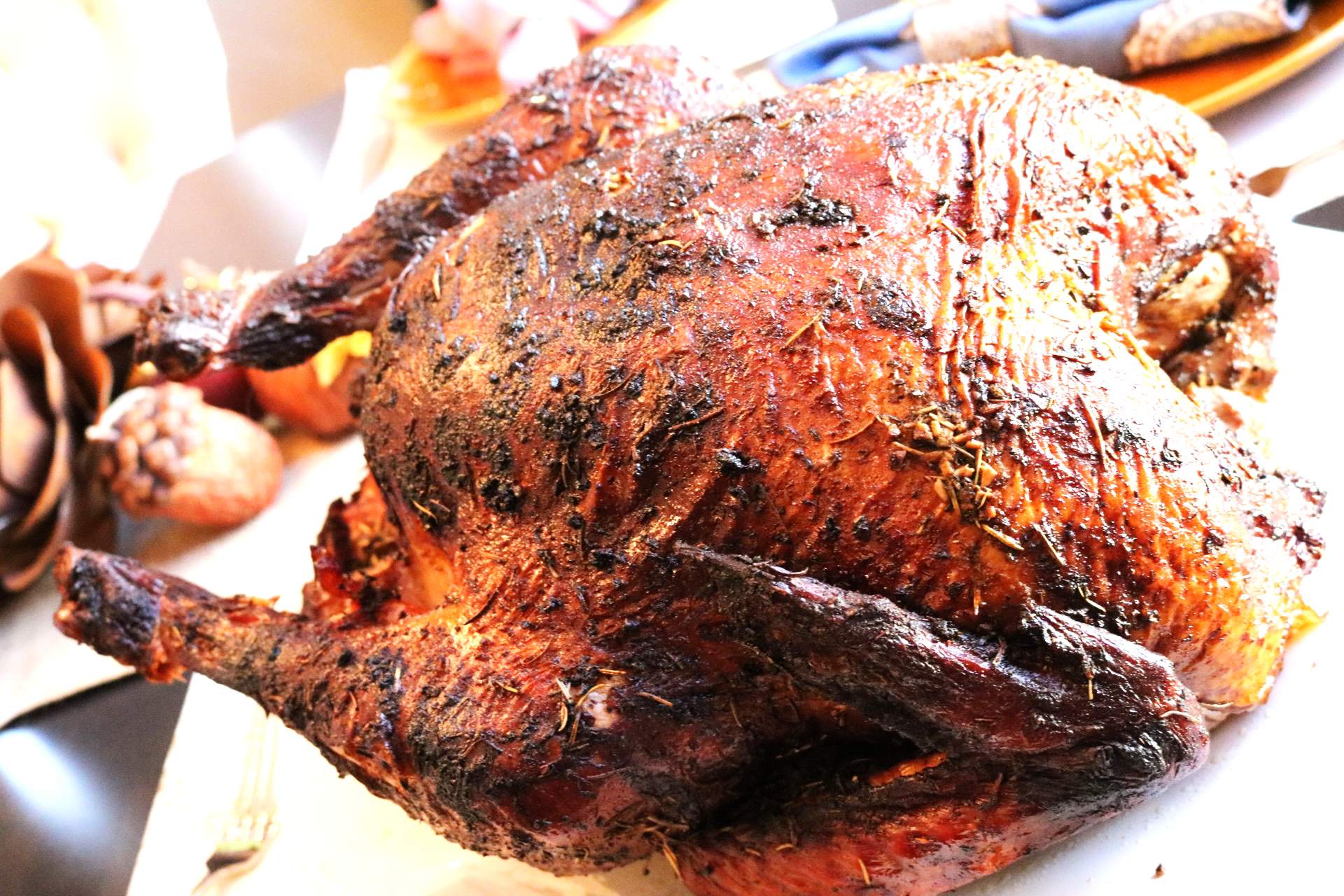 Bring on the BUTTER!
To give this turkey even more flavor and a beautiful crust (I mean look how beautiful that is) my brother used butter. Yep I said butter. Now understand he did not use just butter, he mixed the butter with garlic and herbs. I mean how good does that sound?
After mixing the butter with the garlic and herbs, he rubbed it all over the skin, under the skin on the breasts and inside the cavity really helping to add additional flavor and moistness to every part of the bird.
Not only did it look pretty on the outside but it looked pretty on the inside too.
I mean c'mon just look at that beautiful crust and the tender meat…I wish I had more words to describe how good it is (& some to eat right now).

No Smoker…that's OK
If you do not have a smoker or do not want to smoke a turkey for Thanksgiving, no problem. You can roast the turkey in the oven, as you would a traditional turkey. Just make sure you account for appropriate cooking time.
I like to cook mine at 325 degrees for about 12-15 minutes per pound. Once it reaches 165 degrees make sure to remove at once and let sit for at least 10-20 minutes before carving as this will help to ensure you have a juicy turkey to serve.
Gobble, Gobble
James - The Brother
12 servings
Smoked Turkey
A super juicy and flavorful turkey that is smoked to perfection. This is our families go to turkey recipe now.
48 hr, 20 Prep Time
4 hr, 30 Cook Time
53 hrTotal Time
Ingredients
Brine
2 gallons water
1 1/2 cups canning salt
6 garlic cloves, minced
2 tablespoons pepper
1/4 cup Worcestershire Sauce
1/3 cup brown sugar
Turkey
14-16 pound whole turkey
1 cup butter, softened
2 garlic cloves, minced
1 tablespoon fresh rosemary, chopped
1 tablespoon fresh thyme, chopped
2 teaspoons fresh sage, chopped
Directions
Brine the Turkey
If your turkey is frozen allow time to thaw completely, as directed on package
Remove giblets and neck, reserving if planning on using later
In a large stockpot bring all the brine ingredients to a boil and stir until salt & sugar are dissolved completely
Let brine cool and come to room temperature
Place turkey in a disposable cooler, or a brining bag and pour brining mixture over turkey
Let turkey brine for 24-48 hours
To smoke the Turkey
Preheat smoker to 325 - 350 degrees (my brother uses a Green Egg)
In a medium bowl combine butter, garlic and spices until well combined
Place turkey into a disposable aluminum pan that will fit on the smoker on 4 aluminum balls, this will allow drippings and fat to drip away from the turkey
Rub butter all over the outside, inside and under the skin of the breasts
Tuck wings under the turkey and place onto smoker
Cook turkey until it has reached an internal temp of 165 degrees, allow 15-20 minutes per pound
Once turkey is cooked and skin is golden brown remove and let rest for at least 20 minutes before carving
Serve & ENJOY!!
**You can use the dripping for gravy if you would like
Notes
A star of all of our Holiday tables.
7.8.1.2
272
https://sparklesnsprouts.com/2023/11/09/smoked-turkey-2/
All images are the property of Sparkles n Sprouts, to use image please contact the webmaster at michelle@sparklesnsprouts.com
Pin this NOW so you don't lose it!