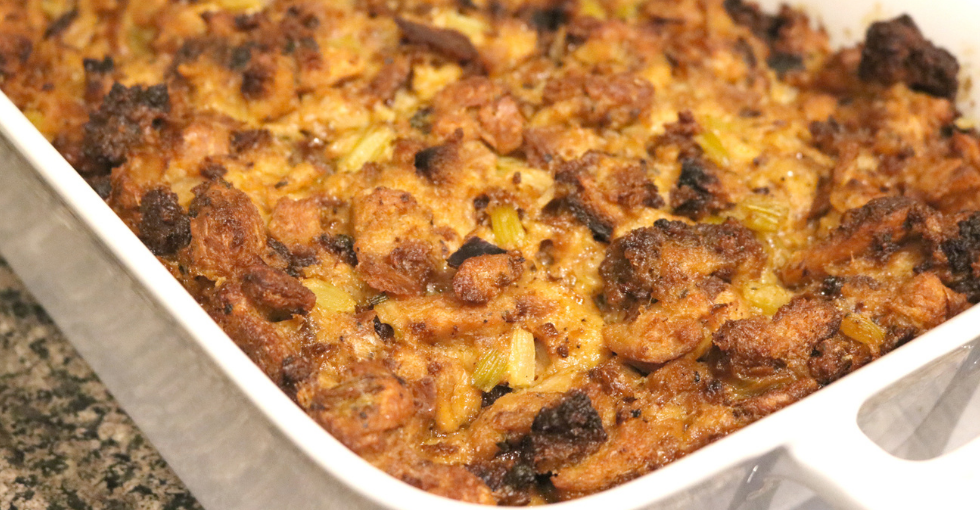 Sausage Dressing – Thanksgiving Must
Sausage Dressing is hands down our families favorite dressing. How do I know?? After 4 dressings, a blind taste test and an overwhelming vote… the winner has been named!!
Changing a Texas Girl's World
Being a good Texas girl I grew up eating cornbread dressing every Thanksgiving. The very traditional version of cornbread with onions, celery, and cornbread. My mom would bake the cornbread days in advance and prep anything she could to make her cornbread dressing.
This Texas girls life was changed though a couple of years ago, I was introduced to bread and sausage dressing and it changed my life. It was full of flavor, the bread was tender, sausage in every bite and the perfect hint of herb making each bite so, so good.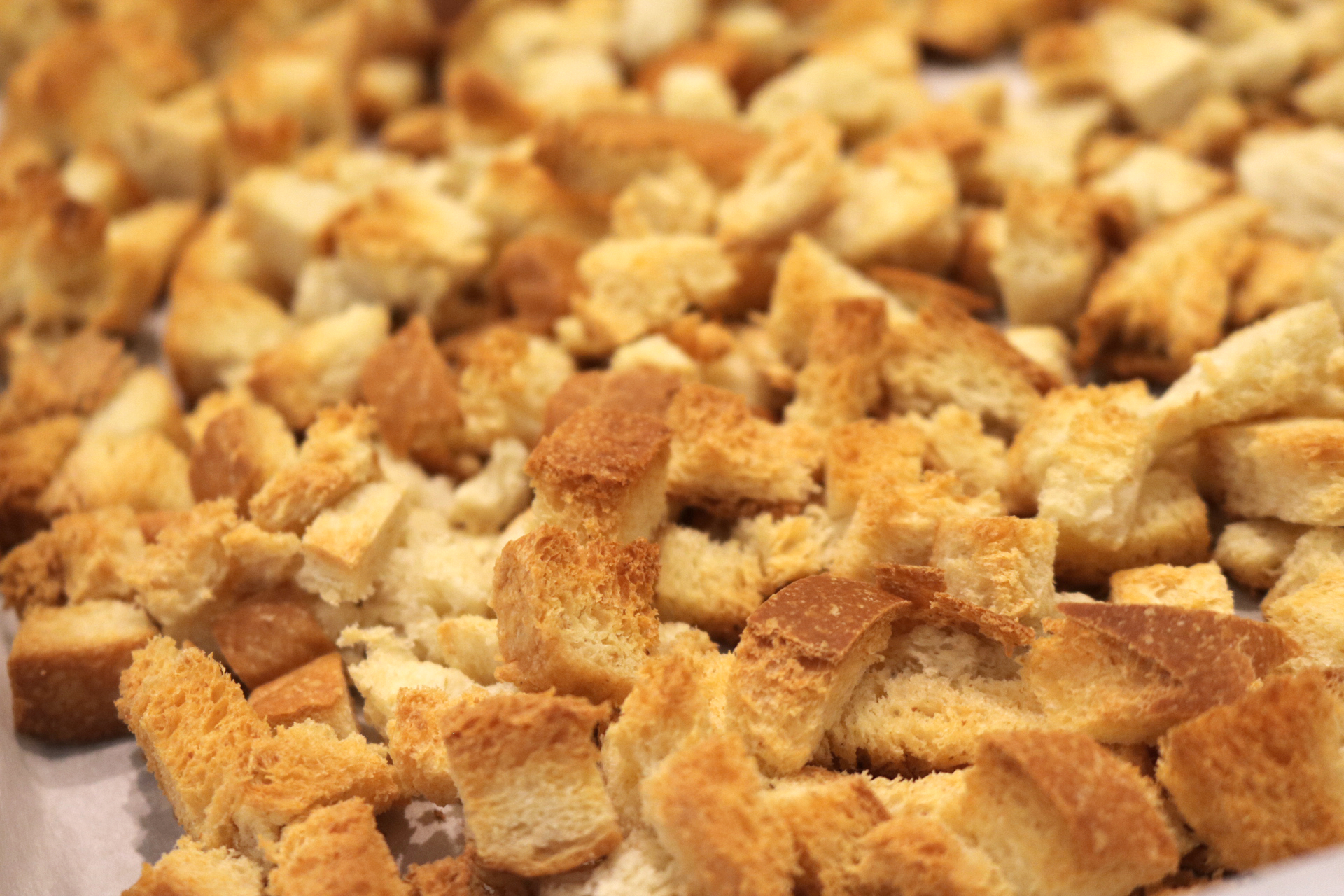 All About the Bread
For a good bread dressing it really is all about the bread. I used a hearty white bread and a lot of sourdough. You could just use one or the other, or use a regular sandwich bread or a counter white style bread.
Ideally you want to let the bread sit out and get stale, but for the great taste test I didn't have that time so I toasted the bread. I have to say I am a fan of the toasted bread A LOT! Going forward I am going to let the bread get stale and toast it both.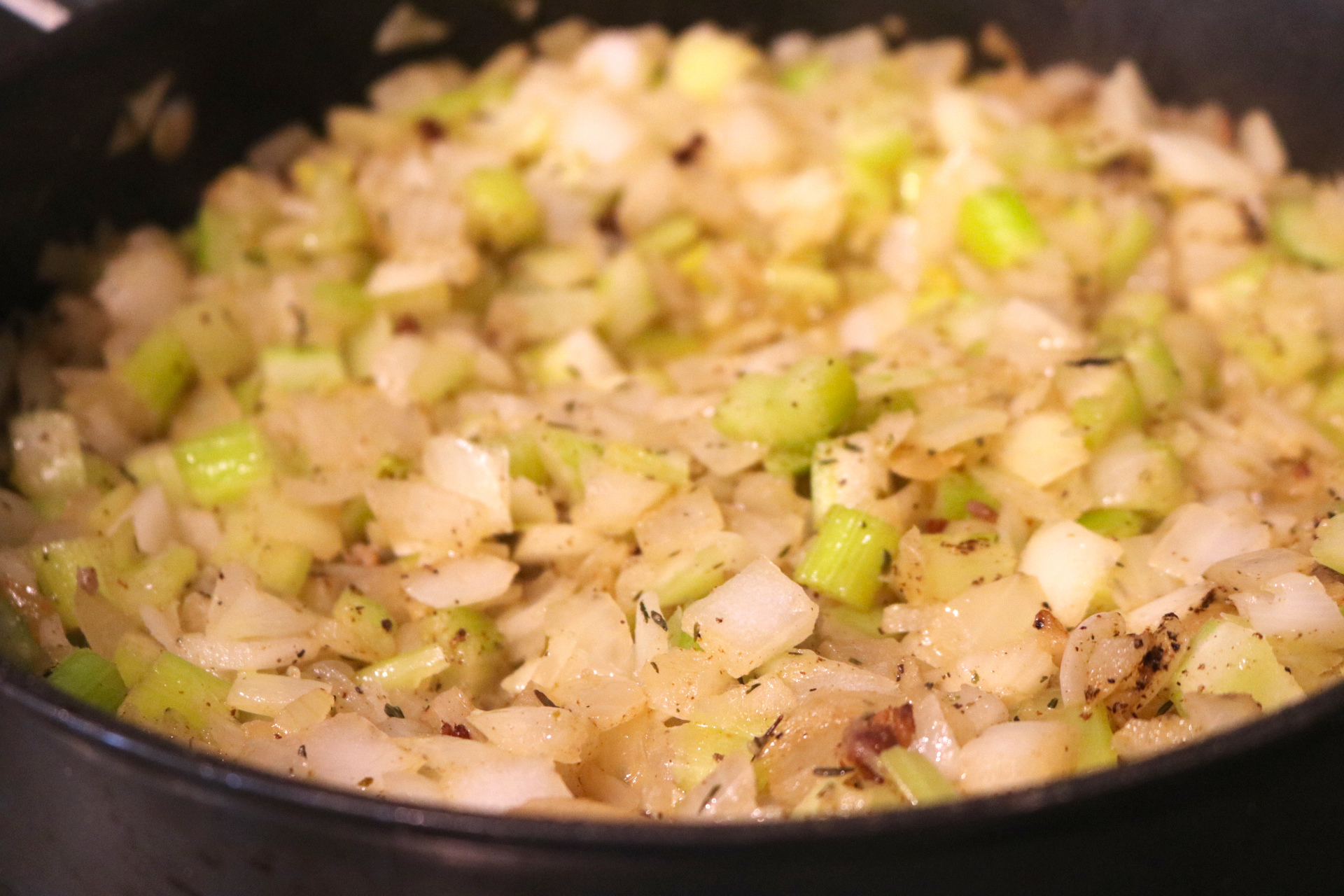 Veggie Time
Just because I am switching to a bread dressing doesn't mean I am doing anything crazy on the veggie side like mushrooms or carrots, but if you want to please do. For me though I like to keep it simple.
I sautéed onions and celery in the sausage grease and butter and added in the fresh herbs and other seasonings as it cooked down. I love how all the flavors really do start coming together as everything cooks down.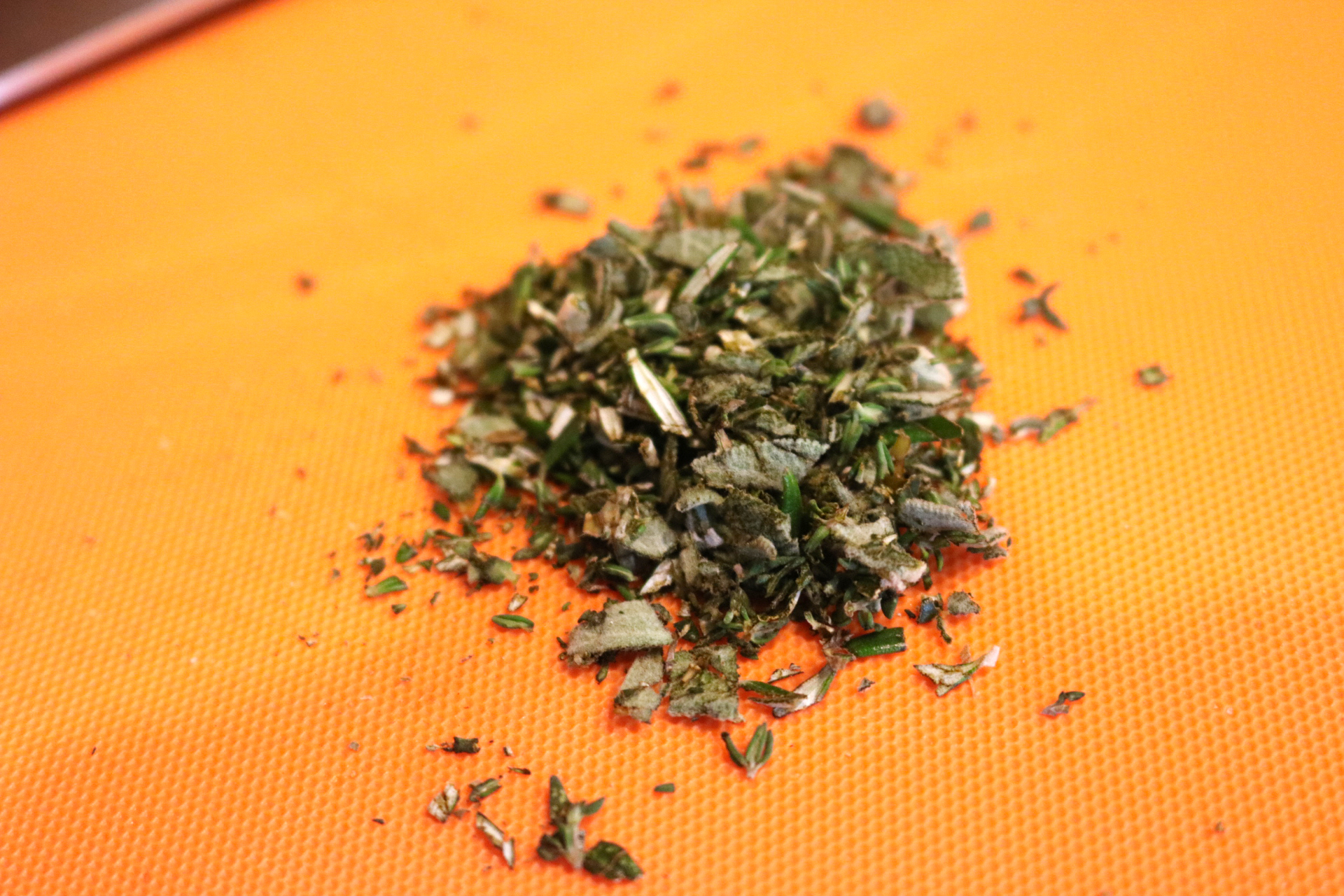 Herbalicious
One of my most favorite things in the original bread and sausage dressing was the hint of fresh herb. For this recipe I ket it very traditional and went with thyme, rosemary and sage. You could use any combo you prefer but for me these just scream Thanksgiving.
If you do not have fresh herbs no problem, you can use dried. Just use 1/4 – 1/2 teaspoon of dried herbs, based on your liking.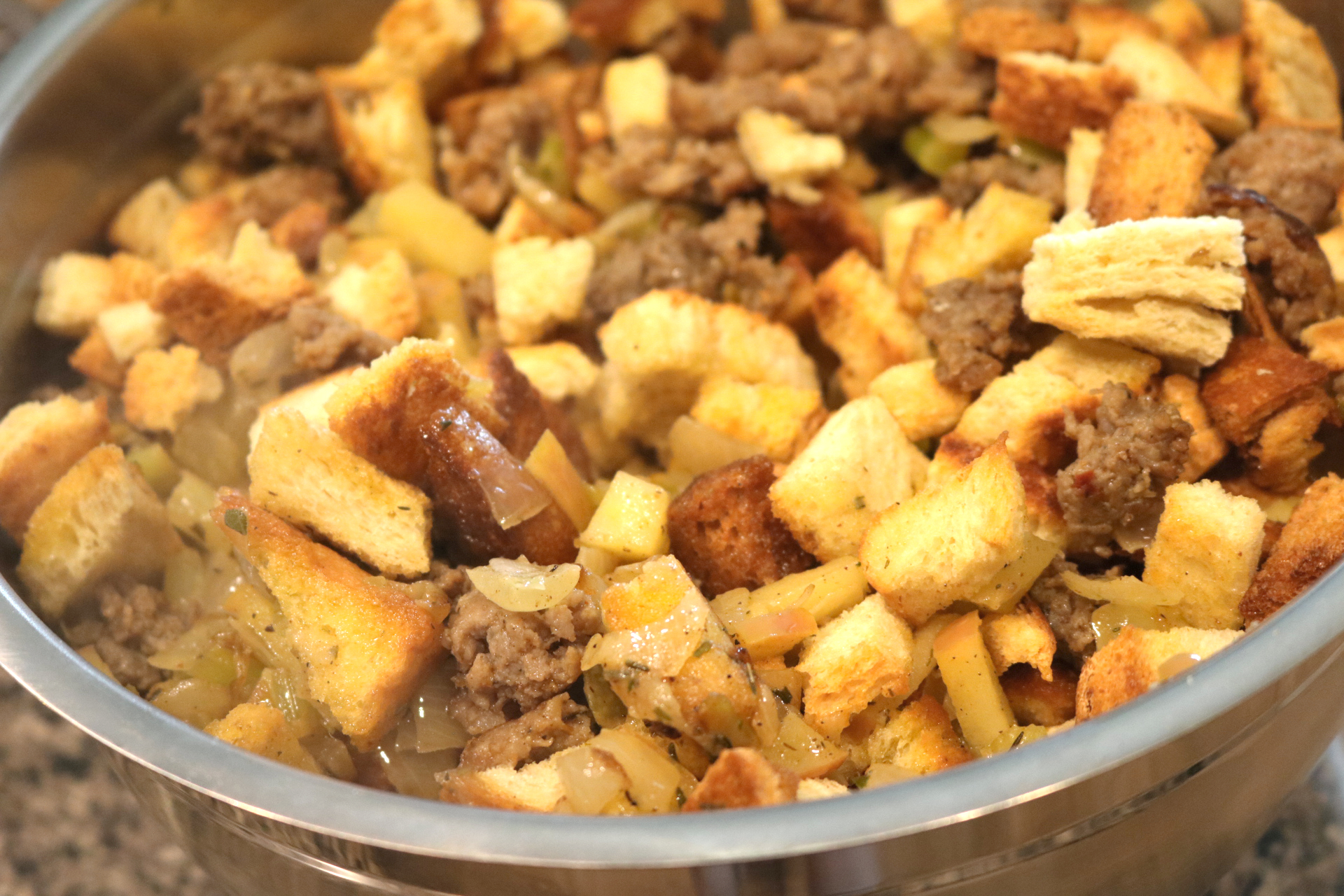 Coming Together
Once the bread is toasted, the sausage is cooked and the veggies are sautéed it is time to dump everything into a big bowl. Please understand when I say big, I mean really BIG. You need to be able to stir this up without everything falling out of the bowl…I mean who wants to give up some of this amazing dressing?
Once it is all combined I add in the stock and get everything all mixed up really well. I then taste the dressing. This way I can adjust the seasoning as needed and add more broth if needed before adding in the egg. For some reason I can eat raw cookie dough, but taste the dressing after the egg in freaks me out… who knows.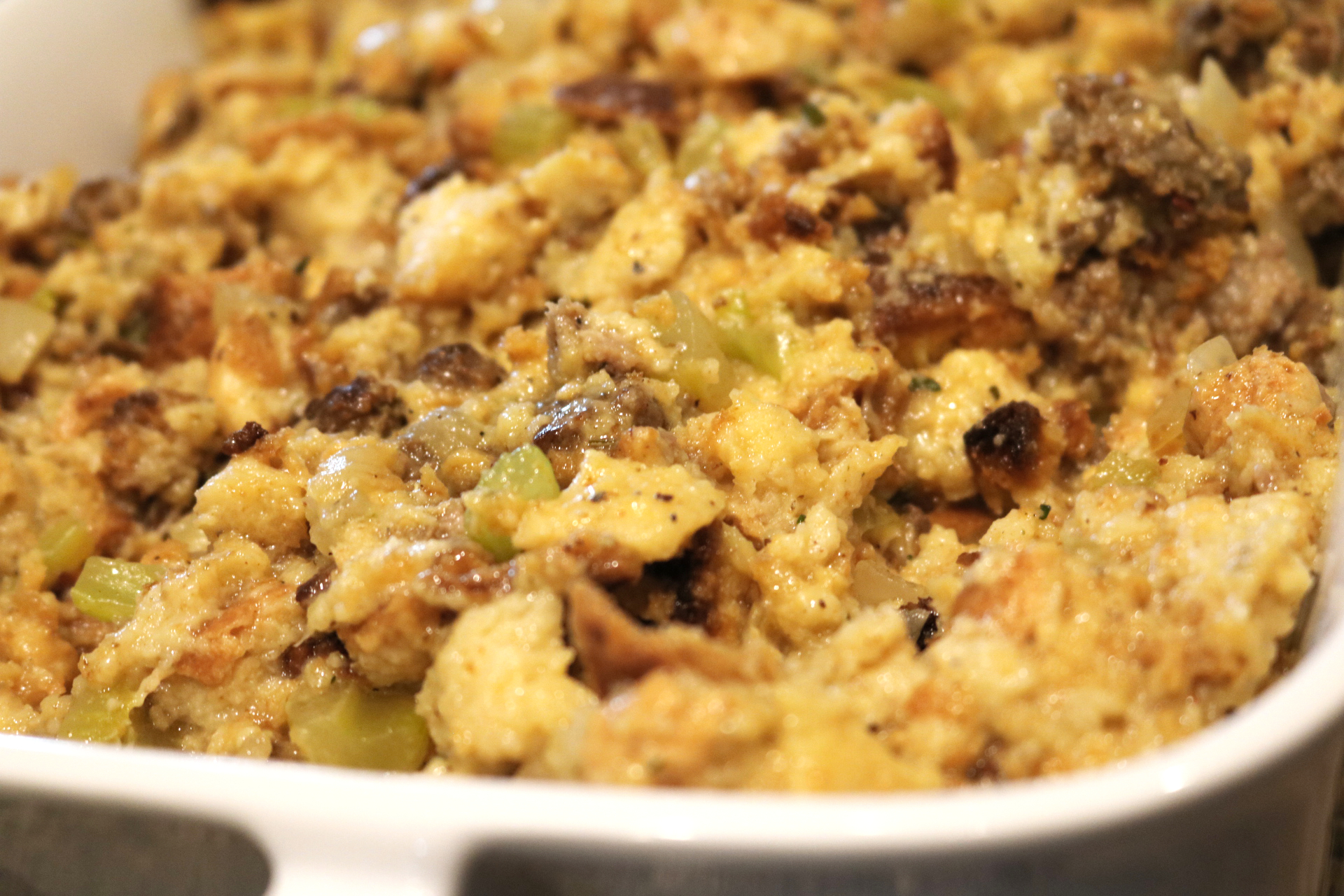 It is Finally Time!
Once you get the seasoning perfect and just the right amount of stock and the egg is incorporated it is time to bake it. Please know it is going to take a while, and maybe even longer than outlined in the recipe depending on how much liquid you added in.
Just make sure and cook it until it is done, you don't want gummy dressing.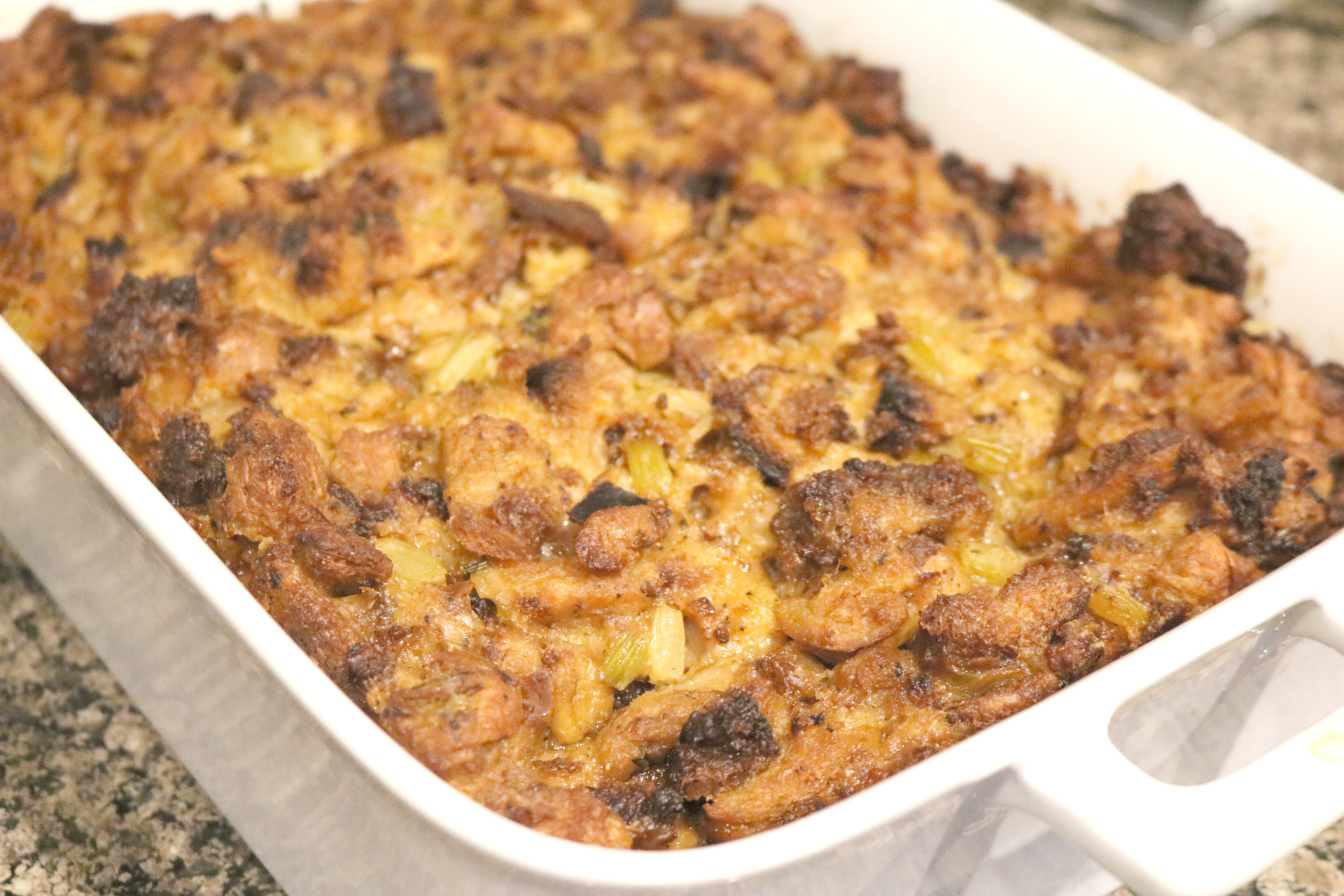 And the Winner Is!!
As I mentioned earlier we did a fun blind taste test to determine our families favorite dressing.
I did 2 cornbread dressings and 2 bread dressings. All of them had sausage in them as we all decided it was a must. Two of them had one special addition, apple. The dressing that changed my life was a bread, sausage and apple dressing. It was so good and so unique that we tried it again… in the end though the no apple options were the favorite. If you wanted to add it in though, it was really good, just add the apples to the onions and sauté all together.
However you decided to personalize your dressing I know it will be AMAZING!
Dressing Time!
Chelle Chelle
8-10 servings
Sausage Dressing – Thanksgiving Must
Sausage Dressing is a Thanksgiving must. It is loaded with tons of flavor and bits of sausage in every bite, making this dressing a crowd pleaser.
30 minPrep Time
1 hr, 5 Cook Time
1 hr, 50 Total Time
Ingredients
2 loafs hearty bread - I used a hearty country white and a sourdough loaf
1 pound sage sausage (or any breakfast sausage you prefer)
1 cup butter
2 cups onion, chopped
1 cup celery, chopped
2 teaspoons poultry seasoning
1 teaspoon salt
1 teaspoon pepper
1 teaspoon fresh Thyme, minced
1 teaspoon fresh Sage, minced
1 teaspoon fresh Rosemary, minced
2-3 cups Turkey (or chicken) stock (broth works as well)
2 eggs
Directions
Preheat oven to 350
Spray a 9x13 casserole dish with nonstick spray, set aside
Line 2 large rimmed baking sheets with parchment paper
Cut bread into small cubes (about 1/2" big)
Place bread into oven and toast until golden brown and crispy edges, tossing once or twice, about 20 minutes
Remove and let cool
In a large skillet cook sausage, crumbling as it cooks, until just cooked through
Remove sausage to plate, set aside
In same skillet add in butter and melt over medium heat
Add in onions, celery, and all the seasonings
Cook until onions are translucent and celery is soft, about 10-15 minutes
Place cooled bread in large (very large) bowl
Add in sausage and onion mixture
Toss until just combined
Pour in 2 cups chicken stock and stir to combine
Add in more stock as needed to get mixture to a wet consistency but not soupy
Taste and adjust seasoning, as needed
Add in egg and mix until well combined
Pour dressing into prepared casserole dish
Cover with foil and place into oven
Bake for 45 minutes
Remove foil and bake for an additional 15-20 minutes or until center does not jiggle
Remove and let stand for 15-20 minutes before serving, or cover and let sit, it will remain pretty warm for a hour or so
To reheat place into 350 oven covered with foil for 10-15 minutes
Serve and ENJOY!!
Notes
You can add in additional vegetables such as carrots
7.8.1.2
526
https://sparklesnsprouts.com/2023/11/09/sausage-dressing-thanksgiving-must-3/
All images are the property of Sparkles n Sprouts, to use image please contact the webmaster at michelle@sparklesnsprouts.com
Pin this Now so you don't Lose It!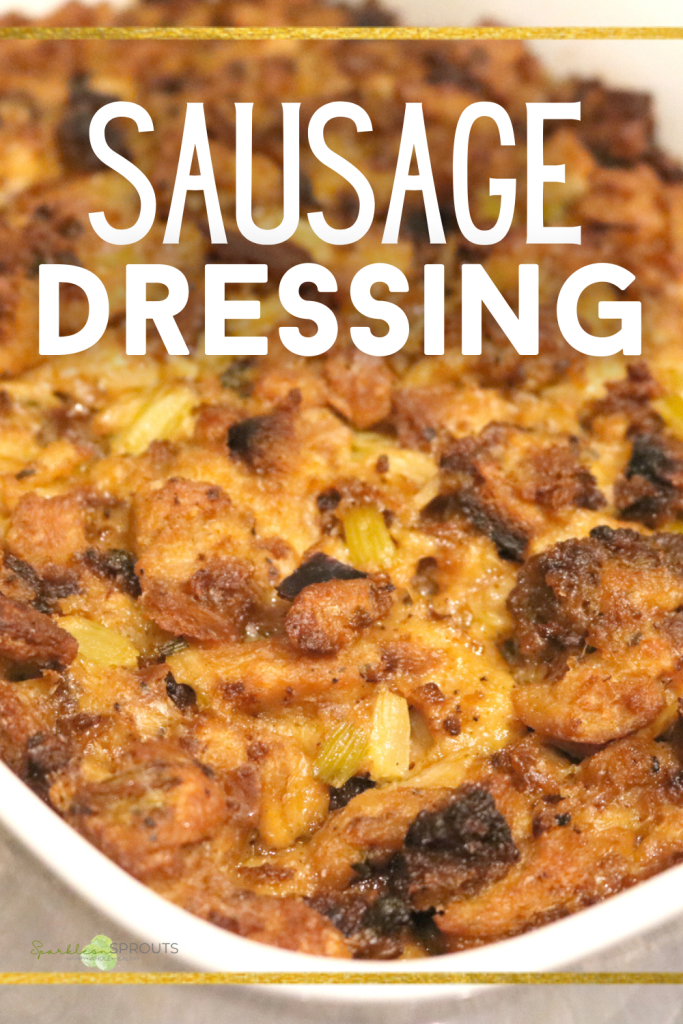 Follow me Below so you Never Miss a Thing!