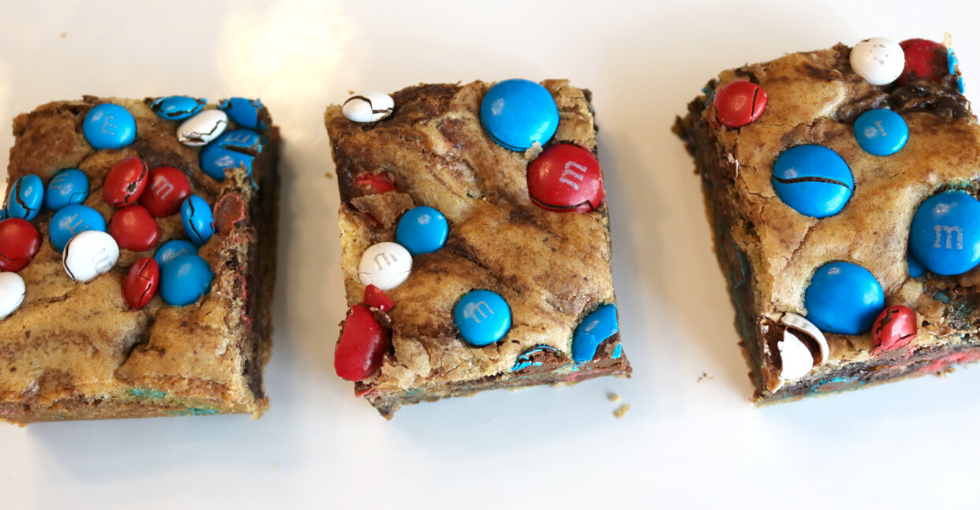 Browned Butter M&M Blondies
Memorial Day weekend is here and that means time for a yummy treat, these Browned Butter Blondies are perfect!
All about the browned butter…
I love a good blondie but these blondies are next level. Why? You ask… it is all about the browned butter. Browned butter really does make all the difference. It adds a nutty bite to the bars and a richness that cannot be adequately described with words alone.
Now I do know that the idea of browning butter can sounds a little intimidating but it really isn't… you just have to pay attention to it. All you do is let the butter melt, it will foam up a little and then slowly it will start to quieten down and some dark bits will appear on the bottom of the pan. Take it off the heat (so it doesn't burn) and voila you have browned butter! SO easy and SOOOOO GOOD!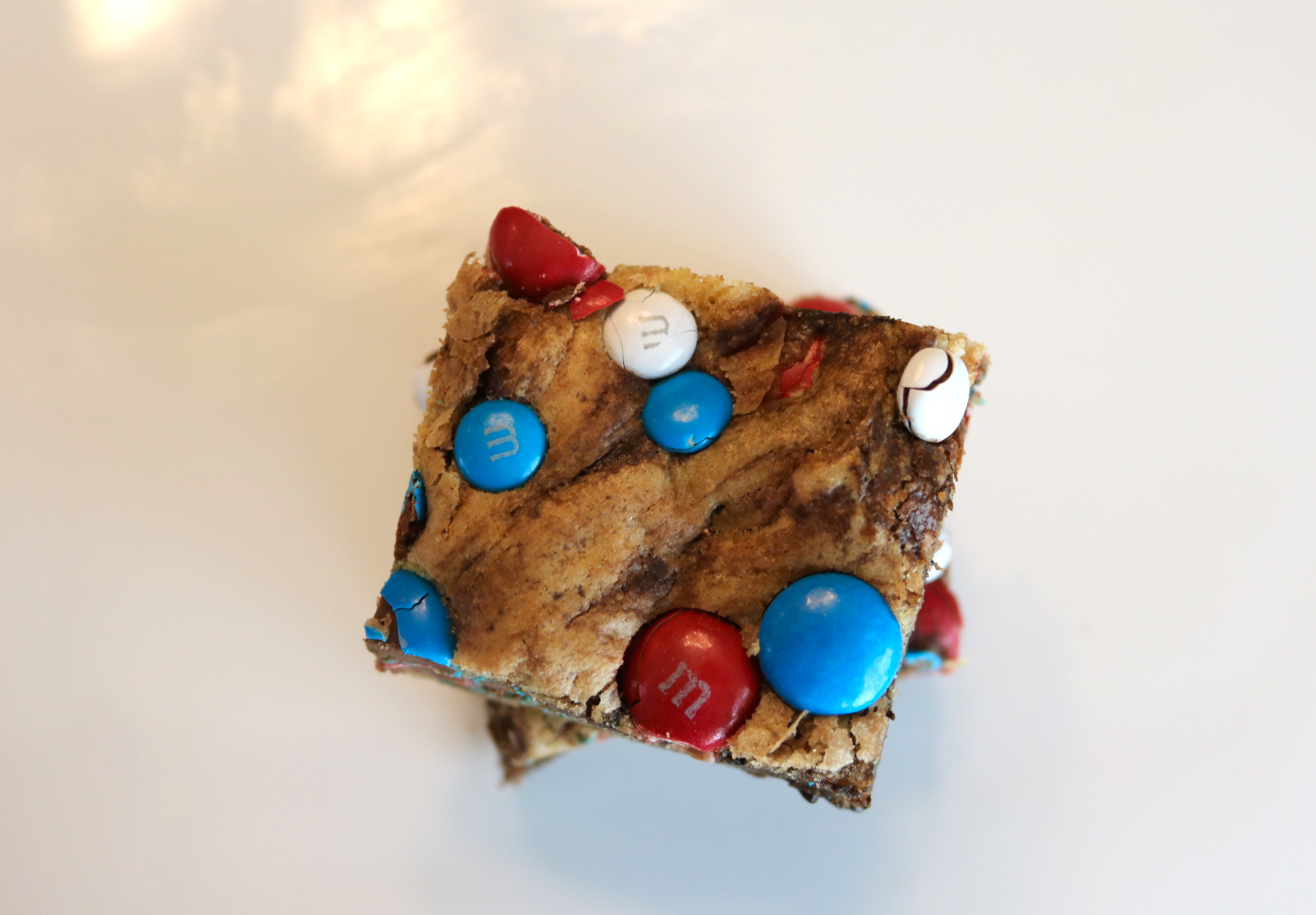 Quick & Easy!
One of my favorite parts of this recipe is that it is all made in 1 pan… yep you read that right 1 pan. You use the same pan you make the browned butter in, can it get any easier? I don't think so! No mixer, no extra bowls, no chilling. By the time your oven is preheated you will be ready to bake.
Also they are perfect for any Holiday as you can use the seasonal M&M's!!
DONE & DONE!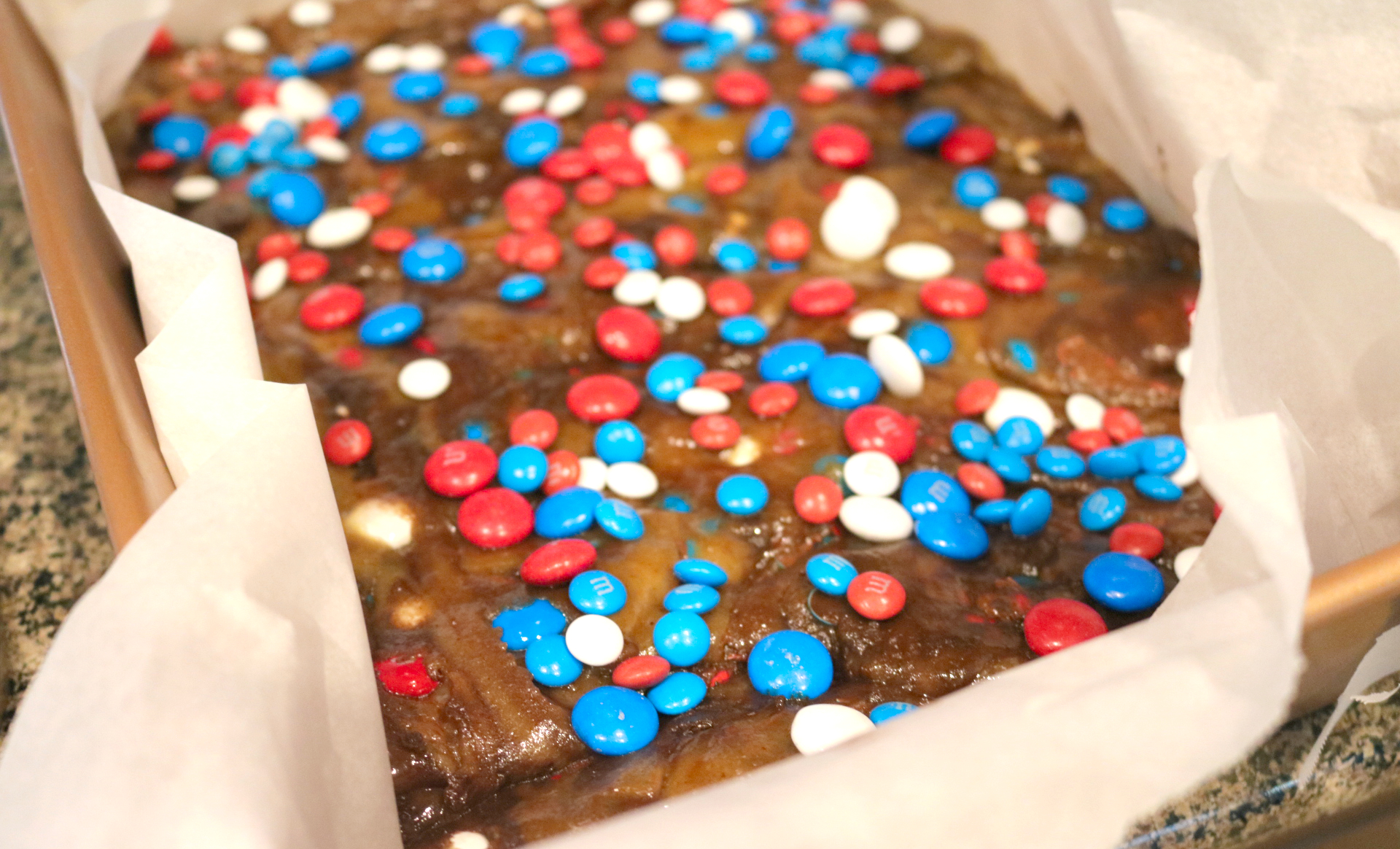 A Little Extra Chocolate Surprise
To add a little more yummy I decided to add in some chocolate chips to the warm batter and created a fun chocolate swirl throughout the batter. I mean just look how pretty it looks! The little extra chocolate also adds just enough chocolate yummy to each bite as well. I used dark chocolate to make even more of an impact but semi-sweet or milk would work great.
You can leave it out all together if you think the M&M's are enough.
You need to make these ASAP!
Chelle Chelle
24 bars
Browned Butter M&M Blondies
Browned Butter M&M Blondies are the perfect quick treat. In less than a hour you can have blondies on the table that are truly next level with the browned butter addition.
15 minPrep Time
20 minCook Time
55 minTotal Time
Ingredients
1 cup butter (2 sticks)
2 cups brown sugar
1 teaspoon vanilla extract 2 eggs (room temperature)
2 cups flour
1 teaspoon baking powder
1 teaspoon salt
1 1/2 cups M&M's (I used regular & mini size for fun)
1/2 cup chocolate chunks (or chips) - if not using chocolate replace with additional 1/2 cup M&M's
Extra M&M's for the top
Directions
Preheat oven o 350
Line a 9x13 pan with parchment paper
In a medium saucepan melt butter over medium heat
Let butter melt and once it stops foaming, swirl the pan until browned bits begin to form on the bottom
Remove from heat immediately and let cool for 3-4 minutes
Stir in brown sugar & vanilla until well incorporated
Add in each egg separately until just combined
Stir in flour, baking powder and salt until just combined
Add in 1 1/2 cups M&M's and chocolate chunks (if using) and stir until chocolate chunks begin to streak a little in the batter
Pour into prepared pan and sprinkle additional M&M's on top
Bake for 20-24 minutes or until edges are browned and middle is just set
Remove and let cool in pan for 20 minutes before cutting
ENJOY
Notes
Use any color M&M's to make them perfect for any season or Holiday.
7.8.1.2
518
https://sparklesnsprouts.com/2023/05/24/browned-butter-mm-blondies-2/
All images are the property of Sparkles n Sprouts, to use image please contact the webmaster at michelle@sparklesnsprouts.com
Pin this NOW so you don't lose it!