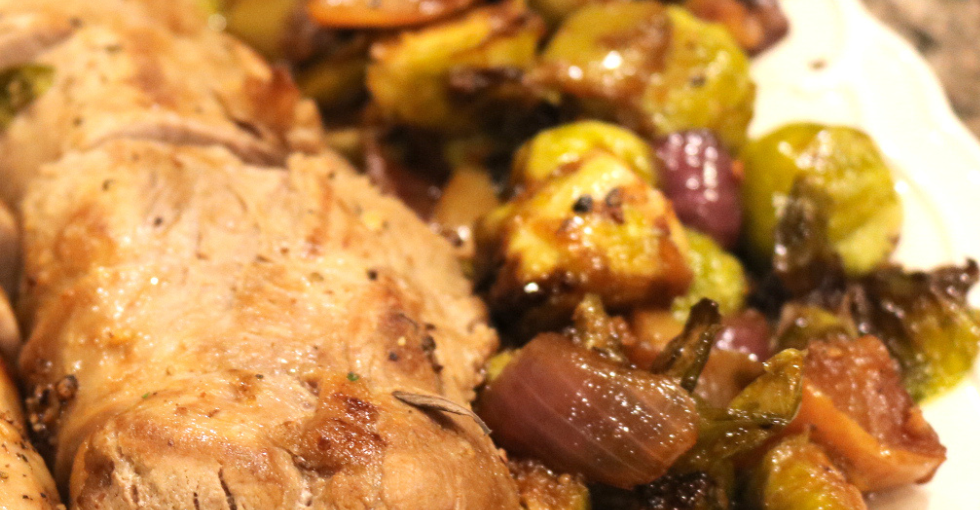 Maple Roasted Pork & Veggies
Pork Tenderloin is a quick & easy dinner option, and when you marinade it in maple syrup it becomes a perfect cool weather dinner that will warm you right up. I made this for a family dinner and it was a HUGE hit!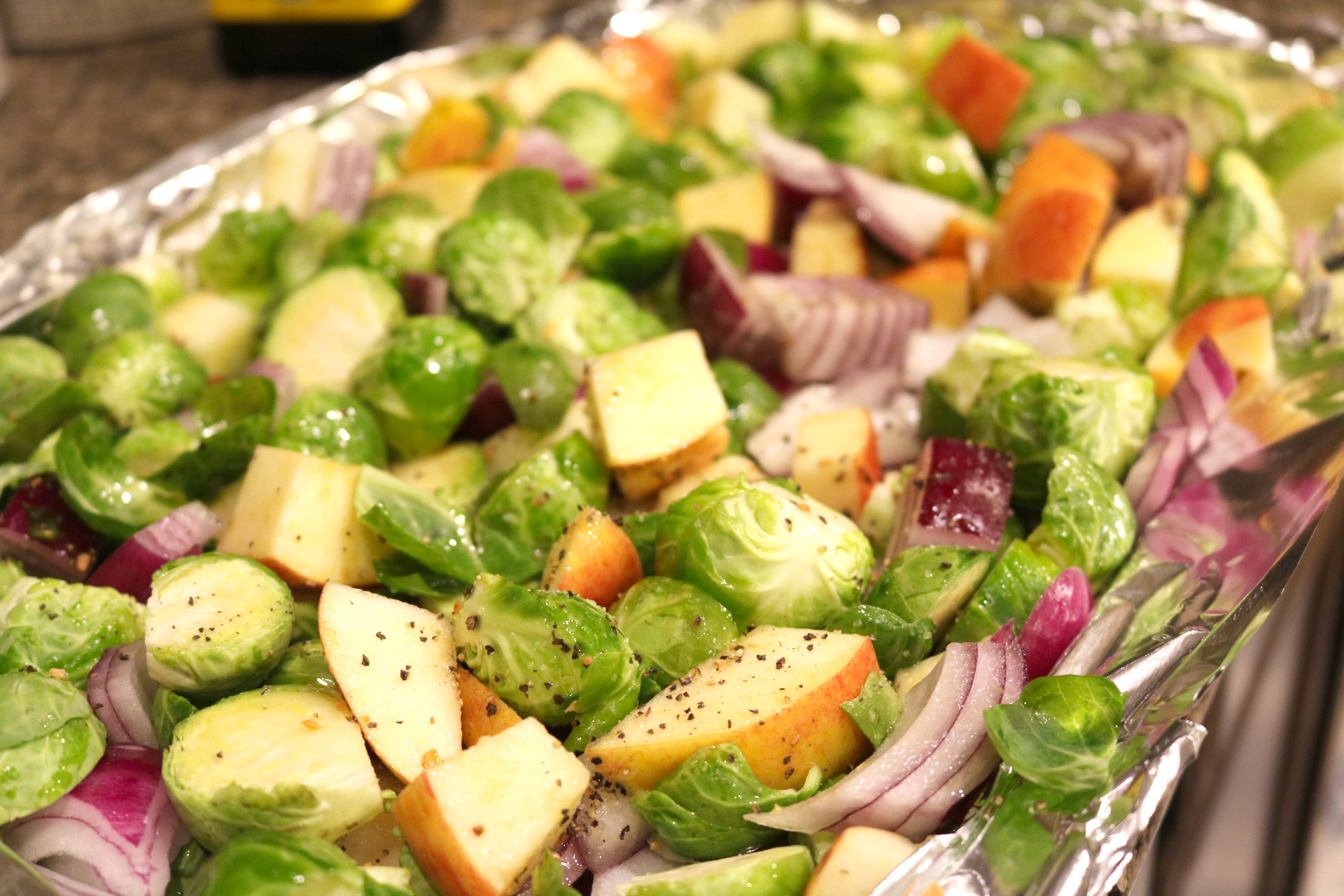 First… let's talk Veggies
I wanted to use veggies that were in season & that would go nicely with the maple and apple cider vinegar marinade. Being it is Fall I went with brussels sprouts, apples and onions. You could use butternut squash, potatoes (sweet or russet), acorn squash, carrots… really the possibilities are endless.
The key is to season them and make sure you cut them small enough so they can roast in time with the pork, so cut the potatoes and hard squash smaller. If using something like mushrooms you could add those in towards the end so they don't burn.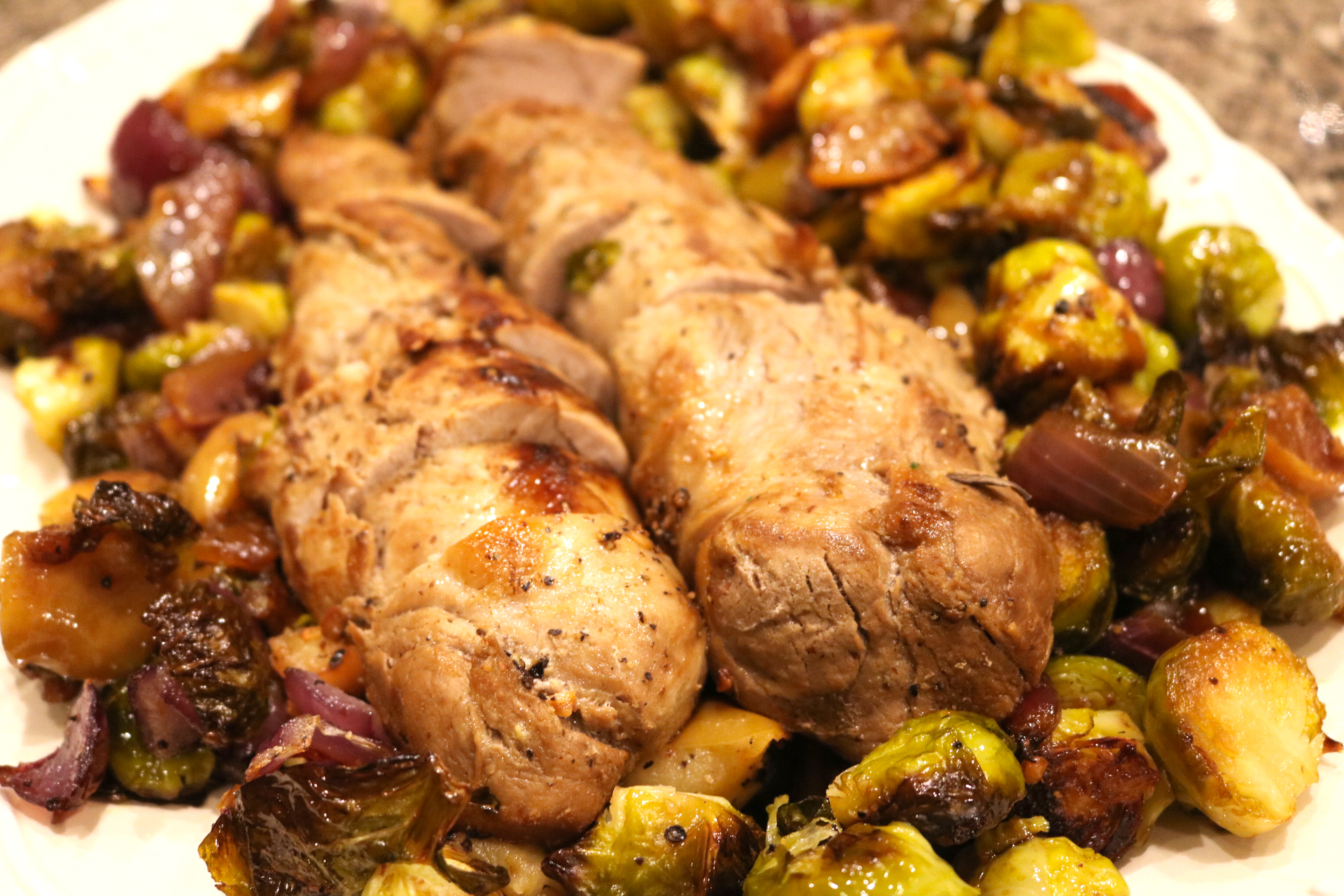 The Maple Marinade though…
What really makes this recipe so special is the marinade. It is a mixture of maple, apple cider vinegar, mustard and few other things that really make this marinade something so special. Not only is the pork marinaded but the veggies get a quick marinade as well.
Oh and the marinade gets turned into a super rich gravy that really becomes the star!!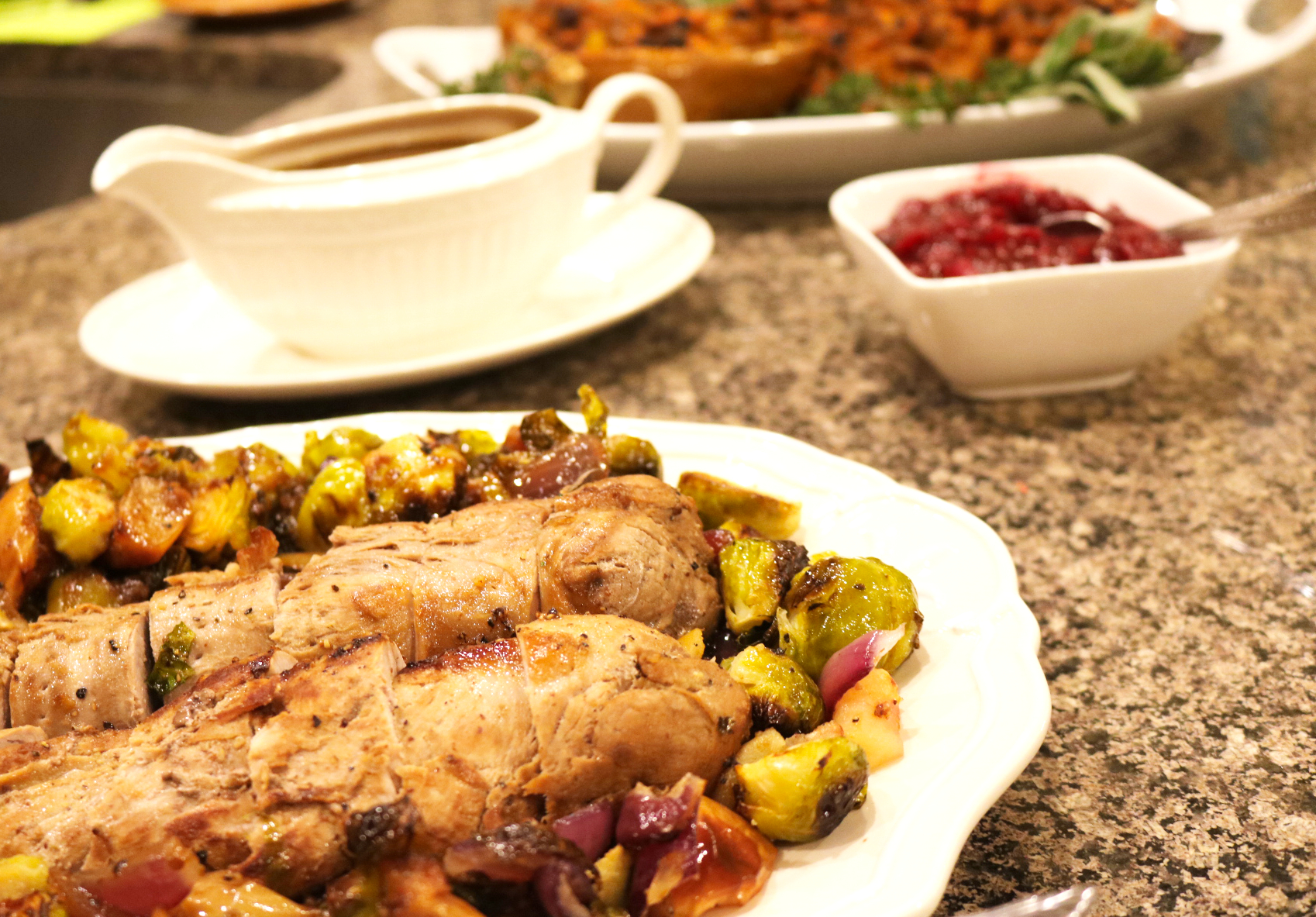 Bringing it all together
As I mentioned I made this family dinner. The pork and veggies was the center but I also served my Spiced Cranberry Sauce and my Stuffed Honeynut Squash. Let me tell you it was a dinner to remember for sure. It was also super easy to pull together.
I had prepared the squash the day before and I made the cranberry sauce the day before. I marinaded the pork over night and then all I had to do was sear the pork, chop the veggies and roast it. Super simple but it looked like I spent HOURS in the kitchen.
Break out the maple syrup!
Chelle Chelle
Maple Roasted Pork & Veggies
This One Pan Pork & Veggie dinner is the perfect family dinner. It will serve up to 8 and is even better the next day. Use whatever veggies you have on hand.
1 hr, 30 Prep Time
30 minCook Time
2 hr, 10 Total Time
Ingredients
Marinade
3-4 lb pork tenderloin (either whole or 2 individual ones)
1 cup olive oil
2/3 cup apple cider vinegar
1/2 cup soy sauce (I used gluten free low sodium)
1/2 cup maple syrup - make sure it is pure maple syrup and not pancake syrup
1/2 cup whole grain mustard
Pork & Veggies
1-2 teaspoons Course All-Purpose seasoning
1 lb brussels sprouts, stemmed and cut in half
1 large purple onion, chopped into large pieces
3 medium - large apples (whatever variety you prefer) cut into large pieces
1 Tablespoon olive oil
1-2 tablespoons butter
extra salt & pepper for taste
Directions
Trim the pork tenderloins as needed
Place into large zip closure plastic bag, set aside
In a large bowl whisk together all the marinade ingredients until well combined
Pour marinade over pork in bag
Squeeze air out of the bag and place in the refrigerator for at least one hour but up to 24 hours (the longer the better)
When ready to cook remove pork from fridge
Remove pork from marinade and place on cutting board and pat dry, set aside
Sprinkle all-purpose seasoning all over pork and let sit for 10 minutes
While pork is resting place chopped sprouts, onion and apples in a large bowl and pour remaining marinade over veggies, set aside
Preheat oven to 375
Line a rimmed baking sheet with parchment paper or foil (sprayed with nonstick spray) and set aside
In a large skillet heat olive oil over medium high heat
Place pork in skillet and sear on all sides (about 1-2 minutes per side
Using a slotted spoon remove veggies from marinade and place on around the edges of rimmed baking sheet while pork sears, reserving the marinade
Once pork is seared place pork in the middle
Place into oven and roast for 20-25 minutes or until pork reaches desired doneness and sprouts are starting to brown
Remove and let stand for 10 minutes to rest
While pork is resting place reserved marinade into a saucepan and bring to boil
Let marinade reduce by 1/2, stirring often
Stir in butter when gravy is reduced
Serve with pork, veggies & cranberry sauce (if so desired)
ENJOY!
Notes
You can use whatever veggies you like, see post for some great options
7.8.1.2
578
https://sparklesnsprouts.com/2022/11/22/maple-roasted-pork-veggies/
All images are the property of Sparkles n Sprouts, to use image please contact the webmaster at michelle@sparklesnsprouts.com
Pin this recipe now before you lose it!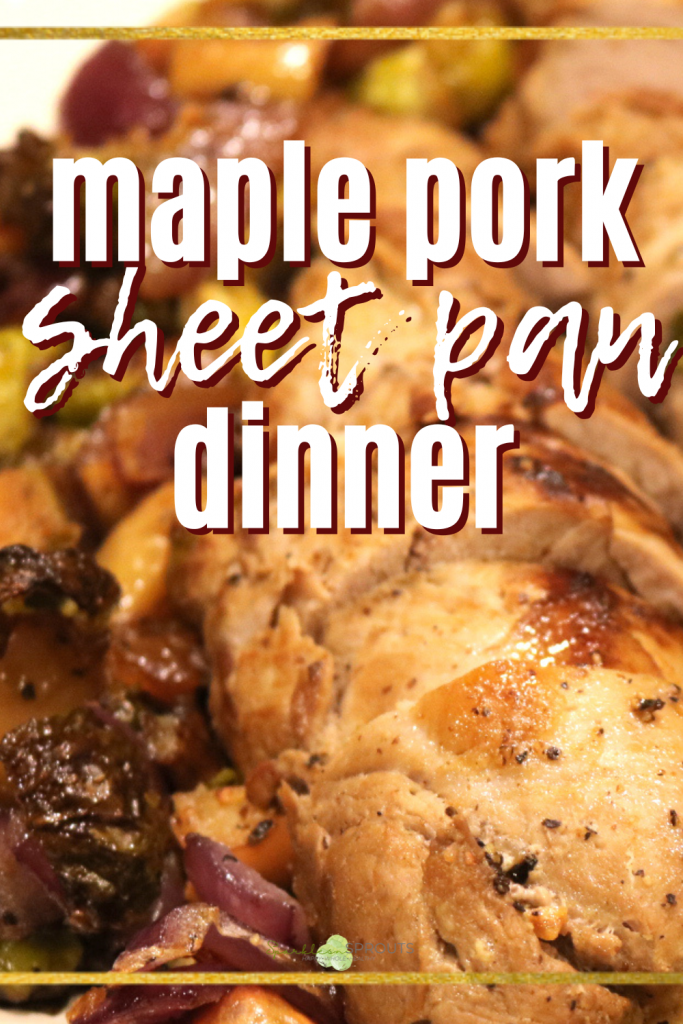 Follow us so you never miss a thing!