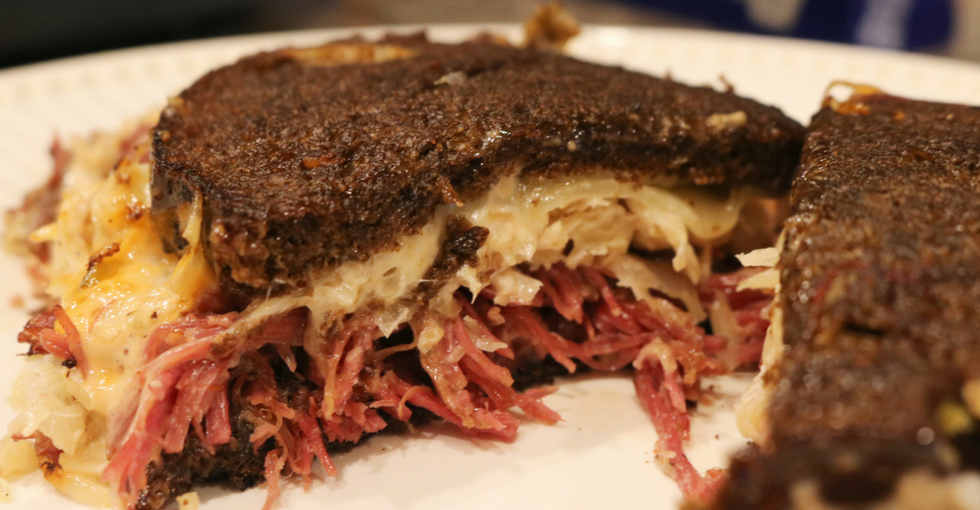 Are you a reuben fan? Are you a fan of grilled cheese. I love them… they can be simple… some with meat, some with multiple types of cheese, thick bread, thin bread, fancy bread. However…I just love grilled cheese.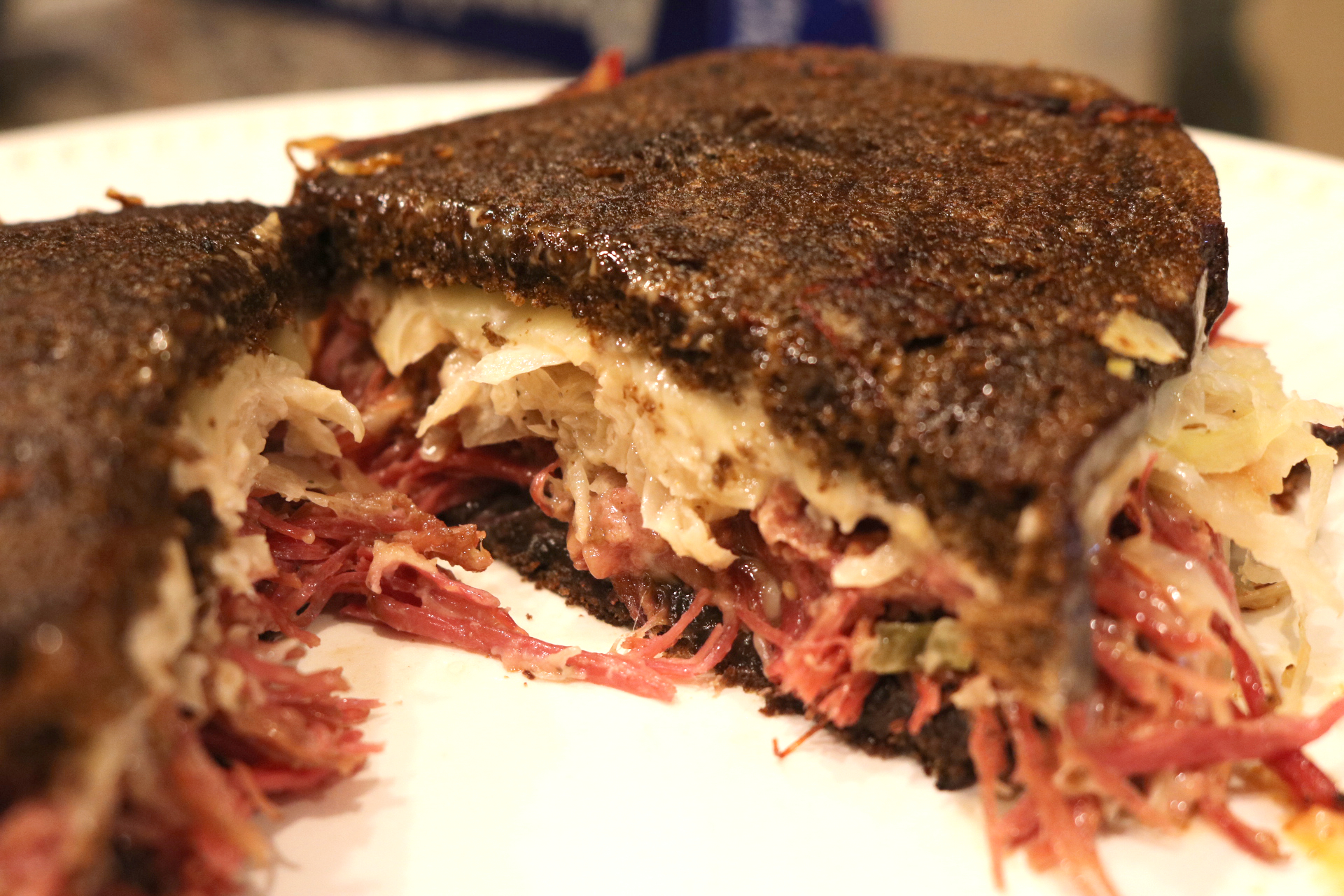 Closed or Open?
There is a great delicatessen here is Houston call Kenny & Ziggy's. This is the first place I ever experienced The Rueban. I am almost embarrassed to admit this but it was about 12 years ago that I fell in love with this amazing sandwich.
It all started with a shopping trip to the Galleria with my brother for my sis-in-love. Afterwards we went to Kenny & Ziggy's for lunch and he said we needed to split the Reuban, and being the awesome sister I am I agreed. When he ordered he asked for it to be open…honestly I had no idea what that meant but I quickly learned.
Not only was it amazing looking it was HUGE. I am so glad he said to split it. Well from the first bite I knew this was going to be my new favorite sandwich and I from there on I always ordered it open…until a year or so ago.
I went with some friends and the super sweet waitress asked me if I wanted it open or closed and I said open and she immediately asked me if I have ever had it closed and grilled. Well that peaked my interest so I asked for it that way, and boy oh boy…IT WAS SOOOOO GOOD!
Either way, open or closed it is just so good.
PS…my dad and brother are still open guys, so I made one open for my dad tonight,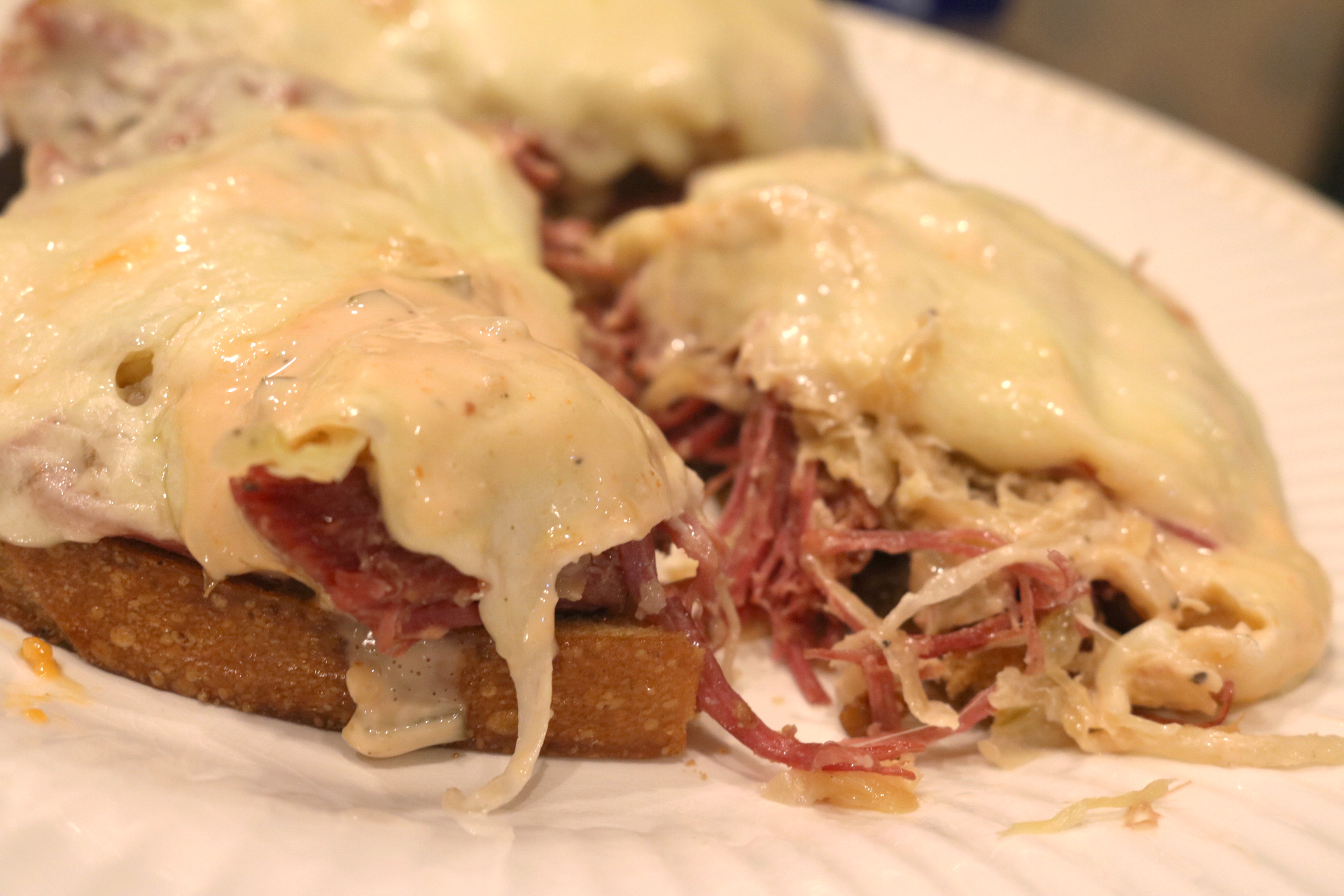 The Sauerkraut … oh the Karut
My MeeMaw made the best sauerkraut. It took her forever in a big crock and it was a whole production. Well unfortunately she is no longer with us, and neither is her kraut so I have learned how to take the jarred stuff and amp it up a bit.
I take a good amount of kraut with some of the juice and cook in on the stove until all the liquid is gone. Then I add in some worcestershire sauce and pepper and cook it until it starts to brown. It is not as good as my MeemMaw's but it is pretty damn close…and on this reuben it was AMAZING!! I think she would even approve.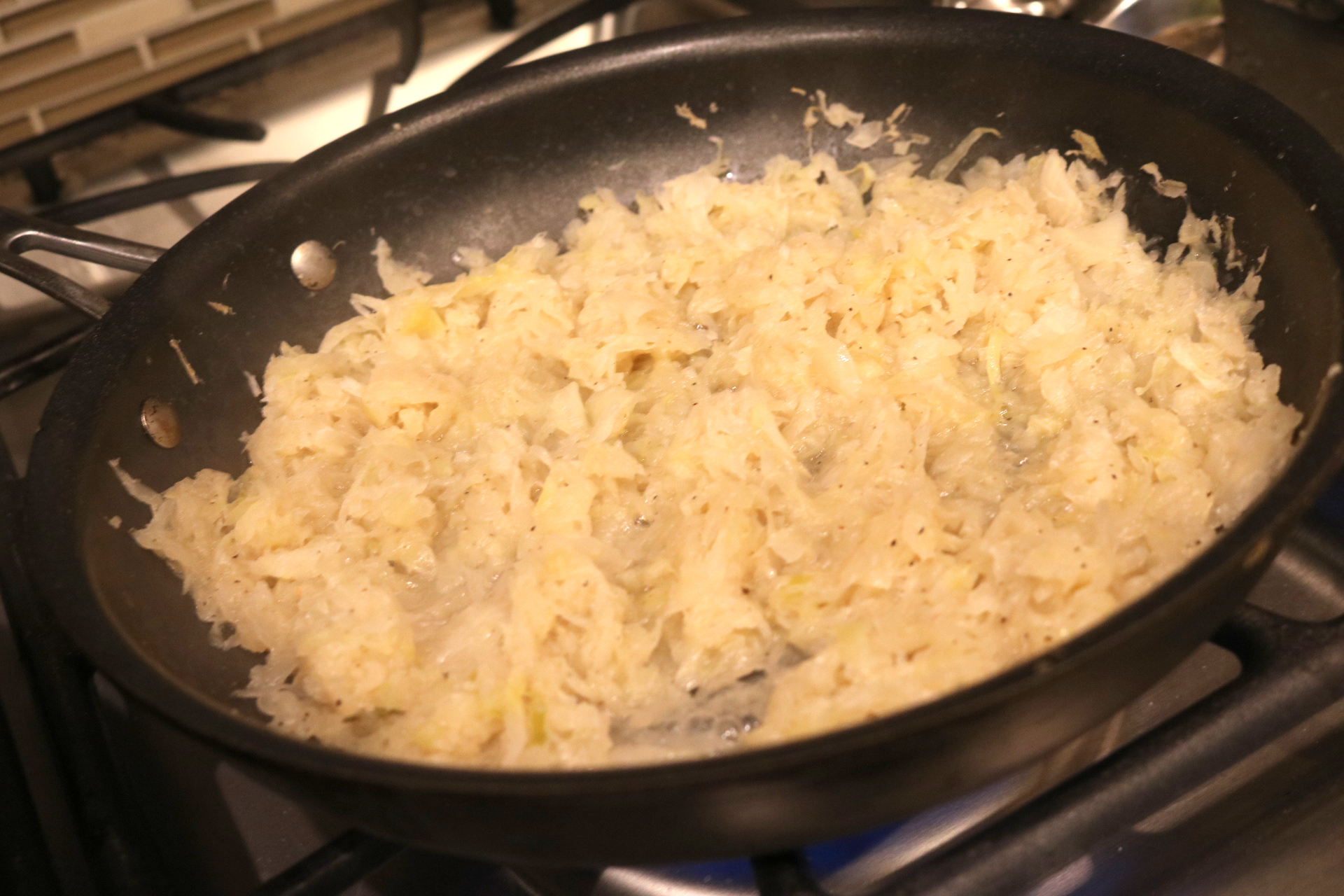 The bread…
I know there are 2 camps on the subject of bread. Some are rye and some are pumpernickel. I am personally and pumpernickel gal, the rest of my family are rye peeps.
For my dads open reuben I made it with rye and he loved it. For mine I obviously used pumpernickel, and just let me tell you a grilled cheese with pumpernickel doesn't get much better.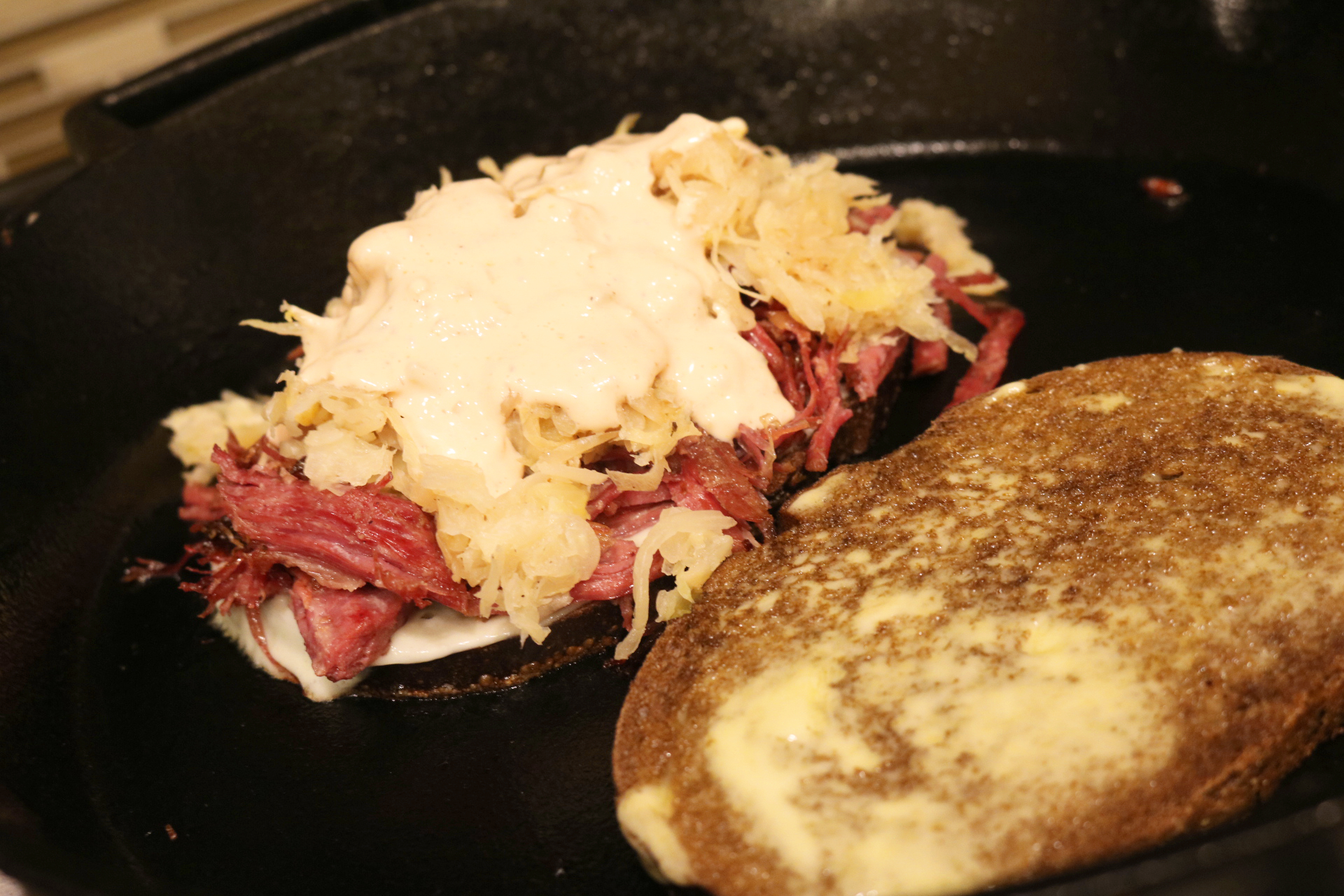 Whatever the reason
Whether you fix this grilled cheese (open or closed) for St. Patrick's Day or you decide to celebrate it being Tuesday (or any other day ending in Y) you will LOVE this grilled cheese.
It is loaded with everything yummy and then grilled on top of everything else…cannot get much better. ENJOY!!
You need one of these NOW…
Chelle Chelle
2-3 sandwichs
Reuben Grilled Cheese
This Rueben Grilled Cheese is a perfect way to celebrate St. Patricks Day or the leftovers from your Corned Beef & Cabbage...it is one of my favorite ways to grill cheese
10 minPrep Time
10 minCook Time
20 minTotal Time
Ingredients
1 -2 cups Sauerkraut (I used a jarred version)
1 teaspoon pepper
1 -2 teaspoons Worcestershire Sauce
4-6 slices Rye or Pumpernickel Bread
Butter
8-10 slices Provolone Cheese
1/2 cup 1000 Island Dressing (check back soon for homemade recipe)
Directions
In a large skillet heat Sauerkraut over medium heat
Stirring often, cook until all liquid is gone
Stir in pepper and Worcestershire Sauce, and continue cooking until kraut is beginning to brown
Remove to a plate to keep warm
Place shredded corned beef into same skillet kraut was in and heat over medium heat until warm
While corned beef is heating butter one side of each slice of bread
In a clean large skillet, I used a cast iron skillet, place bread on the non-butter side and heat over medium heat
Heat until butter is almost all melted on the top side of the bread
Flip bread over and immediate place 1-2 slices of provolone cheese onto 1 slice of twisted bread
Top with 1/3 of the warmed corned beef and 1/3 of the sauerkraut
Spread some dressing over the top (to taste) and then top with 1-2 more slices of cheese
Top with 2nd piece of bread and cook until cheese is melty, carefully flipping once bottom layer of cheese is melted
Serve immediately with additional dressing if desired
ENJOY!
--- To make it open face ---
Once butter is melted flip bread over and build each side starting with 1 slice of cheese, then corned beef, sauerkraut and dressing with more cheese
Place under the broiler for 3-4 minutes until cheese is melty and bubbly
ENJOY!
Notes
You can replace the dressing with spicy mustard or the provolone cheese with swiss cheese
7.8.1.2
410
https://sparklesnsprouts.com/2022/03/07/reuben-grilled-cheese-2/
All images are the property of Sparkles n Sprouts, to use image please contact the webmaster at michelle@sparklesnsprouts.com
Pin this Now so you don't lose it!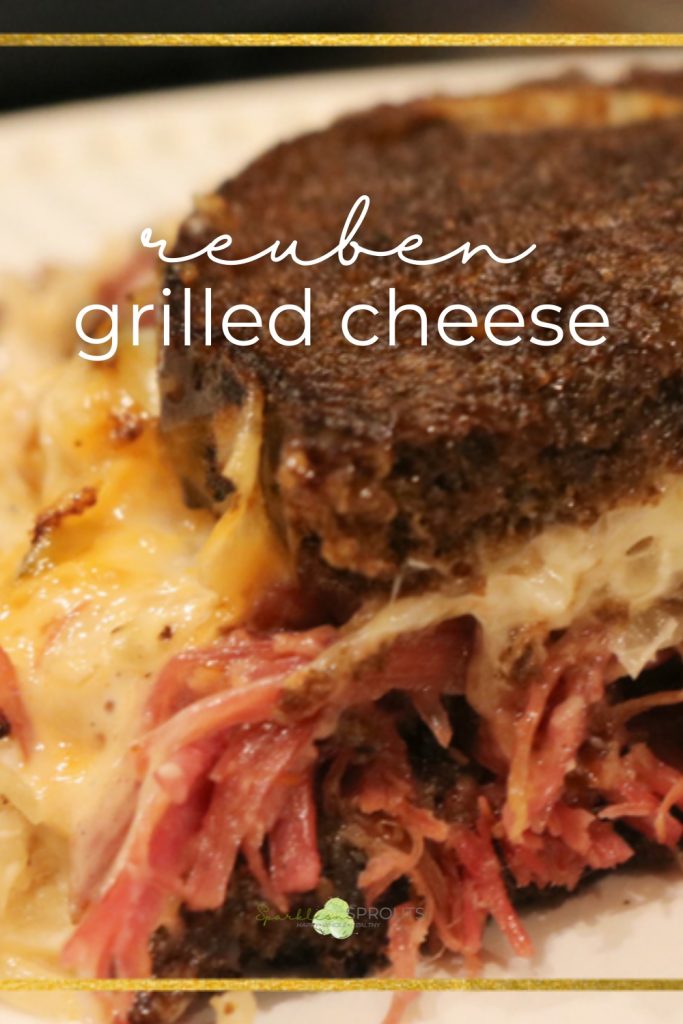 When you make this (& I hope you will) please let us know what you think,
and make sure and follow us so you never miss a thing!