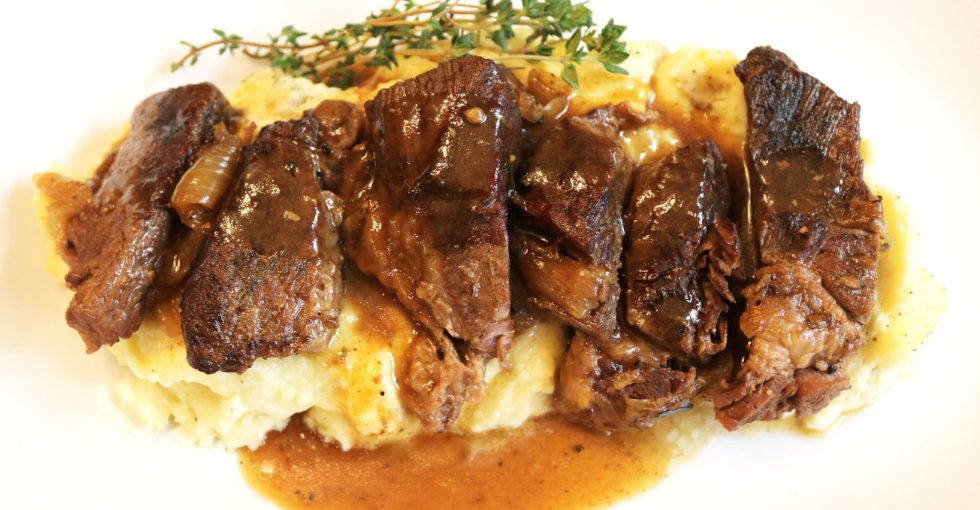 Short ribs = comfort food for me and when it is cool outside ALL I want is comfort food. Plus the calories don't count in December… right?
Let's prep…
The key to this dish is building flavors upon flavors. It starts with browning the short ribs, then the veggies & herbs and then the braising liquid and then the gravy.
It starts with the ribs. For this dish I used boneless as that it what looked the best at the butcher. They were about 3-4 inches long, and about 1 – 1 1/2 inches thick. If you wanted to use bone in you can, just may need to extend cooking time a bit. I seasoned them very liberally with my go to all purpose seasoning (you can get it here) and then browned them in the dutch oven with a oil.
Next comes the veggies. For this dish I kept it super simple with onions, garlic and herbs. You could throw in some carrots & celery if you want. Once the ribs are browned I removed them and then threw in the veggies. I let them cook until they were beginning to soften and brown a bit. After this it is time for the beer!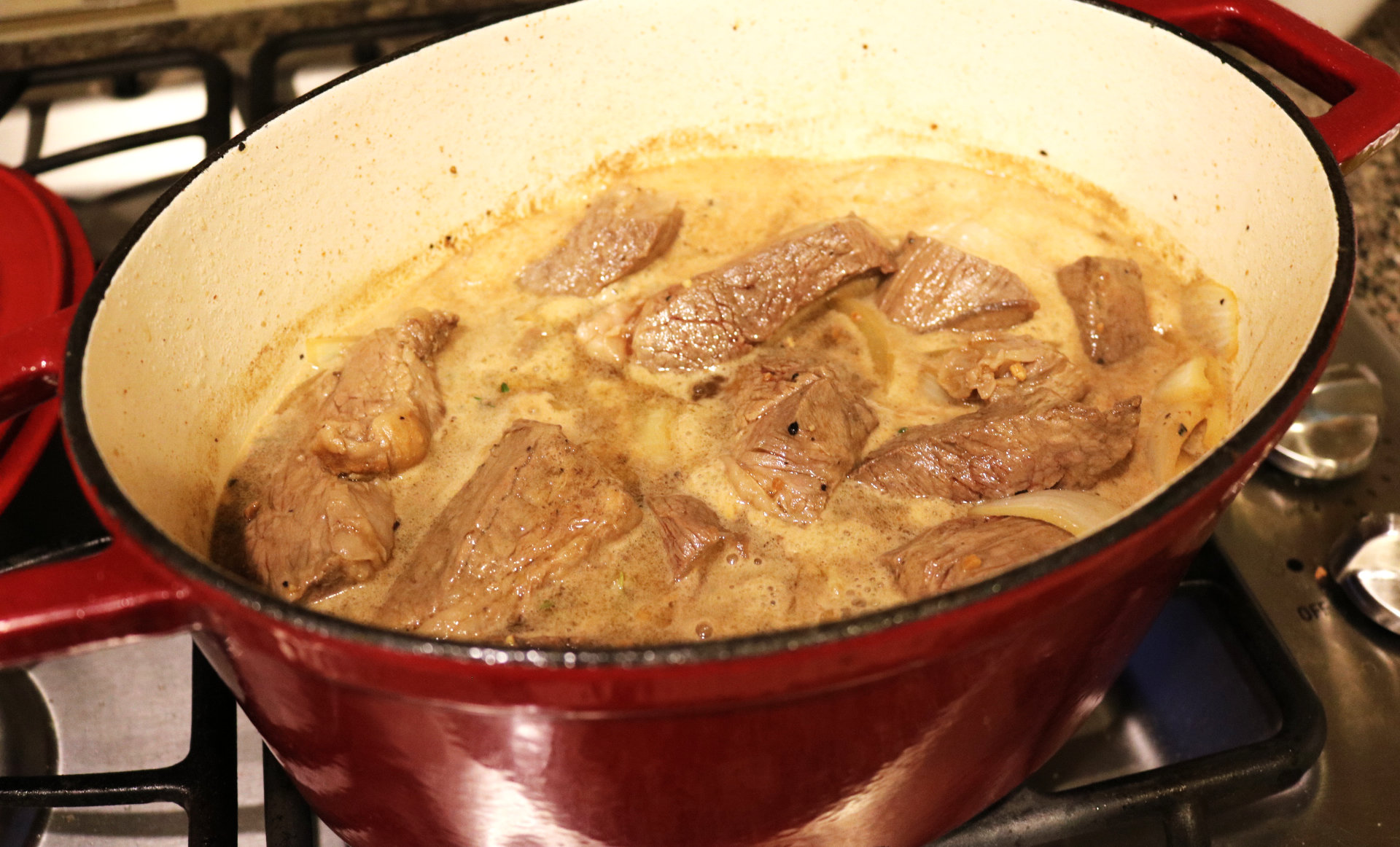 Time to braise!
When it is chilly outside I am all about a good braised dish and short ribs (like this traditional roast) are perfect for braising. You can use just beef broth, but I wanted to take these short ribs to the next level with a dark beer. As the beer cooks down it gives the broth a deep, rich flavor, and also helps tenderize the beef as it cooks… making these short ribs something to remember.
If beer is not your thing you can use red wine or just beef broth, just might need to add a little more seasoning.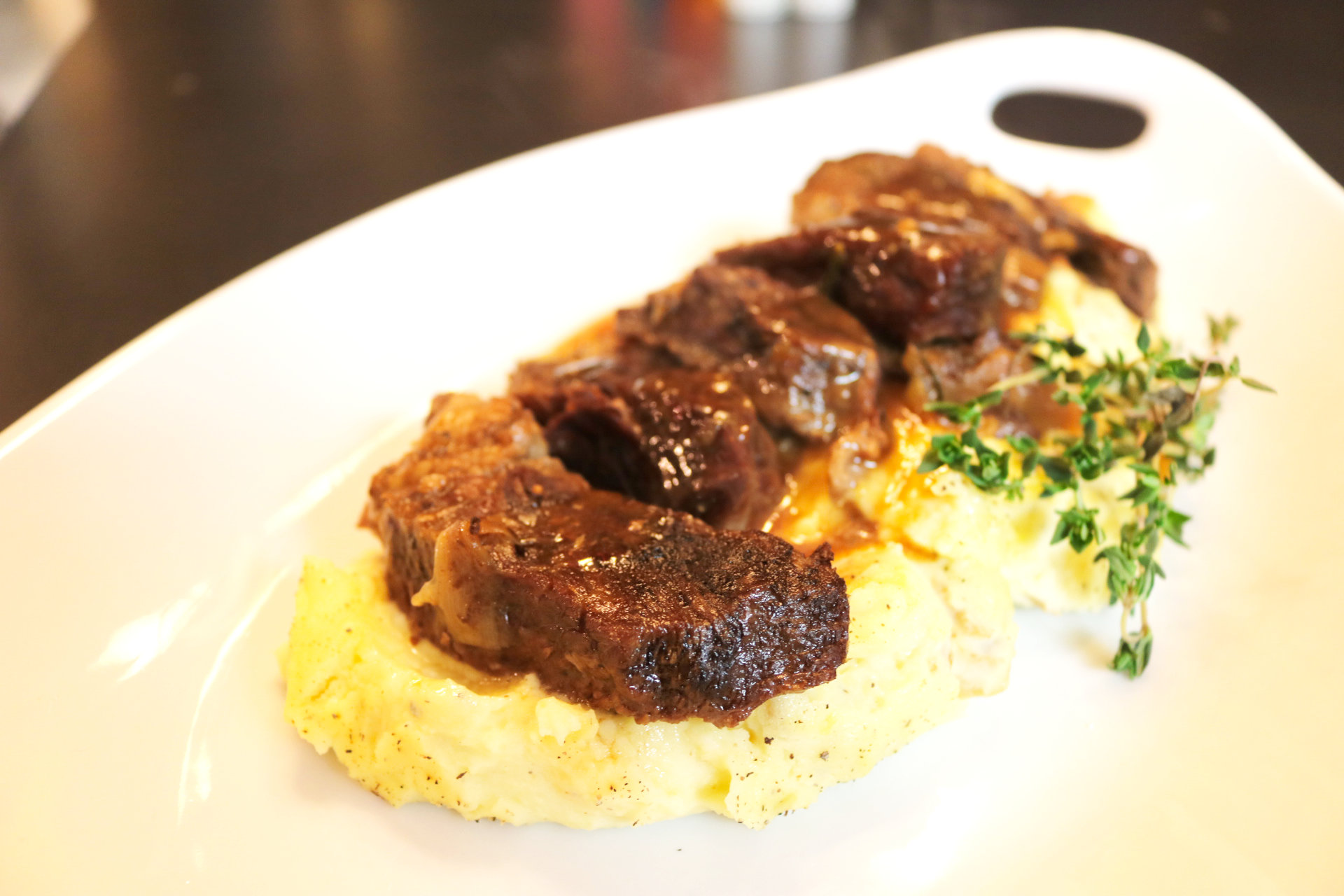 Time for short ribs
I love to serve them "family style" by piling them on top of some golden mashed potatoes or some cheesy grits. And the gravy… OH THE GRAVY. It is rich, smooth and loaded with so much flavor each bite is truly something to be remembered.
Don't forget your favorite veggie (like these brussels sprouts) and you have a meal perfect for any occasion.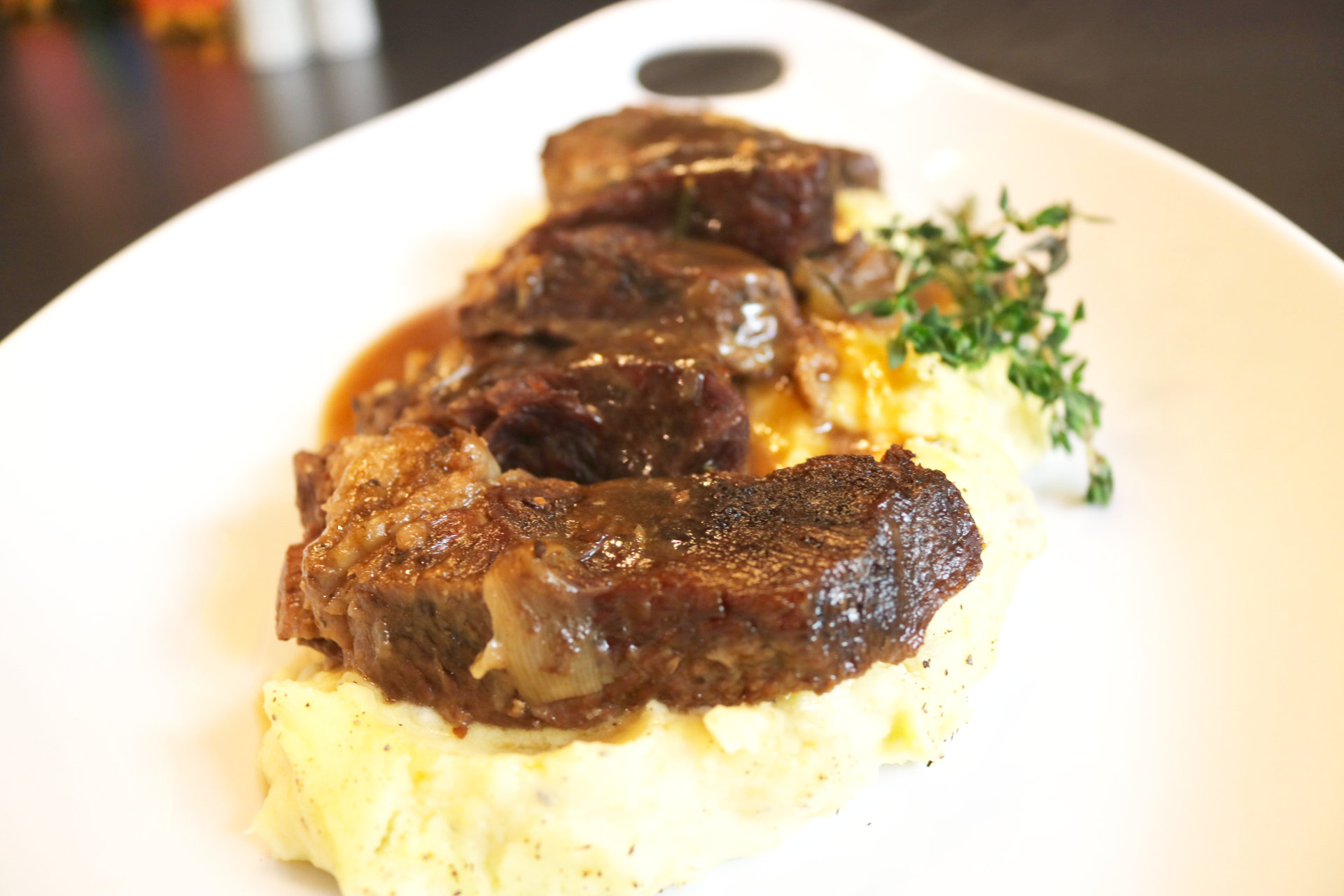 Short Ribs…. please!
Ingredients
4-5 lbs boneless short ribs (or bone-in if you would like)
2 tablespoons vegetable oil
1 large onion (or 2 small onions) chopped in large pieces
8-10 garlic cloves, smashed
3-4 sprigs thyme
2-3 springs rosemary
1 sprig sage
18 oz dark beer (I used Shiner Black)
2 cups beef stock
1 tablespoon corn starch
2 tablespoons water
Directions
Preheat oven to 275
Season short ribs with all purpose seasoning liberally on all sides (including ends)
In a large dutch oven (or heavy bottoms pot with lid) heat oil over medium high heat
Brown short ribs on all sides, working in batches if needed, then remove to platter while you brown veggies
Add in onions and garlic cloves and cook for 3-4 minutes, or until onions begin to soften slightly
Add in herbs and cook another 1-2 minutes, stirring often
Pour in beer and scrape the bottom of the pan to help get all those yummy bits
Stir in beef stock
Place short ribs into pan
Bring mixture to a boil
Cover and put into oven, cooking for 2-3 hours or until the ribs are super tender
Carefully remove the ribs and place onto a rimmed baking sheet
Set oven to broil
Strain liquid from dutch oven through a colander and then return liquid to dutch oven
In a small bowl whisk together corn starch and water, to make a slurry
Bring liquid to a boil
Whisk in slurry and let mixture cook for a few minutes until gravy is thickened slightly
Place short ribs under broiler for 1-2 minutes, just to brown up the edges, you can skip this step for sure I just love how it adds to the presentation
Once gravy is done and ribs are browned place on top of golden mashed potatoes or grits & top with gravy
Serve immediately with some herb garnishes
ENJOY!
7.8.1.2
559
https://sparklesnsprouts.com/2021/12/12/beer-braised-short-ribs/
All images are the property of Sparkles n Sprouts, to use image please contact the webmaster at michelle@sparklesnsprouts.com
Pin this now so you don't lose it!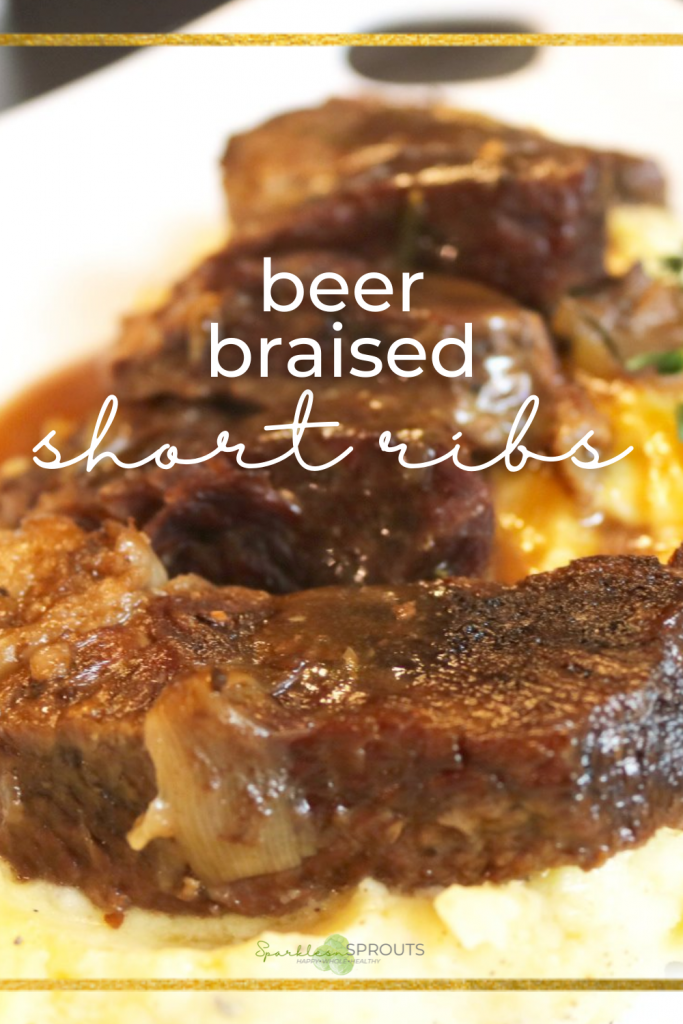 Follow us so you never miss a thing!