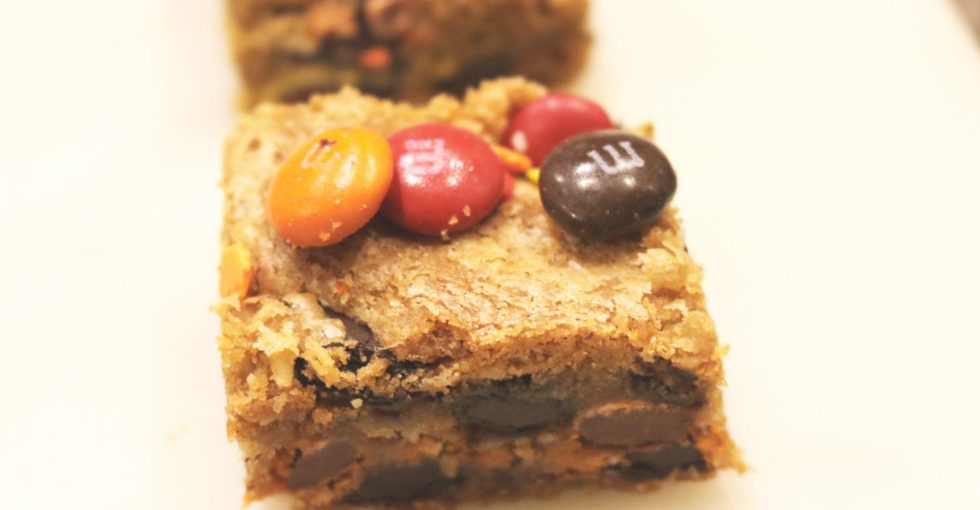 Cookie Butter is all you need to take blondies to the NEXT level! LIKE NEXT, NEXT LEVEL!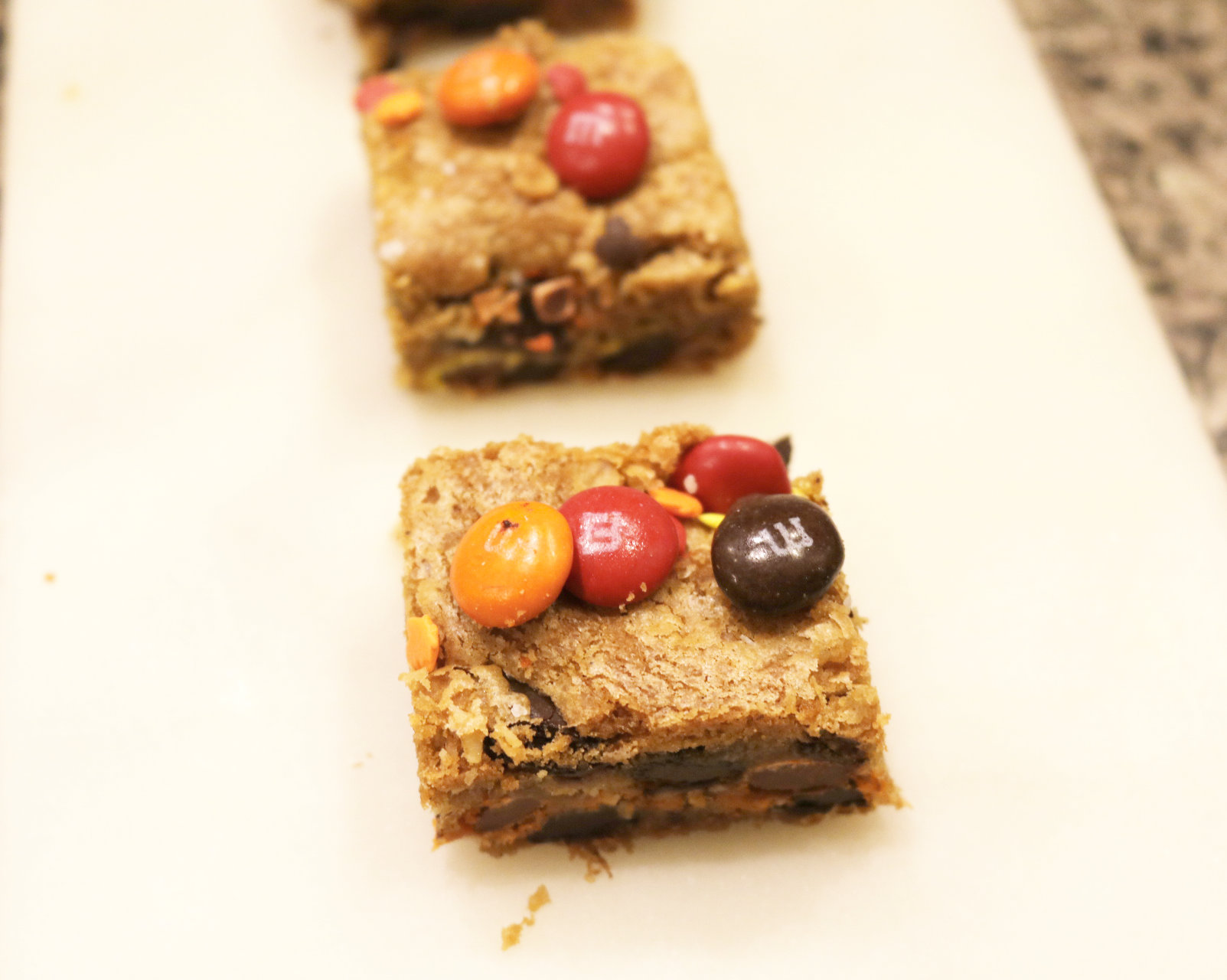 Cookie Butter Love!
Have you had cookie butter? Are you a fan? If you are not, I am not sure we can be best friends, but we can be friends… but be warned I will probably try to make you fall in love with cookie butter.
Not sure what I am talking about… no problem. It is basically speculous cookies (think mild gingersnaps) whipped into a delicious peanut butter/nutella type spread. There is just something so delicious about the slightly spicy, creamy, gingery, warm yumminess of cookie butter. I use it on toast, biscuits, cookies, in dips, on waffles or pancakes, in cookies or just on a spoon… but now that I have used in blondies, well this may be my new favorite.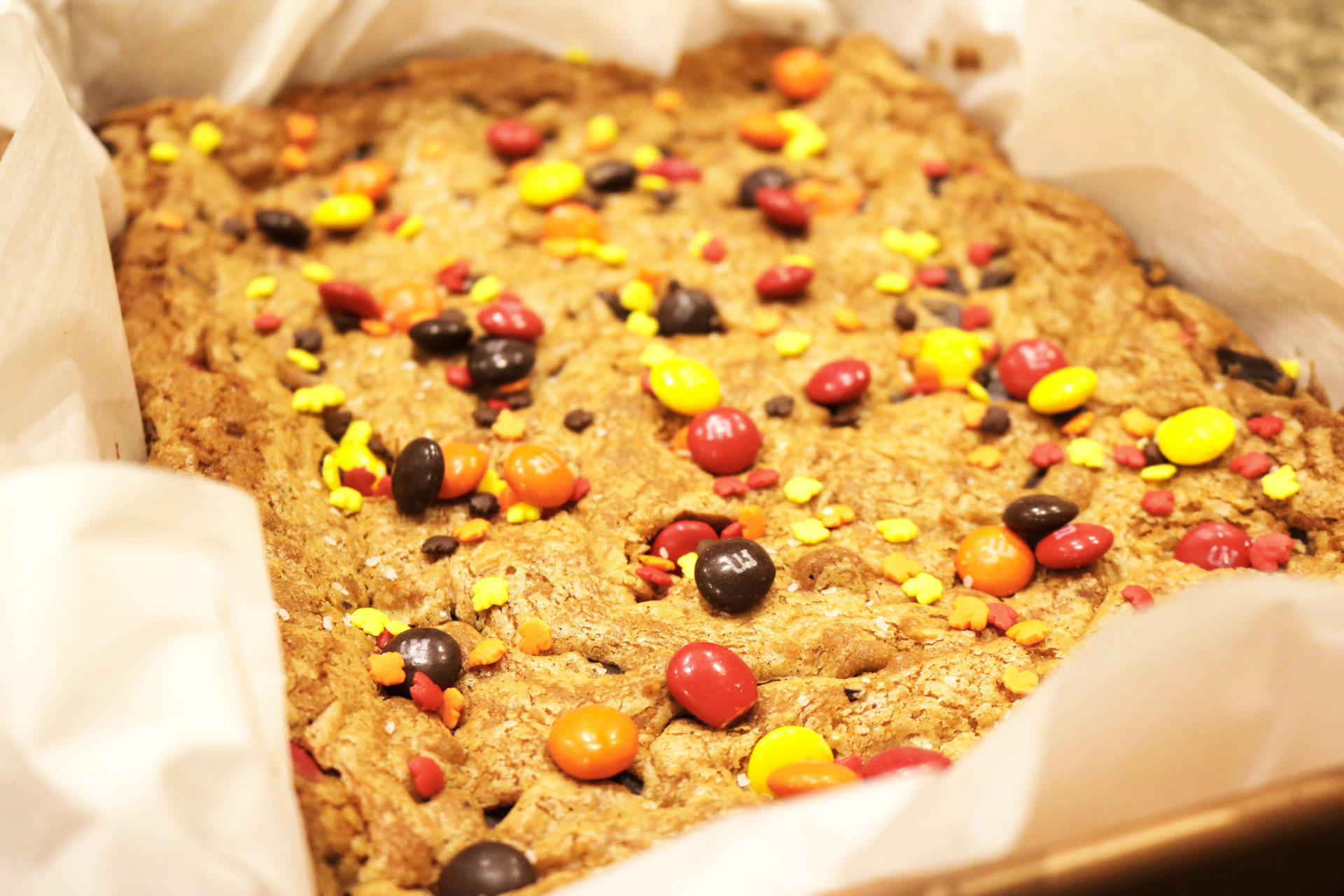 Where do you find this stuff?
In order to fall in love with cookie butter you obviously have to know where to find it. I always get mine at Trader Joes, but if you do not have one close by you can order it right here. There is also a combo pack with a crunchy version, I am a also a BIG fan of that as well.
You can also typically find some variation at your local grocery store such as Lotus Biscoff Spread, which is pretty good as well. I am also sure there are recipes on Pinterest to make your own… I just haven't ventured down that rabbit hole just yet. If you do, let me know how it goes.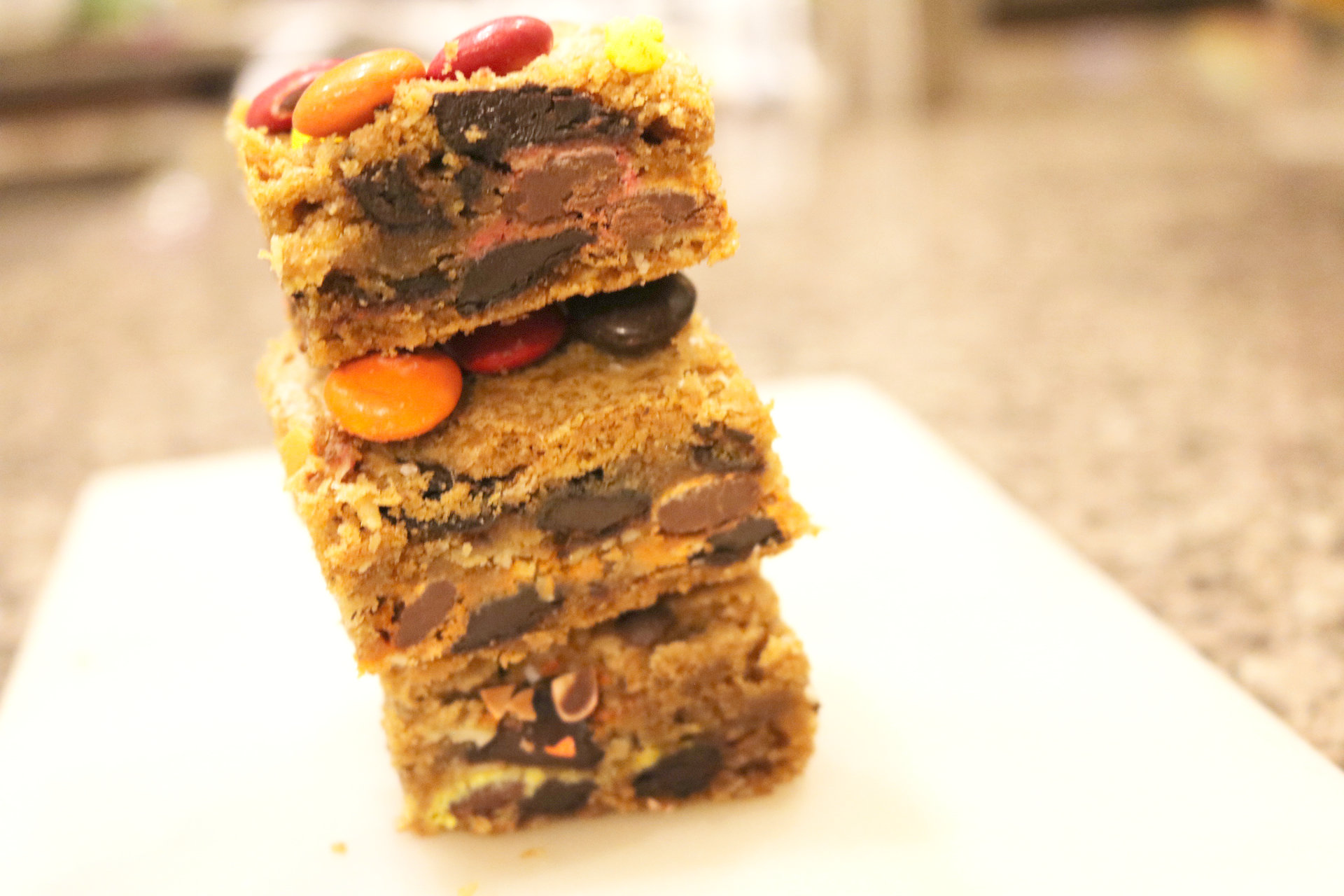 Perfect for Fall… or anytime of the year!
Just because I used fall M&M's do not be fooled that this is just a Fall recipe… believe me it is NOT! Cookie butter is something I keep in my pantry year round and these blondies will be on my menu year round as well. I will just change up the M&M's for the current season.
I am already imaging the Christmas M&M's, easter, July 4th …. OH AND HALLOWEEN! So fun!
For another fun blondie recipe check out these Loaded Blondies that have OREO's in them!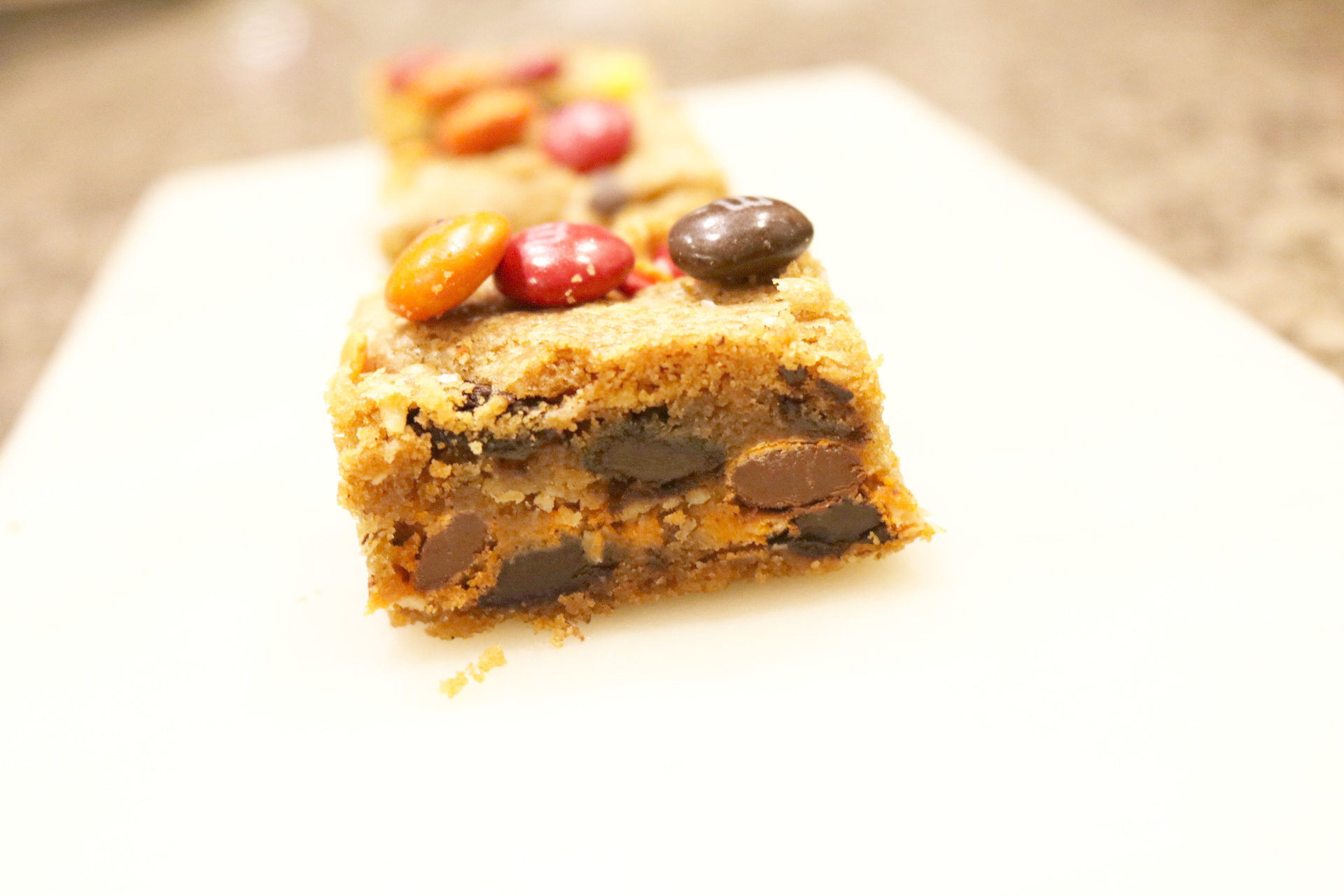 Preheat the oven….
Chelle Chelle
24-30 bars
Cookie Butter Blondies
Traditional blondies taken to the next level with cookie butter... yep cookie butter blondies are everything you love about blondies but spiced up just a bit!
20 minPrep Time
25 minCook Time
1 hrTotal Time
Ingredients
3/4 cup butter, melted
3/4 cup cookie butter (smooth or crunchy)
3/4 cup sugar
1/2 cup brown sugar
2 eggs
1 teaspoon salt
1 teaspoon baking soda
1 3/4 cups flour
3/4 cups old fashioned oats
1 cup chocolate chunks (or chips)
3/4 cup M&M's
1/2 cup sprinkles (optional)
*additonal M&M's or sprinkles for decoration if desired
Directions
Preheat oven to 350
Line a 9x13 baking pan with parchment paper
In the bowl of a stand mixer cream together butter, cookie butter, sugar & brown sugar until well combined
Scrape down sides of bowl
Mix in eggs, one at a time, mixing until just combined
Add in vanilla bean extract and mix briefly
Add in salt, baking soda, flour and oats and mix until just combined
Stir in chocolate chunks, M&M's and sprinkles (if using) until well incorporated
Spread dough into prepared pan and smooth into an even layer
Bake for 25-30 minutes to until middle is just set
Top with additional M&M's & sprinkles if so desired
Let cool in pan for 10 minutes before removing to cool completely
Cut & enjoy!
Notes
use seasonal M&M's if desired
7.8.1.2
556
https://sparklesnsprouts.com/2021/11/09/cookie-butter-blondies/
All images are the property of Sparkles n Sprouts, to use image please contact the webmaster at michelle@sparklesnsprouts.com
Pin this recipe now… so you don't lose it!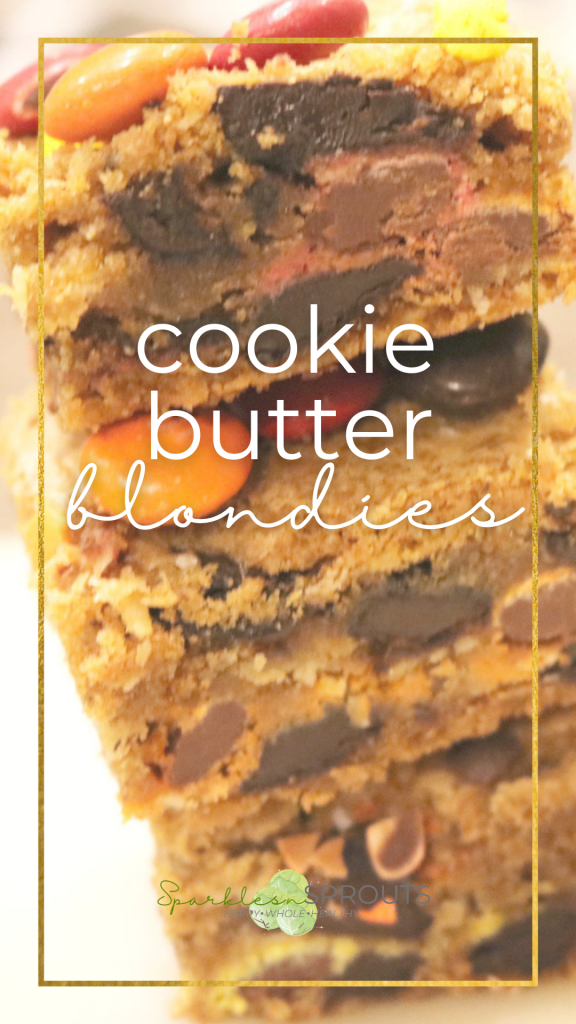 Follow us so you never miss a thing!