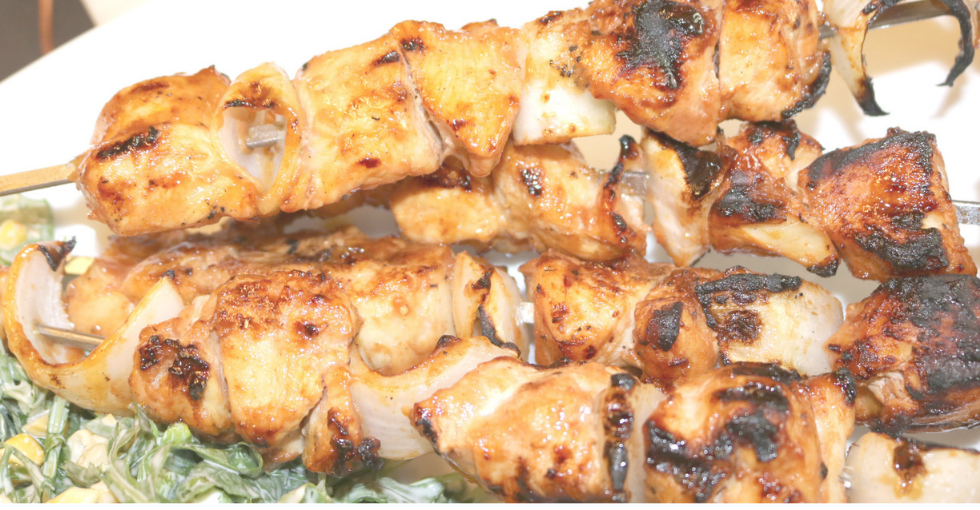 Skewers are a BBQ must… am I wrong?
Time to Marinate!
I am all about a good marinade when I am going to be grilling meat. For this marinade it is really simple … just your favorite BBQ sauce & some spices. Yep, that's it… BBQ sauce & spices.
SO… which BBQ sauce you ask, well let's talk about that.
I love my Homemade BBQ sauce, but I am also all about Salt Lick BBQ sauce. If you are from Texas you know what I am talking about for sure. Salt Lick is this amazing BBQ joint in the Austin area and there sauce is just so, so good. I also love this combo pack so you can try a little bit of everything, but for me I am all about the original & spicy mixed together, but the pecan one is REALLY good too! Honestly though you can use any sauce you love… just make sure you have enough to marinade and then also glaze and you are good to go.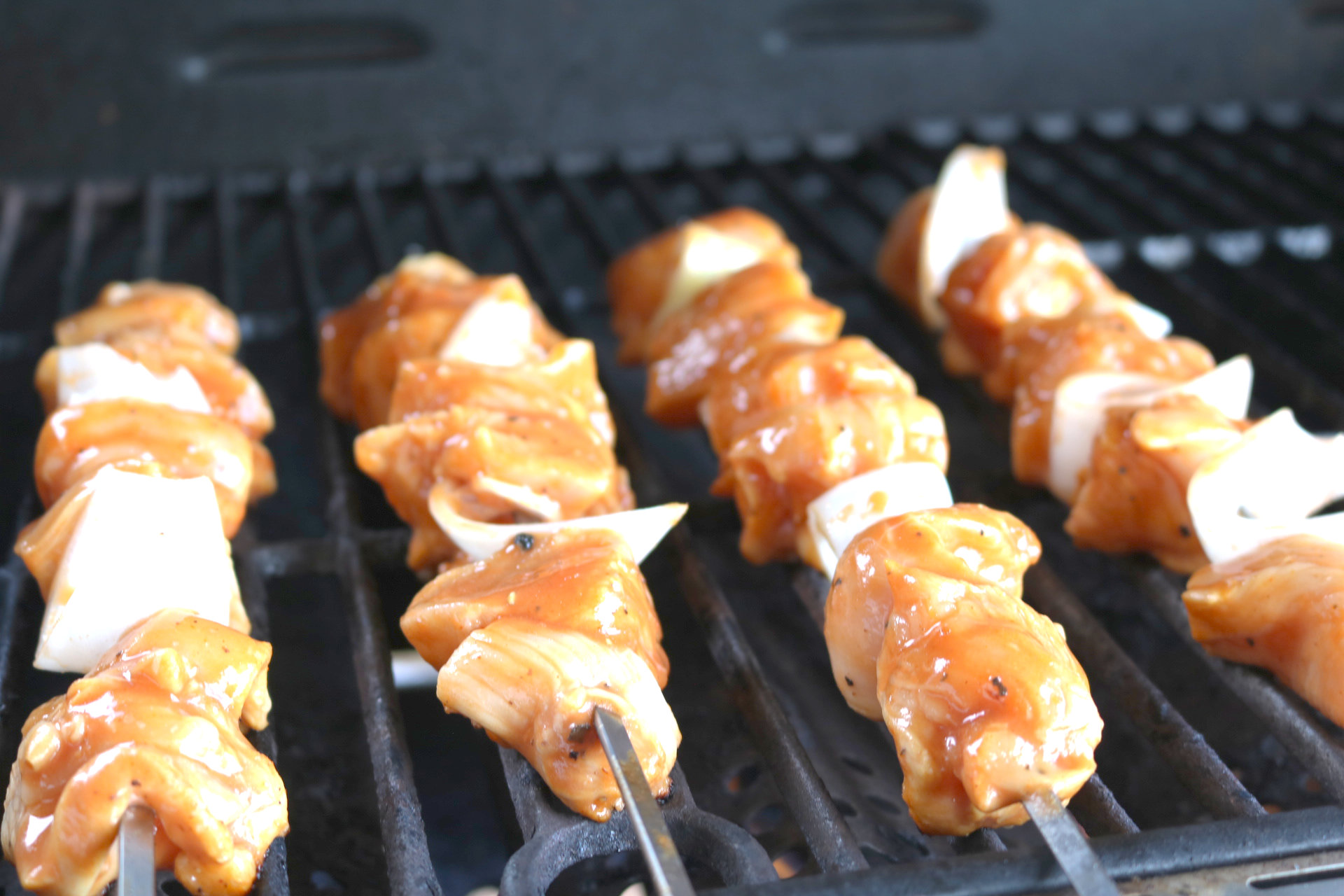 Skewer it up!
For me I am all about layers when I skewer anything. Sometimes I will layer up peppers, onions, meat, maybe even some pineapple or stone fruit. For these BBQ Chicken Skewers I decided to keep it simple and just use onion and chicken for the skewer.
There is so much flavor in the chicken the onion is just a little extra yum, but still lets the chicken shine. If you wanted to add in more veggies, please do… it would be so good.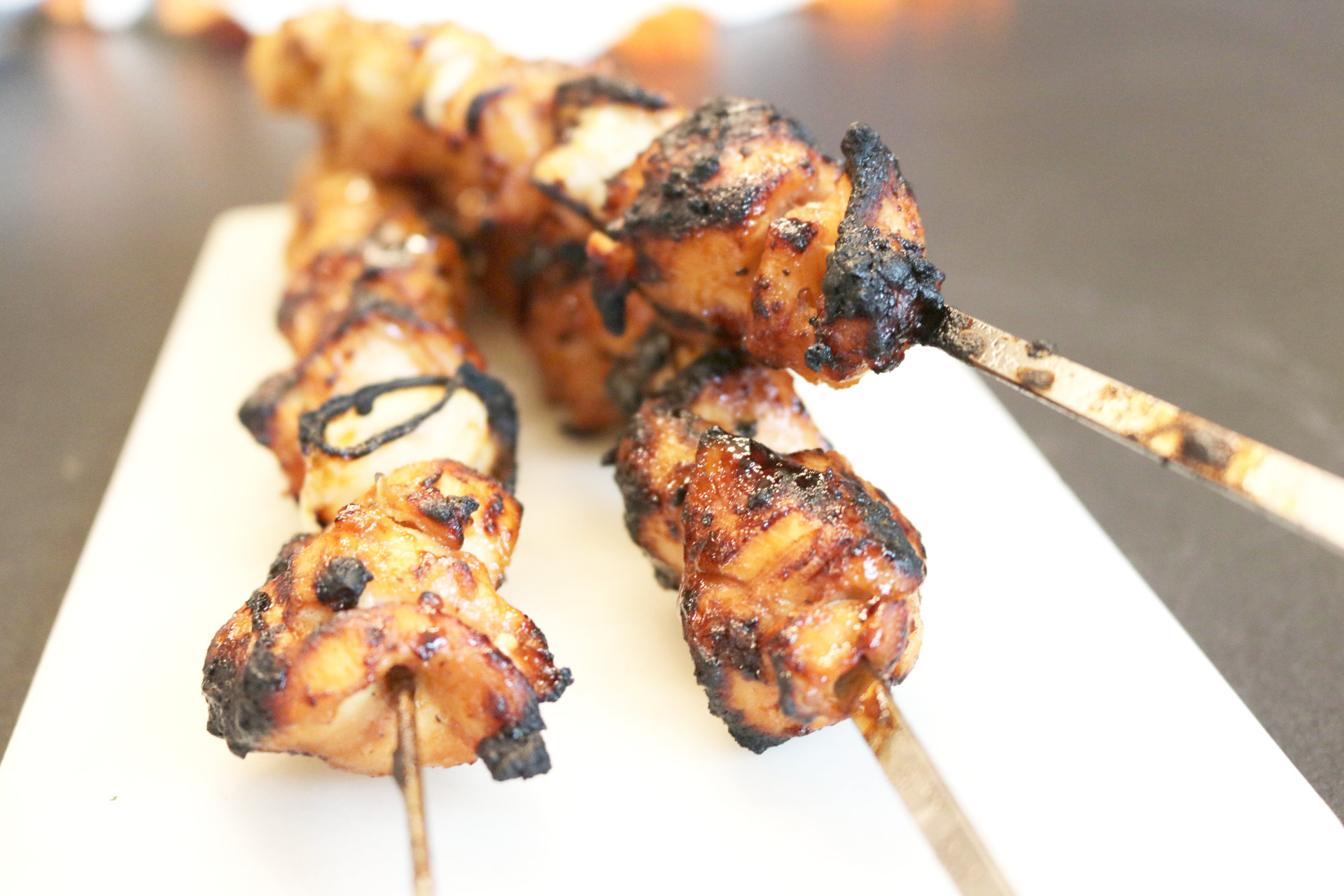 Oh so Yummy!
There is just something so yummy about grilled food. Growing up in the south we grill out year round (even in the middle of a deep freeze) and it is always so good.
We grill anything and everything, literally, but grilled chicken is still one of my favorites. There is just something so good about the little charred bits, juicy chicken and bits of BBQ sauce in each bite that makes BBQ chicken truly something you can eat year round!
As a side you can also throw on some corn on the cob or other grilled veggies and you have your whole meal ready and all from the grill. Done & done!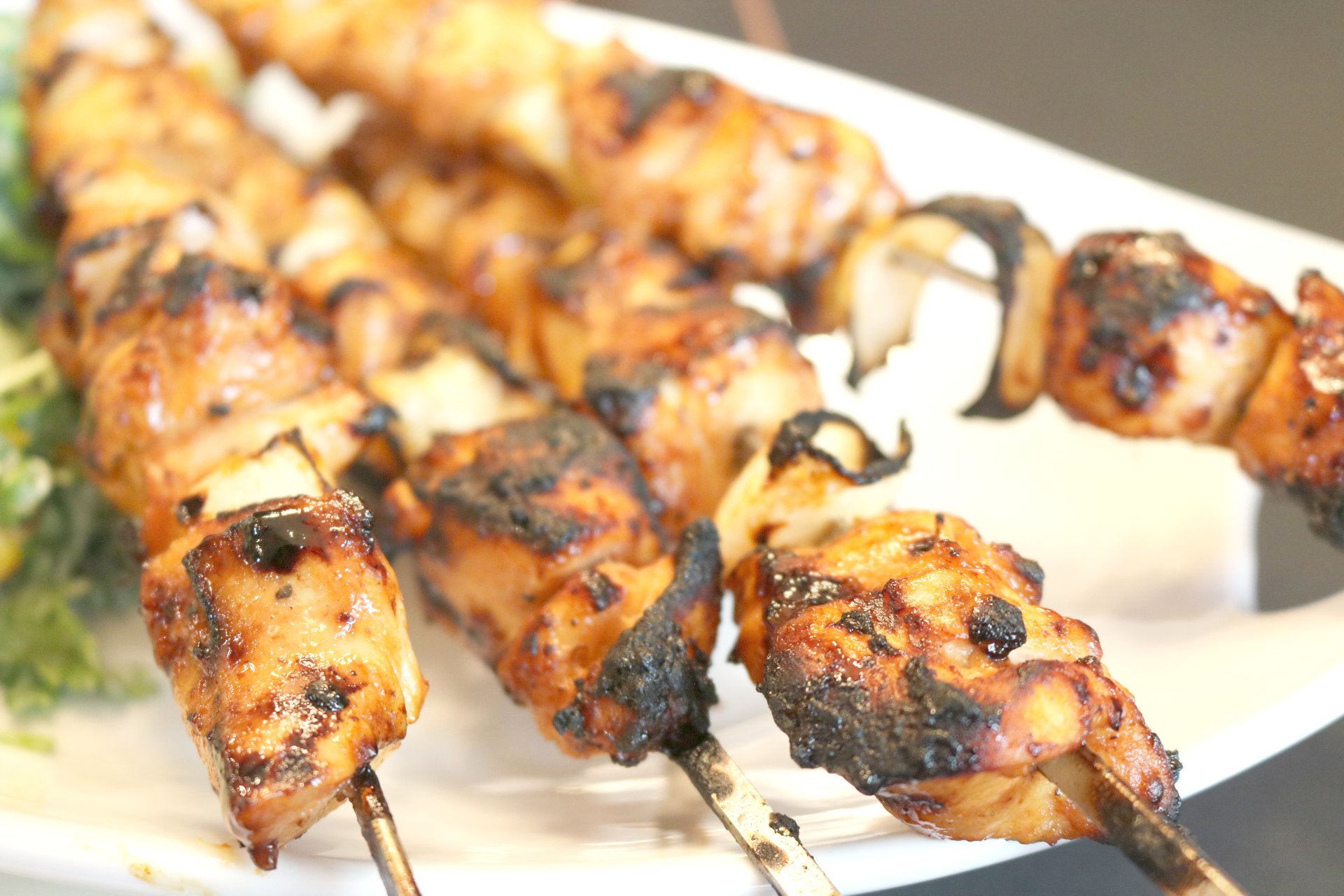 Get grill ready!
Chelle Chelle
6-8 skewers
BBQ Chicken Skewers
BBQ Chicken Skewers that are loaded with tons of flavor but can be done in under a hour, making these a perfect weeknight dinner ... even on the busiest of nights.
30 minPrep Time
15 minCook Time
50 minTotal Time
Ingredients
2 lbs boneless, skinless chicken breasts
3 tablespoons extra virgin olive oil (or oil of your choice)
1 tablespoon course all purpose seasoning
1 teaspoon salt
1 teaspoon pepper
1 onion (red or white) cut into 2 inch strips
6-8 skewers (I used metal, if using wood get them soaking)
Directions
Cut chicken into 2 inch cubes
In a bowl whisk together olive oil, seasonings & BBQ sauce
Place chicken & 3/4 of the sauce sauce into a large zip closure bag or bowl and close, reserve remaining sauce for glazing later
Place in fridge and let sit for at least 30 minutes or up to 4 hours
When ready to grill preheat one side of grill to medium high heat and the other side to medium
If using wooden skewers remove from water
Thread 2 chicken pieces onto skewer and then onion, folding over to secure onion and repeat until skewer is 3/4 full
Repeat until all chicken is used
Place skewers onto hot side of the grill and let cook for 2-3 minutes per side and then flip and move to warm side of the grill
Brush reserved sauce over skewer each time you flip
Let cook for another 6-8 minutes, flipping 1-2 more times, as needed, until chicken is cooked through
Serve with extra BBQ sauce on side if desired
ENJOY!
Notes
Use whatever veggies you prefer, layer as you will
7.8.1.2
550
https://sparklesnsprouts.com/2021/08/11/bbq-chicken-skewers/
All images are the property of Sparkles n Sprouts, to use image please contact the webmaster at michelle@sparklesnsprouts.com
Pin this now so you don't lose it!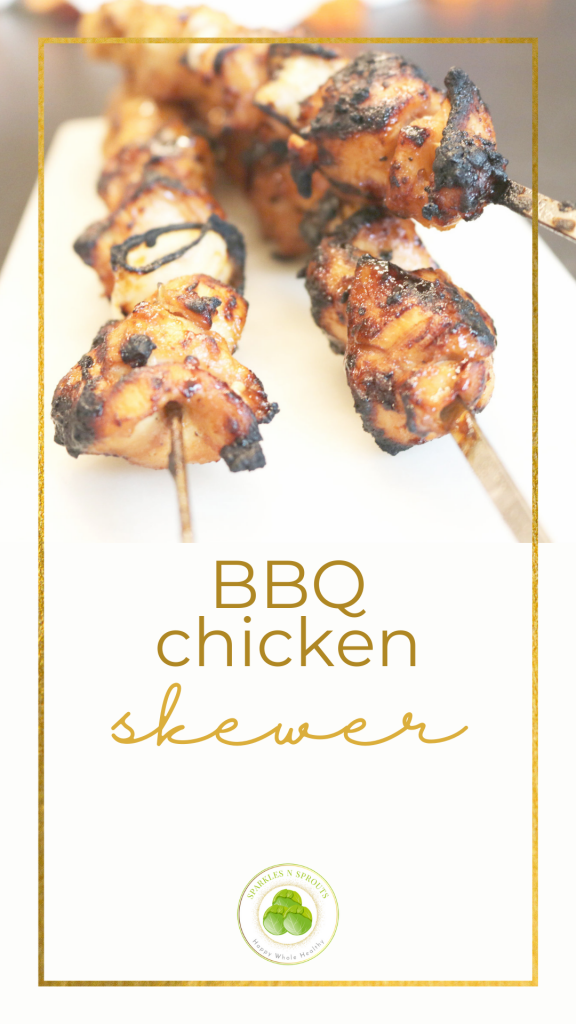 Follow us so you never miss a thing!