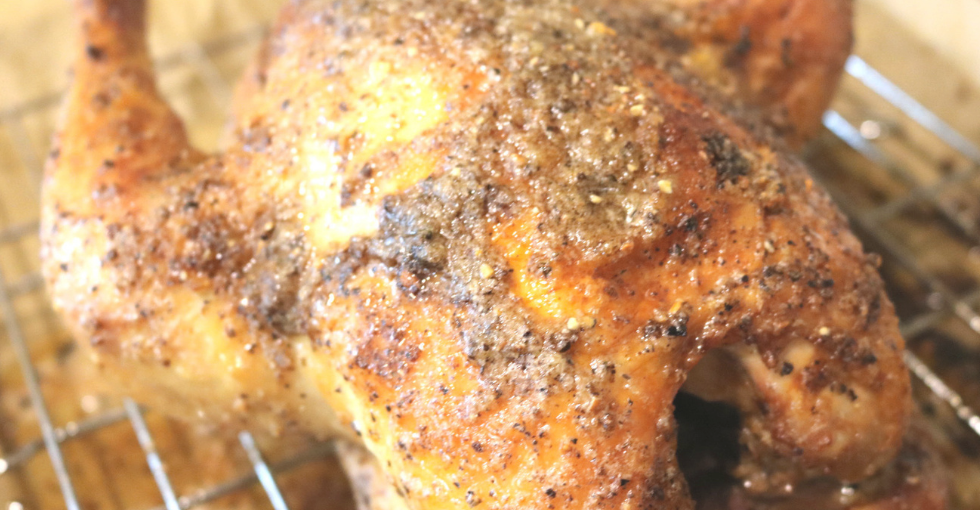 Roasted Chicken is truly one of my staples for lunch & dinner. I mean think about it you can pair it with just about anything & it is done in no time…making it perfect for dinner this week.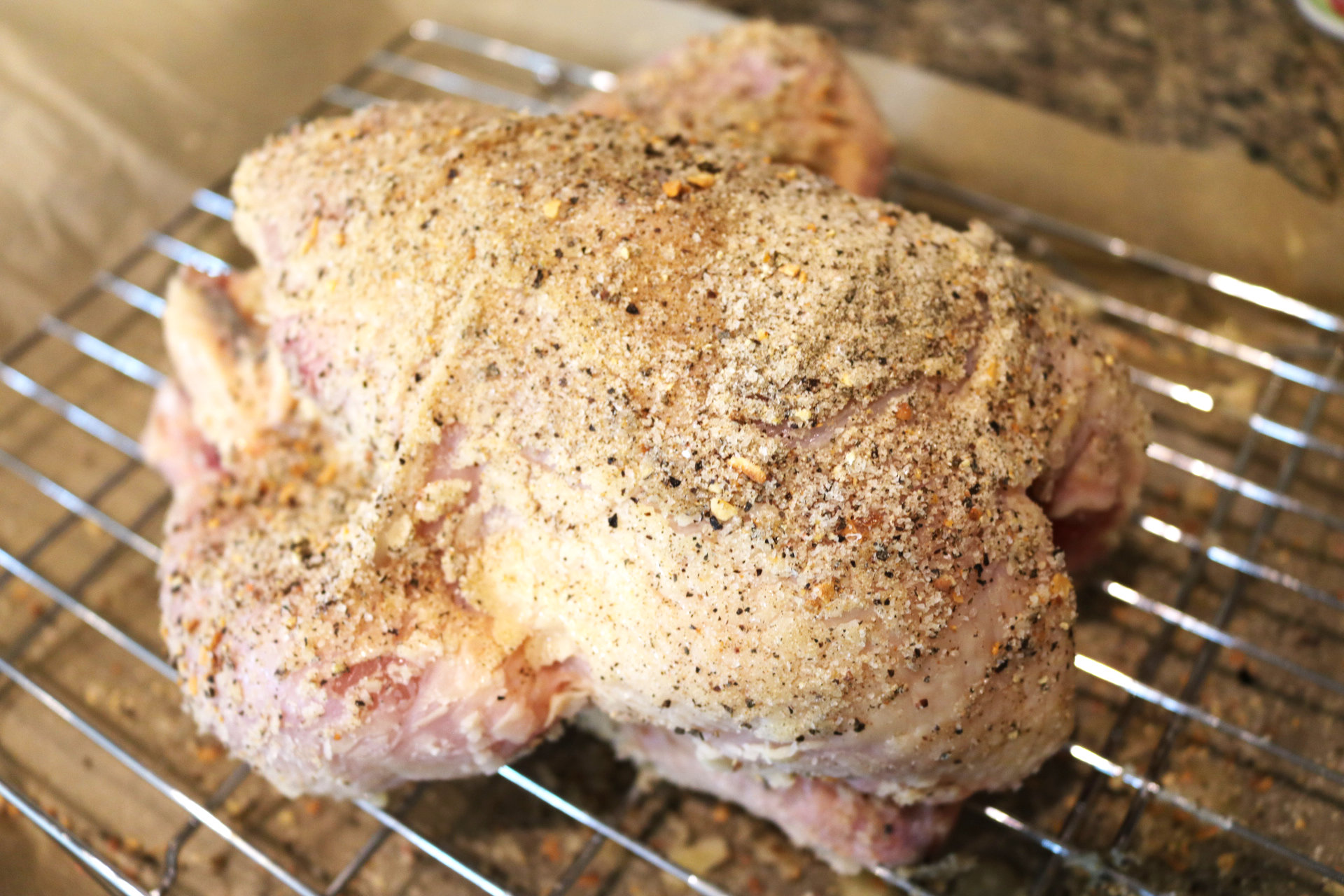 All about prep…
In my opinion prepping the chicken is the most important part. This is when you can ensure there will be tons of flavor, it will be juicy and get the golden skin. So how do we do all of this… well, hold on…here we go.
First is about the flavor. I prefer a little lemon, some herbiness (not sure that is a real word) and some delicious seasoning. So for me I stuff the cavity of the bird with quartered lemons, onion wedges and garlic cloves. On the inside, outside & under the skin I use my favorite house seasoning (this is my go to) or any all purpose rub you love. I also add in a little extra course salt, just because.
Next… how do we make sure the bird is going to be juicy? Well I have found that stiffing the cavity helps, and also I rub the bird down with a mix of olive oil and melted butter. This helps hold in the juices as it roasts and will also help with the beautiful color as well. I also cook it on high temp which helps seal in the juices as well…. think of it almost like searing it.
Finally for that beautiful crispy skin. The olive oil butter mixture is key. This helps crisp up the skin while giving the bird incredible flavor. My secret though… shhh don't tell anyone…I turn on the broiler for the last 3-5 minutes to get the skin extra crispy. It won't dry it out, it just makes it so pretty.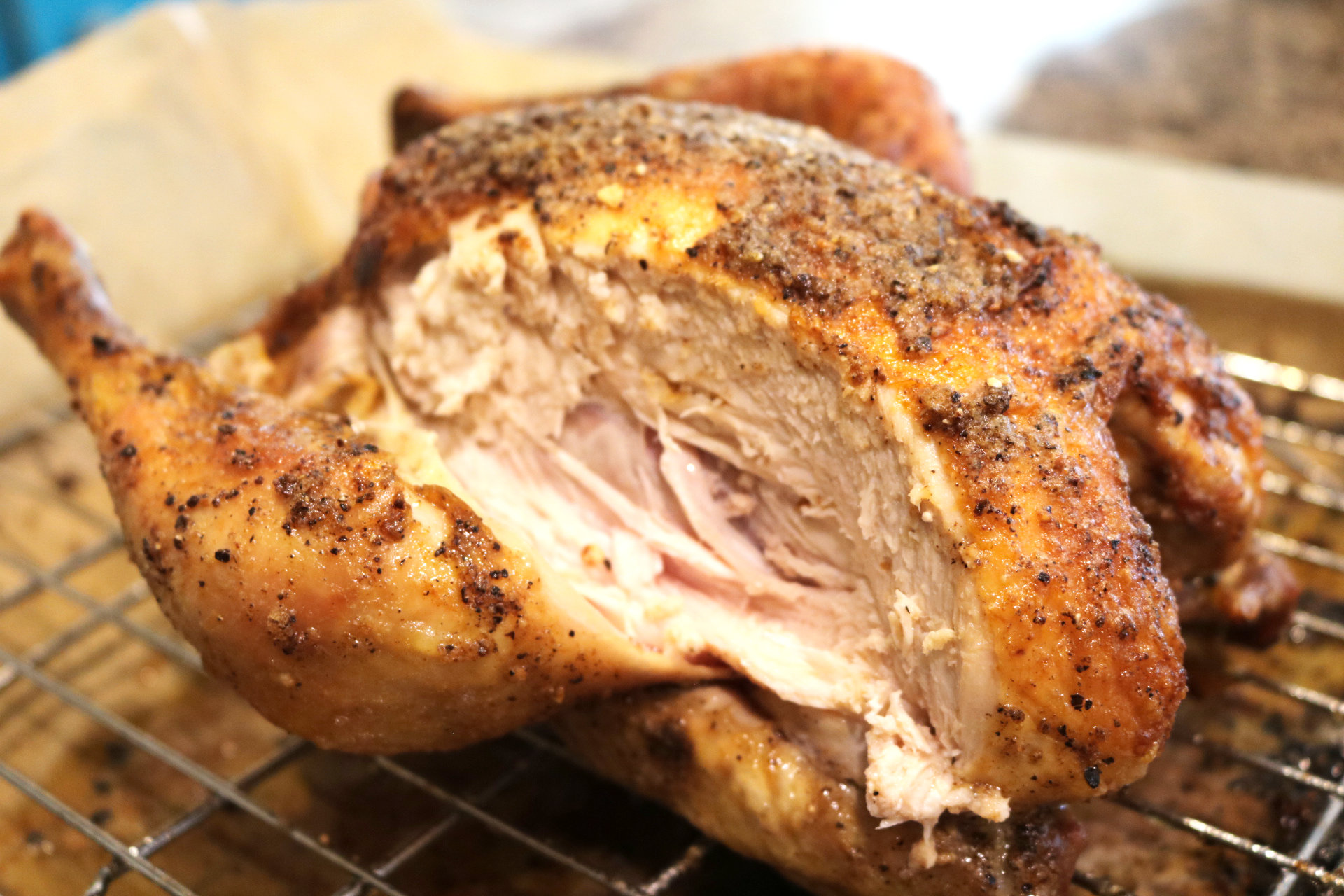 Roasted until just done
As you get to the end of the cooking time to is important that you use a thermometer (I prefer this instant read one) to ensure the chicken is just cooked through at 165 degrees. You re going to let it rest for a while and it will cook a bit more as it rests so you want to take it out right at 165.
To make sure you are getting the right temperature insert the into the breast area, making sure to not touch the bone.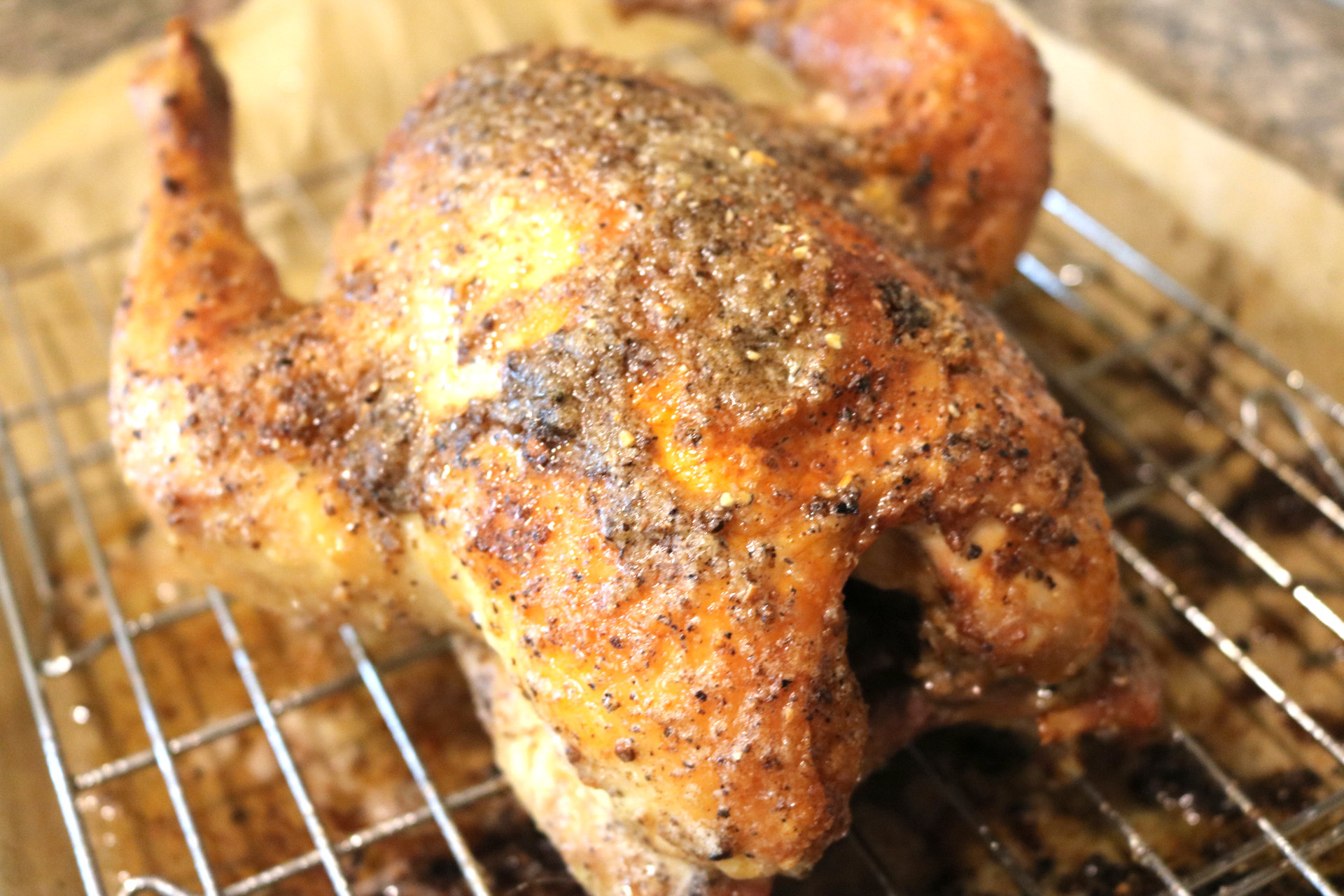 To tie or not
I am personally not a must tie girl when roasting a chicken. If you prefer to tie up the legs go right ahead and tuck them under the chicken as you place it on the rack to cook. It does work though without the extra step.
Time to get Roasted
Chelle Chelle
Simple Roasted Chicken
A super simple roasted chicken that is loaded with flavor and ready in just over a hour, making it a great weeknight option.
10 minPrep Time
45 minCook Time
1 hr, 10 Total Time
Ingredients
3.5 - 4lb whole chicken
3-4 tablespoons butter, melted
3-4 tablespoons extra virgin olive oil
2-3 tablespoons all purpose seasoning
2 teaspoons course salt
1 medium onion quartered
1 -2 lemons quartered
3-4 garlic cloves, crushed
2-3 rosemary sprigs
3-4 thyme sprigs (or any herbs you prefer)
Directions
Preheat oven to 450
Place a roasting rack, or a cooking rack, on top of a large sheet pan
Remove giblets from the inside of the chicken
Using a paper towel, pat the chicken down on the inside and out
In a medium bowl whisk together the melted butter and olive oil
Using a pastry brush, or your hands, rub butter mixture all over the chicken on the outside and inside
Rub seasoning and salt all over chicken on the outside, making a crust and then sprinkle on the inside as well
Place quartered onions, lemons and crushed garlic cloves into the center of the chicken along with the herbs
Place chicken onto the roasting rack
Roast for 45 minutes - 1 hour, checking temp to ensure you do not over cook
For extra crispy skin turn broiler on high for 3-4 minutes before removing chicken
Remove and let rest for at least 15 minutes before serving
Carve and enjoy!
Notes
Use your favorite seasoning blend and herbs to make it perfect for you
7.8.1.2
541
https://sparklesnsprouts.com/2021/06/06/simple-roasted-chicken/
All images are the property of Sparkles n Sprouts, to use image please contact the webmaster at michelle@sparklesnsprouts.com
Pin this now so you don't lose it!

Follow below so you never miss a thing!