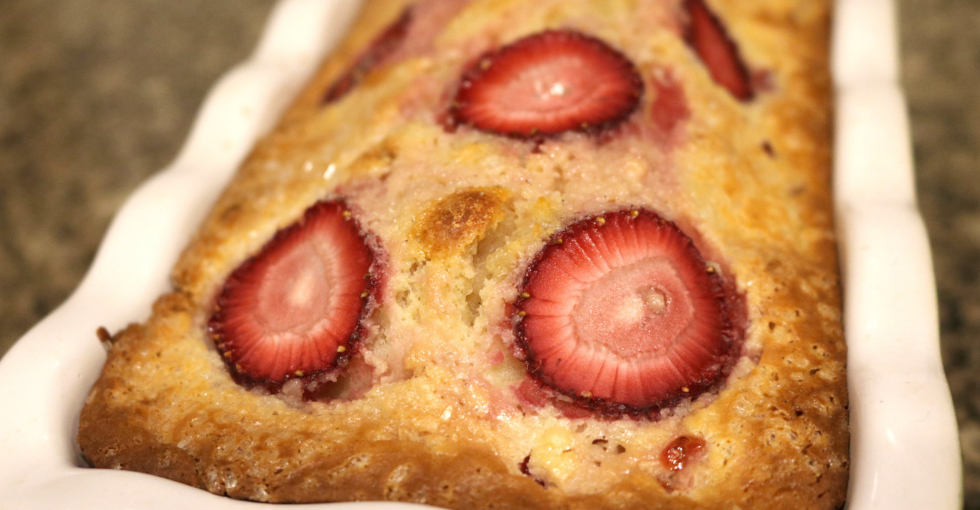 Strawberry Bread – aka your summer bread
Strawberry Bread is all I can think about… honestly I am all about the berries right now and especially strawberries.
Strawberry Bread Time!
Y'all I am so, so excited about this bread. Not only is it super quick to make, but it is LOADED with strawberry goodness. I mean just look at all the strawberries!
The bread itself is pretty dense, making it perfect to hold the strawberries in place, and not let them sink to the bottom of the bread. It is also buttery, which I so love! It is on the sweeter side… but not too sweet.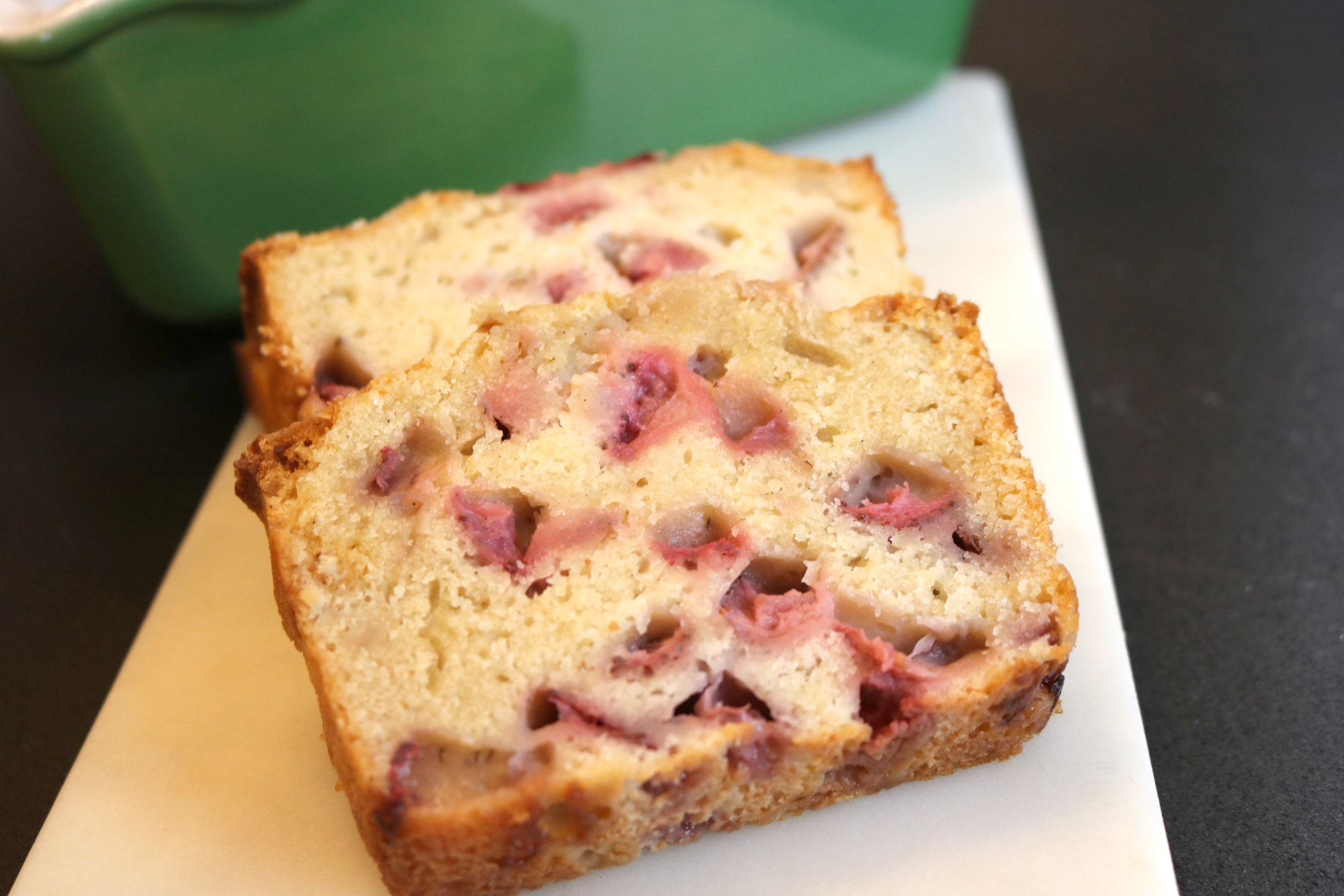 It is just so pretty!
Not only is it delicious but it is so pretty. I love how the berries get all roasted on top as it bakes. This is going to be my go to treat for hostess gifts this summer. For a sweet little hostess treat I will probably use mini loaf paper pans and then wrap them in cellophane.
I mean would you be mad if you got a cute little strawberry bread loaf?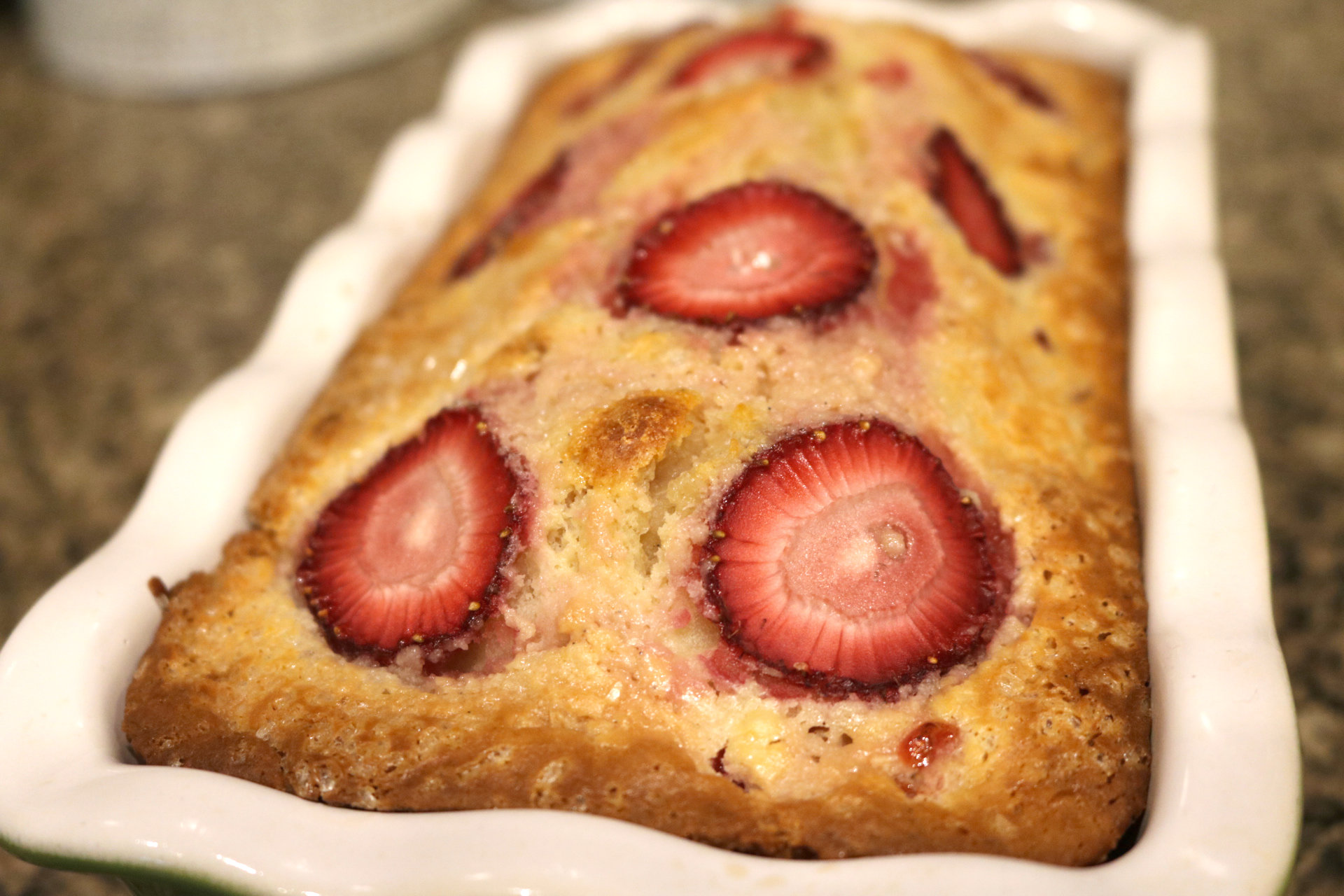 A little extra something…
To add a little extra crunch to the bread to topped it with some course sugar. I mean why not?
This is totally optional but I love the caramelized edges the bread gets and also the little bit of crunch. If you do not have the course sugar you can use regular granulated sugar. Let's be honest a little extra sugar with strawberries is really never a bad idea… right?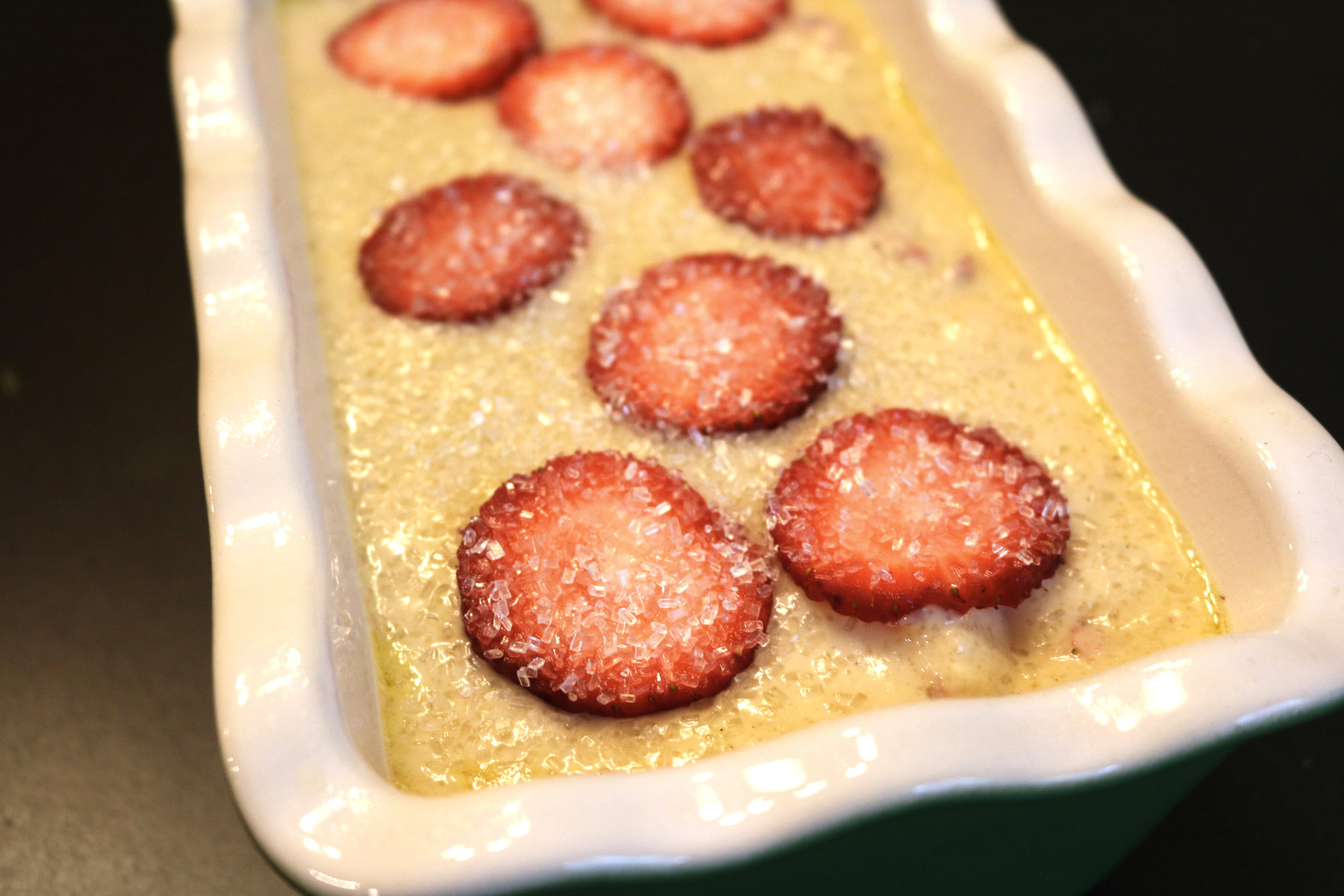 No strawberries… no problem
If you wanted you could use different berries. Blueberries or Blackberries would be amazing.
You could use them with the strawberries or on their own. Just make sure the fruit is about 2 cups total… that way you get fruit in every bite.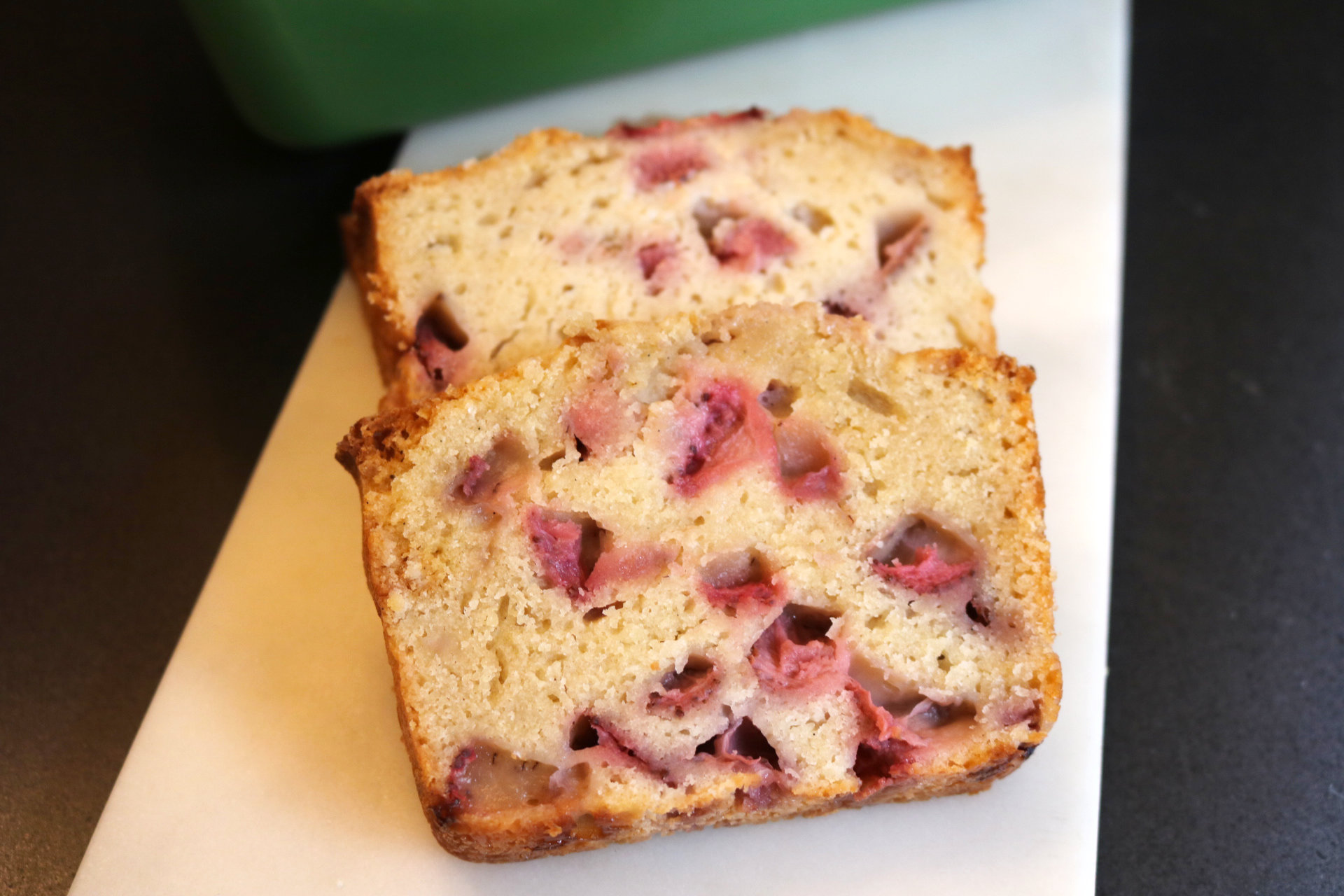 Time to bake some bread
Chelle Chelle
Strawberry Bread – aka your summer bread
A quick bread that is loaded with tons of strawberries, making this a must make this summer!
15 minPrep Time
55 minCook Time
1 hr, 30 Total Time
Ingredients
2 cups flour
1/2 cup granulated sugar
1/2 cup brown sugar
1 tablespoon baking powder
1 teaspoon salt
1 egg
1 cup half & half (or milk of your choice)
1/2 cup vegetable oil
1 tablespoon vanilla bean extract (or vanilla extract)
2 cups chopped strawberries
1-2 strawberries, sliced (optional)
Course sugar for topping (optional)
Directions
Preheat oven to 350
Spray a loaf pan with nonstick spray
In a medium bowl combine flour, sugars, baking powder & salt
In another bowl whisk together egg, half & half, oil and vanilla bean extract until well combined
Pour into flour mixture
Stir until just combined
Fold in strawberries, very gently
Spoon batter into loaf pan smoothing out the top
Place sliced stawberries on top (if using) and sprinkle an even layer of course sugar over batter (if using)
Bake for 50-60 minutes, or until a toothpick comes out clean when inserted in the middle
Remove and let cool for 10-15 minutes before slicing
Notes
You can use any berries you like, just make sure total amount is 2 cups
7.8.1.2
540
https://sparklesnsprouts.com/2021/05/29/strawberry-bread-aka-your-summer-bread/
All images are the property of Sparkles n Sprouts, to use image please contact the webmaster at michelle@sparklesnsprouts.com
PS… You could also toast the bread for a delicious breakfast or use it to make french toast!
Pin this now so you don't lose it!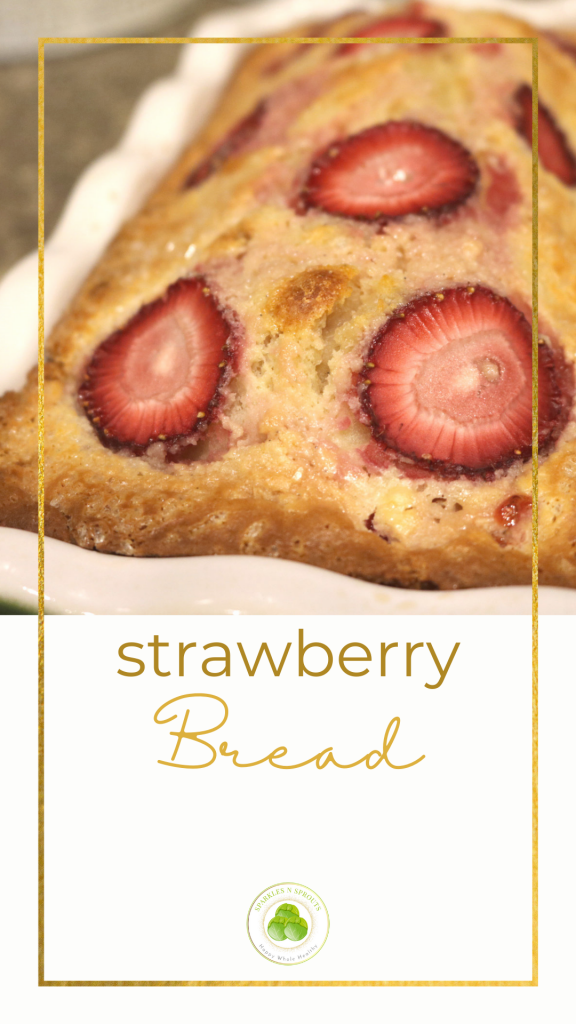 Follow us below so you never miss a thing!