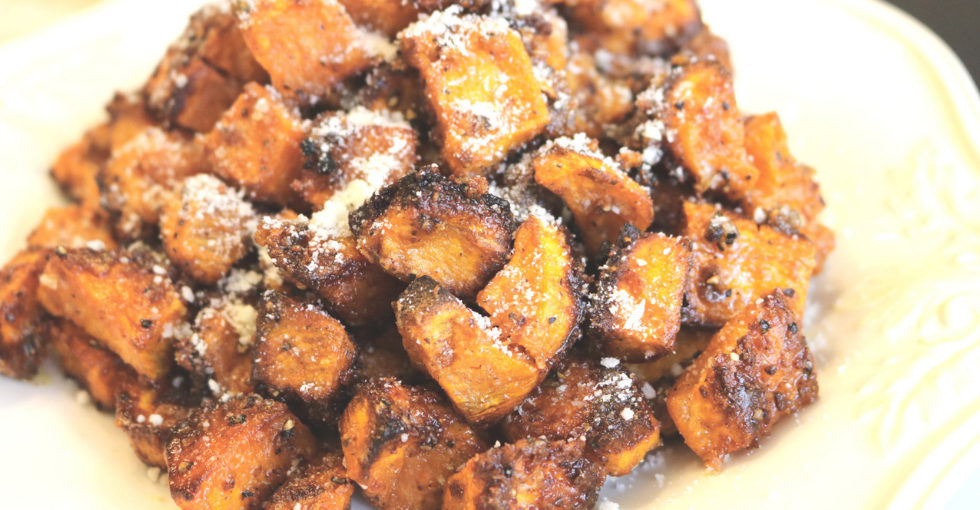 Garlic Parmesan Sweet Potatoes
Oh hello, sweet potatoes. I am always down for some sweet potatoes and especially these!!
Sweet Potatoes = Yummy
There is just something so yummy about sweet potatoes. I love them baked, roasted, alone, stuffed (like this BBQ stuffed version), in salads, in breakfast hash, as a side, as the main… ANYWAY really.
One of my favorite recipes for sweet potatoes are these Garlic Parmesan Sweet Potatoes. They are not only delicious but also super easy.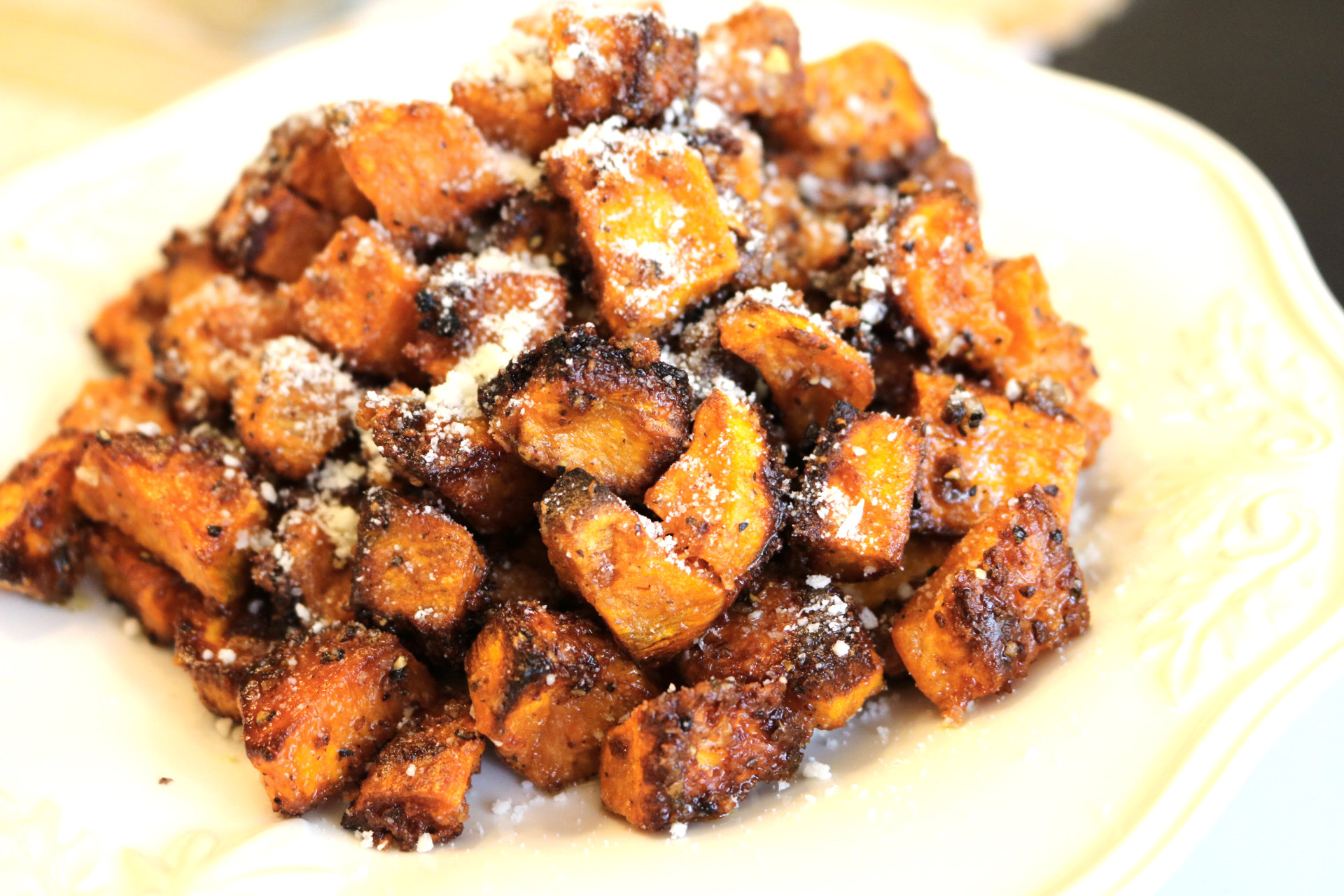 Roasted and So Good!
If I am not eating a whole sweet potato or mashed ones, I roast them. I roast them for several reasons. First, I love how it intensifies the flavor of the sweet potatoes. Secondly, I LOVE the crispy edges.
Lastly, I love versatile it makes this sweet little potato.
You can season them super savory or sweet, leave them plain or dress them. You can east them right away or you can refrigerate them and use them the next day. SO MANY OPTIONS!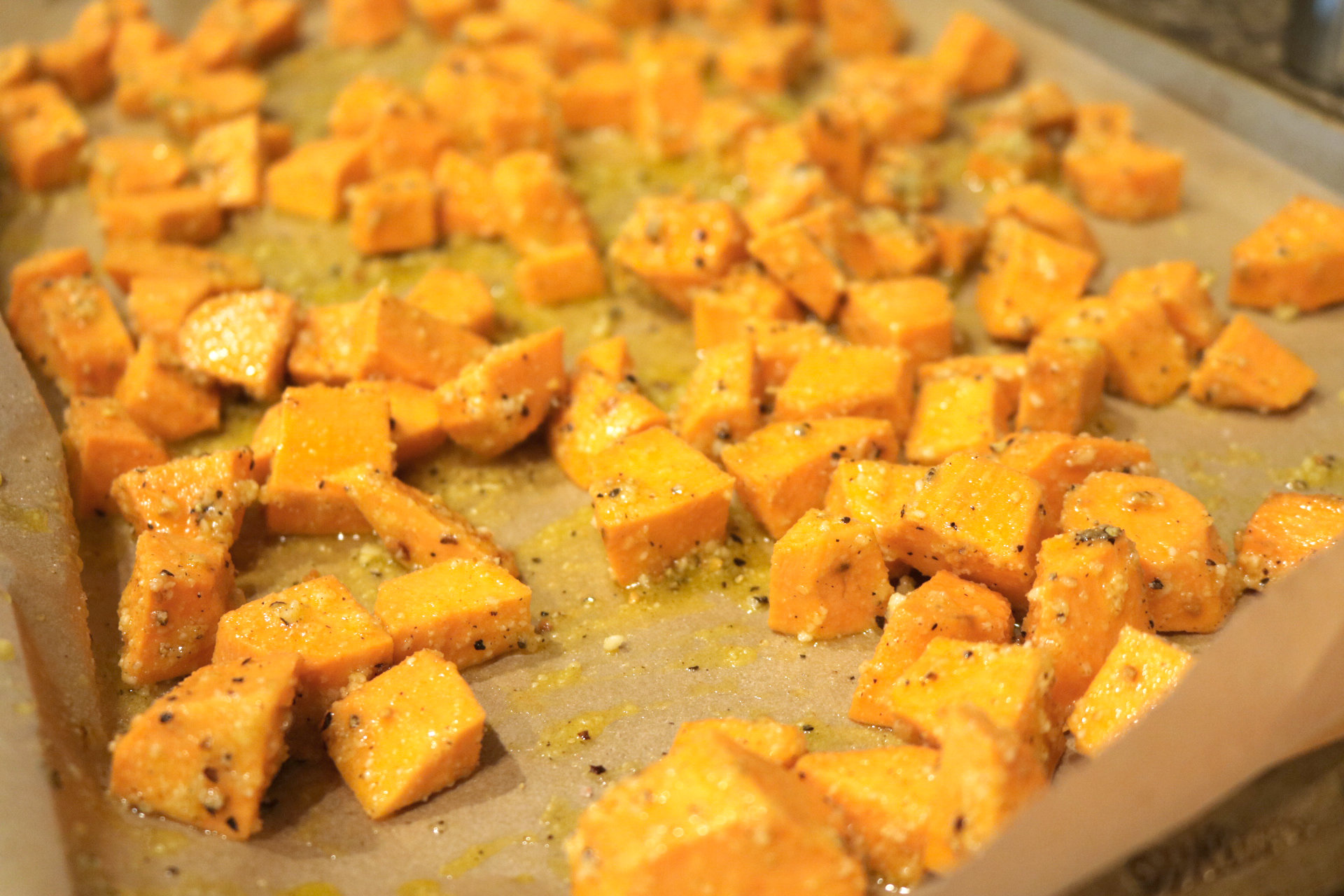 Sweet Potato Prep … So Easy!
To prep for this recipe is super quick & easy. You simply just peel, cube and then season and you are done.
It is important to cut the potatoes in about the same size so they roast evenly. As mentioned above you have tons of options for seasoning, but I keep it pretty simple for this recipe. I use some salt, pepper, garlic powder and parmesan cheese and that's it.
If you wanted to use all purpose seasoning you could or if you wanted to add in some paprika, chili powder or herbs you could as well. Make them just the way you want.
A little extra something…
To finish these little yummy bites I sprinkle a little extra parmesan cheese. I love the extra bit of saltiness it adds while still letting the potatoes shine through.
You could also top with some fresh herbs if you wanted for a little bit of freshness.
Preheat the Oven!
Chelle Chelle
Garlic Parmesan Sweet Potatoes
Quick and easy Garlic Parmesan Sweet Potatoes are the perfect side for tonight
20 minPrep Time
30 minCook Time
50 minTotal Time
Ingredients
4-5 large sweet potatoes
1-2 tablespoons olive oil
2-3 teaspoons salt
2-3 teaspoons pepper
1-2 teaspoons garlic powder
1/4 cup grated parmesan
Directions
Preheat oven to 400
Line a rimmed baking sheet with parchment paper
Peel and cube potatoes into about 1" cubes
Place potatoes onto prepared pan in a single layer
Drizzle olive oil over potatoes and toss to coat evenly
In a small bowl combine salt, pepper, garlic powder and parmesan cheese
Sprinkle over potatoes and toss again to coat evenly
Place into oven and roast for 25-30 minutes, flipping half way through, until potatoes are fork tender and browned on the edges
Remove and sprinkle additional cheese or herbs if desired
Serve and ENJOY!
Notes
Use whatever seasoning you would like, top with fresh herbs for a burst of freshness
7.8.1.2
538
https://sparklesnsprouts.com/2021/05/26/garlic-parmesan-sweet-potatoes/
All images are the property of Sparkles n Sprouts, to use image please contact the webmaster at michelle@sparklesnsprouts.com
Pin this Now so you don't lose it!
Follow us below so you never miss a thing!