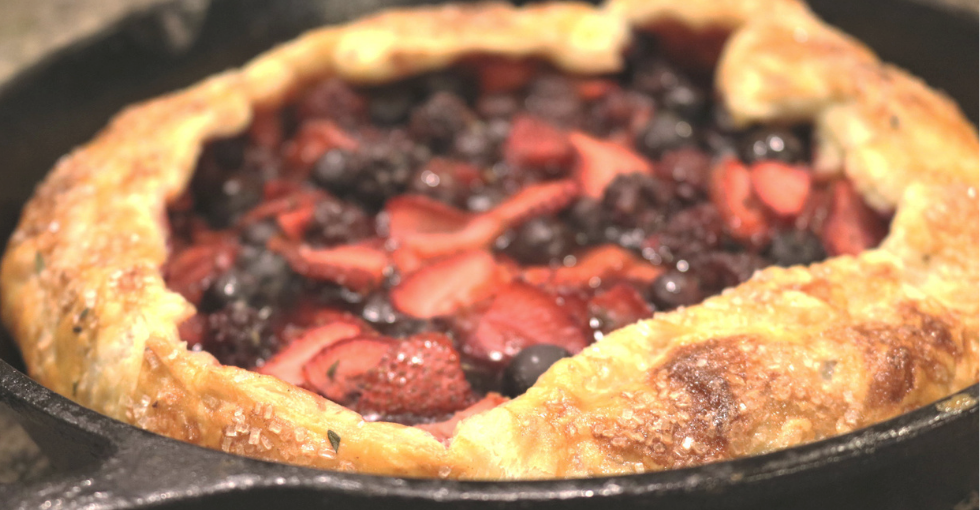 Berry Puff Pastry Galette – Your Summer Dessert
Berry season is here & I am so excited!! Let's make anything and everything with berries and let's start with this galette.
Berry Season!!
I am all about berry season. I love pretty much all berries… blueberries, blackberries, raspberries & strawberries, heck even gooseberries. My go to berries are strawberries, blueberries and blackberries.
I make jam (check website soon), muffins, bread, cookies, bars.. etc. They are so versatile, so yummy and just sweet enough.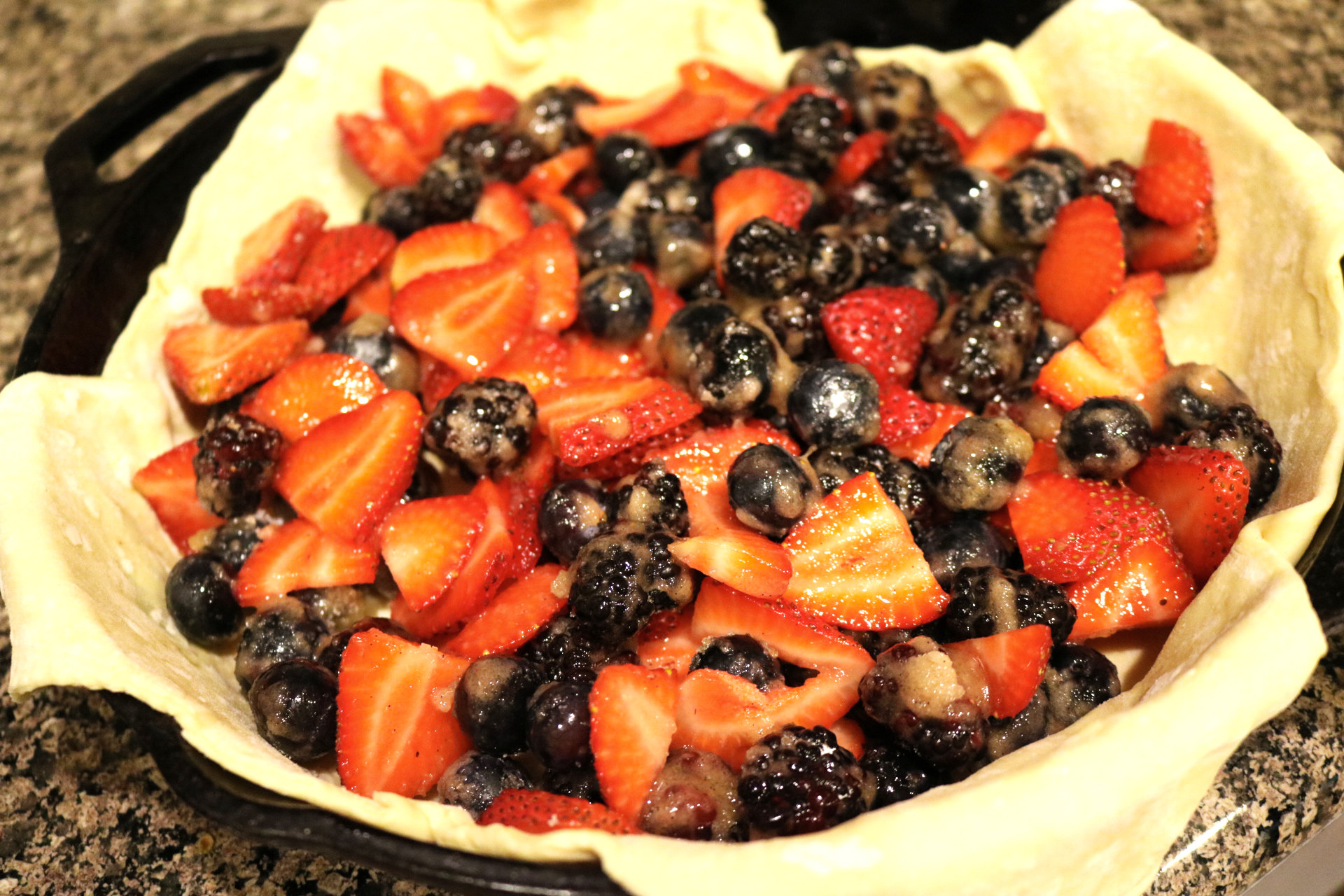 Puff Pastry + Berry Goodness = So Good!
So most galettes I have had, are made with a more traditional pie crust, but for this one I used puff pastry. Yep, puff pastry. I mean who doesn't love puff pastry?
I chose puff pastry for a few reason. First, it meant I didn't have to make a dough, gotta love that. Second, I had some in the freezer. Lastly, I love puff pastry…. LOVE IT!

Surprise… There is Thyme in There!
To add a little extra freshness and little extra surprise I added in finely chopped thyme to the berries and to the egg wash for the pastry. Yes, thyme.
I am all about a little thyme love with berries. It just adds a bit of earthiness and freshness to the galette. I love it when there is that little something people can't write figure out in a recipe, and thyme is that little extra something in this dessert.
Don't be scared though, it is not too herby or too earthy… it is just right.

Look at the Berry -licious Color!
Not only are the berries delicious they are also beautiful, especially as they bake. This galette would be perfect for Memorial Day weekend celebrations. It can be made ahead and served at room temperature.
I love it with a little ice cream or whipped cream to finish it off.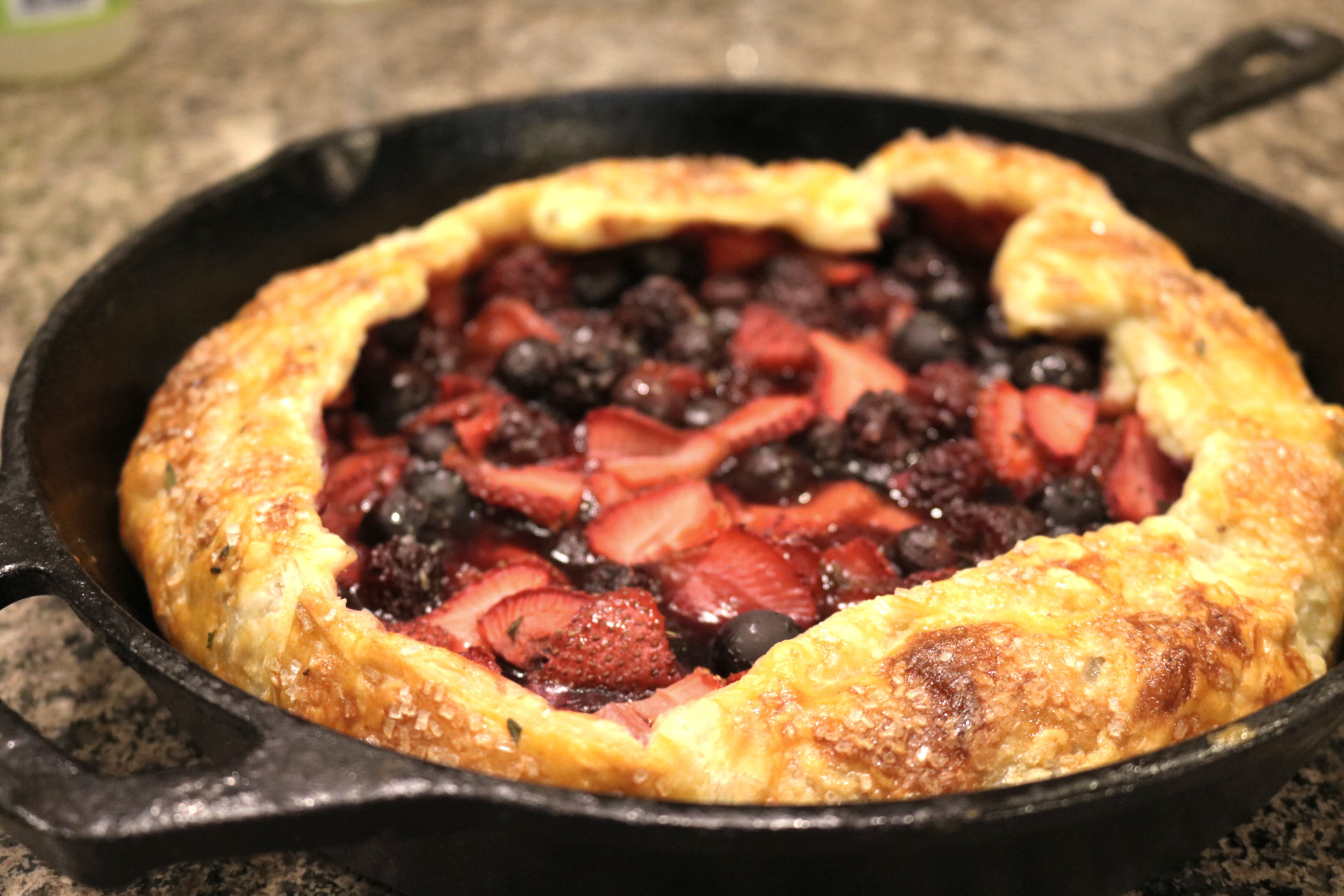 It is Galette Time!
Chelle Chelle
8-10 servings
Triple Berry Puff Pastry Galette
A fun take on a traditional galette made with puff pastry and berries and a fun thyme surprise.
15 minPrep Time
45 minCook Time
1 hr, 15 Total Time
Ingredients
1 sheet puff pastry, thawed
1 cup blueberries
1 cup blackberries
1 1/2 - 2 cups strawberries, hulled & sliced
1/3 cup sugar
2 tablespoons honey
1 1/2 tablespoons cornstarch
1 teaspoon vanilla bean extract (or vanilla extract)
1/2 teaspoon salt
1/2 teaspoon balsamic vinegar (optional)
1/2-1 teaspoon chopped thyme- divided (optional)
1 egg, beaten
2-3 teaspoons half & half
Course sugar
Directions
Preheat oven to 400
On a floured surface roll out puff pastry until about 1/4" thick
Line cast iron skillet (or another heavy bottom skillet) with puff pastry
In a large bowl gently combine berries, sugar, honey, cornstarch, vanilla bean extract, salt, balsamic vinegar & 1/2 of the thyme (if using)
Place berry mixture onto puff pastry spreading into single layer
Fold pastry over top, leaving center open, on top of each other, pinching together to close overlapping pieces
In a small bowl whisk together egg, remaining thyme & water
Brush egg wash over pastry edges
Sprinkle with course sugar
Bake for 40-45 minutes, or until pastry is browned
Let cool for 10-15 minutes before serving
ENJOY!!
Notes
You can use just one berry or add in raspberries if you would like
7.8.1.2
537
https://sparklesnsprouts.com/2021/05/24/berry-puff-pastry-galette-your-summer-dessert/
All images are the property of Sparkles n Sprouts, to use image please contact the webmaster at michelle@sparklesnsprouts.com
Pin this recipe now so you don't lose it!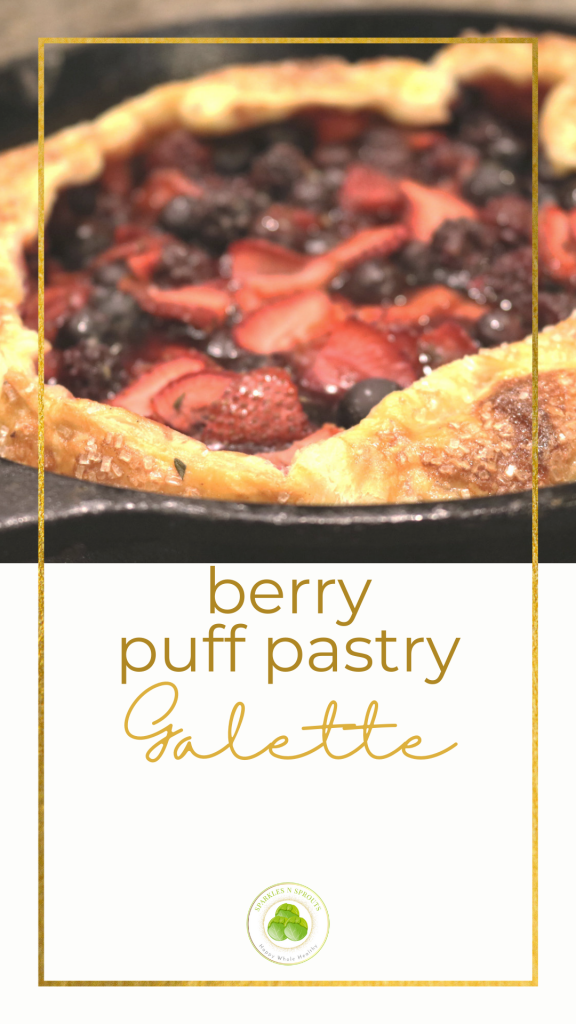 Follow us below so you never miss any of the fun!