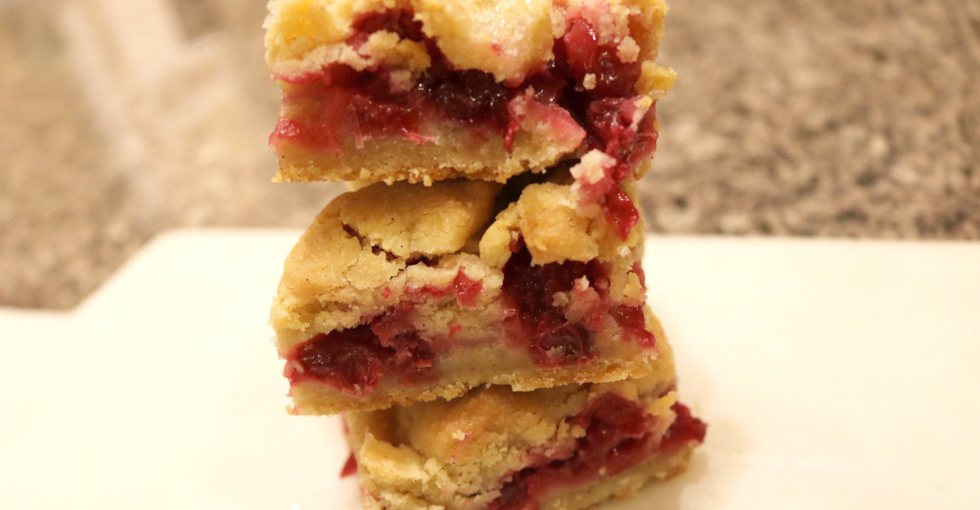 Cranberry Shortbread Bars – A Holiday Treat
Cranberry Shortbread Bars are the perfect Holiday treat!! They are a little sweet, a little tart and surrounded in a buttery shortbread… it doesn't get much better!
Cranberry Goodness in each Bite
I have always been a BIG, BIG fan of cranberries. I love them dried and use them in lots of recipes, such as this Pumpkin Cranberry Pistachio Bread, but I also love fresh ones.
There is just something about the tartness in each cranberry but then also the burst of sweet flavor you get at the same time. I use fresh cranberries each Thanksgiving for my Spiced Cranberry Sauce but I also love, love them in pastry. In these Shortbread Bars the fresh cranberries really shine. They cook down into a jelly like consistency making each bite a yummy treat.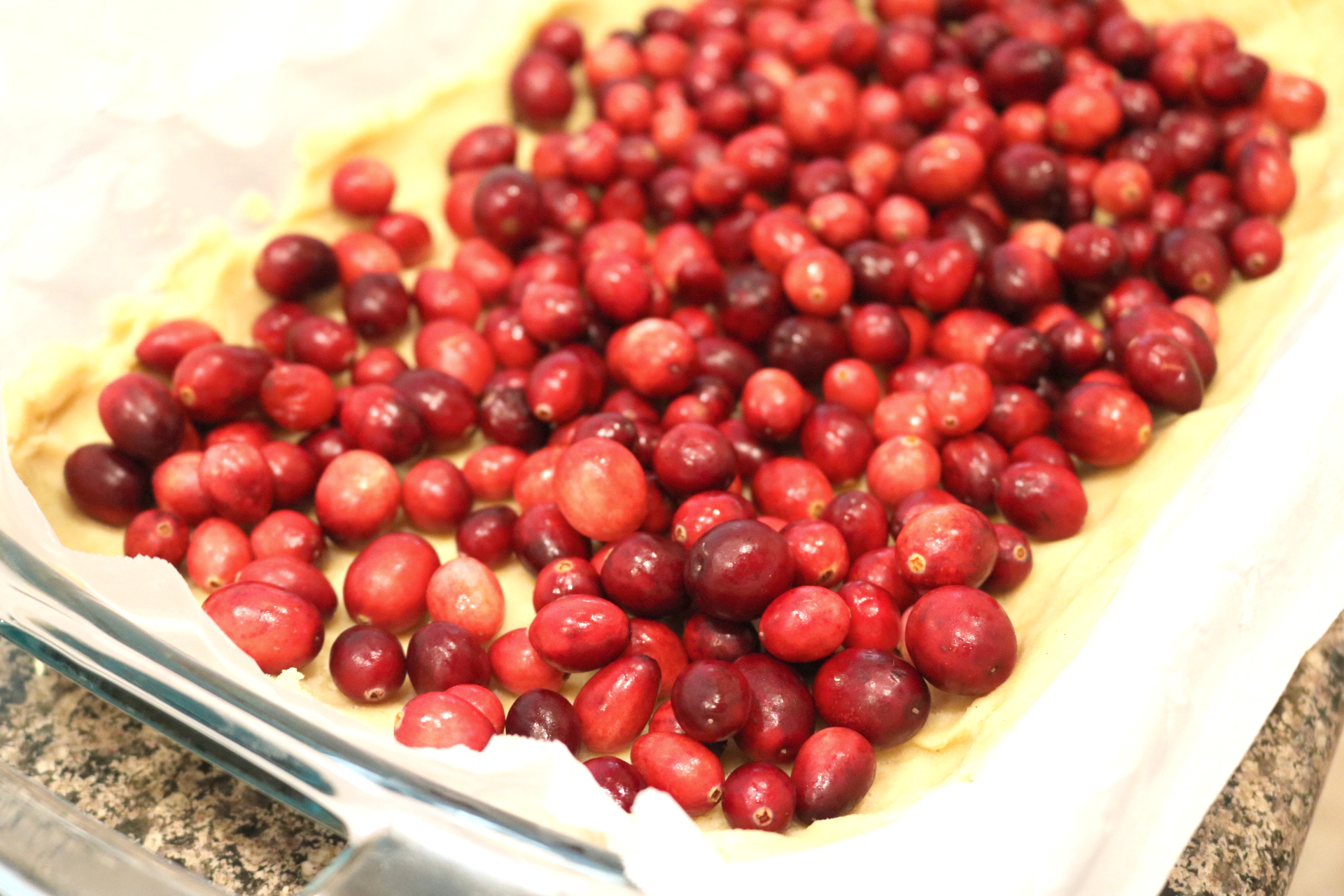 Oh… the Shortbread!
There is just something so great about shortbread. I love how rich and buttery it is and how it crumbles just right. My mom's favorite cookies are these Cranberry Pistachio White Chocolate Shortbread Cookies… and she also loves these bars.
My mom turned me onto the beauty of shortbread when I was a young girl. She would buy the store bought shortbread cookies and keep them in the pantry and she would sneak them for a treat around the Holidays each year. Once she shared them with me I fell in love immediately and they have been a Holiday staple for me ever since.
As much as I love a rich, sweet dessert I love shortbread for the simple buttery goodness. It is sweet, but not too sweet. There is a hint of salt giving each bite a perfect balance. Truly shortbread is a treat anytime, but for me especially around the Holidays.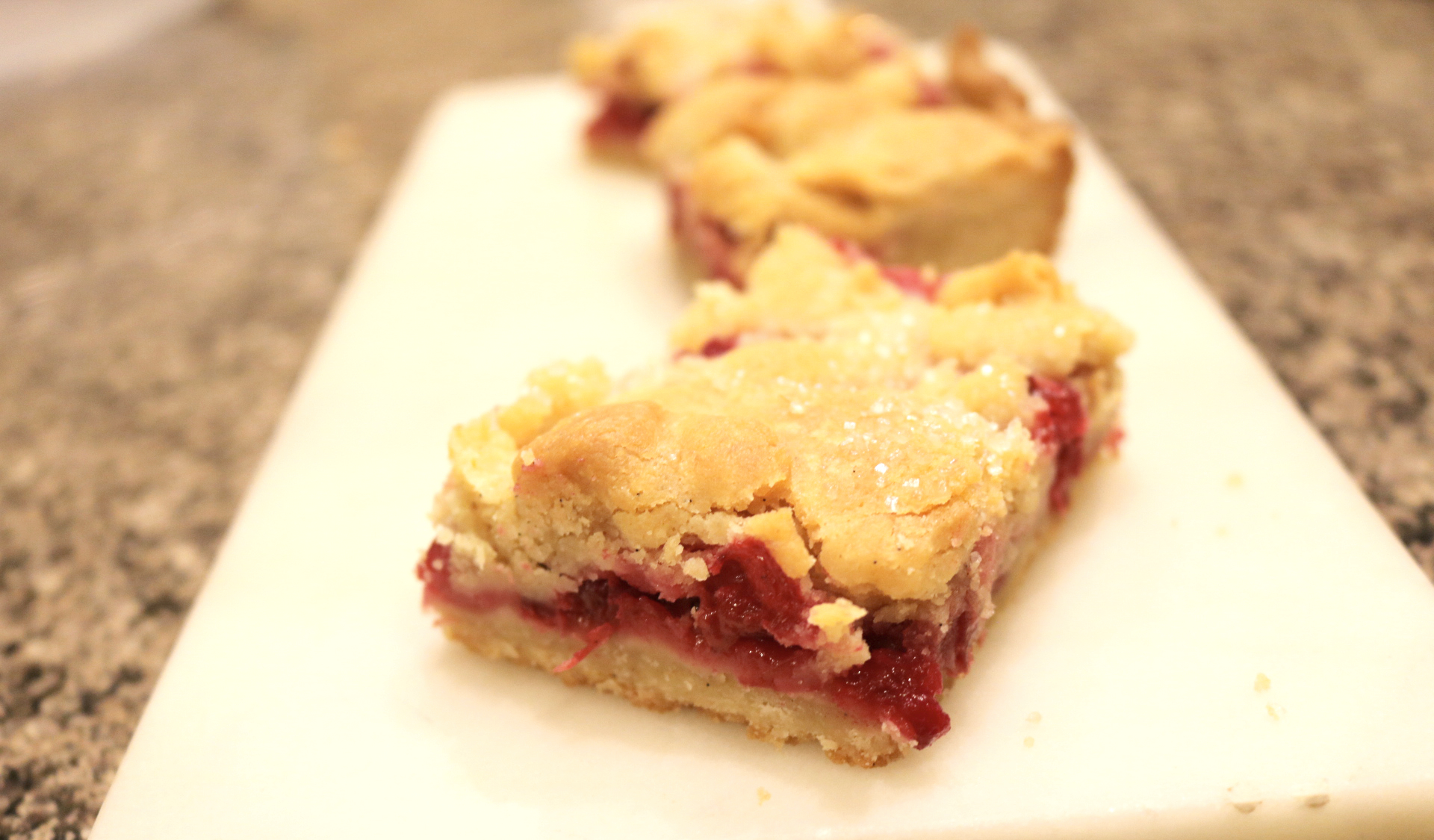 Perfect Balance
These bars really have the perfect balance between the shortbread and the cranberry filling. There is just enough of both to make each bite remarkable.
Now if you are not a cranberry fan, and we can talk about that later if you would like, there are other options. You can use blueberries, blackberries or even an apple cinnamon mixture. Just make sure you season the berries as needed.

Preheat the Oven!
Chelle Chelle
24 bars
Cranberry Shortbread Bars – A Holiday Treat
Cranberry Shortbread Bars are the perfect Holiday treat. They are rich, buttery and bursting with cranberry yumminess in each bite.
45 minPrep Time
45 minCook Time
1 hr, 45 Total Time
Ingredients
2 cups butter, room temperature
1 cup granulated sugar
3/4 cup brown sugar
1 tablespoon vanilla bean extract (or vanilla extract)
1 teaspoons salt
4 cups flour
12 ounce bag fresh cranberries (3 cups)
1/4 cup course sugar
Directions
Line a 9x13 pan with parchment paper
In the bowl of a stand mixer cream together butter and sugars until light and fluffy, about 5 minutes, scraping down the sides as needed
Add in vanilla & salt and mix until just combined
Add in flour, 1 cup at a time, mixing until just combined after each cup
Take 2/3 of the dough and press into prepared pan, bringing the crust up on the sides a little
Spread cranberries over bottom crust
Take pieces of remaining dough and place over cranberries
Sprinkle with course sugar
Refrigerate pan for 20-30 minutes
Preheat oven to 350 while chilling
After at least 20 minutes place bars into oven
Bake for 40-45 minutes (mine were perfect at 43 minutes), or until top is golden brown
Remove and let stand for at least 20 minutes before cutting (the filling will be very hot)
Cut and serve
Store remaining bars in an airtight container in the refrigerator for 2-3 days
ENJOY!
Notes
You can add toasted walnuts or pecans to the dough you top the bars with if so desired
7.8.1.2
527
https://sparklesnsprouts.com/2020/12/02/cranberry-shortbread-bars-a-holiday-treat/
All images are the property of Sparkles n Sprouts, to use image please contact the webmaster at michelle@sparklesnsprouts.com
Pin this Now!
Follow us Below so You Never Miss a Thing!