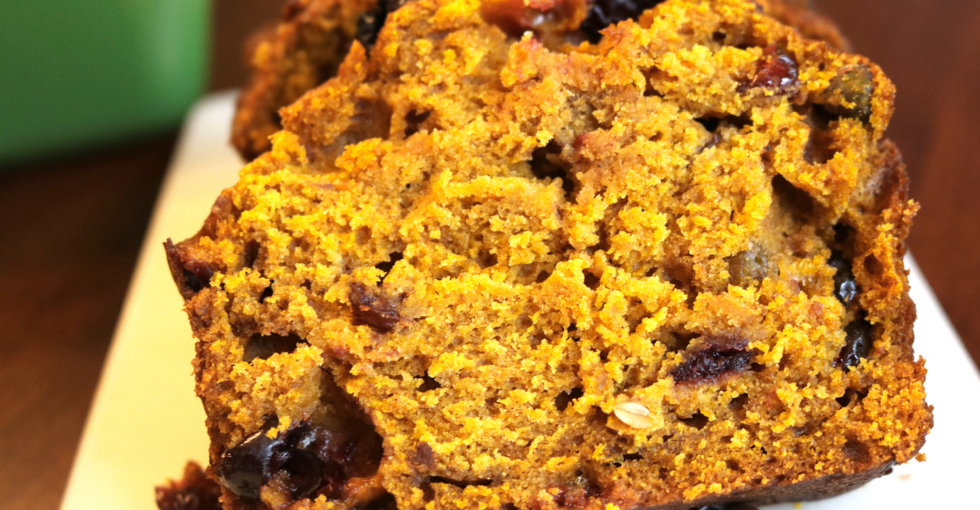 Pumpkin Cranberry Pistachios Bread
I am a BIG fan of pumpkin (as I am sure you know), pistachios and cranberries… but I am an even bigger fan of pumpkin bread and this pumpkin bread is AMAZING!! It is loaded with tons of yum and each bite is like a party in your mouth.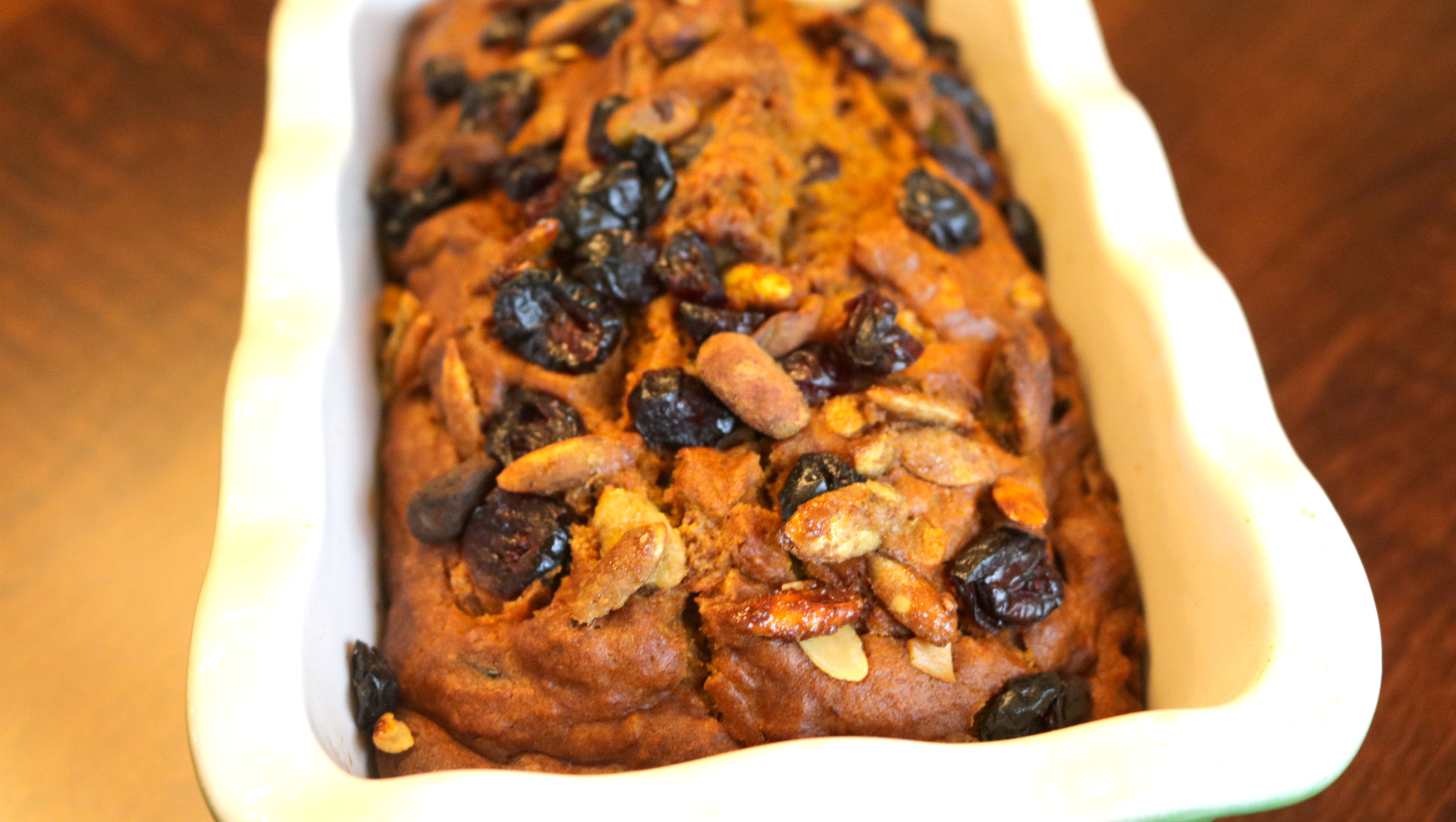 PISTACHIOS & CRANBERRIES GALORE!
I am all about a traditional pumpkin bread but this loaded pumpkin bread is just so, so good.
I have always loved cranberries with pumpkin but for some extra fun I wanted to add in some pistachios. Pistachios are a favorite for me with cranberries, as in these cookies. The cookies are SO GOOD I knew the pumpkin bread would be amazing!
The combo of the crunchy pistachios with the tender cranberries really do come together to make a perfect bite. If pistachios are not your thing you can use pecans, or pumpkin seeds. Not a fan a cranberries… thats ok, leave them out or use dried cherries.
PERFECT FOR GIFT BASKETS
I did Boo Bags for a few family and friends and in each bag was a small loaf of this pumpkin bread. I used these disposable loaf pans and they were just perfect. In the recipe below are the instructions to make these little loafs just perfect.
You can also make big loafs for baskets as well, if you want to be extra special nice. I mean maybe I will be that extra nice come November but I really do love this bread… but I will try and share with those I love.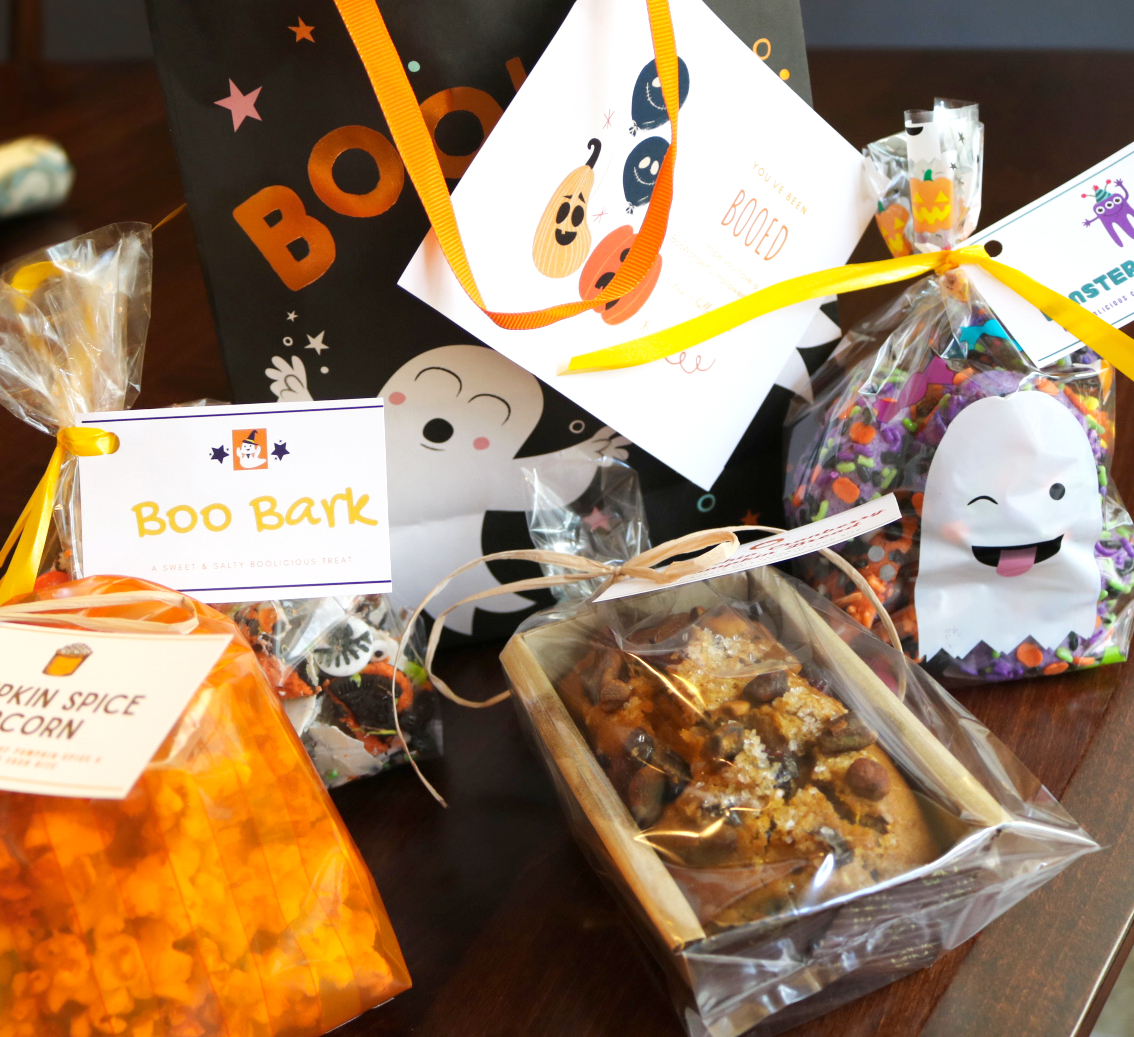 LOAD IT UP
I not only put the pistachios and cranberries in the bread but I also put the yummies on top before baking. I love how the nuts get extra crunchy and the cranberries get a little toasty making them extra tasty.
If you are using pecans I would recommend toasting them a bit for a little bit of extra pecan goodness.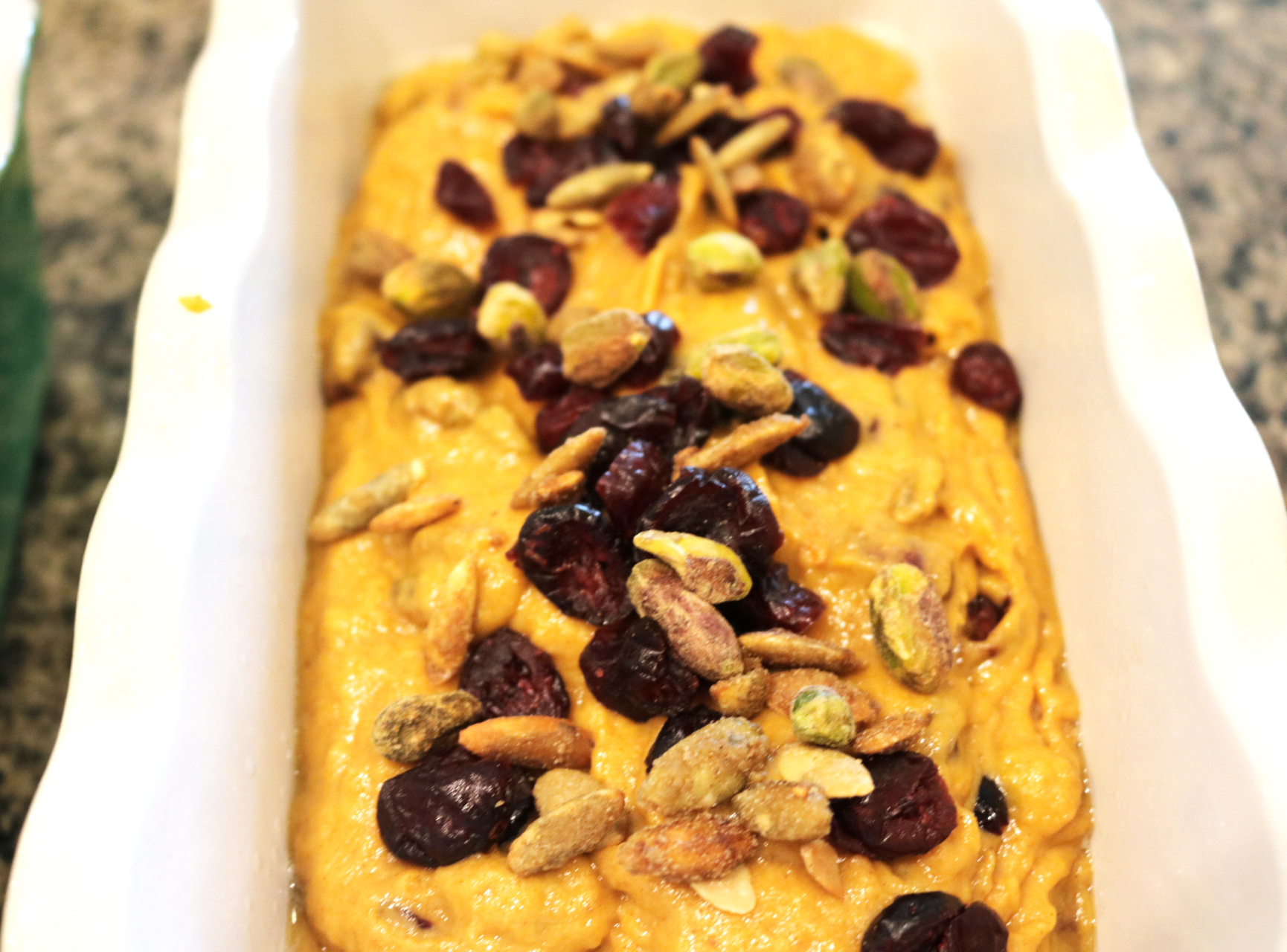 PREHEAT THE OVEN NOW!
Chelle Chelle
2 loafs, or 8 mini loafs
Pumpkin Cranberry Pistachio Bread
Pumpkin bread is taken to the next level with this Pistachio Cranberry Pumpkin Bread. Each bite is loaded with tons of flavor making this a pumpkin bread everyone will remember.
15 minPrep Time
50 minCook Time
1 hr, 20 Total Time
Ingredients
3 cups flour
4 teaspoon pumpkin pie spice
1 teaspoon salt
1 teaspoon baking powder
1 teaspoon baking soda
2 cups canned pumpkin (not pumpkin pie filling)
1 cup vegetable or canola oil
1 cup brown sugar
1/3 cup sugar
2 tablespoons molasses
1 tablespoon vanilla bean extract
1 1/2 cups dried cranberries
1 1/2 cups shelled pistachios (I used lightly salted), or pecans
Directions
Preheat oven to 350
Spray 2 loaf pans with nonstick spray, or line with parchment paper
In a large bow which together flour, pumpkin pie spice, salt, baking powder and baking soda
In a medium bowl combine pumpkin, oil, sugars, molasses and vanilla until smooth
Fold pumpkin mixture into flour mixture until just combined
Fold in 1 cup cranberries and 1 cup pistachios until just combined
Divide batter into the 2 prepared pans
Sprinkle remaining cranberries and pistachios on top of batter
Bake for 50-55 minutes, or until a toothpick comes out clean when inserted into the middle
Cool for 15-20 minutes in pan before slicing (if you can wait that long)
** For mini loafs, divide batter into loaf pans, filling 1/2 way up - bake for 30-40 minutes or until toothpick comes out clean
Notes
See post for additional options
7.8.1.2
523
https://sparklesnsprouts.com/2020/10/29/pumpkin-cranberry-pistachios-bread/
All images are the property of Sparkles n Sprouts, to use image please contact the webmaster at michelle@sparklesnsprouts.com
PIN THIS NOW SO YOU DON'T LOSE IT!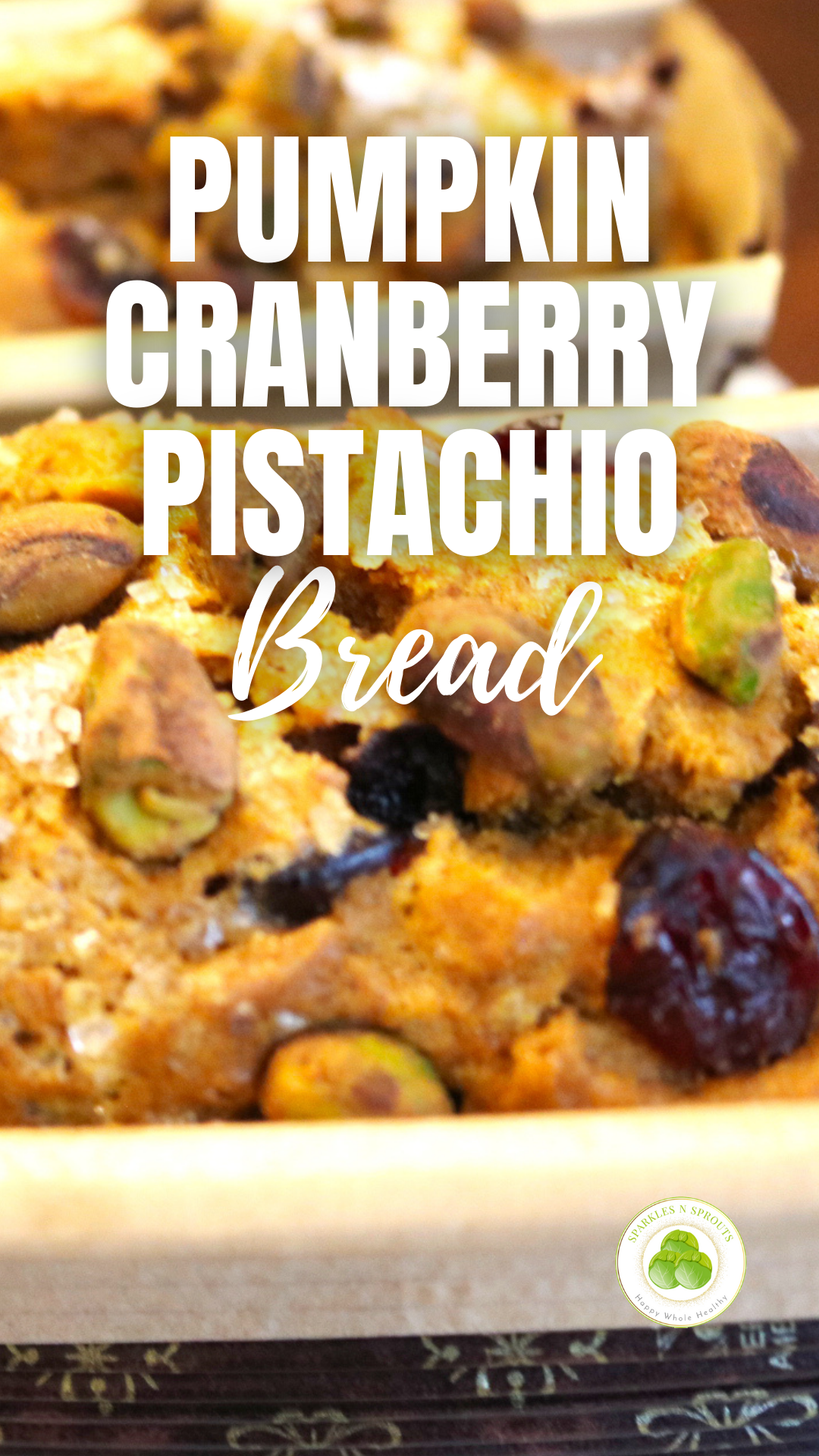 FOLLOW IS BELOW SO YOU NEVER MISS A THING!!