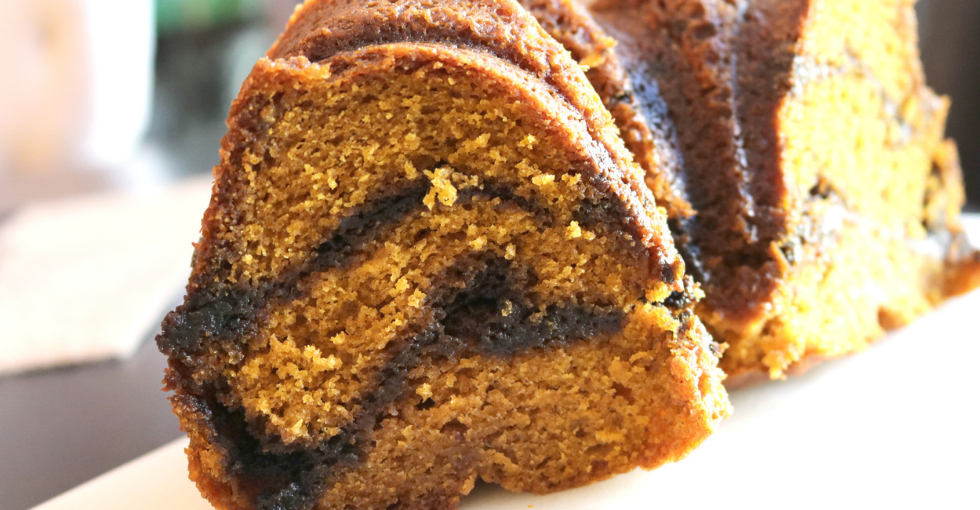 Pumpkin + Espresso makes me a happy girl. And yes, I know it is only September but in my world it is pumpkin time. I mean honestly it is pumpkin time all the time to me but I can at least now post it and it seem somewhat "normal".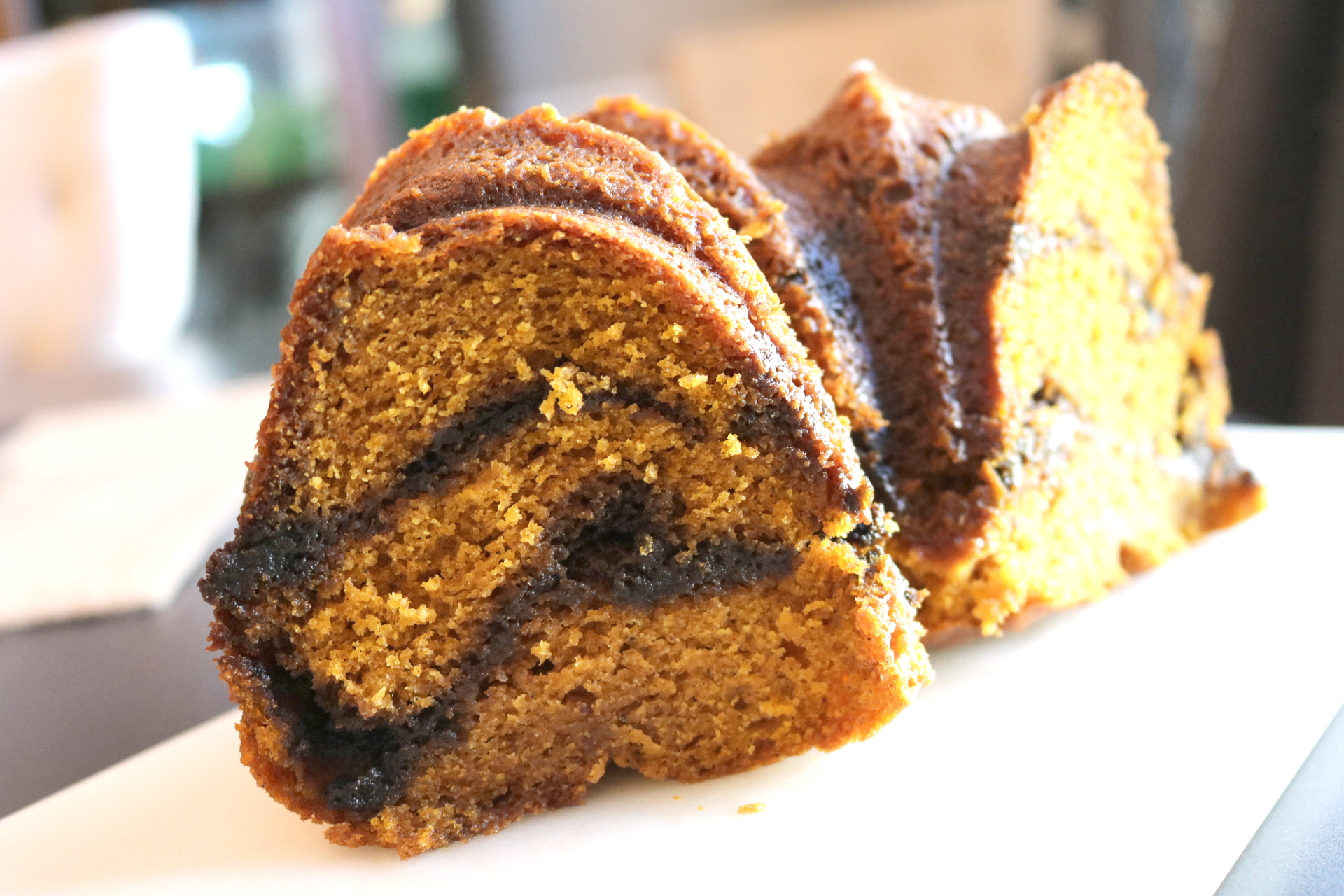 Pumpkin, please
I love pumpkin anything and everything, and I can eat pumpkin anytime, especially this bundt cake. The pumpkin makes the bundt cake super moist without making it heavy and then with the addition of the pumpkin pie spice gives it just the right amount of warmth in each bite.
If you didn't want to use the pumpkin pie spice you could use just cinnamon, making it a little more year round friendly. Yes you read that right, this bundt cake will become a year round treat for sure in our home.

Espresso, really?
First off can we just talk about how pretty the espresso ribbon is running through the bundt cake? The dark espresso color against the rich pumpkin color makes for a beautiful cake, and trust me it takes AMAZING! Don't worry though it is not overwhelming.
The Hubby is not a coffee fan AT ALL…but he loves this bundt cake. He was shocked when I told him there was espresso in the ribbon and in the glaze. It adds a depth to the cake without an overwhelming coffee flavor.
Layer it up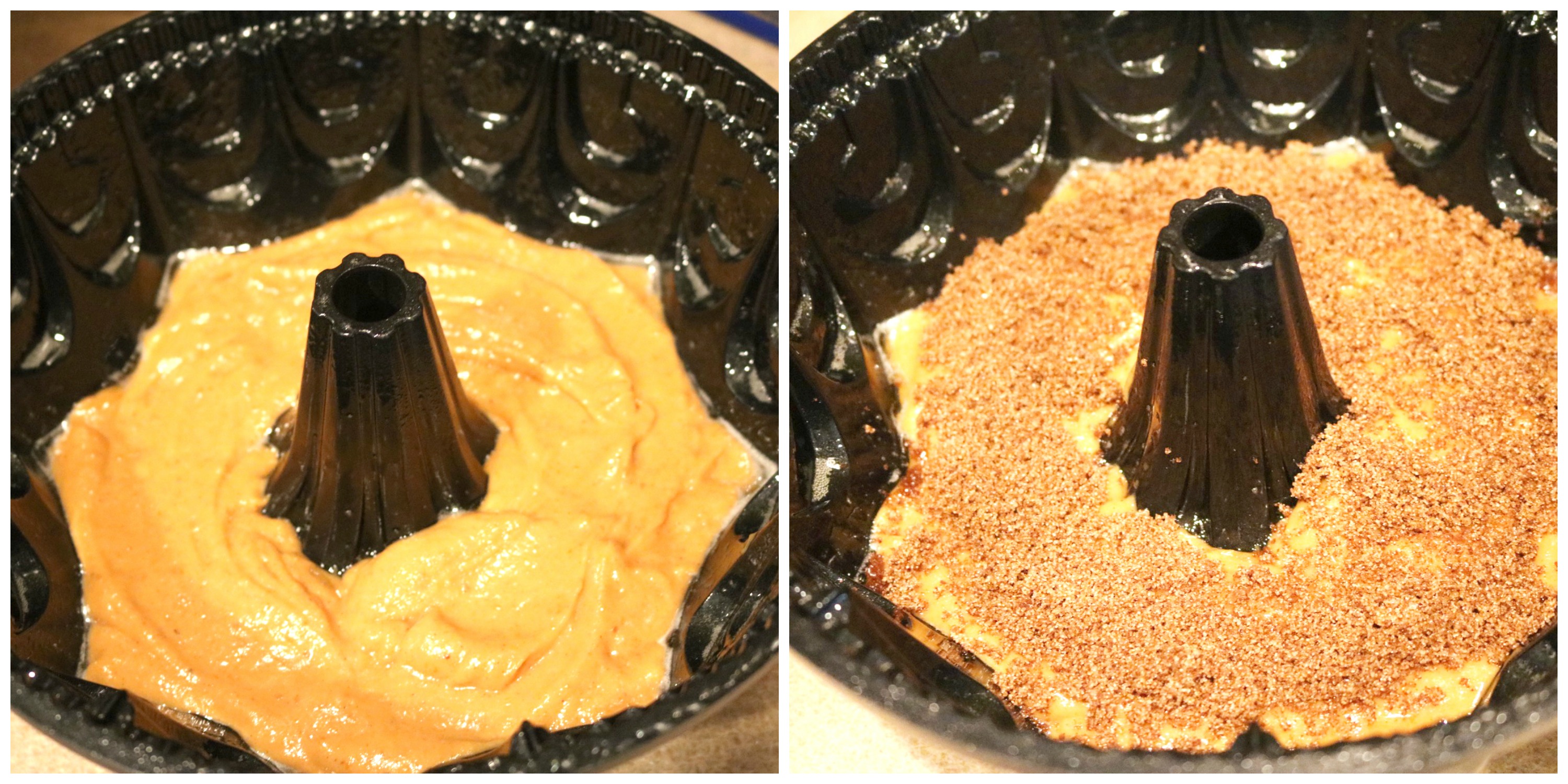 For this bundt cake it is all about the multiple layers, but don't worry it is super easy to make.
First you mix up the rich and delicious pumpkin batter. It has everything a good bundt cake should with a little extra love from the pumpkin and spices.
Next you mix up the filling, which is simply brown sugar, espresso powder and a little more spice.
Now it is time to layer. First you the pumpkin batter, then 1/2 of the filling, then more batter … well you get the point. Just make sure your cover the batter with the filling, it helps to make the cake so pretty when you cut into it. Trust me, people will think you worked so hard on it…and you don't have to tell them how easy it was if you don't want too.
Break out the bundt pan
MJ
16 servings
Pumpkin Espresso Caramel Bundt Cake
A fun take on a traditional pumpkin bundt cake. There is an espresso ribbon running through the cake which is topped off with an espresso caramel glaze making this a cake to remember.
20 minPrep Time
1 hrCook Time
1 hr, 45 Total Time
Ingredients
Cake
1 1/2 cup canned pumpkin puree
4 large eggs
3/4 cup canola oil
1 cup brown sugar
3/4 cup granulated sugar
1 teaspoon vanilla extract
2 cups all-purpose flour
2 teaspoons baking powder
1 teaspoon baking soda
3 teaspoons Pumpkin Pie Spice
1 teaspoon salt
Filling
1/3 cup brown sugar
3 teaspoons espresso powder
1 teaspoon Pumpkin Pie Spice
Glaze
1/3 cup strong espresso or coffee
1 cup salted caramel sauce (homemade or store bought)
Directions
Preheat oven to 350
--Prepare the Cake--
Spray your favorite bundt pan with nonstick spray, set aside
In the bowl of a stand mixer beat together pumpkin, eggs, oil, brown sugar, granulated sugar & vanilla extract until well combined
In a medium bowl whisk together flour, baking powder, baking soda, pumpkin pie spice and salt
Slowly add into pumpkin batter, mixing until just combined, scraping down the sides as needed
--Prepare the Filling--
In a small bowl stir together brown sugar, espresso powder and pumpkin pie spice until well combined
--Assemble the Bundt--
In the prepared pan scoop 1/3 of the pumpkin batter into the bundt pan
Sprinkle 1/2 of the filling over the batter
Spoon another 1/3 of the pumpkin batter and gently smooth
Sprinkle remaining filling over the batter
Spoon remaining batter over the filling, smooth with a spoon or offset spatula as needed
Bake for 50-60 minutes or until a toothpick comes out clean when inserted into the center
Let cool for 15-20 minutes in the pan before flipping out
--Prepare the Glaze--
After the cake is cooled completely, stir together espresso (or coffee) with the caramel until smooth
Brush glaze over the top of the cake, covering as much as possible
Let set for 15-20 minutes before serving
ENJOY!!
Notes
Each serving is 14 WW Smart Points
Nutritional Info
Calories 326 - Calories from Fat 99 - Total Fat 11 g - Saturated Fat 1.2 g - Monounsaturated Fat 6.5 g - Polyunsaturated Fat 3.3 g - Trans Fat 0 g - Cholesterol 52 g - Sodium 307 mg - Potassium 156 mg - Total Carbohydrate 52 g - Dietary Fiber 1 g - Sugars 35 g - Protein 3 g
Vitamin A 73 % - Vitamin C 2 % - Calcium 8 % - Iron 6 %
7.8.1.2
277
https://sparklesnsprouts.com/2020/09/02/pumpkin-espresso-bundt/
All images are the property of Sparkles n Sprouts, to use image please contact the webmaster at michelle@sparklesnsprouts.com
THE GLAZE
Now as much as I love the cake and the filling, I am even more in love with the glaze. I used fresh brewed espresso mixed with salted caramel sauce, but if you don't have an espresso machine you can use strong coffee.
Since making this glaze for the cake I have used it on ice cream, in my iced coffee, drizzled over pumpkin bread…really on anything and everything. Trust me it is so, so good.
PIN IT NOW SO YOU DON'T LOSE IT