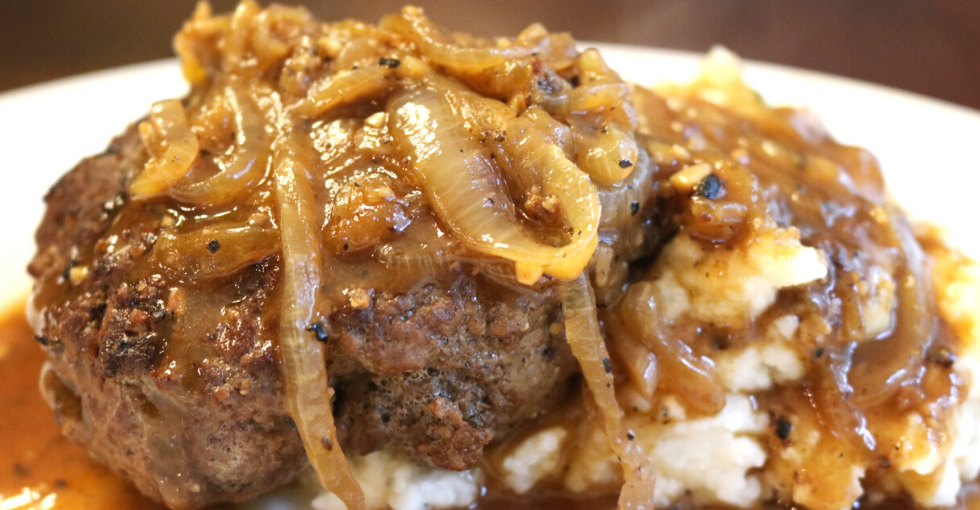 Hamburger Steak with Onion Gravy … Yes, Please
Hamburger Steak may feel a little old school but I tell you…this hamburger steak is AMAZING! Don't believe me… try it.
Oh the Onions…
So fun fact, I have not always been the biggest fan of onions. Yep so I never have onions on my burger or hot dog, or in my salads. I really only love onions when they are browned, like in this gravy, or onion soup, or cut up small for a hint of flavor. I know, weird but it is just how I am.
These onions are made even better as they are cooked in the same skillet as the hamburger steaks just adding even more flavor to the gravy. I mean lets be honest, a good hamburger steak is all about the gravy in the end… and this gravy does not disappoint. The key to the onions though is to let them cook down. To get a good brown on them it will take anywhere from 8-10 minutes, so a little patience is involved, but so worth it.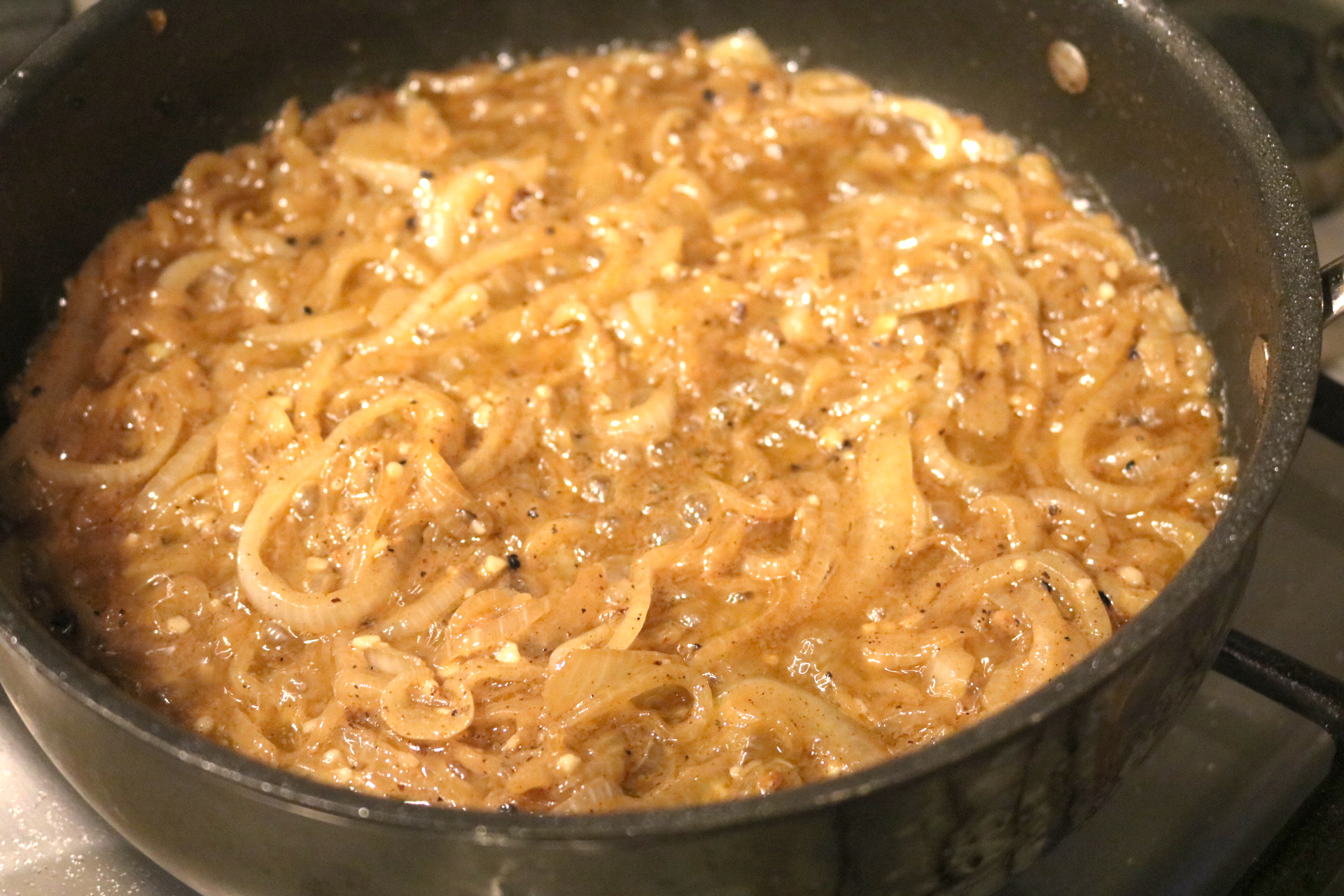 Thick or Thin Patties?
This is always a hard question to answer. Some like their hamburger steaks super thick (like me) and other like them more thin (like my family) and them some others like it just in between. However you like your hamburger steak, make sure and adjust cooking time accordingly.
A thick hamburger steak can take about 8 minutes to cook, while a thinner one could take 5-6 minutes. Just watch them and test for your desired doneness.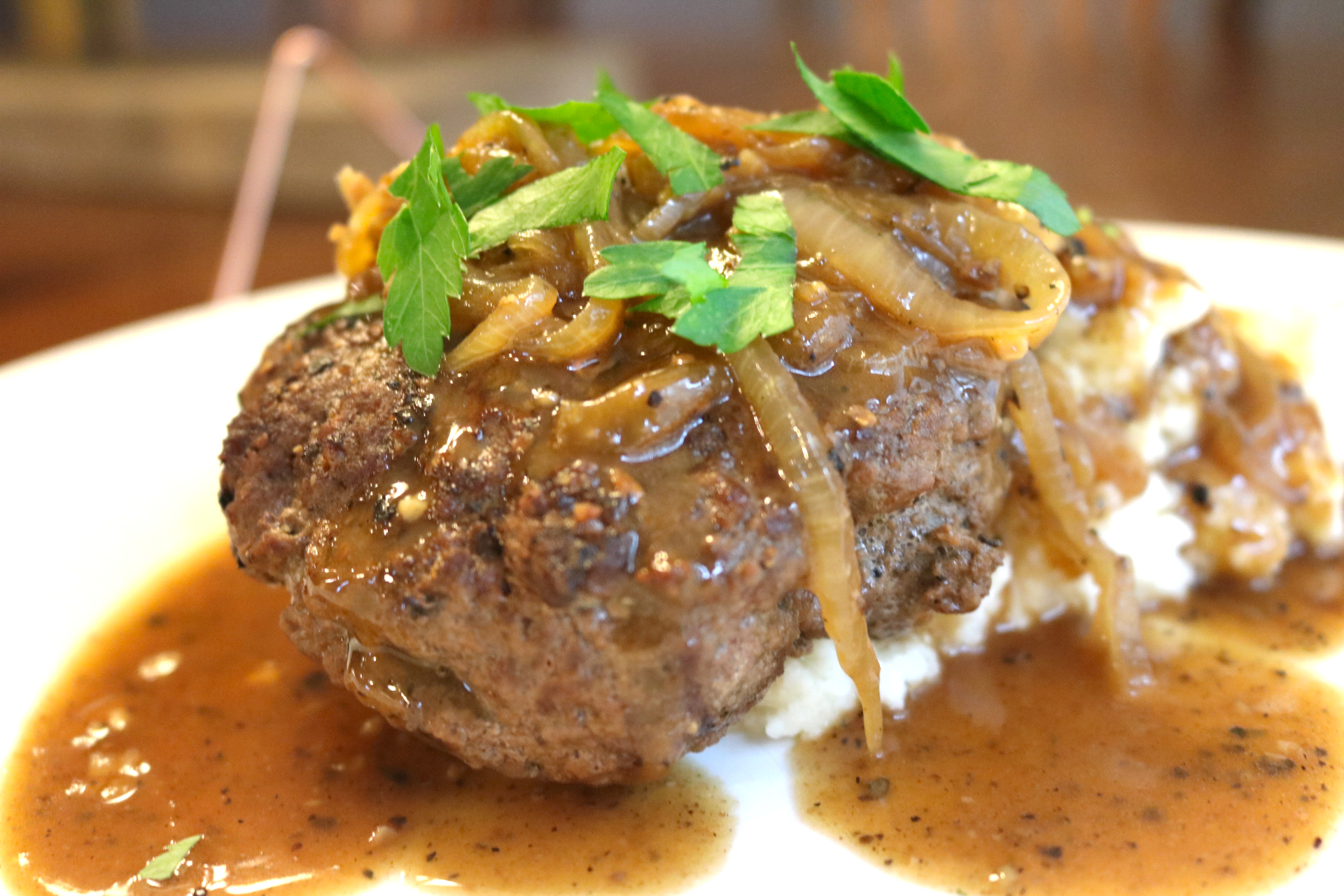 Season, Season and Season Some More
It is important to season the hamburger steak very well and then also season the onions and gravy as well. You want to build the flavor, so when it is all done your dish is bursting with flavor in every bite.
I used course ground steak seasoning, salt & pepper for the steaks. Salt for the onions and then Worcestershire sauce in the gravy…again it is all about building layers of flavor. Don't be afraid to season…you will be so glad you did.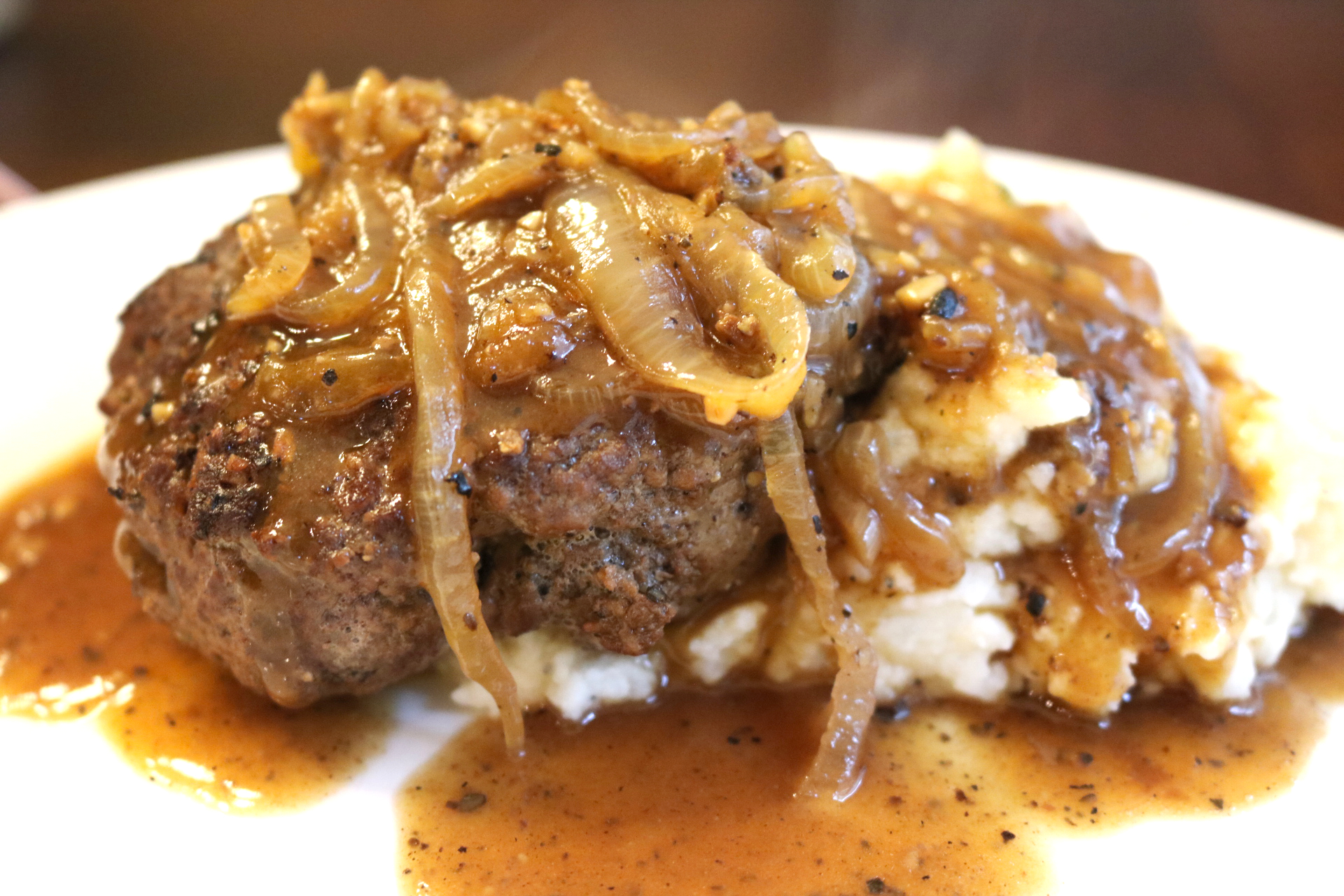 Last but NOT least… THE GRAVY!
Once the hamburger steaks are cooked and the onions are browned it is time to make the amazing, mouth watering, not to be forgotten gravy. Yes it really is that good.
The base of the gravy is the onions with garlic and then some Worcestershire sauce and then beef stock. To thicken it I used cornstarch but you could use flour if you would like…whatever your preference is. You are going to love this!!
MAKE THIS NOW!!
Chelle Chelle
6 hamburger steaks
Hamburger Steak with Onion Gravy … Yes, Please
A quick and easy hamburger steak with onion gravy that is perfect for a busy weeknight dinner that everyone is sure to love.
10 minPrep Time
30 minCook Time
45 minTotal Time
Ingredients
2 pounds ground beef (I used 80/20)
1 teaspoon salt
1 teaspoon pepper
1 tablespoon course ground all purpose seasoning
1/2 cup butter, divided
2 onions, sliced thin
1 teaspoon salt
3-4 garlic cloves, minced
1 tablespoon Worcestershire sauce
2 -3 cups beef stock (or broth)
2-3 tablespoons corn starch
1/4 cup water
Chopped parsley, if desired
Directions
Divide beef into 6 patties, thinner if you want more well done patties
Season patties with salt, pepper and course ground seasoning evenly on both sides
Melt 2 tablespoons bitter in a saucepan over medium heat
Cook 3-4 patties on each side for 3-4 minutes, flipping so they do not burn and then removing to a platter and cover to keep warm
Melt another 2 tablespoons butter and repeat with remaining patties, remove to same platter
Melt remaining butter and add in sliced onions and salt
Cook, stirring often, until onions are softened and begin to brown, about 8 minutes
Stir in garlic and cook for an additional 1-2 minutes
Stir in Worcestershire sauce and beef stock and bring to a boil
In a small bowl whisk together cornstarch (start with 2 tablespoons) and water, stirring until well combined
Stir in cornstarch mixture and bring mixture back to a boil, stirring often
Add in hamburger patties and cook for an additional 8-10 minutes, or until patties are cooked to your desired doneness
Remove from heat and serve immediately with mashed potatoes, or roasted potatoes
Top with chopped parsley if desired
ENJOY
Notes
You can add in mushrooms if you would like when you add the onions in
7.8.1.2
514
https://sparklesnsprouts.com/2020/06/11/hamburger-steak-with-onion-gravy-yes-please/
All images are the property of Sparkles n Sprouts, to use image please contact the webmaster at michelle@sparklesnsprouts.com
Pin this recipe so you don't lose it!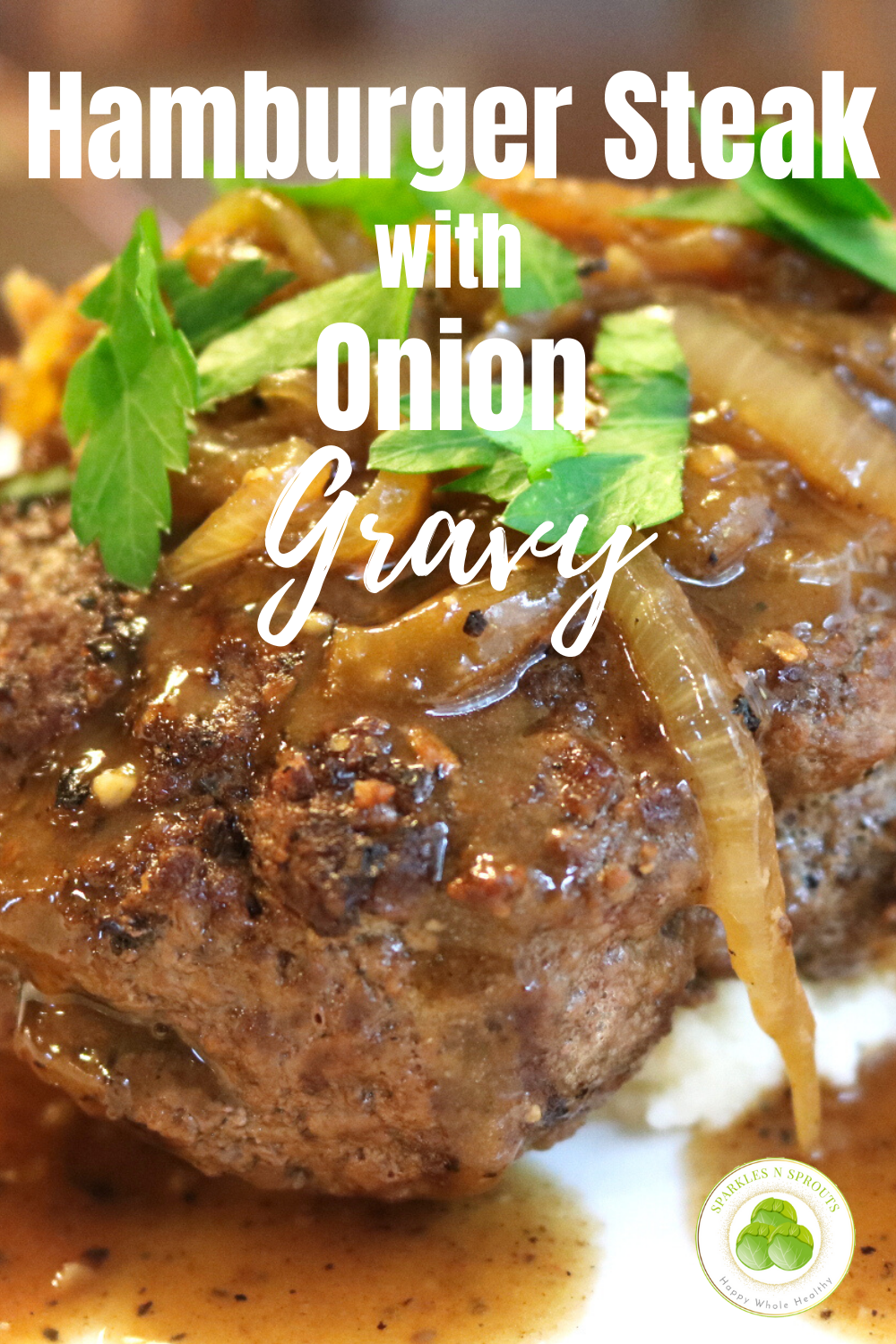 Follow us below so you never miss a thing!