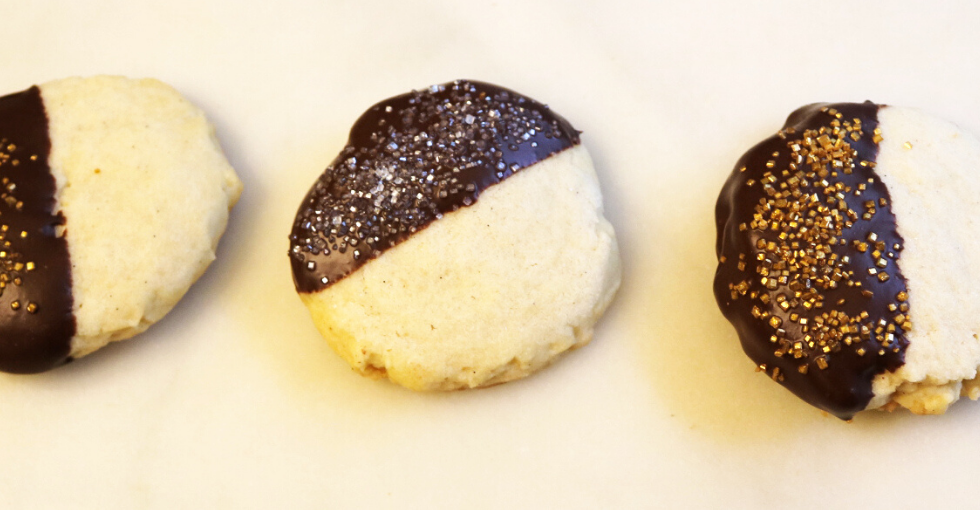 Shortbread Cookies are my mom's most favorite cookie. Anytime I ask her what she wants for her birthday or a holiday treat she says shortbread…and these are her MOST FAVORITE recipe.
What makes them so special?
First thing is the Vanilla Bean Paste. It adds a true vanilla flavor to these cookies, along with the cute little specks from the vanilla bean making these cookies look a little bit fancier then your typical shortbread.
If you do not have vanilla bean pasta that is ok you can use vanilla extract, but of you can get your hands on vanilla bean extract I would.
Secondly, these cookies have less powder sugar than some other recipes. I love this as the cookies are not as sweet and more buttery, which in mu book is SOOOO GOOD! It also gives the cookie a nice crumble which I love about shortbread.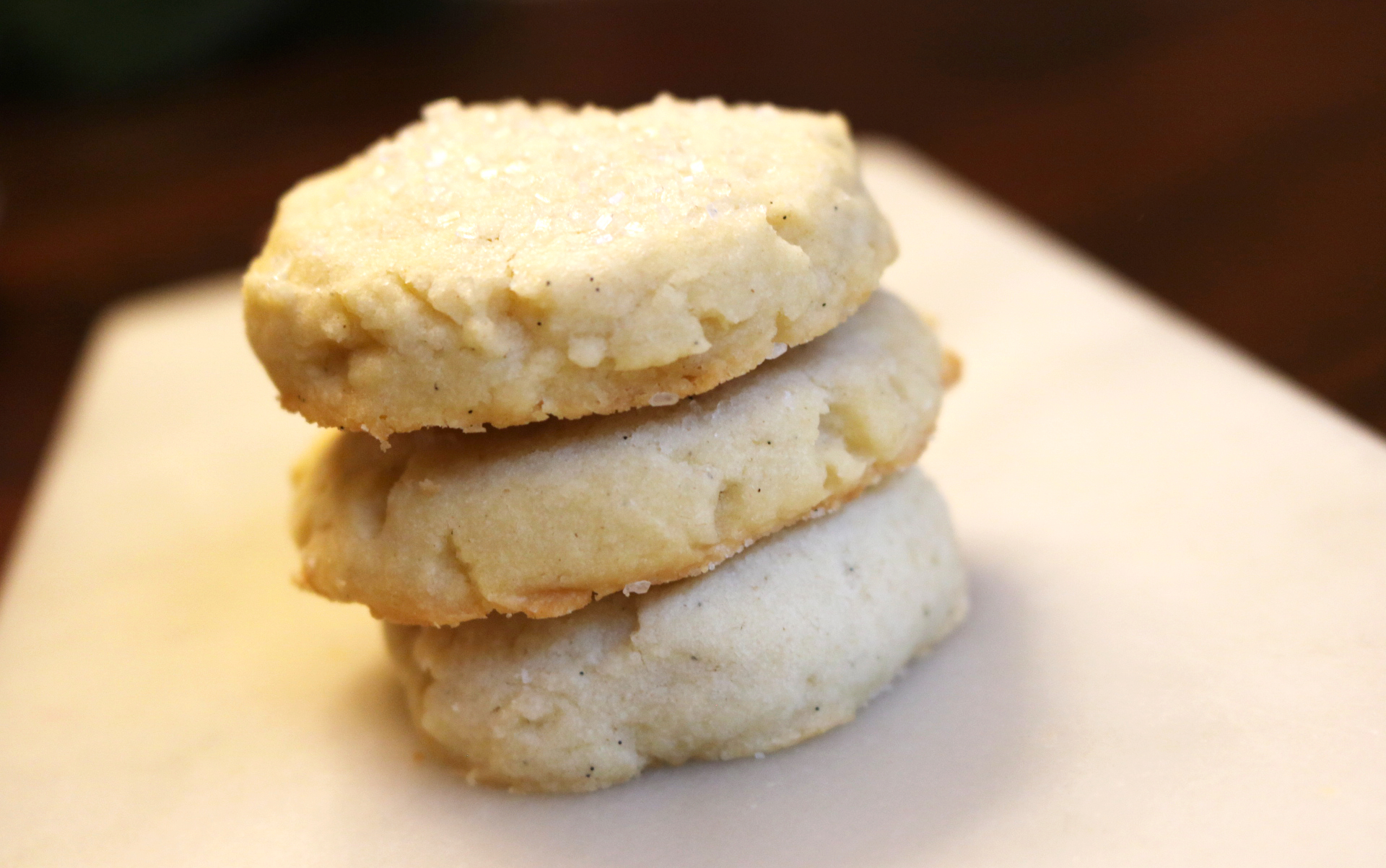 Plain or not?
I made these cookies to send with a friend for a New Year's party so I wanted to make them a little more special…well at least some of them. For half of the cookies I dipped them in chocolate and added some seasonal sprinkles.
I used semi-sweet chocolate but you could use dark chocolate to white chocolate to dip them in. Be on the look for my Valentine's version. You could also decorate them for Easter, St Patricks Day, 4th of July…any and all holidays.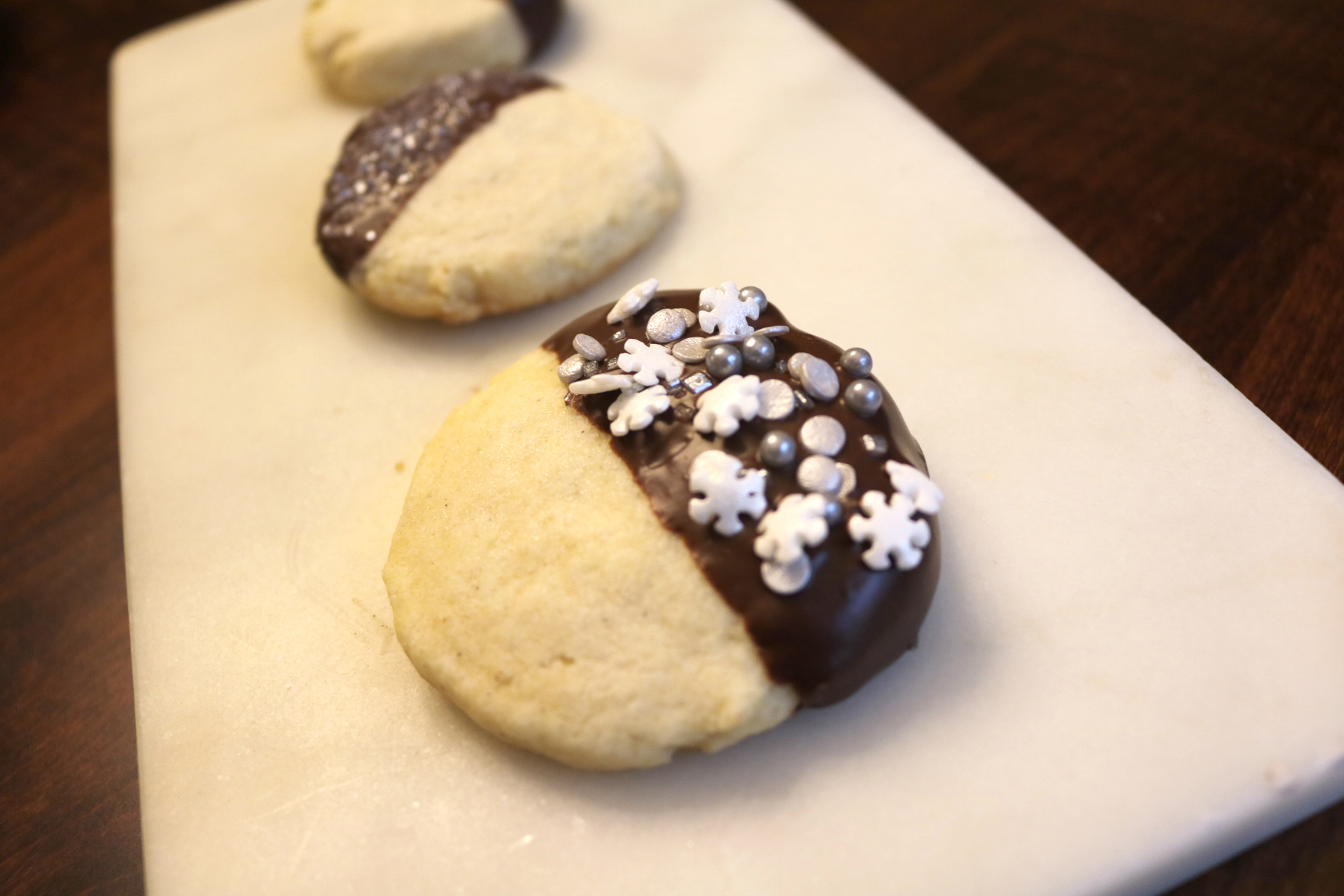 Plain is OH SO GOOD!
If you ask my mom she would tell you she likes the cookies plain. So course sugar, no sprinkles, no dipping…nothing just plain jane. I am not going to lie I love them plain as well. There is just something so yummy about these buttery cookies.
If you planning on making them plain, you dip the cup in sugar before pressing the dough ball down to add a little sparkle on top without a ton of sweetness.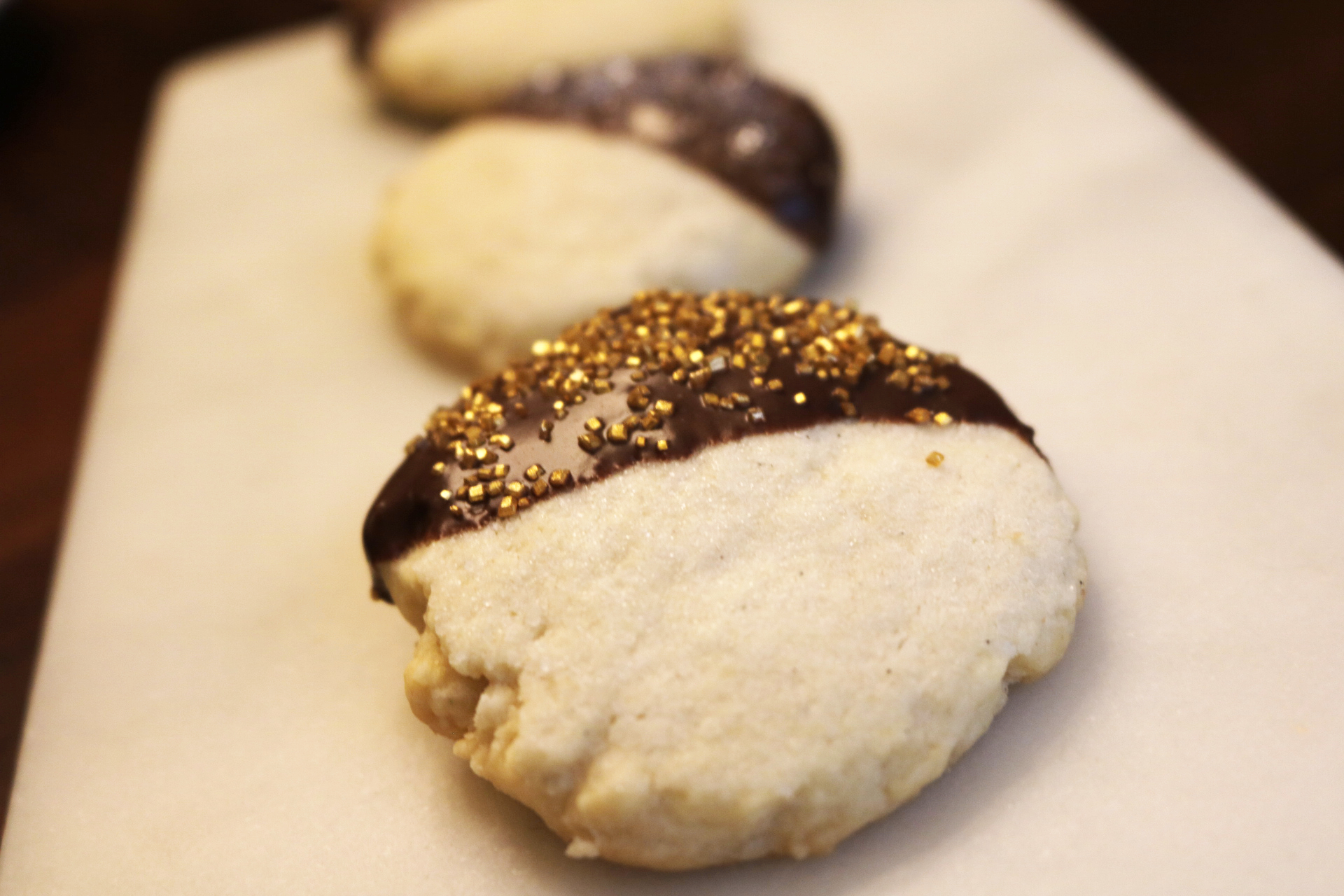 You need to make these ASAP!
Chelle Chelle
24 cookies
Easy Shortbread Cookies
The perfect shortbread cookie. Buttery, super tender and the perfect hint of vanilla in each bite. Dip them in chocolate to make them even more special.
45 minPrep Time
17 minCook Time
1 hr, 30 Total Time
Ingredients
1 cup butter, room temperature
1/2 cup powdered sugar
2 cups all purpose flour
1 teaspoon salt
Optional Toppings
2-3 tablespoons course sugar(optional)
2-3 tablespoons seasonal sprinkles (optional)
Chocolate Dip
2 cups semi-sweet chocolate chips or 4 oz dark chocolate chopped
1 teaspoon shortening
Directions
In the bowl of a stand mixer cream together butter and powdered sugar until well combined
Add in vanilla and mix until just combined, scraping down the sides as needed
Add in flour and salt, mixing until dough just comes together
Cover and chill for at least 30 minutes, up to 2 hours
Preheat oven to 350
Line cookies sheets with parchment paper
Using a medium size cookie scoop place mounds onto parchment paper
Using a glass (or your hand) flatten each mound to about 1/2 inch thick
Top with course sugar sprinkles or seasonal sprinkles if so desired (if going to dip in chocolate leave plain)
Bake for 12-15 minutes or until edges just begin to brown
Let cool for 5 minutes on cookie sheet and then remove to cooling rack to cool completely
If going to dip melt chocolate and shortening in a heat proof bowl stirring every 30 seconds until smooth
Dip completely cooled cookies into chocolate mixture and place back on cooling rack
Top with sprinkles as desired
Let sit for 30 minutes to allow chocolate to completely set
Store in an airtight container
ENJOY!
Notes
I recommend vanilla bean paste for this recipe as I love the flavor and the bits of vanilla in the cookie but vanilla extract will work as well
7.8.1.2
509
https://sparklesnsprouts.com/2020/01/01/easy-shortbread-cookies/
All images are the property of Sparkles n Sprouts, to use image please contact the webmaster at michelle@sparklesnsprouts.com
Pin this now so you don't lose the recipe