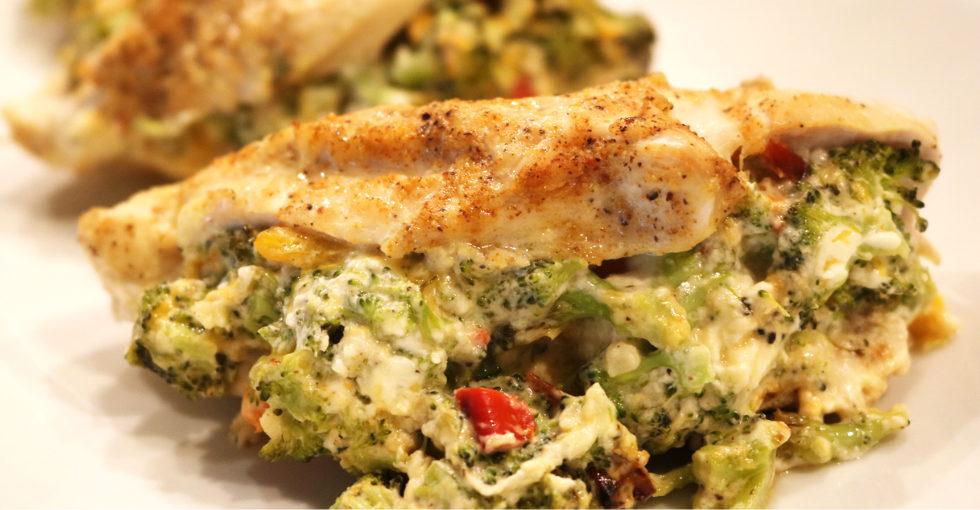 Cheesy Broccoli Stuffed Chicken (KETO Friendly)
I love Cheesy Broccoli Stuffed Chicken, well I love most stuffed chickens (like this one). There is just something so decadent and almost fancy about it. The thing I love most is that it is really so easy to make, and you can stuff chicken with really almost anything. Yes…really almost anything.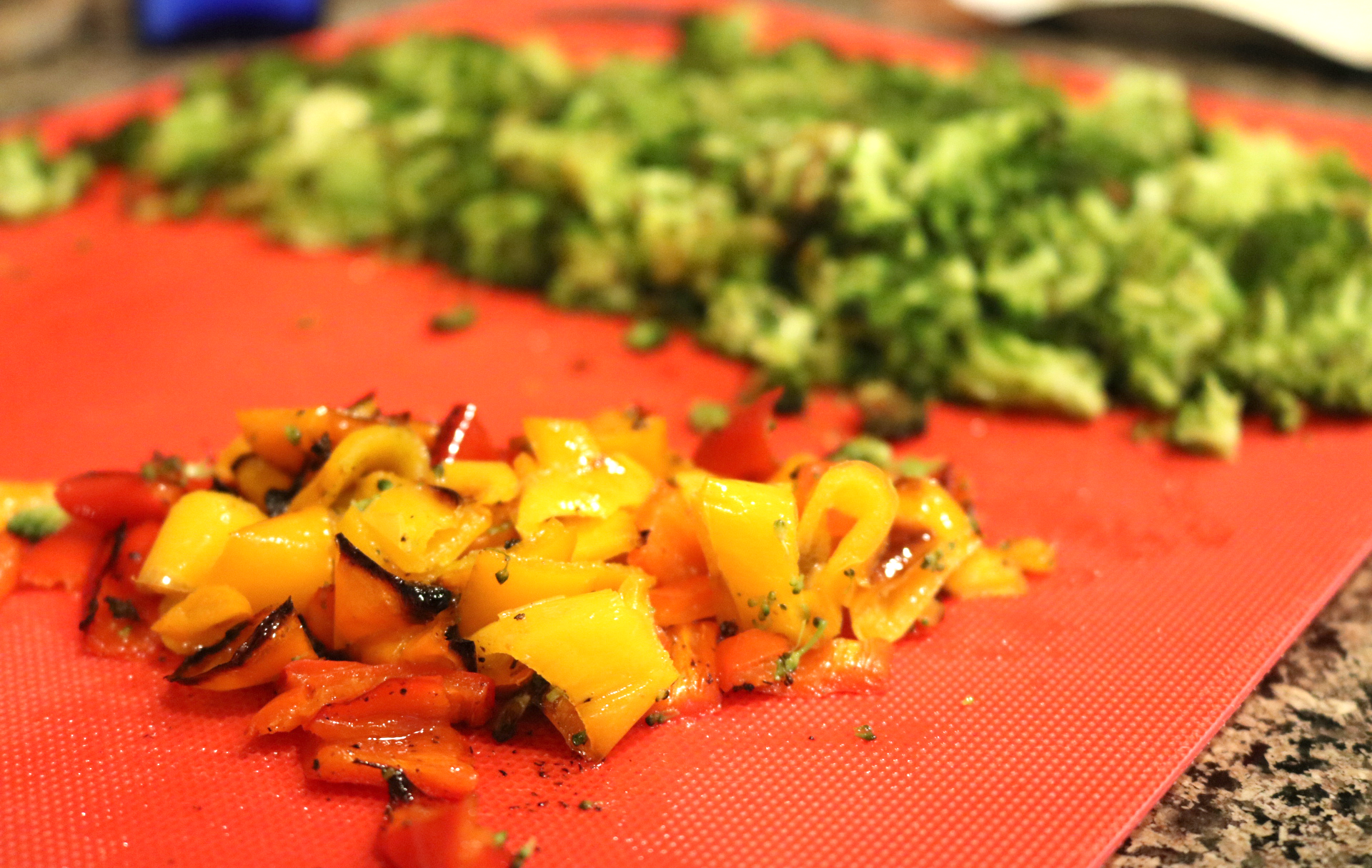 Lets start with the Veggies… Broccoli & Peppers
For this stuffed chicken recipe I went with lower carb veggies. To keep it simple I chose broccoli and bell peppers. I love these 2 veggies together and they just look so pretty… I love pretty food.
If you wanted you could use asparagus, cauliflower, onions, spinach … really any veggie combo you wanted. I do recommend roasting them though, there is just something so good when veggies are roasted.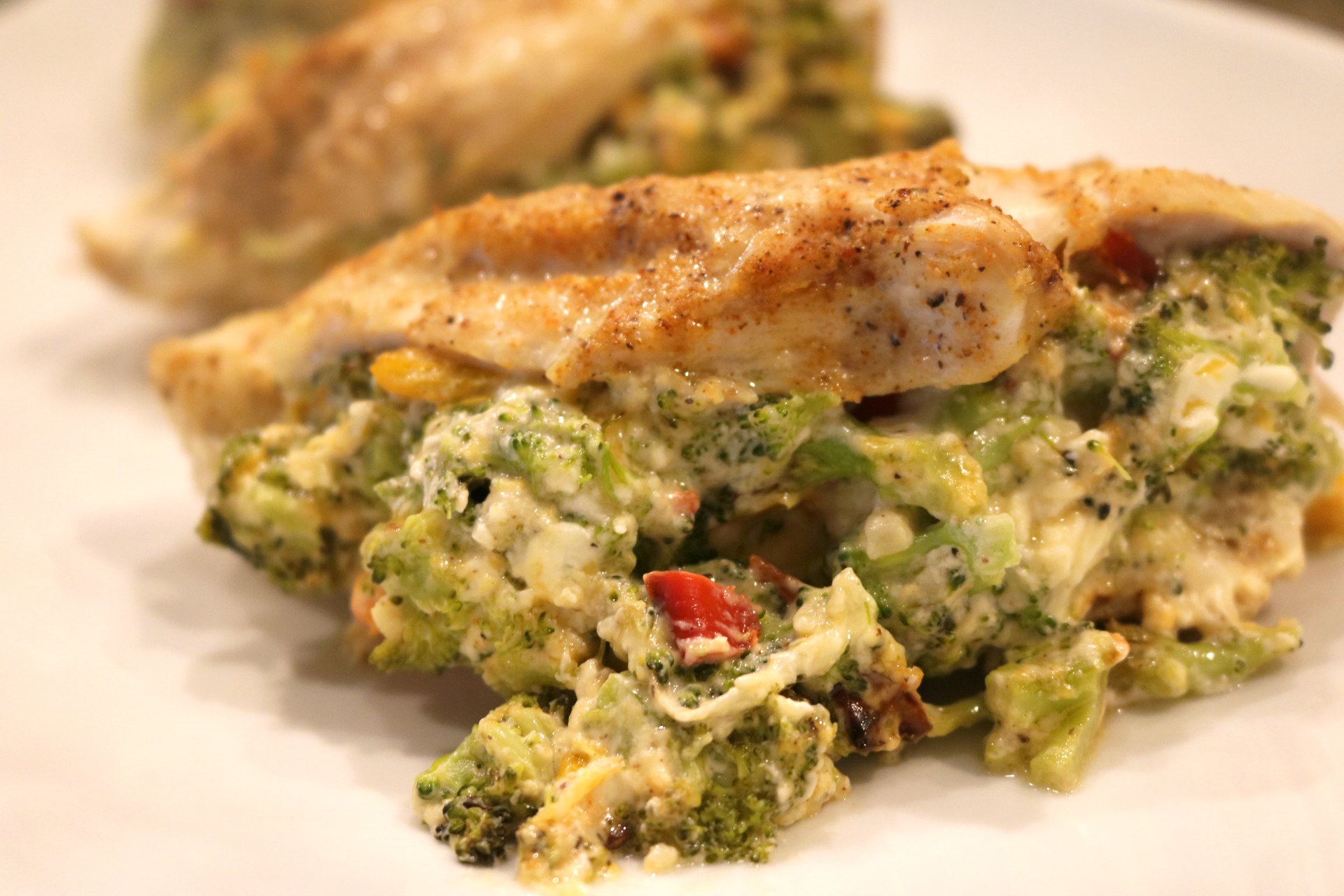 Now onto the filling
Once the veggies are roasted I combined them with cream cheese, shredded cheese (I used mexican blend) and some minced garlic to make this the cheesy broccoli filling. Then I stuffed it into the pockets I created int he chicken breasts. And yes, I stuffed them FULL.
If you wanted you could probably use 5 or 6 breasts and you would have plenty of filling, I just like them really stuffed full. In my opinion it adds to the decadence of the dish. One more thing I love about this broccoli filling is the color… it is just so pretty!!
PS… The filling is SOOOOO good you could use it as a low carb dip… it would be SOOOOO good!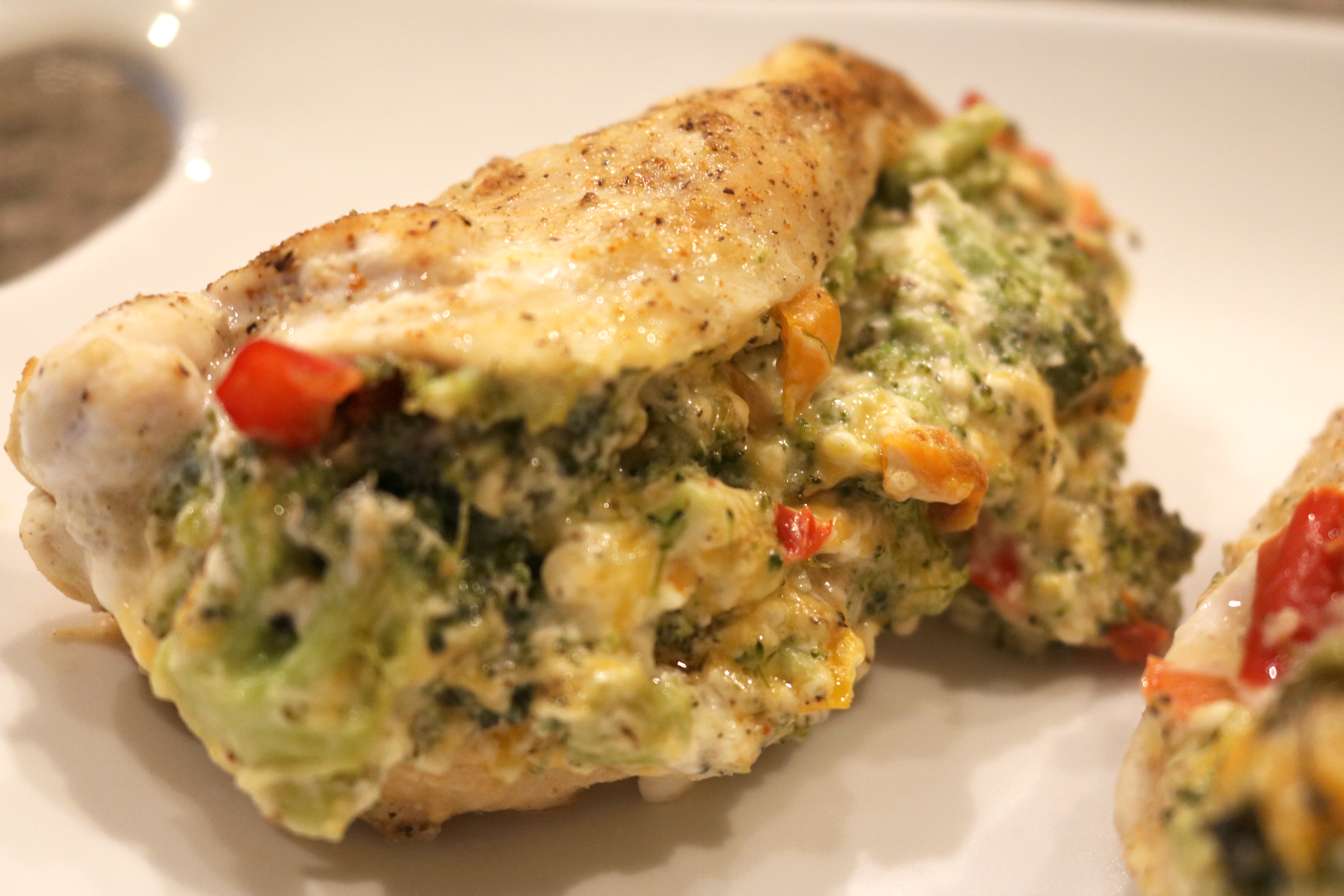 Tonight's Dinner
Chelle Chelle
4 servings
Cheesy Broccoli Stuffed Chicken
A quick and delicious stuffed chicken that is not inly low carb and very KETO friendly but it is loaded with TONS and TONS of flavor that everyone is sure to love.
10 minPrep Time
35 minCook Time
45 minTotal Time
Ingredients
3 cups broccoli, roughly chopped
1/2 red bell pepper, roughly chopped
1/2 yellow bell pepper, roughly chopped
1 tablespoon olive oil
1 teaspoon salt
1 teaspoon pepper
4 medium boneless, skinless chicken breasts
1 teaspoon salt
1 teaspoon pepper
1 teaspoon season salt
5 ounces cream cheese, room temperature
1 cup shredded cheese
2 garlic cloves, minded
1 tablespoon butter
Directions
Preheat oven to 425
Line a rimmed baking sheet with parchment paper
Spread chopped broccoli and chopped bell peppers into a single layer
Drizzle 1 tablespoon olive oil over veggies
Sprinkle salt & pepper over veggies and toss to coat veggies
Place sheet pan into oven and roast for 15 minutes, tossing once
While veggies are roasting cut chicken breasts 3/4 of the way through making a pocket for the filling
In a small bowl combine remaining salt, pepper and season salt
Season chicken on the outside and inside, , set aside
Once veggies are roasted chop into small pieces
Place into a large bowl and combine with cream cheese, shredded cheese and minced garlic
Divide mixture between 4 chicken breasts
In a large, oven safe skillet, heat butter oven medium high heat
Place chicken into skillet and cook for 4-5 minutes
Place into oven and cook for an additional 10-15 minutes or until just cooked through and chicken is starting to brown
Remove and let cool for 5 minutes
Serve and ENJOY!
Notes
Each chicken breast has 5 net Carbs as based on the Carb Manager App
7.8.1.2
496
https://sparklesnsprouts.com/2019/05/20/cheesy-broccoli-stuffed-chicken-keto-friendly/
All images are the property of Sparkles n Sprouts, to use image please contact the webmaster at michelle@sparklesnsprouts.com
Make sure and PIN this now!