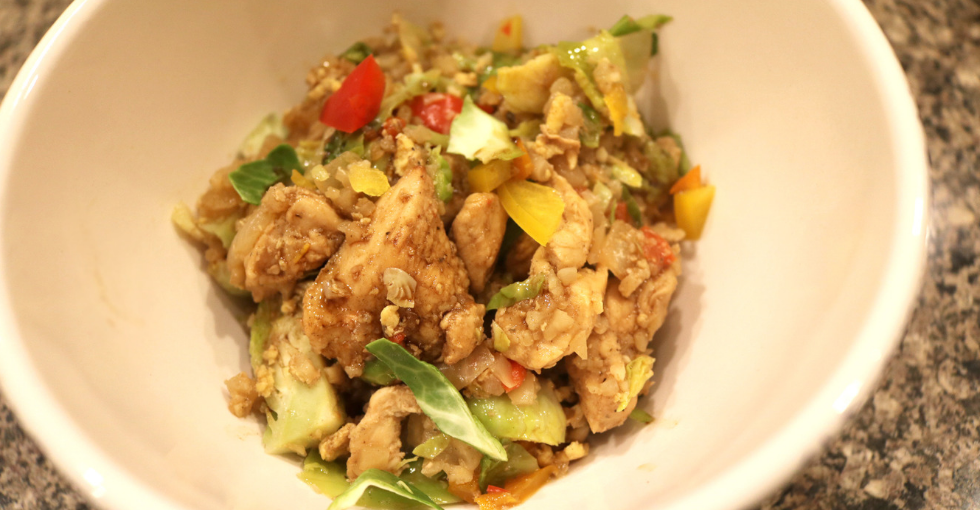 I have been craving Chinese food A LOT lately. My typical go to is a loaded fried rice, I just love all the flavors and textures together in each bite. On my KETO journey a traditional fried rice is not going to work but this KETO Loaded Fried Rice is perfection!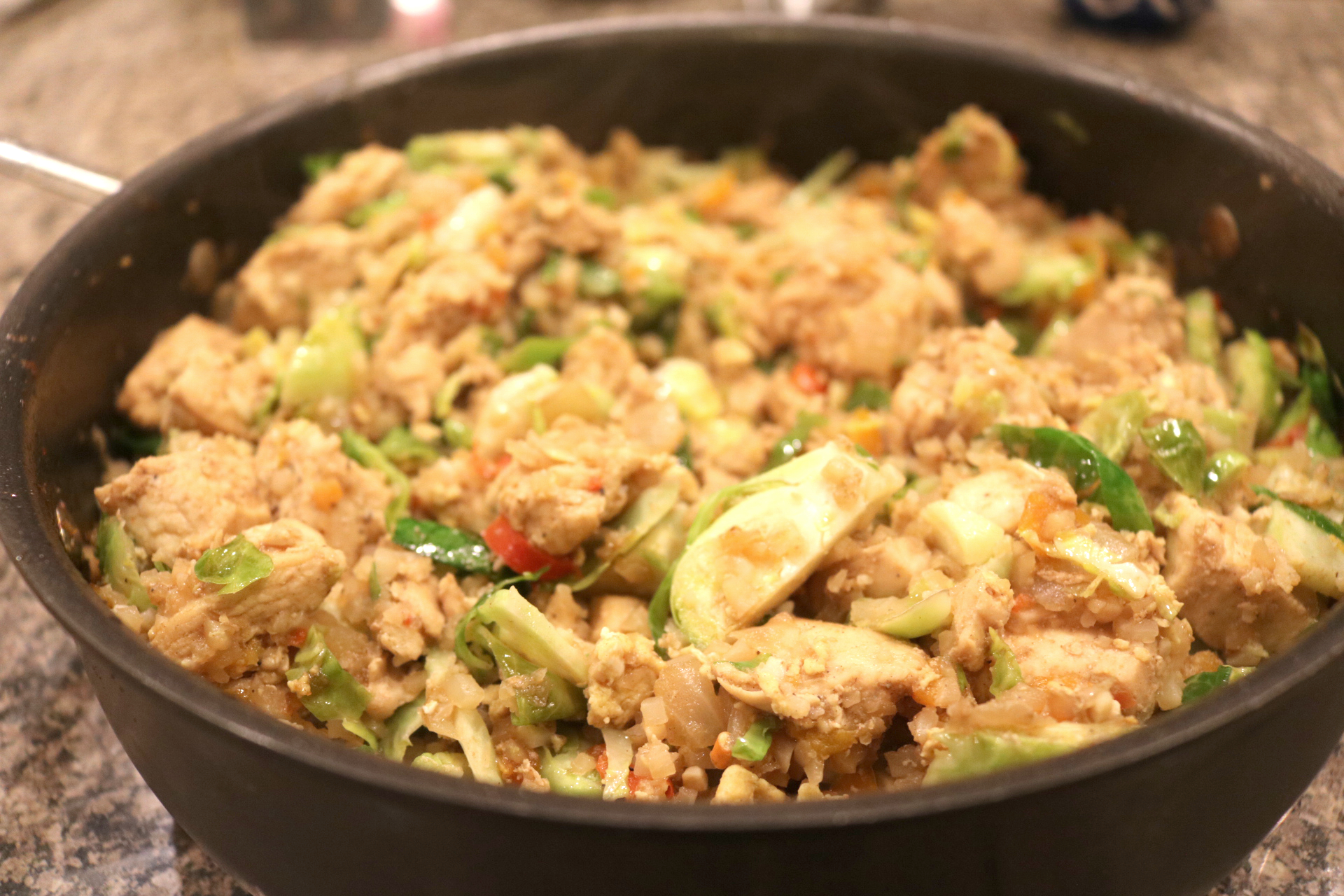 Making it KETO friendly
Obviously, as I said above, a traditional fried rice would not work on a KETO friendly menu, so to make it KETO friendly I am using cauliflower rice. It has a very similar texture to traditional rice but with just a few carbs. I also love it because it cooks up SUPER fast and will take on whatever flavor you throw at it. For instance check out this Mexican Cauliflower Rice and this Cauliflower Risotto.
I also made sure to choose KETO friendly veggies. I used a little bell pepper and onion for flavor and then used minced garlic, fresh ginger and brussels sprouts to really make this loaded to the max. You could use any combo of veggies you wanted such as broccoli, cauliflower florets, asparagus or even eggplant, just make sure to adjust cooking time as needed.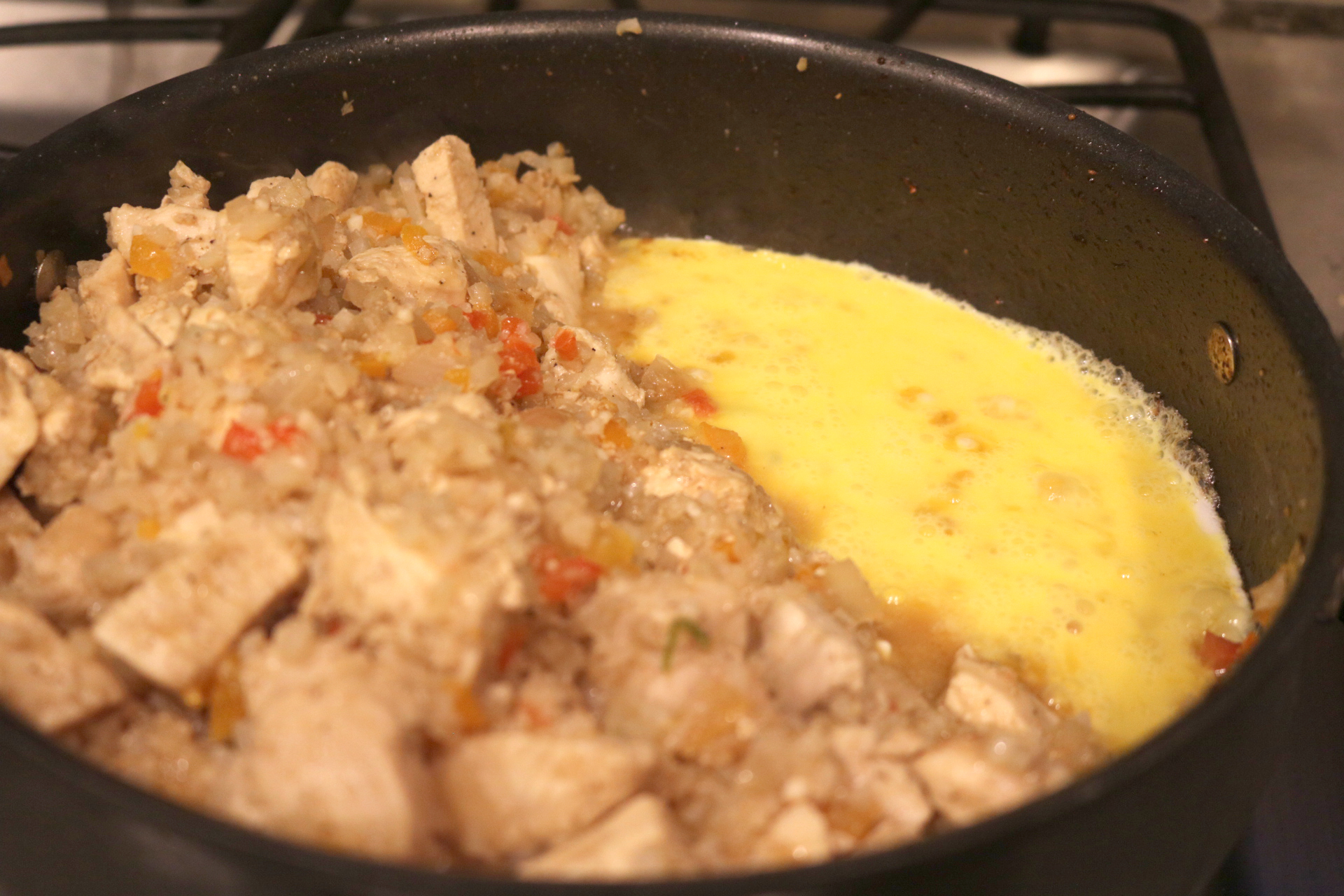 Don't forget the eggs
As in a traditional fried rice I added 2 eggs and scrambled them real quick towards the end. I love the little extra bit of texture this adds to the dish and the color. The egg also helps bind everything together giving it that "fried rice" feel.
If you did not want to add it in you don't have to, but I highly recommend it.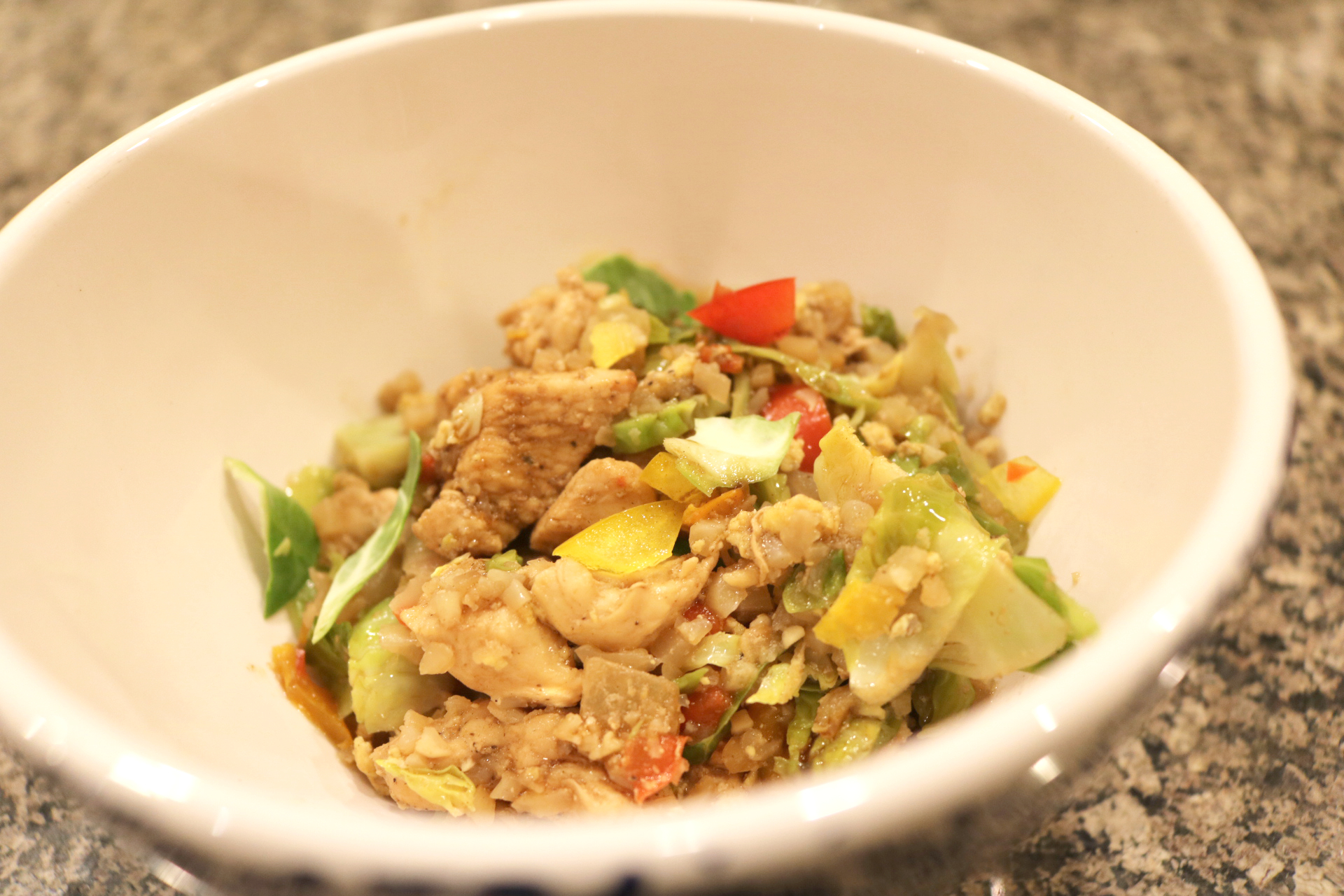 Protein of choice
For this go around I used chicken. I love how quick it cooks and I also had it on hand which is always a plus. Next time though I think I am going to sue shrimp and add it in at the very end when I add in the sprouts.
You could also use pork or steak, just make sure and adjust cooking time as needed.
You could also leave the protein out all together and make it a side dish.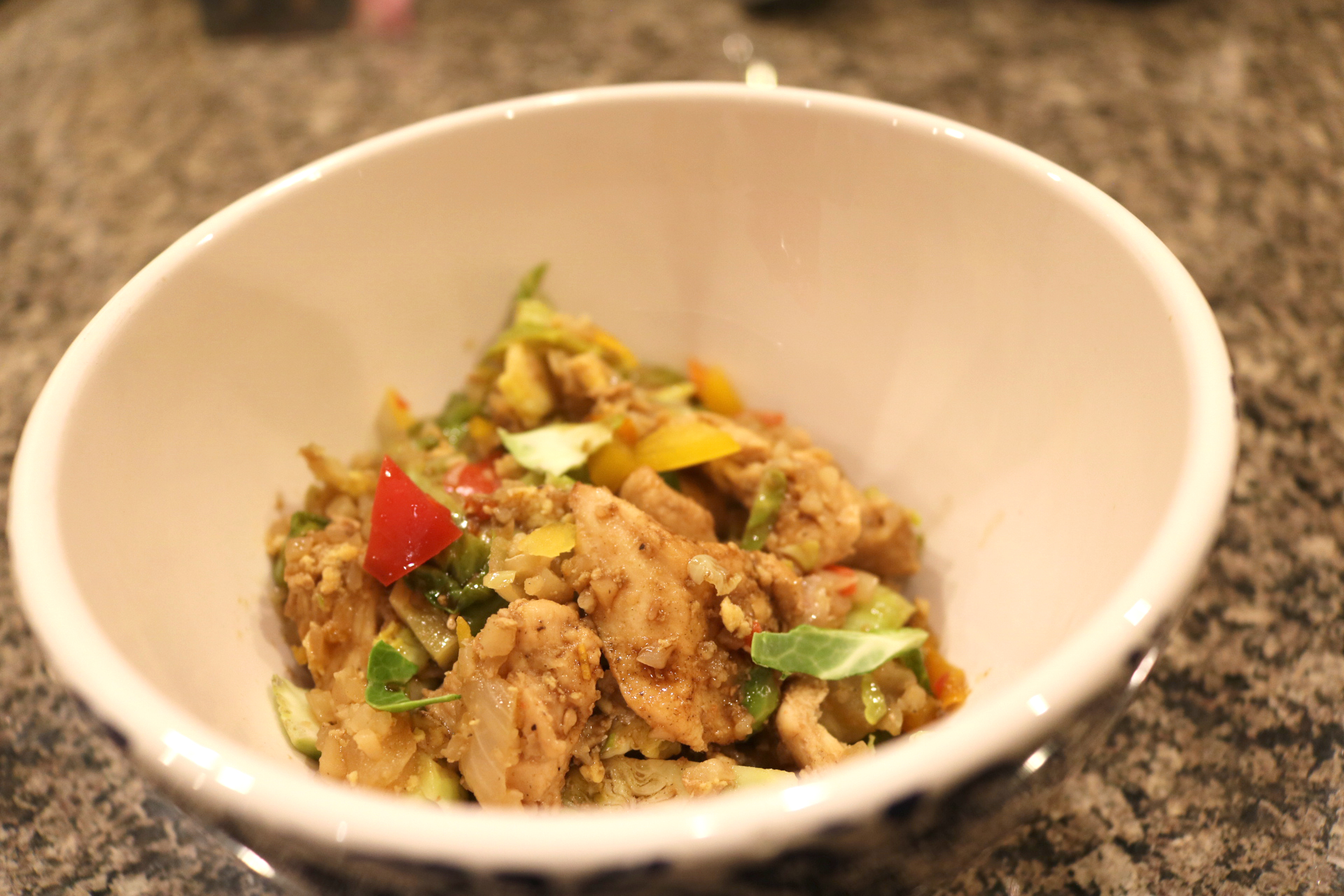 Dinner tonight
Chelle Chelle
6 servings
KETO Loaded Fried Rice
A quick and easy KETO Fried Rice loaded with everything we love about a traditional fried rice but with a lot less carbs.
10 minPrep Time
30 minCook Time
45 minTotal Time
Ingredients
2 tablespoons butter
1 cup bell peppers, chopped (I used red, yellow and orange)
1/2 cup onion, chopped
3 garlic cloves, minced
1 teaspoon ginger, minced
12 oz chicken (about 3 chicken breasts) cut into bite size pieces
1 teaspoon salt
1 teaspoon pepper
2 eggs, beaten
12 oz frozen cauliflower rice (or fresh)
2 tablespoons soy sauce
2 teaspoons sesame oil
1 cup brussels sprouts, shredded
Directions
In a large skillet melt butter over medium high heat
Add in bell peppers and onions, cooking for 4-5 minutes, or until they begin to soften
Add in garlic and ginger and cook for 2-3 minutes, stirring often
Season chicken with salt and pepper
Add into skillet and cook until just cooked through, about 6-7 minutes
Move everything over to one side of the skillet and add in beaten eggs
Cook until eggs are cooked through
Gently toss into chicken mixture
Stir in cauliflower rice and cook for 3-4 minutes, or until it begins to soften
Stir in soy sauce and sesame oil and continue cooking for another 2-3 minutes
Taste and adjust seasoning as needed
Add in brussels sprouts and stir until just starting to soften, about 3-4 minutes
Serve immediately
ENJOY!
Notes
Each serving is 5 net Carbs as based on the Carb Manager App
7.8.1.2
490
https://sparklesnsprouts.com/2019/03/12/keto-loaded-fried-rice/
All images are the property of Sparkles n Sprouts, to use image please contact the webmaster at michelle@sparklesnsprouts.com
Make sure and Pin this now so you don't lose it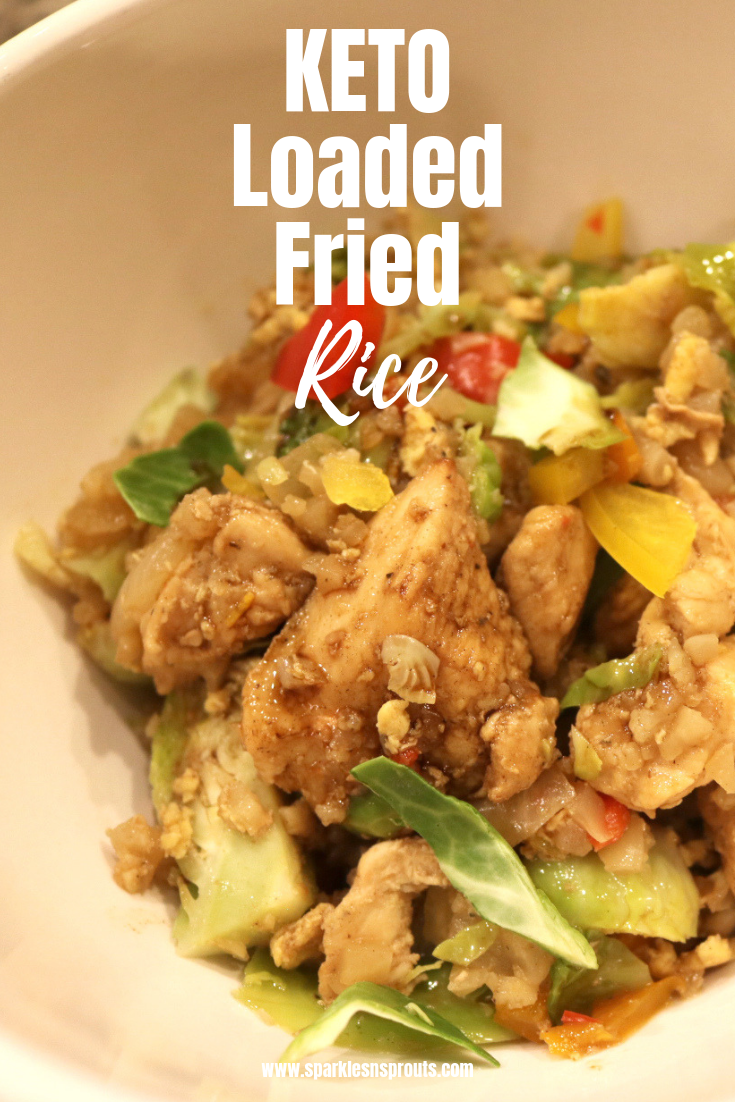 Follow us below so you don't miss a thing!