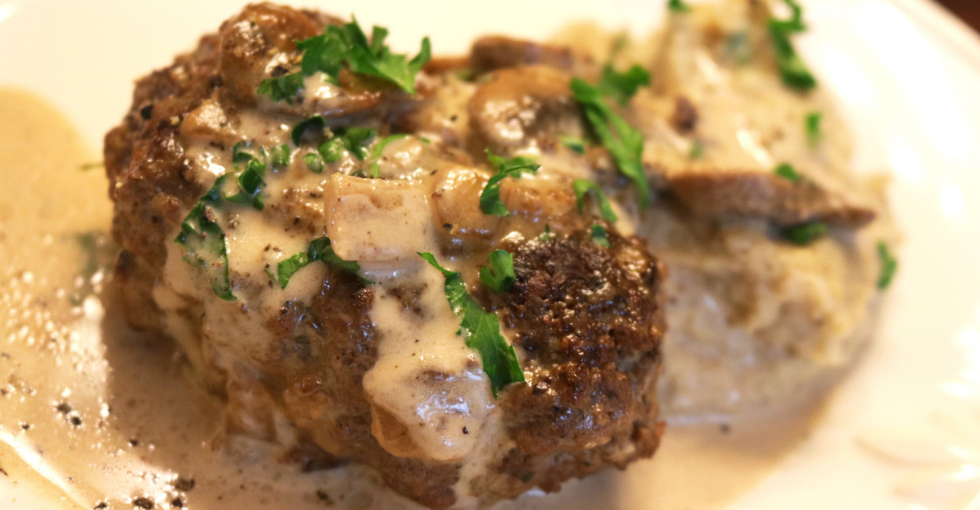 Hamburger Steak with Mushroom Gravy
The weather is cooling down and some serious comfort food. One of my favorite comfort foods is a nice hamburger steak with gravy… and now that I am eating mushrooms it is all about mushroom gravy.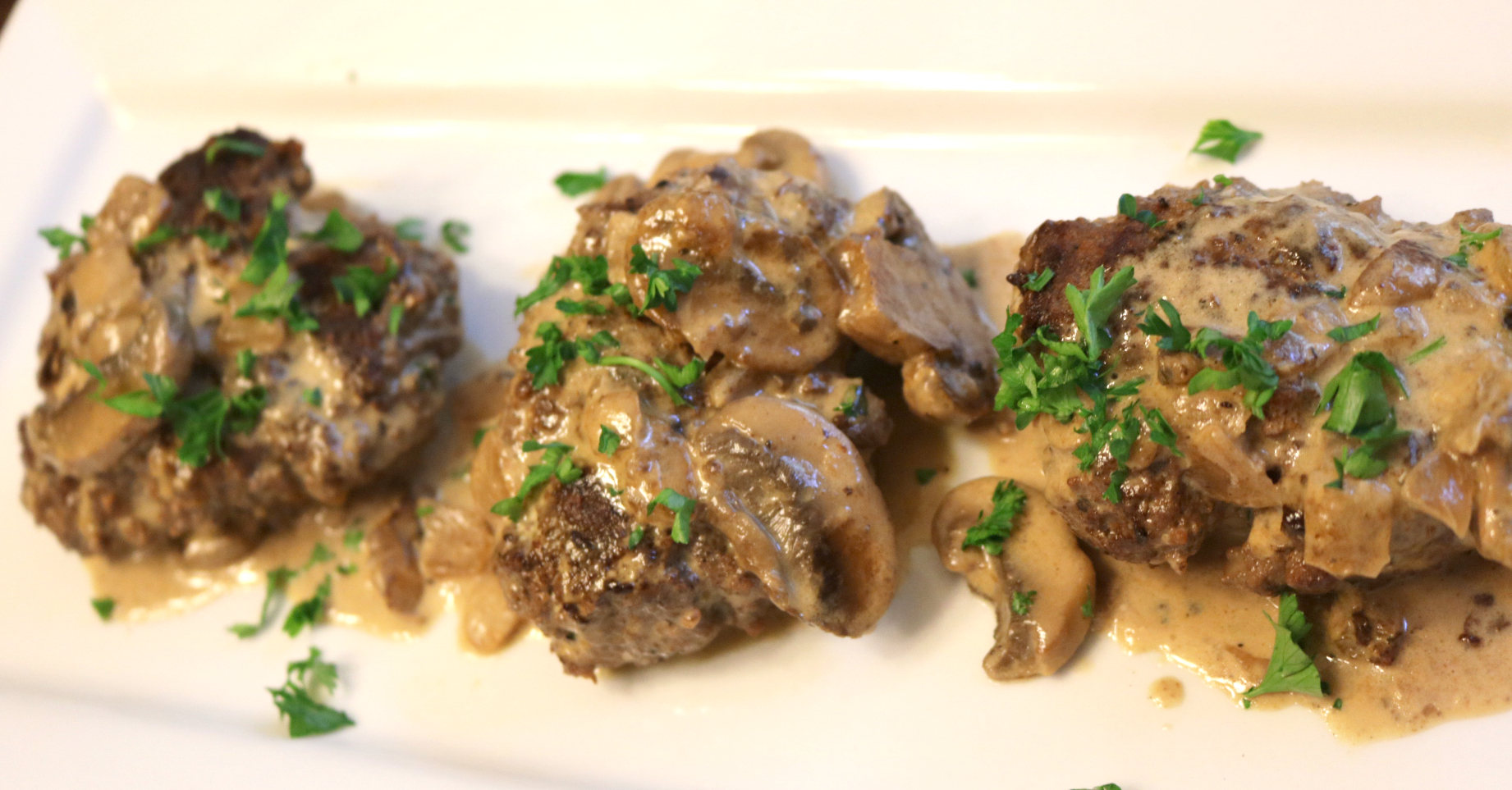 Dinner TONIGHT
Weeknight dinners can be so hard…you want something that is super yummy but also easy and quick. The beauty of this recipe is that is all comes together in less than a hour and is SO GOOD! It is loaded with tons of flavor and topped with a delicious mushroom gravy … comfort food at its best.
You really can get home from a busy day and have dinner on the table in no time.
This is also very KETO friendly….each serving is only 4 net Carbs!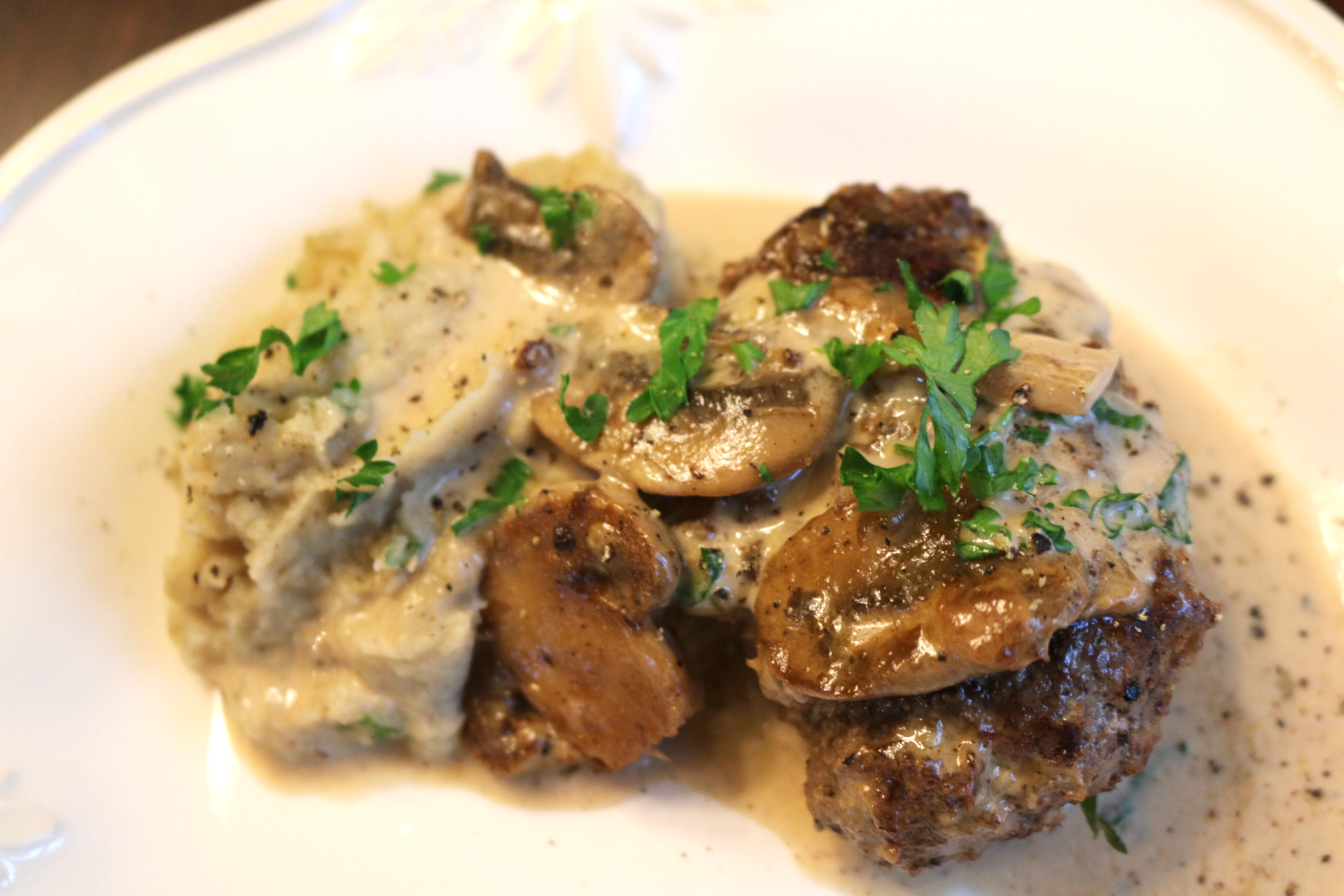 Oh the mushrooms
I just recently fell in love with mushrooms. It all happened one weekend when I was fishing and my godmother fixed them to go with a smoked beef tenderloin and they were amazing. Yes I am a 40 something year old woman who had not discovered the beauty of mushrooms… but I am all about them now.
For this recipe I cooked them in the same pan as the hamburger patties were cooked in with butter, onions and garlic. Then I added in some heavy cream … yes heavy cream (this is a keto friendly recipe) and it made this sauce AMAZING! If you wanted to watch the calories a little more you could use half & half and beef stock if you wanted.
If you are not a mushroom fan…. no worries just cook up the onions and follow the directions from there.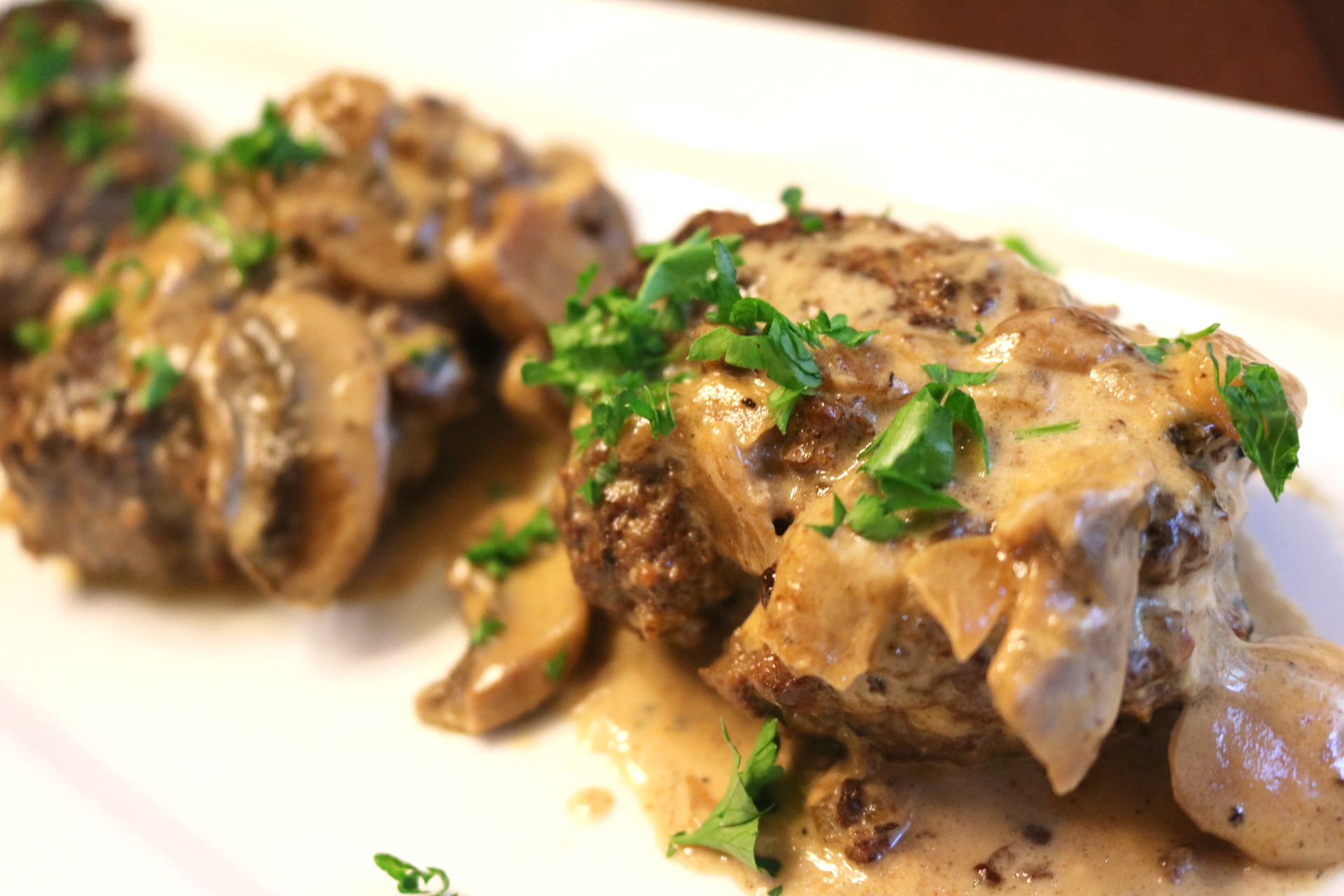 A little bit fancy
Once it is all said and done the dish actually looks pretty fancy. If you wanted to serve this for a dinner party, I promise your peeps would be impressed. It is loaded with tons of flavor and looks so pretty on the plate, especially with a little chopped parsley.
I serve it with Mashed Cauliflower but traditional mashed potatoes (like these) or rice would be amazing. For a second side I fixed these Bacon Brussels Sprouts for the green…I am so in love with these!!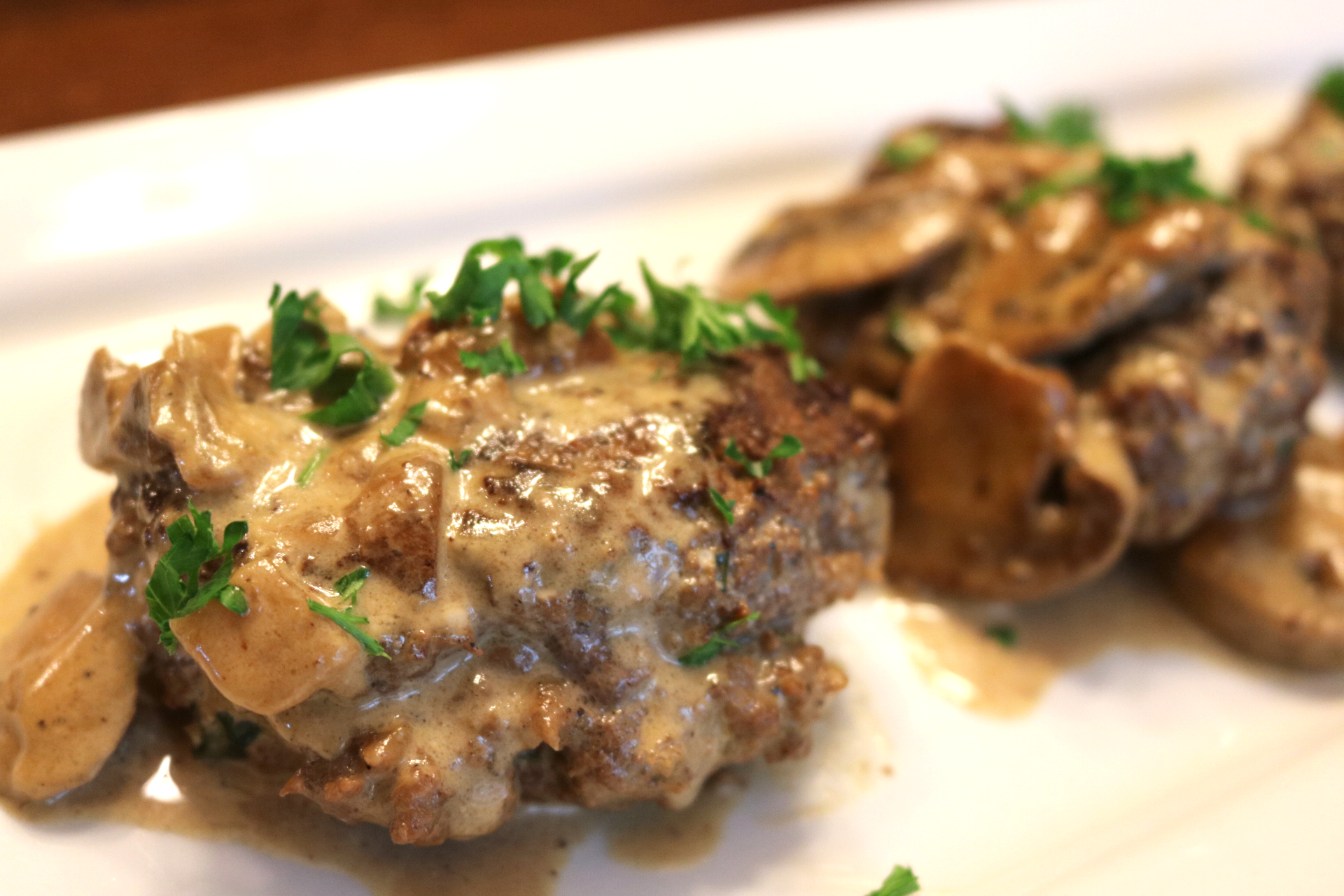 Dinner….
Chelle Chelle
Hamburger Steak with Mushroom Gravy
Hamburger Steak with Mushroom Gravy is comfort food at its finest but without a ton of carbs making this a Keto friendly dish that everyone will LOVE
5 minPrep Time
40 minCook Time
45 minTotal Time
Ingredients
Hamburger Steak
1 1/2 ground beef
1 tablespoon all purpose seasoning (I used a course ground steak seasoning)
2 teaspoons Worcestershire Sauce
1/4 cup crushed pork rinds (plain) - or breadcrumbs if not doing low carb
1/4 cup heavy cream
1 teaspoon parsley, chopped
1 tablespoon butter
Mushroom Gravy
1 tablespoon butter
6 ounces mushrooms, sliced
1 small onion, chopped
2 garlic cloves, minced
1 tablespoon beef bouillon
1/4 cup heavy cream
Topping (Optional)
Fresh parsley, chopped
Directions
In a large mixing bowl combine all hamburger steak ingredients until well combined
Divide meat into 4 equal portions
Form into hamburger patties, all the same size and thickness
In a large skillet melt butter over medium high heat
Place patties into skillet and cook for 4-5 minutes per side, or until desired doneness is reached
Remove to a platter and cover with foil to keep warm
In the same skillet melt 1 tablespoon butter
Add in mushrooms and onions, cooking for 5-6 minutes or until mushrooms are nicely browned and onions are soft
Add in garlic and beef bouillon and cook for an additional 2-3 minutes
Stir in heavy cream and cook for an additional 5 minutes or until sauce has reduced some and thickened slightly, gravy will not be as thick as traditional gravy because we are not using any thickeners
Place hamburger patties back into pan and cook for another 3-4 minutes and then serve with additional gravy poured over each hamburger steak
Top with chopped parsley
ENJOY!!
Notes
Each serving is 4 net Carbs, as calculated by Carb Manager App
7.8.1.2
464
https://sparklesnsprouts.com/2018/10/22/hamburger-steak-with-mushroom-gravy/
All images are the property of Sparkles n Sprouts, to use image please contact the webmaster at michelle@sparklesnsprouts.com
Don't forget to pin this for later!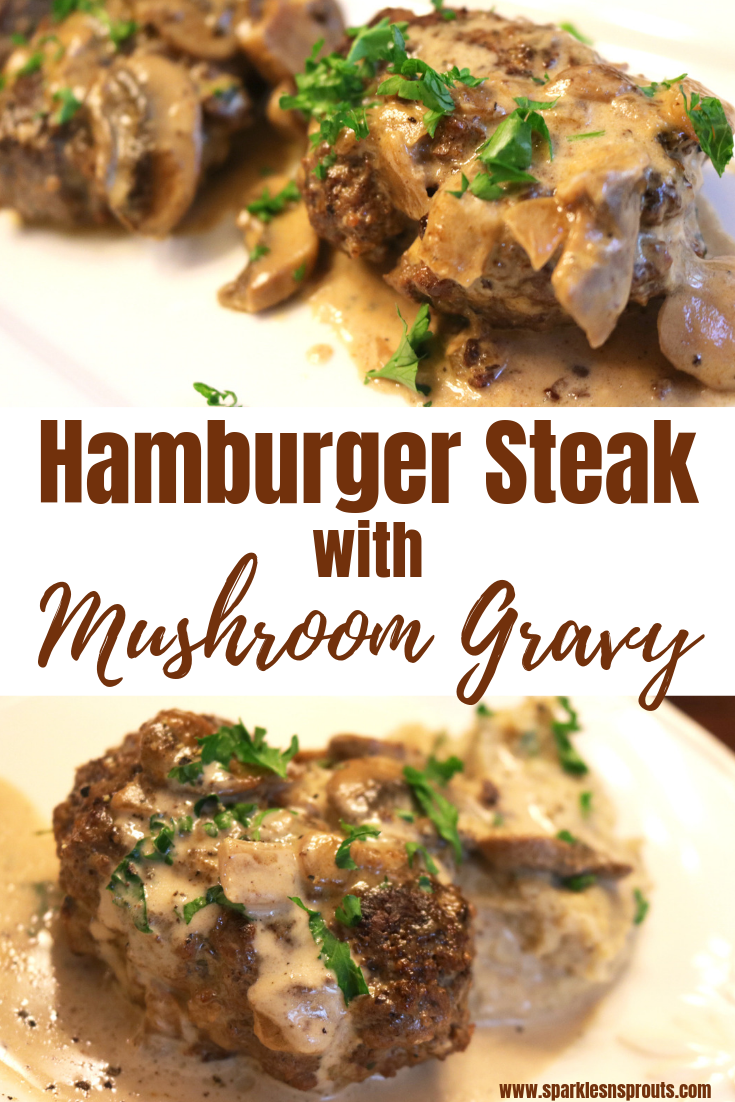 Make sure and follow us below so you never miss anything