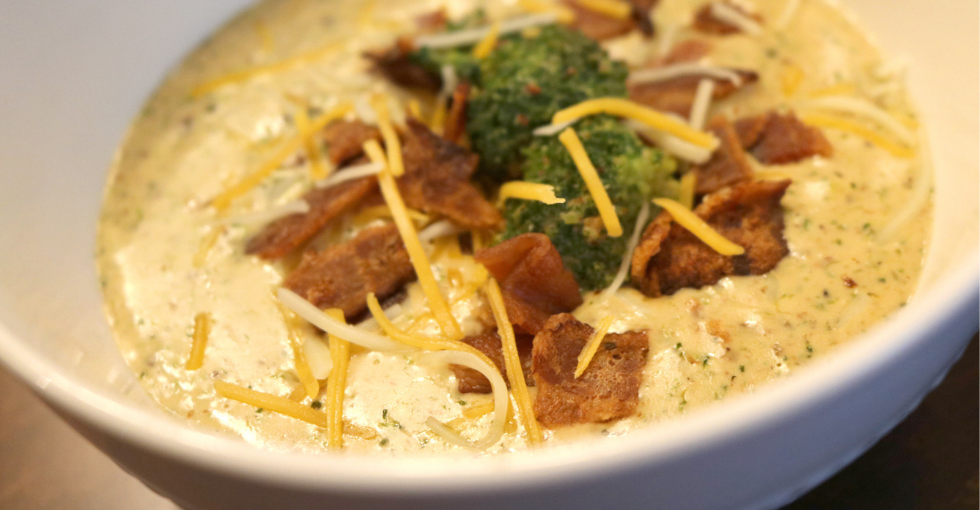 Broccoli Cheese Soup (KETO Friendly)
It finally dropped down the 70's/80's in Southeast Texas and that is soup weather down here and I have been craving broccoli and cheese soup something fierce so here we go….KETO friendly Broccoli Cheese Soup.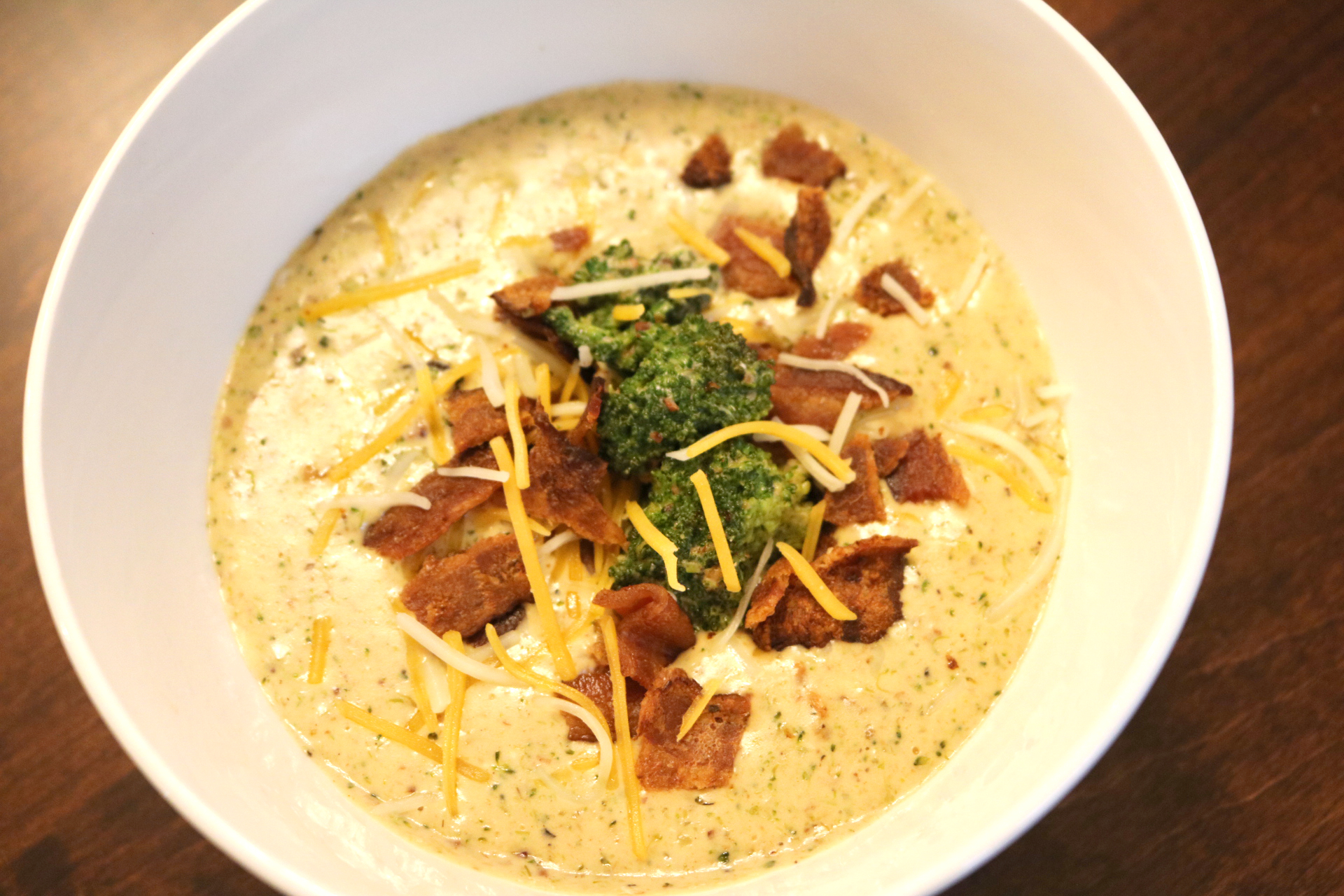 One of the best
I am a BIG, BIG fan of broccoli and cheese soup. When I go to Panera I always get in their bread bowl (well before KETO that is) and I LOVED it. Being that I now a Keto Girl I decided to make my favorite soup Keto style and let me tell you it is AMAZING!
In past recipes I have used whole milk or even half & half and they were good, but using heavy cream and some cream cheese makes this soup soooooo good. It is rich, creamy and loaded with tons of flavor. It is super filling but low on carbs making this a dish everyone can LOVE.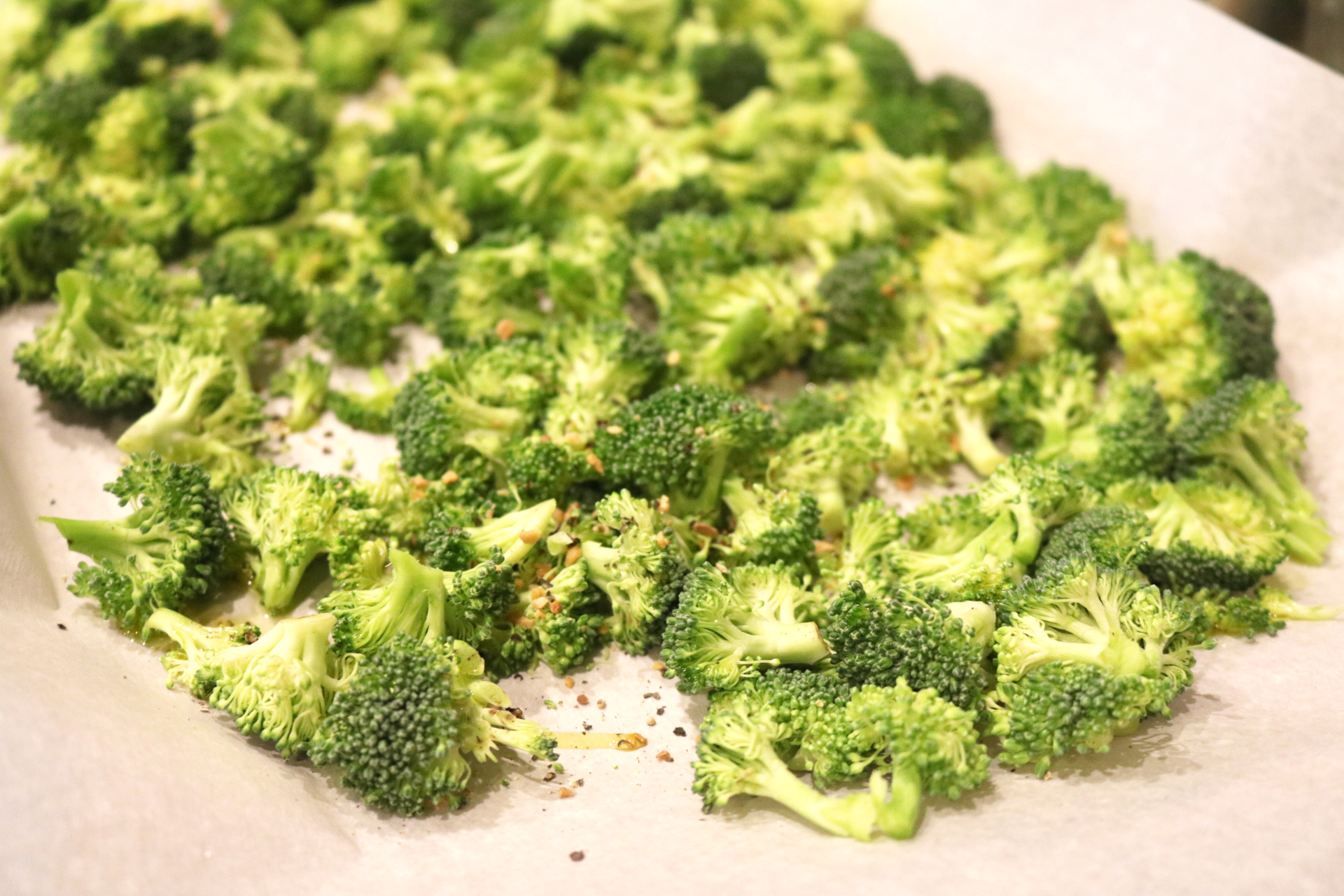 A little something extra
To add a little extra layer of yummy I roasted the broccoli as I was rendering the bacon and onions. Roasted broccoli is one of my favorite veggies ever, so adding it to this broccoli cheese soup was a MUST.
To keep it simple and let the broccoli be the star I drizzled it with a little olive oil and sprinkled some all purpose seasoning over the top and then roasted it for about 15 minutes. The edges were just starting to char giving the broccoli a roasted goodness that really shines through in the soup.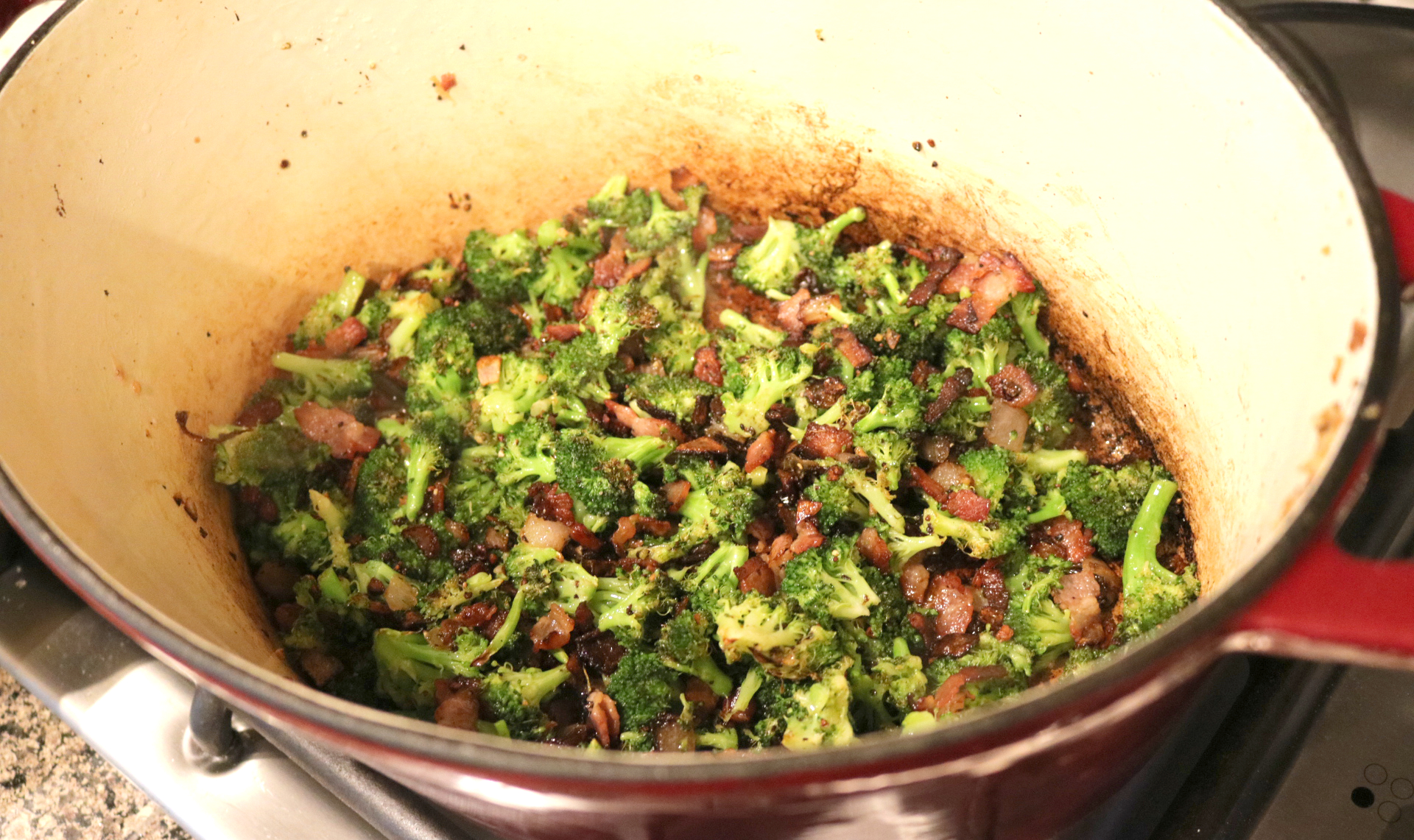 We could just stop here
Let's be honest we could just stop with the broccoli and bacon and serve it as a side (and I will probably do this version) but this is just the base for the soup. The beauty of this soup is that we are building flavor, upon flavor, upon flavor as we keep adding to the same pot.
It starts with bacon and ends with cheese…how good does all that sound?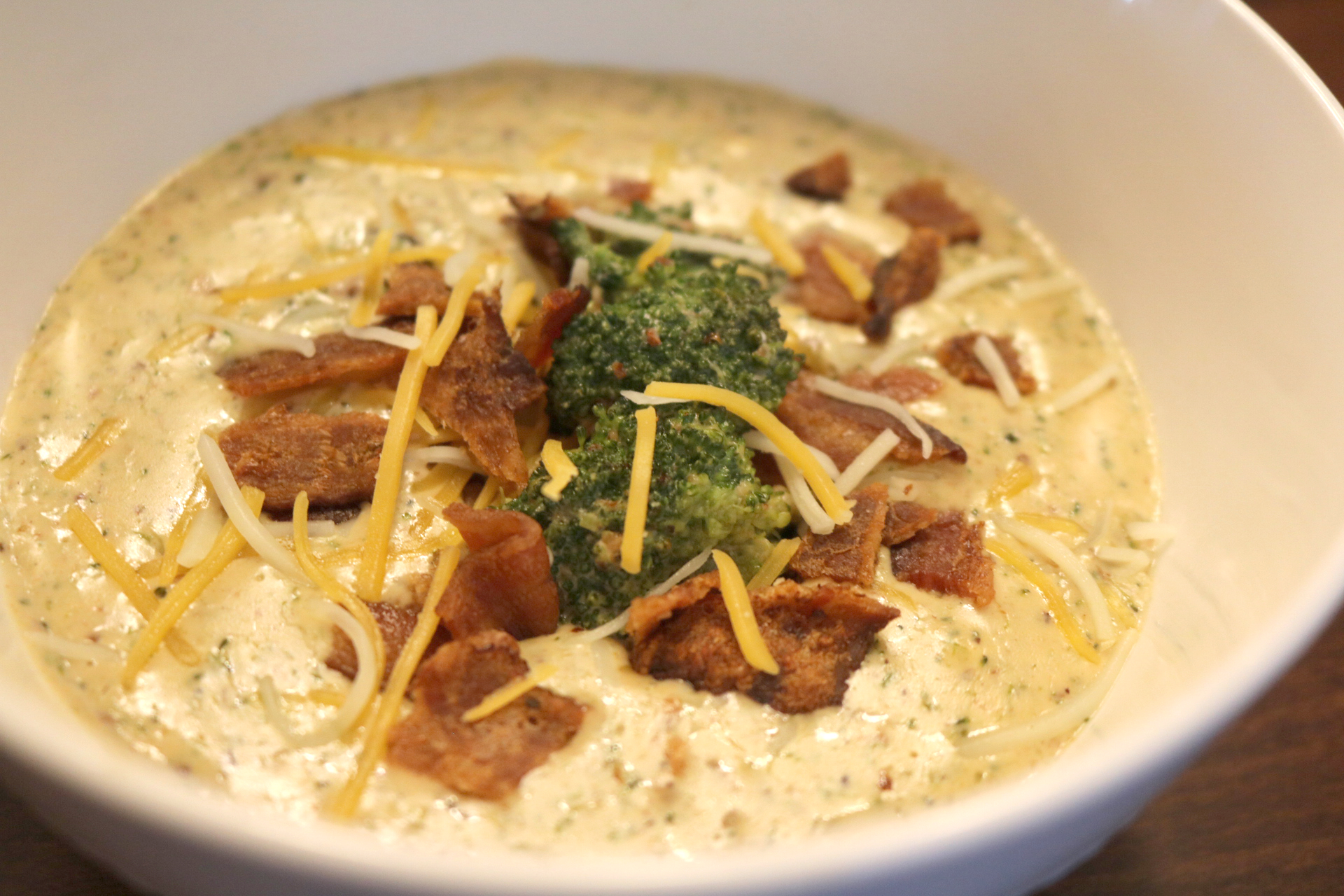 Puree or not
I personally love a thick broccoli cheese soup. In some other recipes you would make a slurry with cornstarch or flour to thicken the soup up, but to keep this keto/low carb I decided to puree the soup allowing to thicken up naturally. I wasn't sure it was going to be as thick as I wanted but it came out perfect.
I used an immersion blender to quickly puree the soup. Once all done there were a few larger broccoli pieces in each bowl giving the soup a great texture and bite.
If you do not want to puree it you do not have too. The soup will be delicious either way, it will just not be as thick.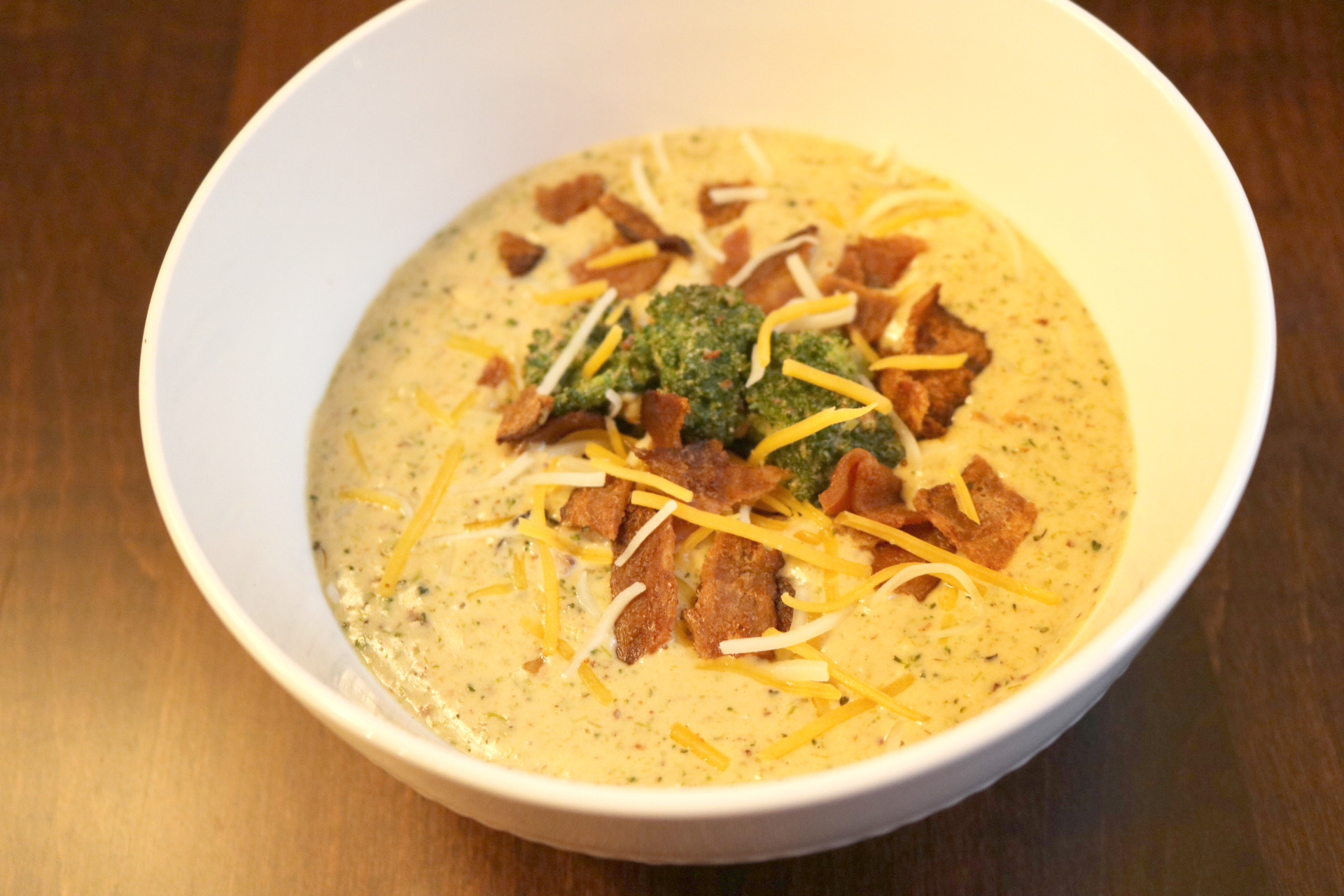 Celebrate Soup Weather
Chelle Chelle & Mary Mary
Broccoli Cheese Soup (KETO Friendly)
Broccoli and Cheese Soup is a quick and easy dinner that everyone is sure to love... and it is low carb making it KETO friendly
10 minPrep Time
30 minCook Time
45 minTotal Time
4 based on 1 review(s)
Ingredients
1 1/2 cups broccoli, chopped
1 tablespoon olive oil
1 teaspoon all purpose seasoning
1/4 lb Bacon, cut into small pieces
1/2 cup onion, chopped
2 garlic cloves, minced
1 1/2 cups chicken stock
1 cup heavy whipping cream
2 ounces cream cheese
1 cup shredded cheddar, or colby jack
Optional Toppings
Crumbled Bacon
Shredded Cheese
Sour Cream
Extra Broccoli
Directions
Preheat oven to 425
Line a rimmed baking sheet with parchment paper
Spread chopped broccoli in a single layer
Drizzle olive oil over broccoli and sprinkle seasoning over olive oil
Toss to combine
Roast for 10-15 minutes, or until broccoli is done browning
In a large stockpot brown bacon over medium high heat
Once edges are starting to brown add in onion and cook until onions are soft and bacon is cooked through
Stir in garlic and cook for another 1-2 minutes
Add in roasted broccoli and stir to combine
Add in chicken stock, heavy cream and cream cheese, stirring until cream cheese is melted
Using a immersion blender (stick blender) puree the soup until most of the broccoli is broken up, this will help to thicken the soup naturally without having to add a thickening agent, if you prefer a looser soup you can move to the next step
Stir in shredded cheese until completely melted
Serve immediately with any additional toppings you prefer
Notes
Each serving is 5 net Carbs as calculated by the Carb Manager App
7.8.1.2
462
https://sparklesnsprouts.com/2018/10/12/broccoli-cheese-soup-keto-friendly/
All images are the property of Sparkles n Sprouts, to use image please contact the webmaster at michelle@sparklesnsprouts.com
Make sure and pin this now so you don't lose it!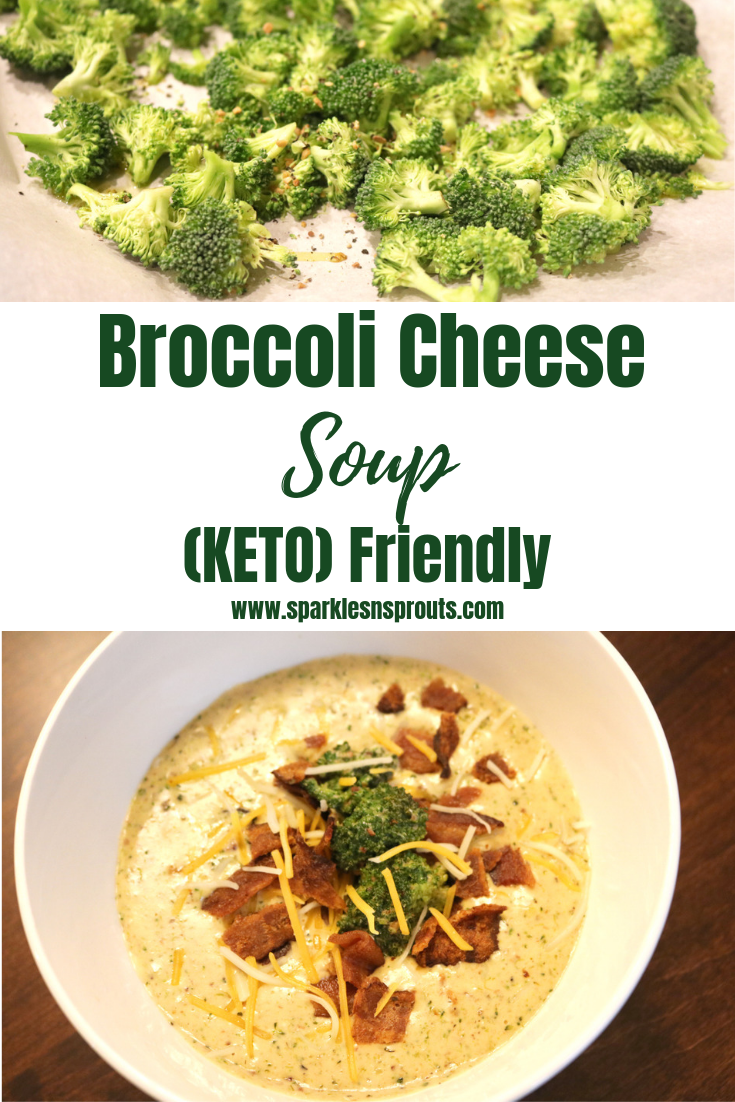 Follow me below so you never miss anything