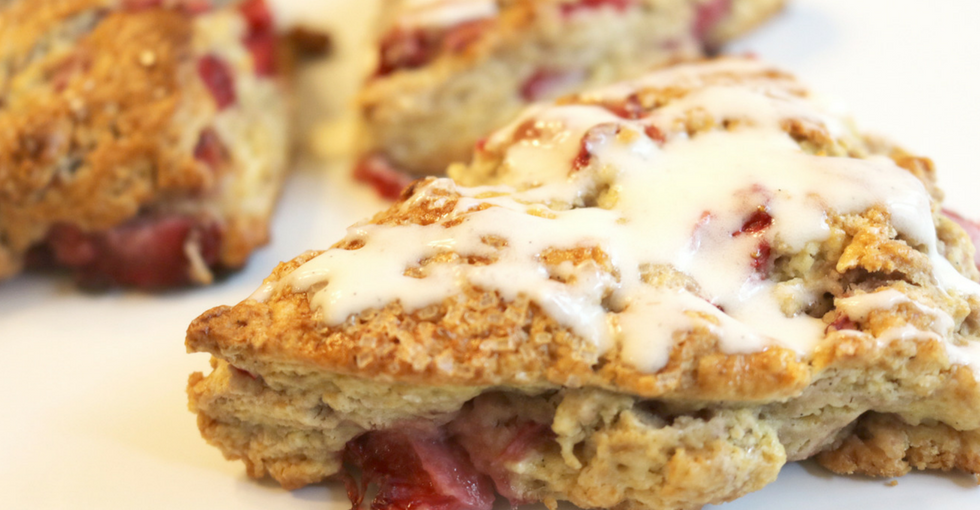 Strawberry & Cream Scones
Strawberries are everywhere right now. They are big and sweet and calling my name every time I walk into the grocery store. I have been using them in all sorts of recipes but one of my favorites are these Strawberry & Cream Scones…they really are the perfect breakfast (or afternoon) treat.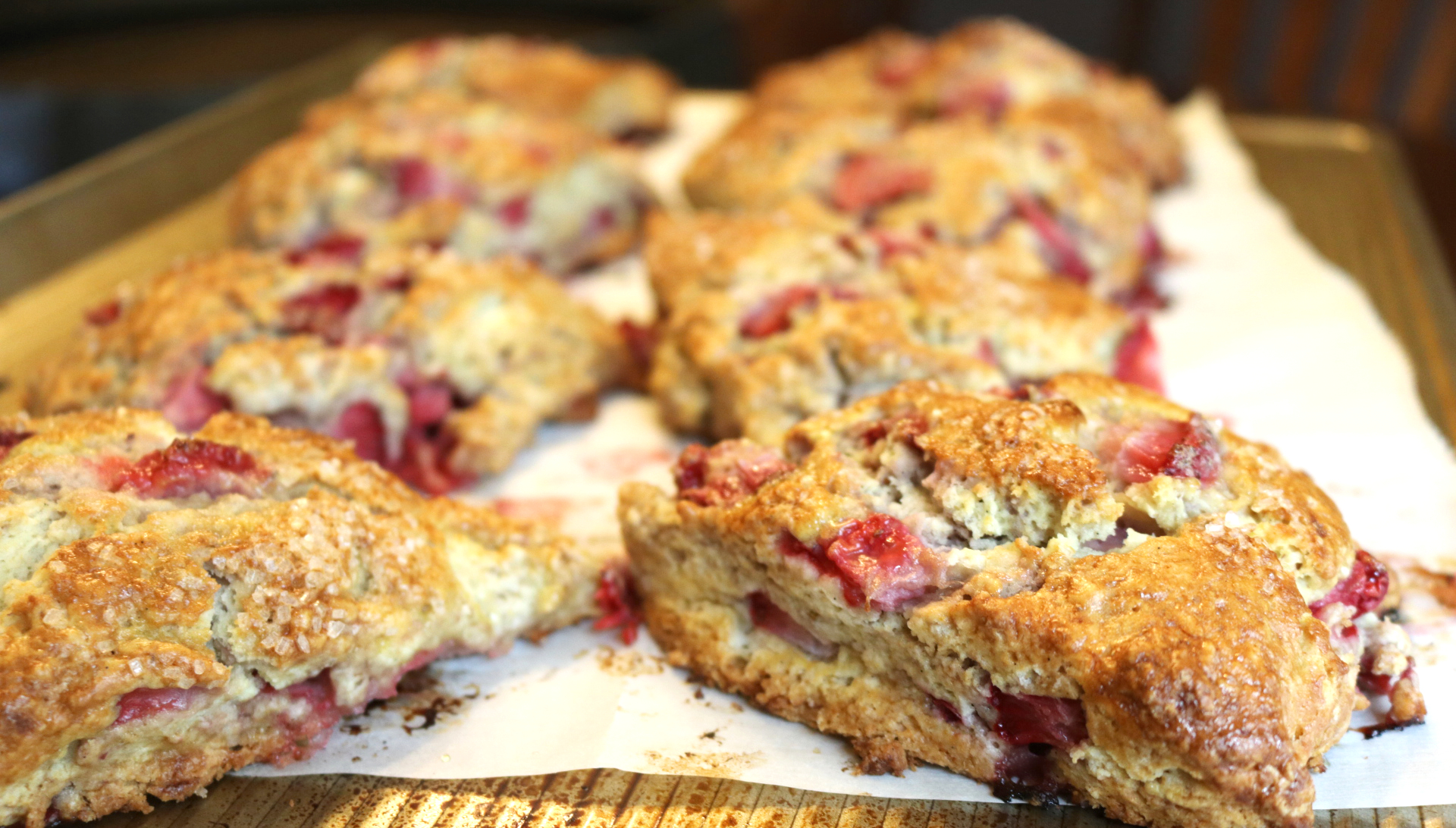 Berry Fun
Strawberries, Strawberries and more strawberries. As you can see there is strawberry in every bite of these scones. I know some of you may be asking, what if I am not a strawberry fan or what if they don't look good at the store…don't worry I got you.
You can use any combo of berries you prefer, just make sure they come out to about cups when chopped. Blackberries or blueberries would be amazing. The next one I am going to try is peaches…how good does that sound?
Whatever fruit you use, make sure and take a pic and tag me so we can all see your creation @sparklesnsprouts.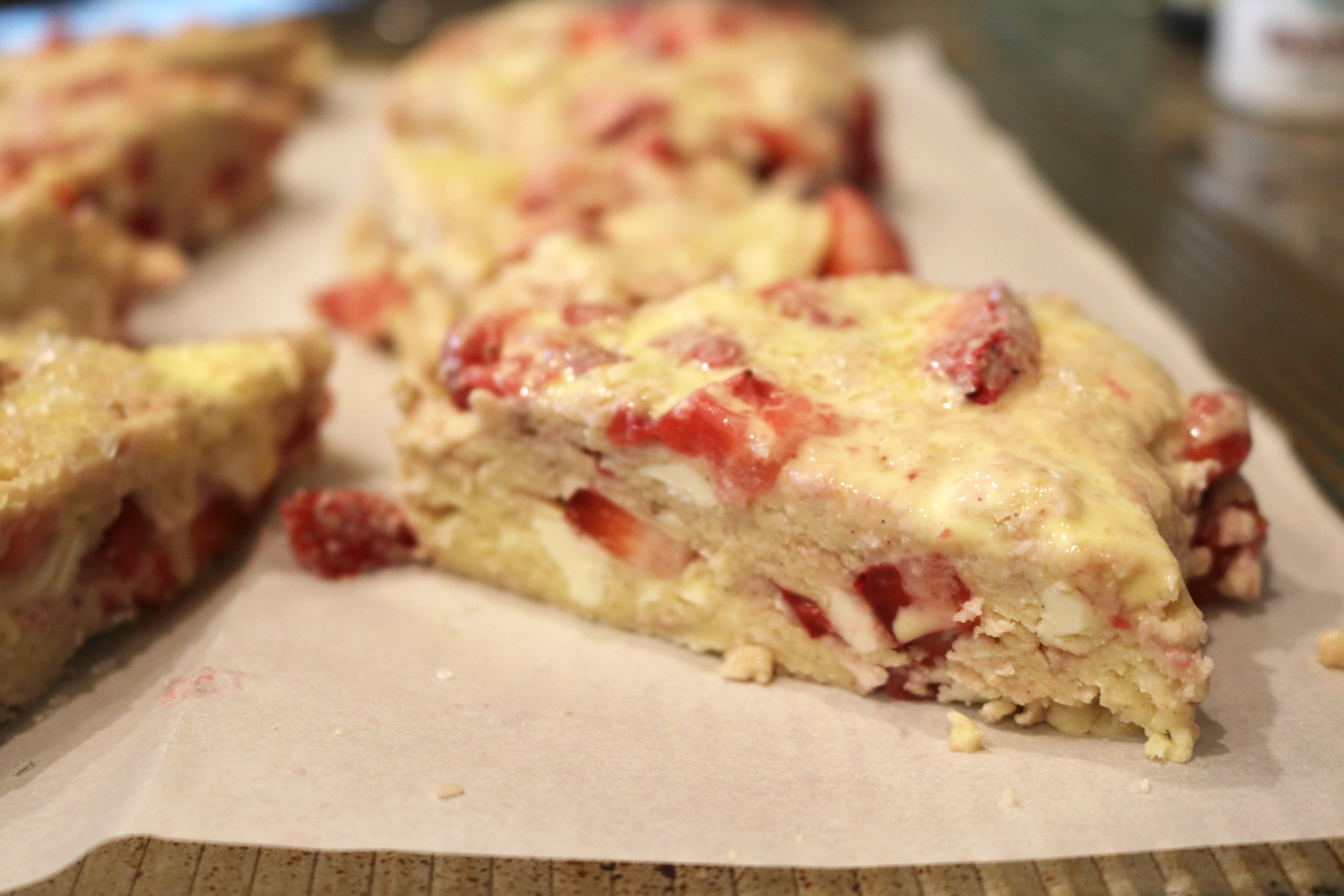 A little extra something…
Scones used to scare me. I thought they were really complicated and you had to be so careful or they would be rock hard….well I could not have been more wrong. They are some of the easiest pastry like creations I have ever made.
For this scone dough I used heavy cream and [Vanilla Bean Paste|https://amzn.to/2I2sGT2 ] to give it that extra little something. If you do not have the vanilla bean paste you can use vanilla beans, or vanilla extract. I also used course sugar on top of the scones for a little extra crunch.
It's the little things that made these scones truly something special.
To glaze or not
I am not a fan of a glaze on my scones, but my momma is, and since I share all my baked treats with them I decided to glaze a few scones just for her. To make the glaze extra delicious I used the [Vanilla Bean Paste|https://amzn.to/2I2sGT2 ] and heavy cream but vanilla extract would work as well.
If you are a fan of glaze I would recommend not glazing them until you are ready to serve, as it can make the top of the scone mushy if it sits too long.
It is scone time!
Chelle Chelle
8 Scones
Strawberry & Cream Scones
Strawberry & Cream Scones are the perfect breakfast treat. They are just sweet enough and bursting with fresh strawberries in each bite.
15 minPrep Time
23 minCook Time
50 minTotal Time
Ingredients
3 cups flour
1/2 cup sugar
1 tablespoon baking powder
1/2 teaspoon baking soda
1 teaspoon salt
12 tablespoons butter, cut into cubes
1 cup heavy cream (or half & half)
2 cups chopped strawberries
1/2 cup course sugar for topping scones, optional
Glaze
2 cups powder sugar
1/2 - 3/4 cup cream or half & half to thin glaze
Directions
Preheat oven to 400
Line a rimmed baking sheet with parchment paper, set aside
In a large bowl whisk together flour, sugar, baking powder, baking soda and salt
Add in butter and using a pastry cutter, 2 knives or your fingers, incorporate the butter into the flour until it resembles course sand
Add in
Vanilla Bean Paste
and cream using a rubber spatula until dough starts to come together
Gently fold in strawberries until evenly distributed
Pour dough onto a floured surface and form into a 8" inch disk
Using a sharp knife cut into 8 equal portions
Carefully transfer each triangle to the prepared pan
Sprinkle each scone with course sugar, if using
Bake for 20-23 minutes or until golden brown
Remove and let cool for 10 minutes on pan and then transfer to a cooling rack before glazing
TO MAKE GLAZE, combine all ingredients in a bowl adding in cream until desired consistency is reached
Drizzle over cooled scones
Serve and ENJOY!
Notes
You can use blueberries, blackberries, peaches or raspberries in place of the strawberries if so desired
7.8.1.2
437
https://sparklesnsprouts.com/2018/06/27/strawberry-cream-scones/
All images are the property of Sparkles n Sprouts, to use image please contact the webmaster at michelle@sparklesnsprouts.com
Don't forget to Pin this recipe for later!!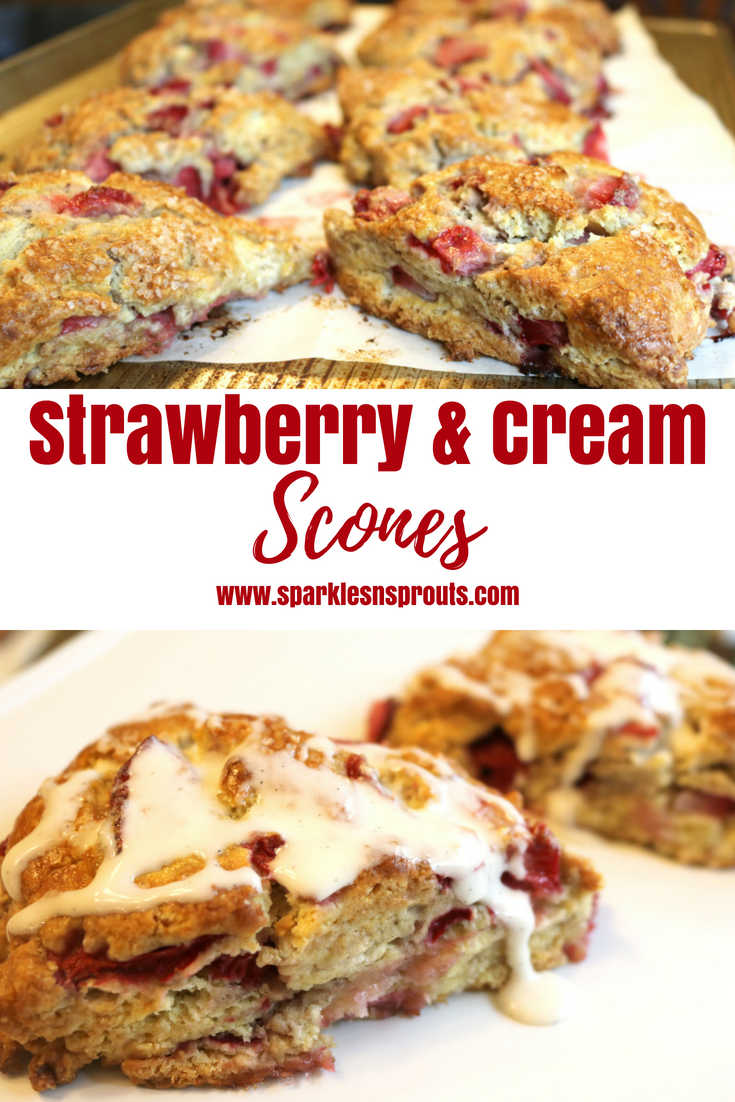 Make sure and tag me @sparklesnsprouts on Instagram, Twitter and on the Facebook page so we can see your beautiful creations.