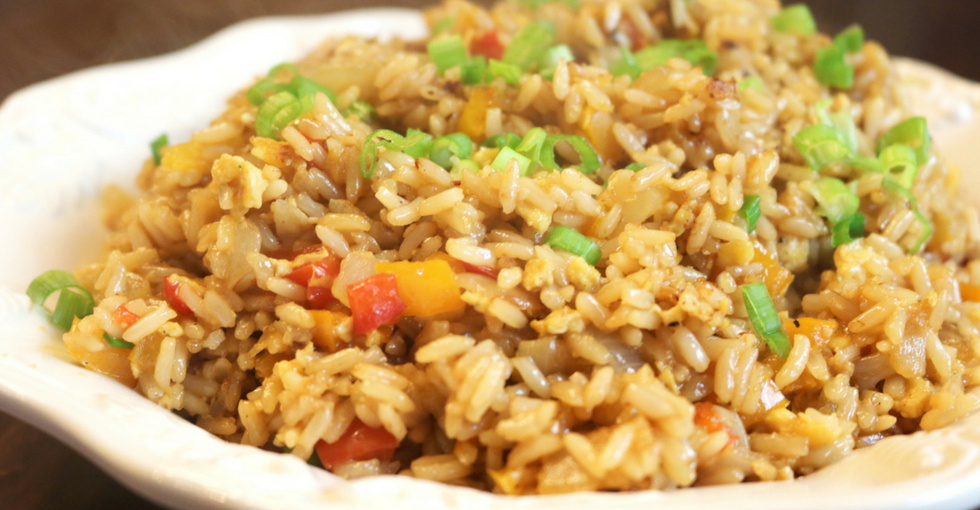 One of my favorite take out items is fried rice. I love it loaded with veggies, with chicken, with beef, or just plain. There are so many options you really can make it work for any meal.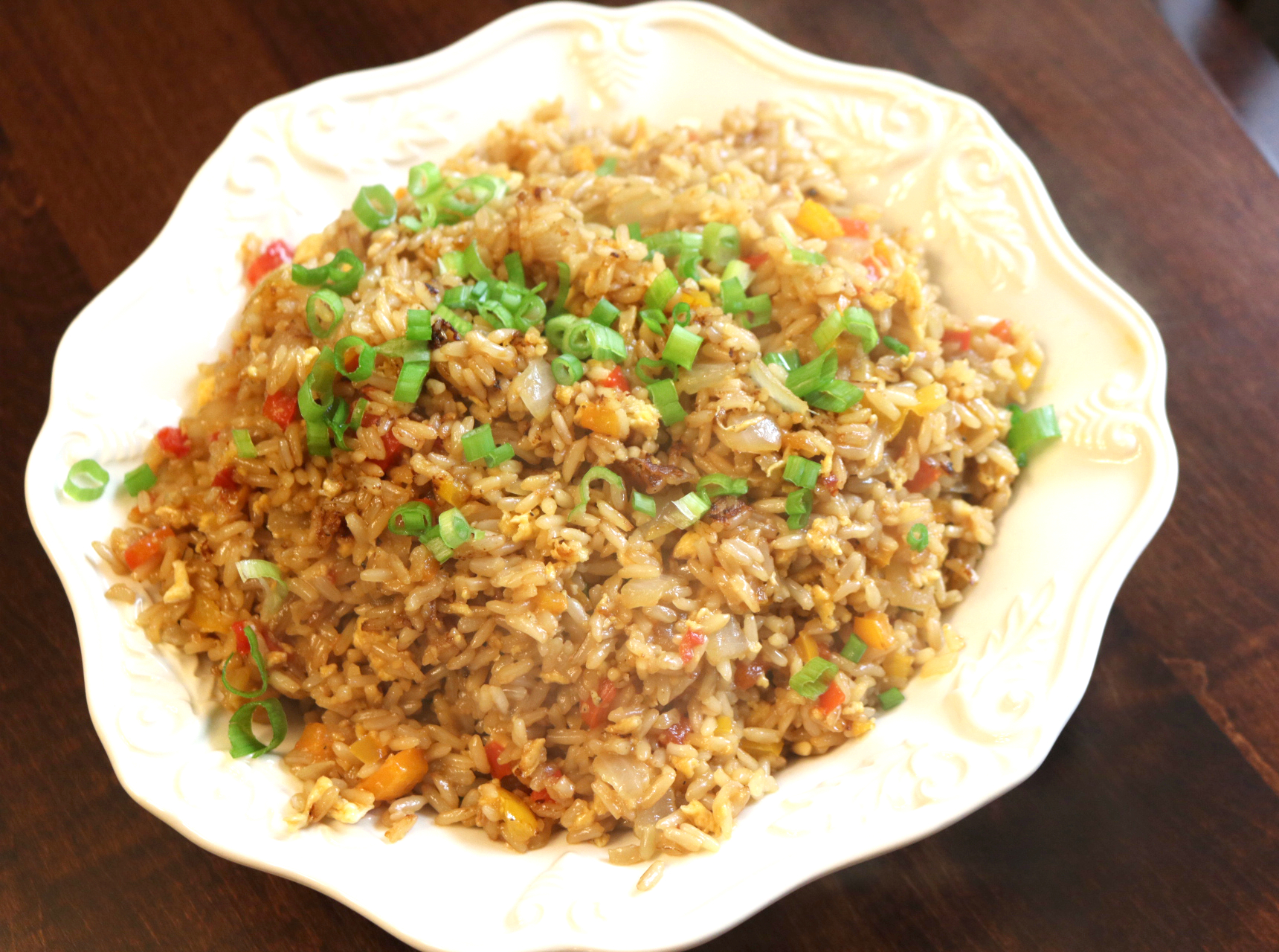 All in one skillet
The beauty of this Easy Fried Rice is that it is all made in one skillet. You start with the veggies and end with the rice.
If you wanted to add in chicken you could, just chop it up into small pieces and add it in with the butter and olive oil. Cook it until just about done and then add in the veggies and continue from there. That would give you a complete meal all in one skillet.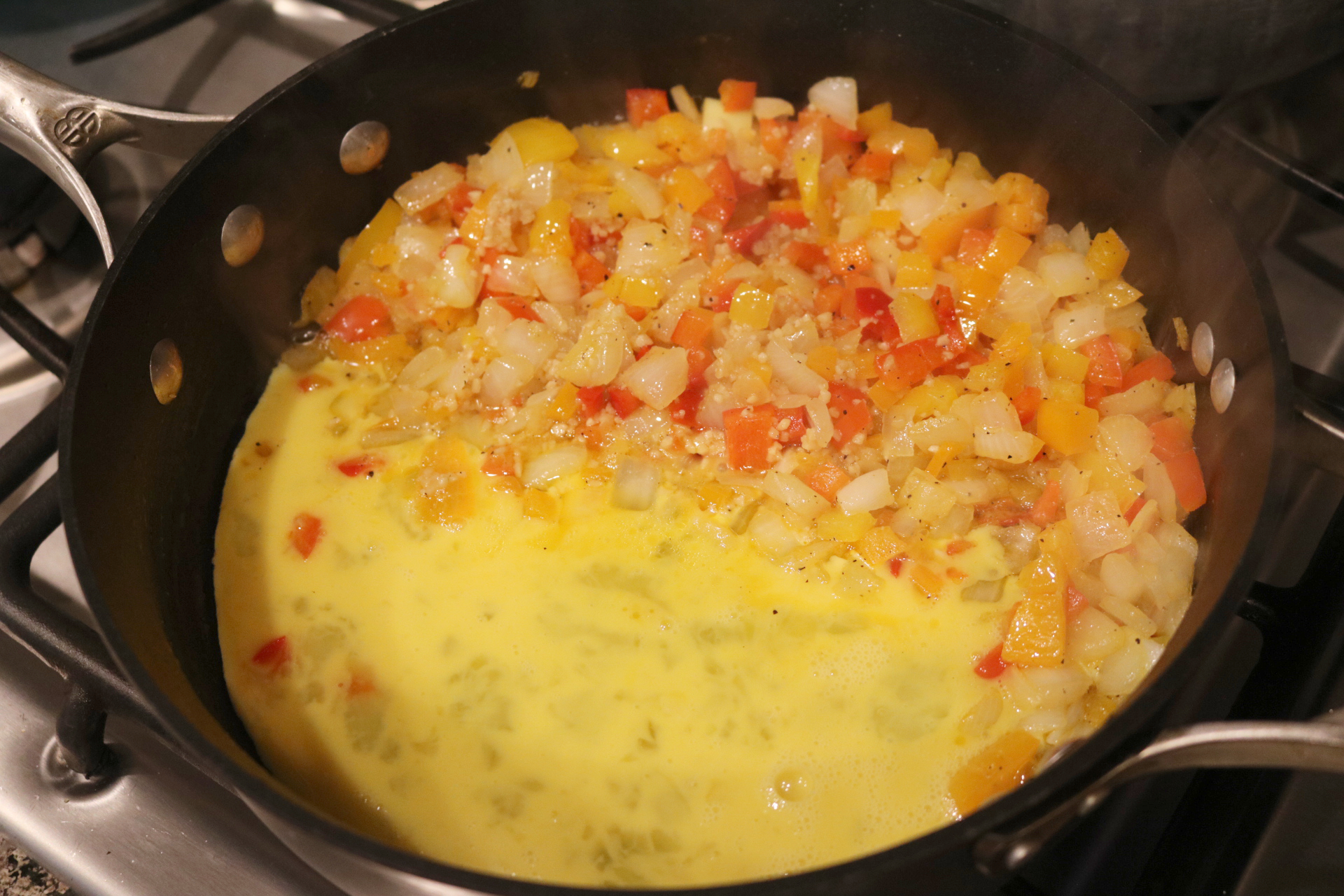 Oh the veggies (& egg)
So I am not a fan of carrots so I opted to not add them. Instead I used peppers, onion and garlic. Next time I am going to use broccoli, squash and maybe even a few mushrooms or eggplant. The options are endless. You can really add in any veggies you want…I love dishes like this.
To try and keep this fried rice a little traditional I did scramble in some eggs. I added the whisked eggs into the veggies until they were cooked through and then added in the rice. You are just building flavor up flavor which is what makes fried rice just so good.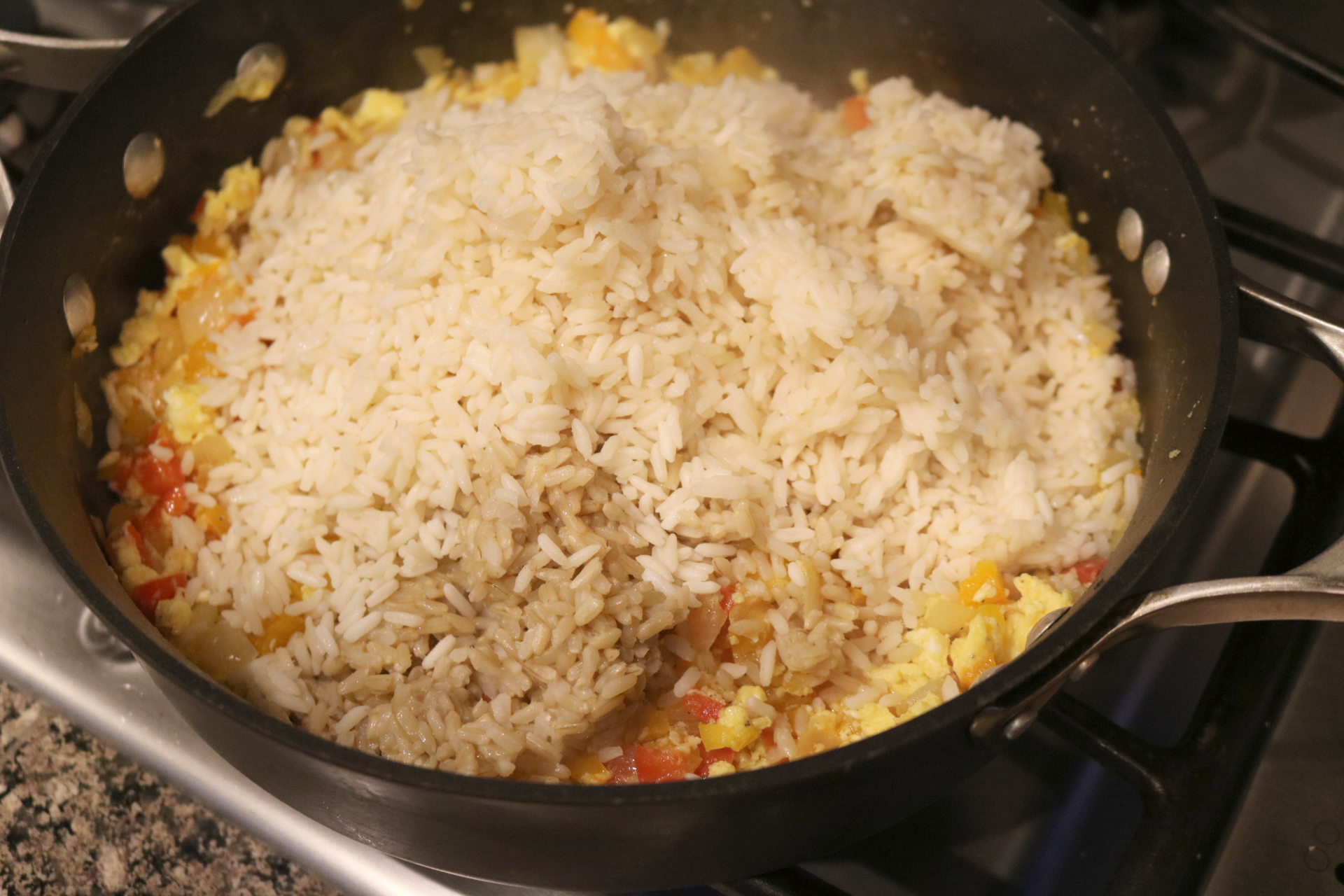 The rice
Traditionally you should use white rice for fried rice. I wanted to shake things up a little bit and I wanted to use both brown and white rice. I had both already cooked, but if you want to use one over the other feel free too. When I cook rice I always make extra servings to have on hand for leftovers and now for this super easy fried rice.
A quick tip…You could even use the quick microwave rice bowls to make dish even easier.
You need this for dinner tonight
Chelle Chelle
Easy Fried Rice
A veggie loaded Easy Fried Rice that is perfect or dinner tonight
5 minPrep Time
15 minCook Time
25 minTotal Time
Ingredients
2 tablespoons butter, divided
2 tablespoons extra virgin olive oil, divided
2-3 bell peppers, chopped (I used red, orange and yellow)
1 medium onion, chopped
2 teaspoons pepper
1 teaspoon salt
3 garlic cloves, minced
2 eggs, lightly whisked
4 cups cooked rice (I used 1/2 white and 1/2 brown)
3-4 tablespoons soy sauce
2 teaspoons sesame oil
1/2 cup green onions, chopped
**You can add in any additional veggies you prefer, such as peas, carrots, broccoli or cauliflower
Directions
In a large skillet melt 1 tablespoon with 1 tablespoon olive oil over medium heat
Add in chopped pepper, onions, salt & pepper, cooking until peppers begin to soften, stirring often
Add in garlic and cook for an additional 1-2 minutes
Move veggies over to one half of the pan
Add in whisked eggs and cook, stirring constantly, until eggs are cooked through
Add in remaining butter and olive oil, stirring until butter is melted
Stir in rice until well combined with peppers and onions
Drizzle soy sauce and sesame oil over rice mixture, stir to combine
Taste and add additional soy sauce as needed
Remove from heat and stir in 1/2 of the green onions
Place rice into serving bowl and top with remaining green onions
ENJOY!!
Notes
Use any combo of veggies you prefer You can omit the eggs if so desired You can use all white or all brown rice
7.8.1.2
429
https://sparklesnsprouts.com/2018/05/24/easy-fried-rice/
All images are the property of Sparkles n Sprouts, to use image please contact the webmaster at michelle@sparklesnsprouts.com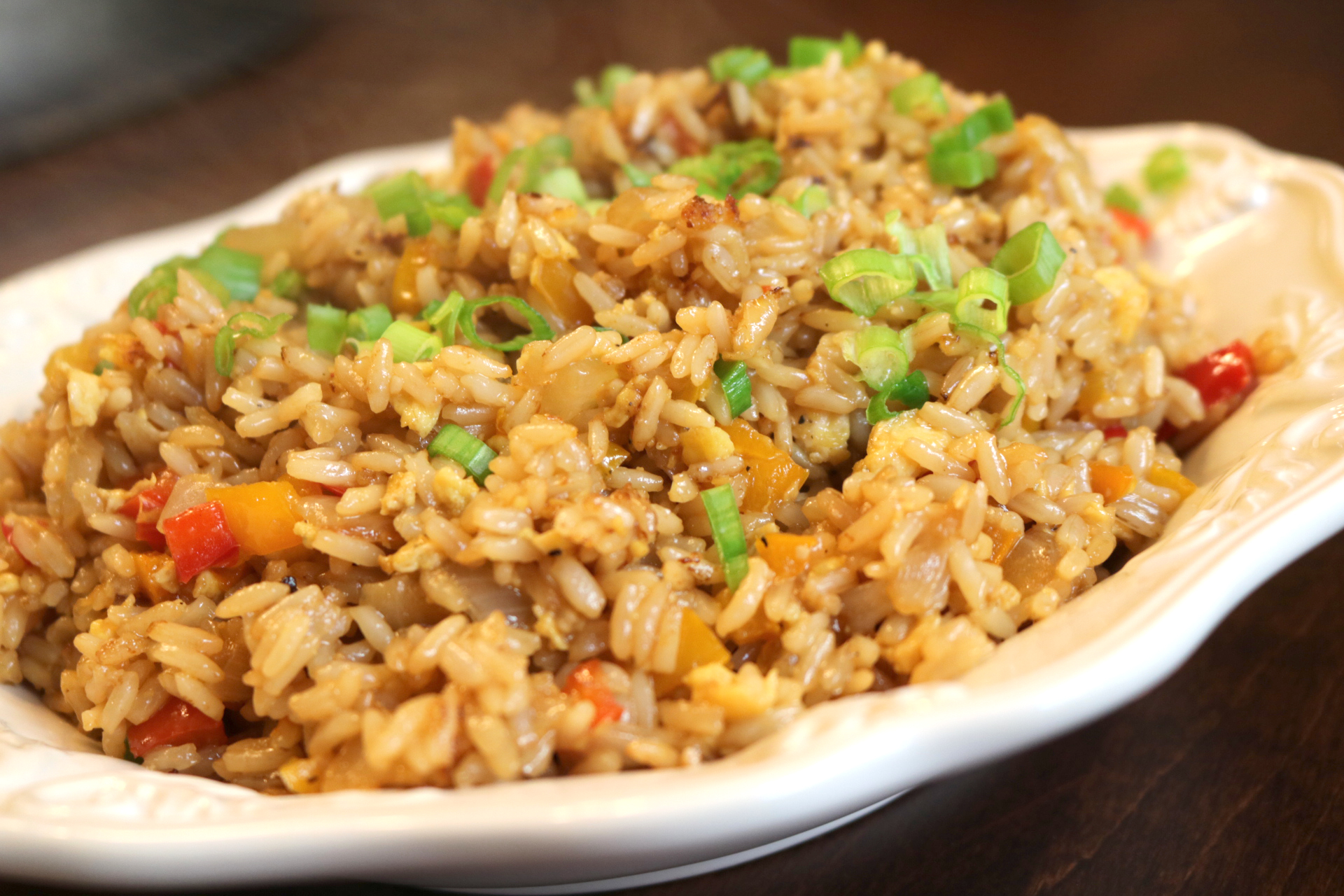 Serve it up
I made the fried rice to go with my Instant Pot Mongolian Beef, but you could serve it with your favorite teriyaki chicken or pork. You could also serve it with a simple grilled chicken breast or a quick grilled salmon filet. The rice is so loaded with flavor it really can stand on it's own.
Make sure to pin this recipe for later….