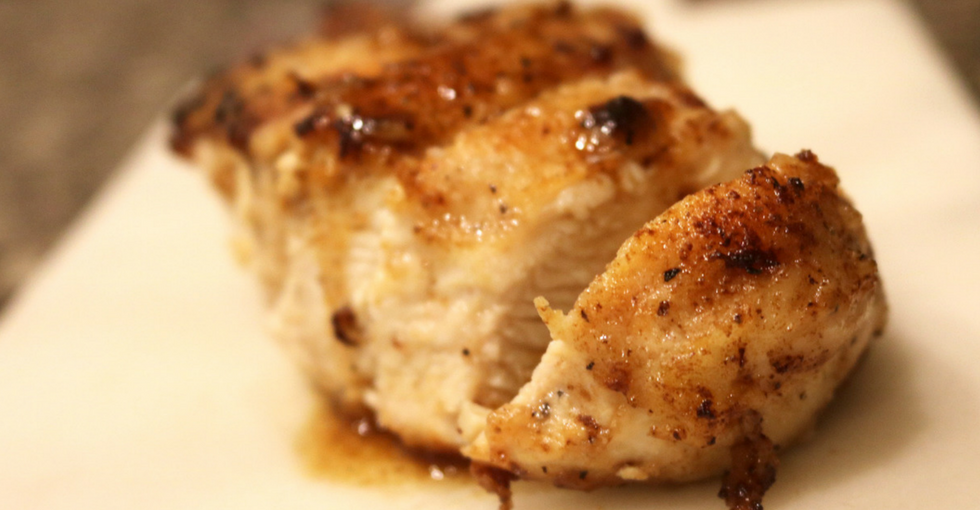 Easy Skillet Roasted Chicken
School is winding down, summer is just around the corner. The days are nice and long, and filled with everything possible, and the last place we want to be is stuck in the kitchen when everyone else is having fun. I completely understand and I have the perfect dinner option for you… Easy Skillet Roasted Chicken.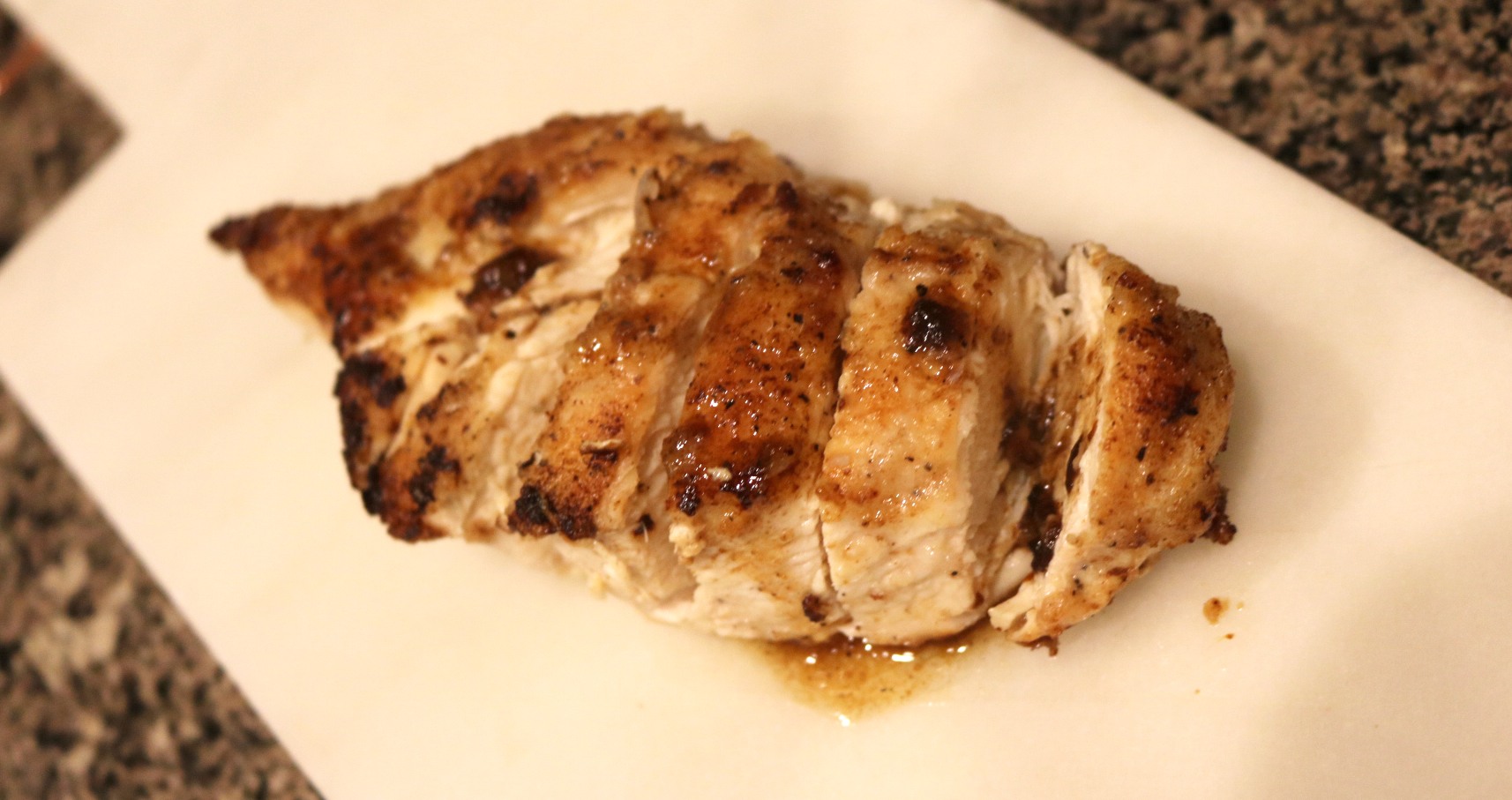 Done is 30 minutes or less
When it is warm outside I don't want to be in the kitchen for a long period of time, but I also want a good dinner on the table. Well, this chicken is quick, easy and will get you in and out of the kitchen in less than 30 minutes.
To make dinner super fast you can roast some veggies as you roast the chicken or serve over a quick salad for a light summer dinner. You could also make some quick rice or heat up some leftover potatoes.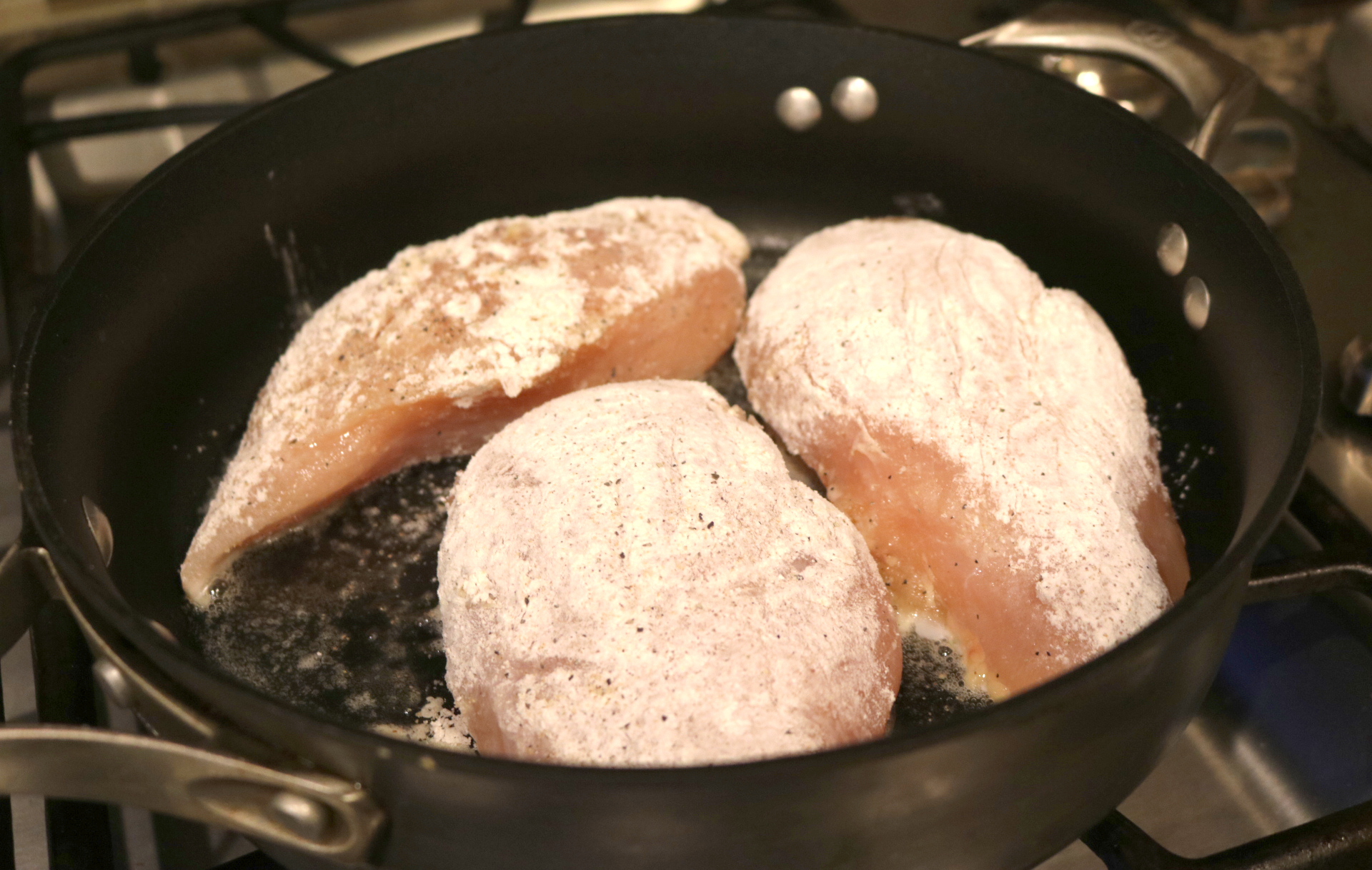 It's all about the prep
I love using boneless, skinless chicken breasts or thighs in almost all my recipes. You not only save a ton of calories without the skin and bone, but they also cook a lot faster. There is one problem though…you can miss a lot of flavor without the skin and bones. Well, I have found a solution…you get all the flavor without all the guilt.
The secret…a light dusting of flour. Yes, flour. Don't worry I am not dredging the chicken to make a thick coating it is just a light dusting. As the chicken cooks it makes a nice crust that browns up nicely, while also adding a ton of flavor. Trust me it is worth the extra little step.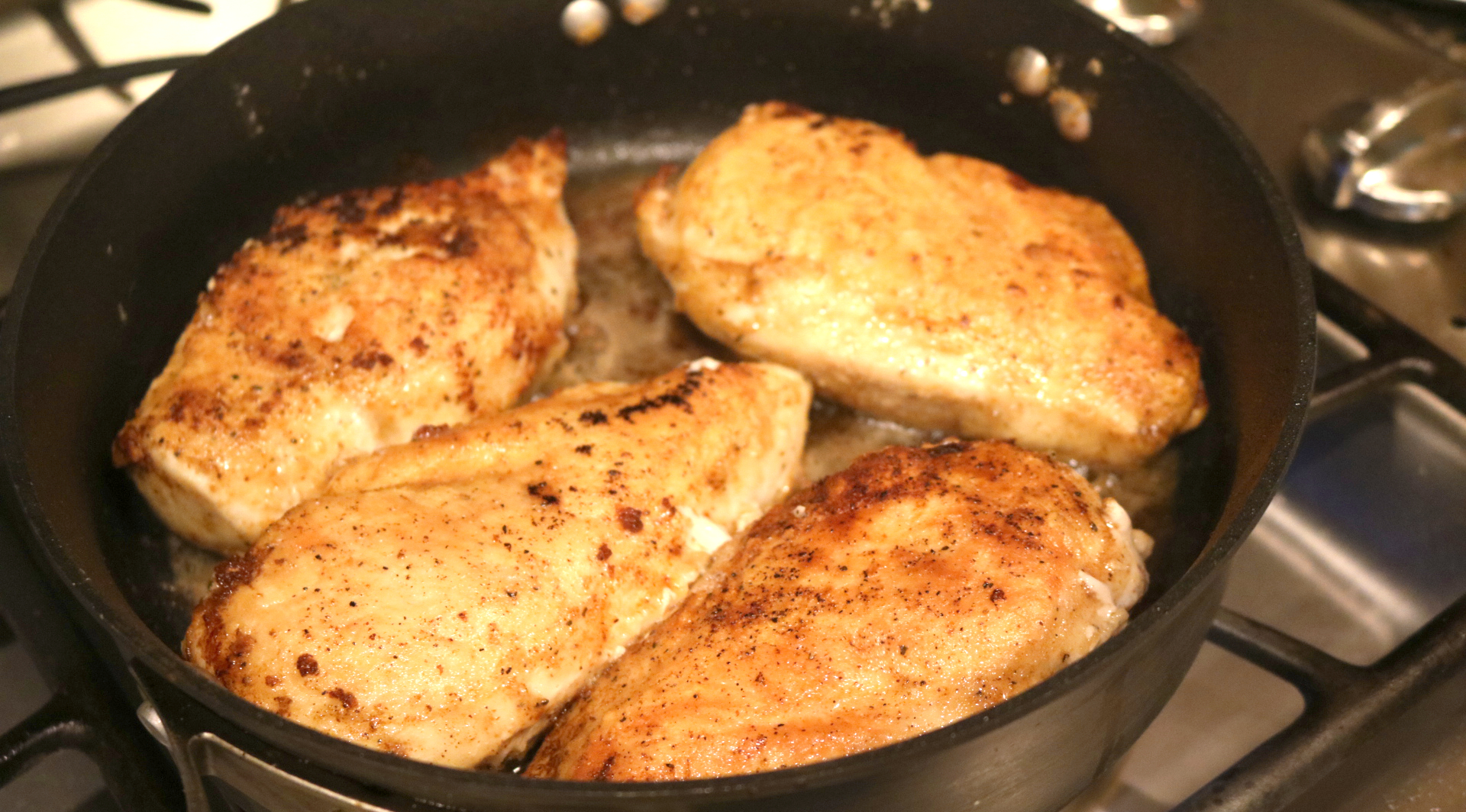 Finish in the oven
To keep the chicken nice and juicy and not dried out I finish it in the oven in the same skillet. I love this technique as you get all the great flavor from the sautéed chicken and there is only one pan to clean at the end.
Cooking times will vary of the thickness of your chicken breast, I only needed about 8 minutes in the oven. I used a quick digital thermometer to check temp. I removed them from the oven at 160 degrees and then let them rest for 5 minutes to let them come up to 165 degrees.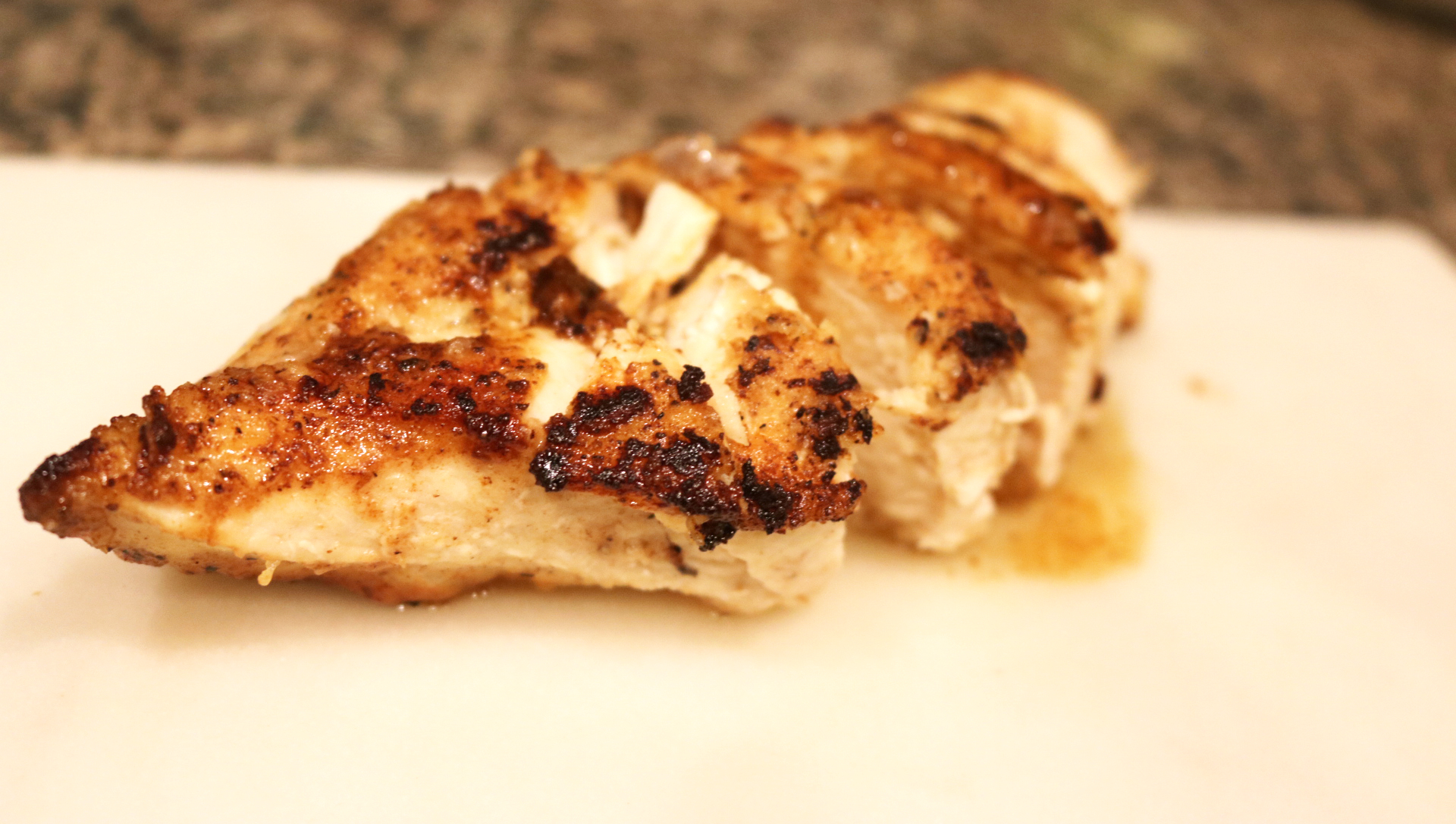 Dinner is done…
Chelle Chelle
Easy Skillet Roasted Chicken
A quick and easy skillet roasted chicken that is loaded with a ton of flavor, making it perfect for dinner tonight.
10 minPrep Time
15 minCook Time
30 minTotal Time
Ingredients
2 pounds boneless, skinless chicken breast
Olive oil spray
1/2 - 1 cup flour (or almond flour)
2 teaspoons salt
1 teaspoon pepper
1 teaspoon garlic powder
2 tablespoons butter
2 tablespoons olive oil
Directions
Preheat oven to 350
Pat chicken dry with a paper towel
In a shallow dish gently combine flour, salt, pepper and garlic powder
Spray chicken breasts with olive oil spray
Dip chicken into flour mixture, shaking off any excess, set aside and repeat with remaining chicken breasts
In a large oven safe skillet melt 1 tablespoon of butter with 1 tablespoon olive oil over medium heat
Add in chicken breast and cook for 4-5 minutes, or until nicely browned
Add in remaining butter and olive oil
Flip chicken and place into oven, cooking for another 8-10 minutes or until chicken reaches 160 degrees
Remove and spoon butter over chicken and let rest for 5-10 minutes
Serve with a little sauce drizzled over the top
ENJOY!
Notes
You can use your favorite spice combo, just make sure there is minimal sugar in to to reduce the chance of chicken burning
7.8.1.2
427
https://sparklesnsprouts.com/2018/05/22/easy-skillet-roasted-chicken/
All images are the property of Sparkles n Sprouts, to use image please contact the webmaster at michelle@sparklesnsprouts.com

Spice it up
I kept the spices super simple with just salt, pepper and garlic powder. You can use whatever spice combo you prefer though. Maybe a cajun spice combo, or an all purpose seasoning or maybe lemon pepper.
The spice possibilities are just endless…have some fun with it and let me know what your favorite combo is.
Make sure you pin this for later!!