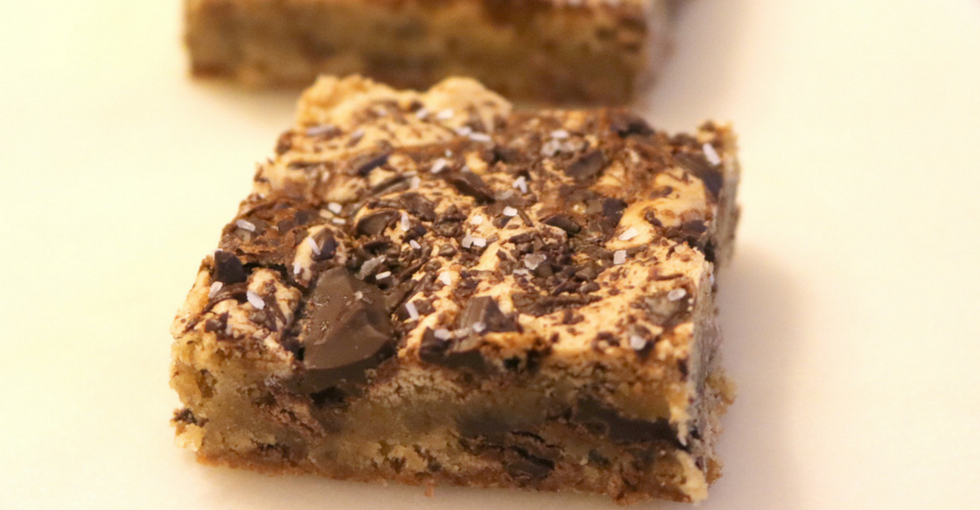 Espresso Chocolate Chunk Blondies
Are you a fan of a good blondie? Well I am and I especially love them when there is something a little different about them, like some espresso and chocolate. Trust me these are the perfect little pick me up you need for this week.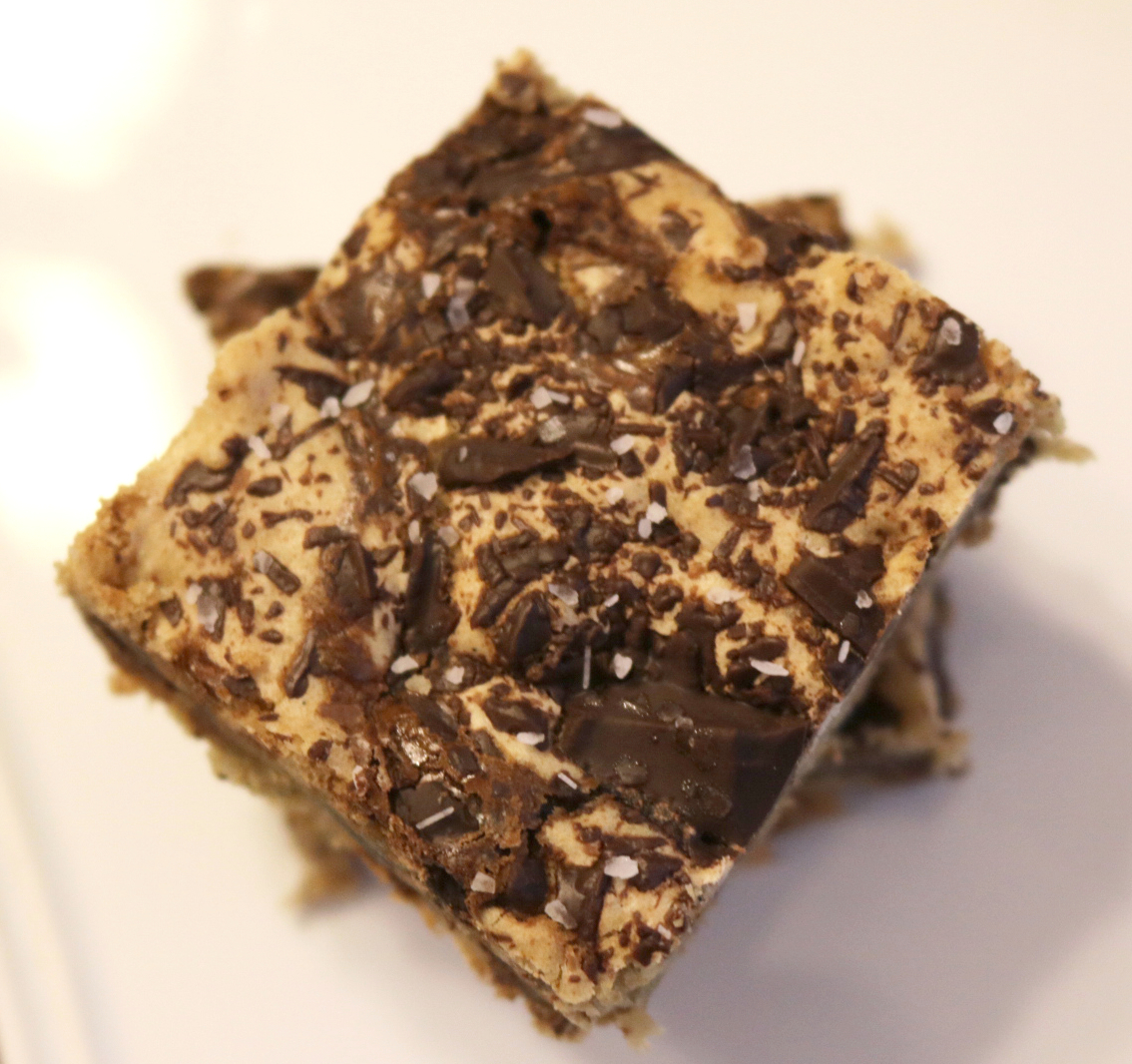 Not your basic blondie
Are you a basic blondie fan or an amped up blondie fan? Well, for me I am all about the amped up version. This time around I decided to add in two of my favorites…espresso and chocolate. Yes, espresso and chocolate.
Now I know that not everyone is a fan of coffee anything, or coffee flavored items, but for those that are these will be a favorite coffee inspired treat for sure. To bring the coffee I used espresso powder and an coffee syrup and then swirled it though the blondie vs. mixing it in. You could mix it in if you life, I just love how the swirl bakes up.
Don't worry though there is not too much espresso in these blondies, there is just enough to give you a bit of it in each bite.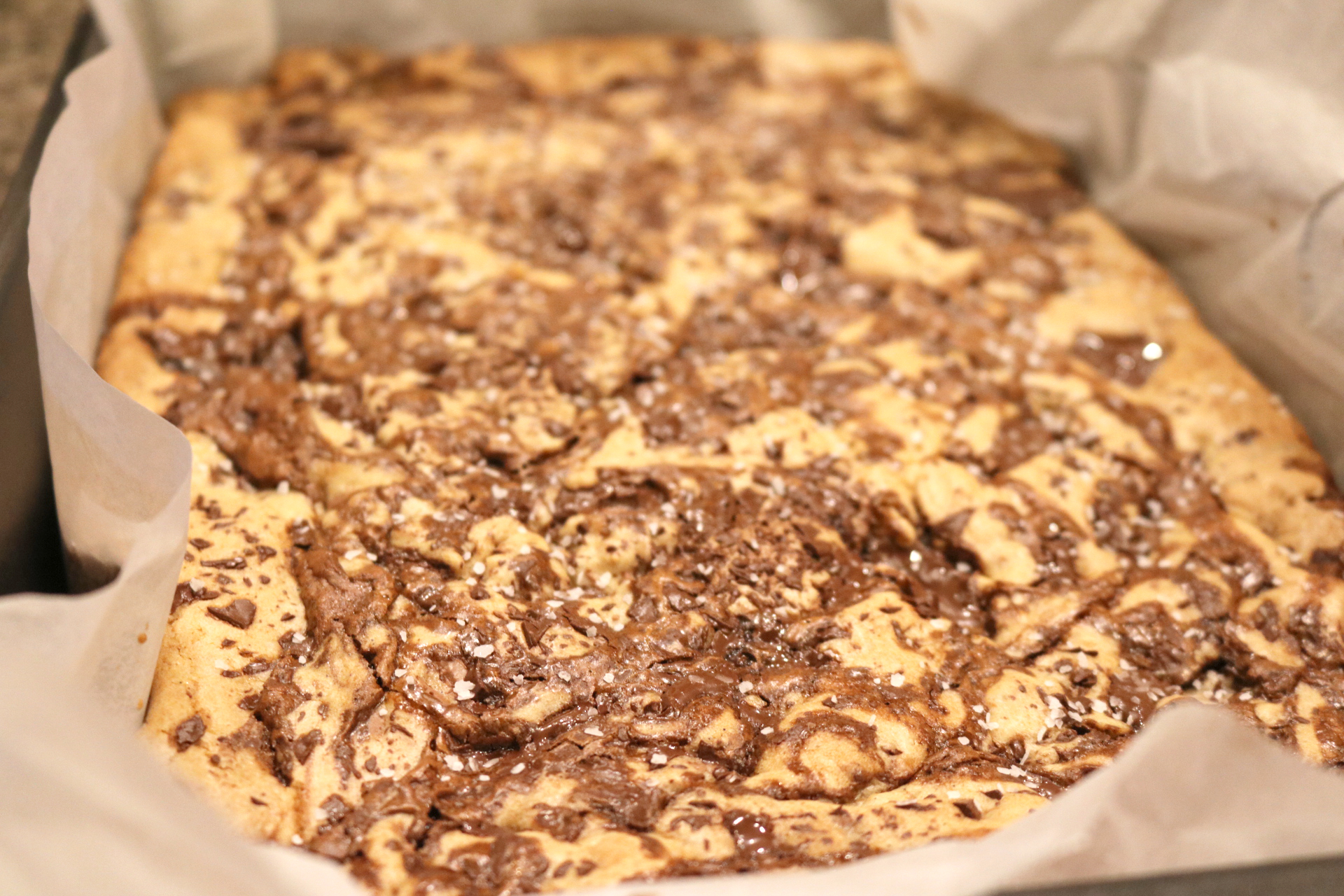 Let's talk chocolate
I am a BIG, BIG fan of chocolate. Dark chocolate, milk chocolate, semi sweet chocolate, even white chocolate… I am a fan of all of them. In baking I typically use chips, but lately I have been obsessed with using chocolate bars and chopping them. I love the varied pieces of chocolate and how pretty they look especially in these blondies.
Now I know your probably thinking that is a lot of work and a lot of money as the bar chocolate is not cheap, but I have an option that I love…Trader Joe's 1 pound chocolate bars. I love the dark chocolate bar and the milk chocolate and used both for these blondies.
If you wanted to use just one variety or sub in semi sweet for the dark feel free too. You can use whatever combo you prefer.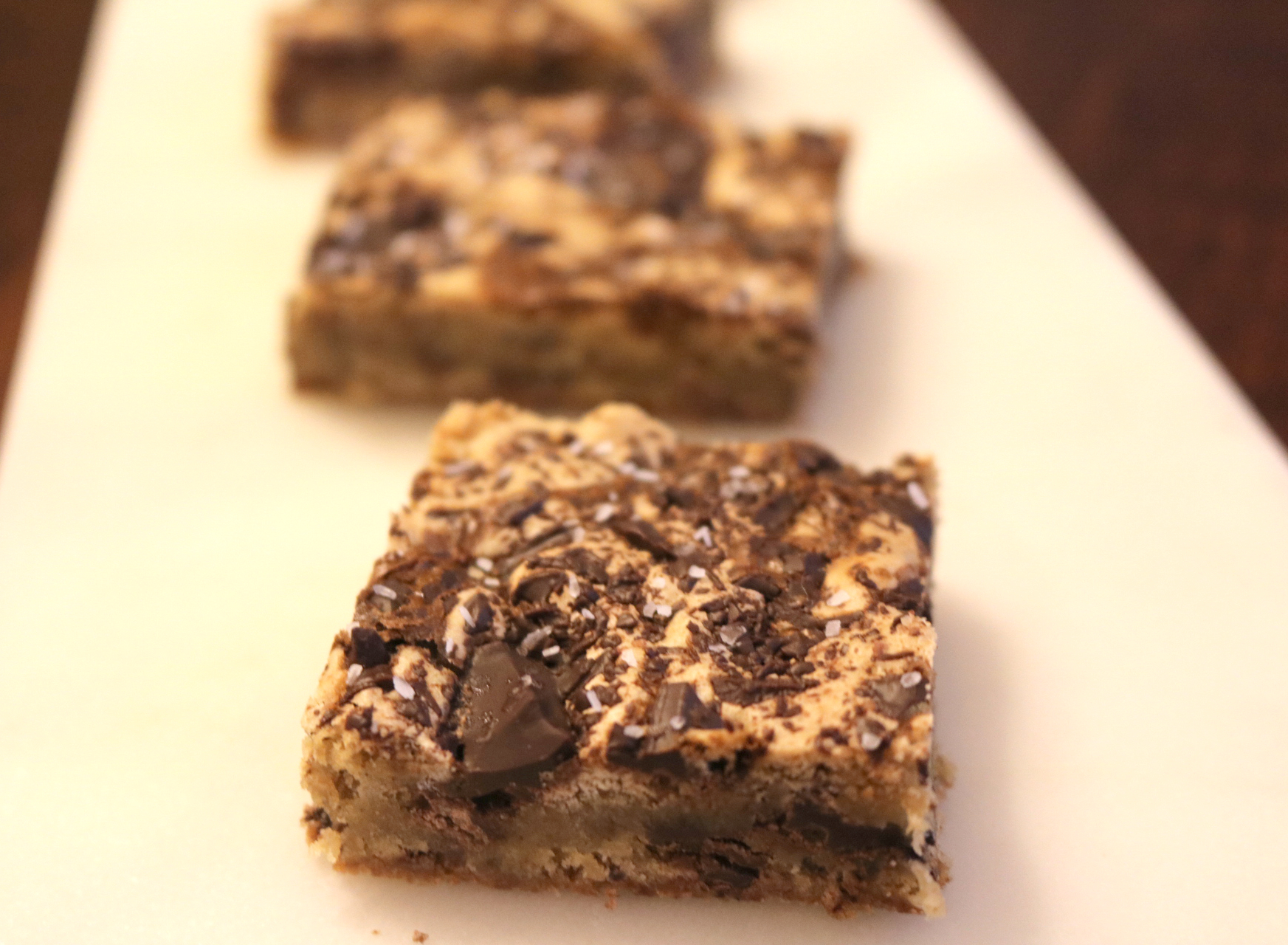 Don't over bake them
The key to a good blondie or brownie is to not over bake them. I like to bake them until the middle is just set. That ensures they are firm through out but will still be nice and chewy in the middle.
I used a 9×13 pan and found that they baked up perfectly after 21 minutes, but each oven varies. I started checking mine at 18 minutes. If you are using a smaller pan you will need to extend the cooking time quite a bit, probably 30-35 minutes.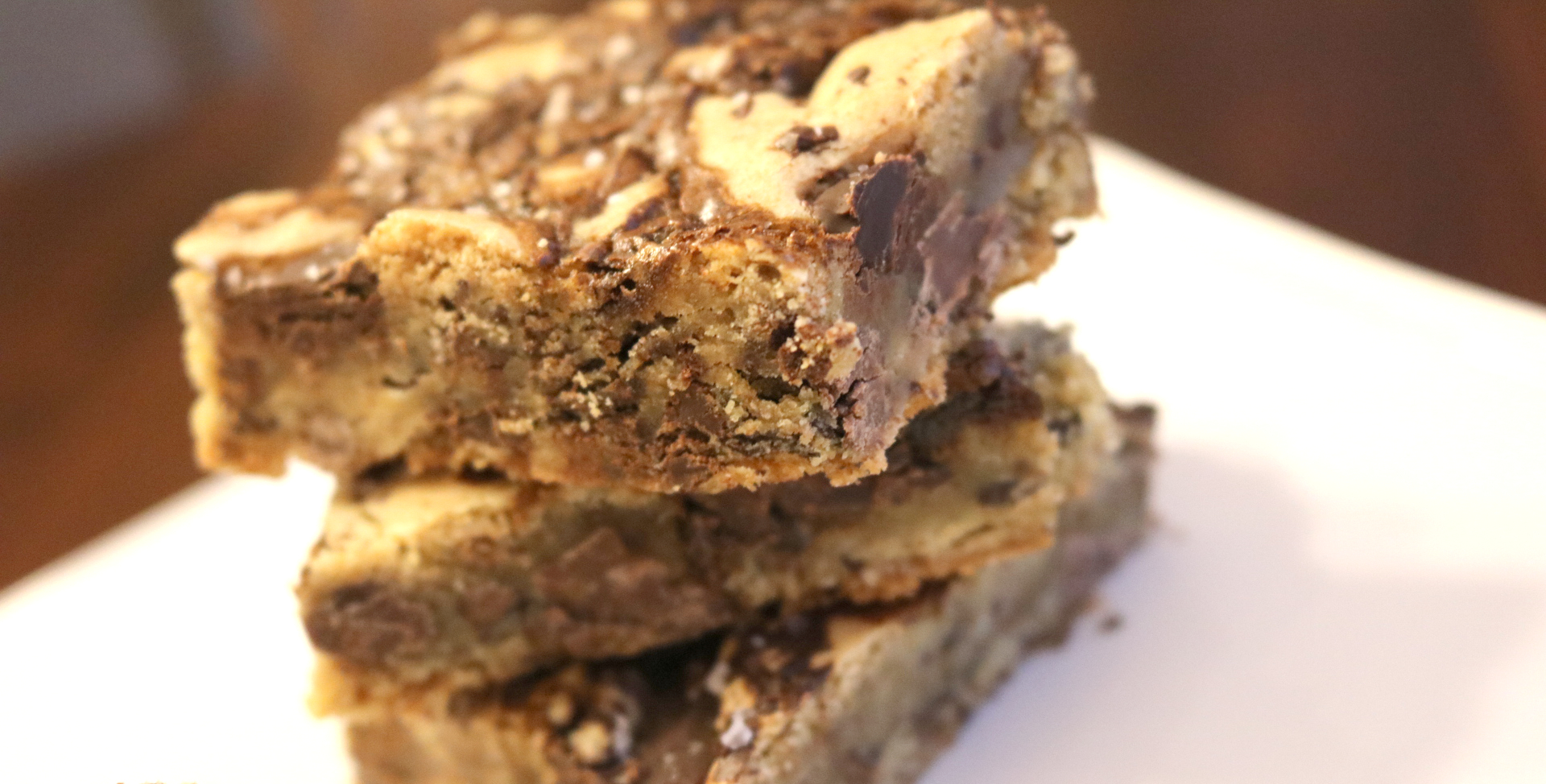 JUST SO GOOD!
Chelle Chelle
24-36 blondies
Espresso Chocolate Chunk Blondies
Rich blondies studded with bits of chocolate and espresso in each bite.
15 minPrep Time
20 minCook Time
45 minTotal Time
Ingredients
12 tablespoons butter
1/4 cup salted caramel sauce (homemade or store bought)
2 cups flour
1/2 teaspoon salt
1/2 teaspoon baking soda
1 cup brown sugar
1.2 cup granulated sugar
2 eggs
Course sea salt for sprinkling on top
Directions
Preheat oven to 325
Line a 9x13 baking pan with parchment paper, set aside
In a medium saucepan melt butter over medium heat
Once butter is melted stir in caramel until combined, remove from heat and let cool
In a smal bowl whisk together flour, salt and baking soda, set aside
In a medium bowl whisk together brown sugar, granulated sugar, eggs and vanilla until well combined
Whisk in butter mixture, until combined
Stir in flour until just combined
Stir in 3/4 of the chopped chocolate until just mixed in
Spread into prepared pan
In a small bowl stir together coffee syrup and espresso powder
Drizzle over blondie batter
Using a knife swirl into batter
Sprinkle remaining chopped chocolate over batter
Bake for 20-23 minutes or until edges begin to brown and middle is just set
Remove and spinkle salt over the top
Let cool in pan for 10 minutes and then remove to wire rack to cool completely
Cut into small squares and serve
Notes
You can leave out the coffee syrup and espresso powder for a more traditional blondie with chocolate chunks.
7.8.1.2
423
https://sparklesnsprouts.com/2018/05/02/espresso-chocolate-chunk-blondies/
All images are the property of Sparkles n Sprouts, to use image please contact the webmaster at michelle@sparklesnsprouts.com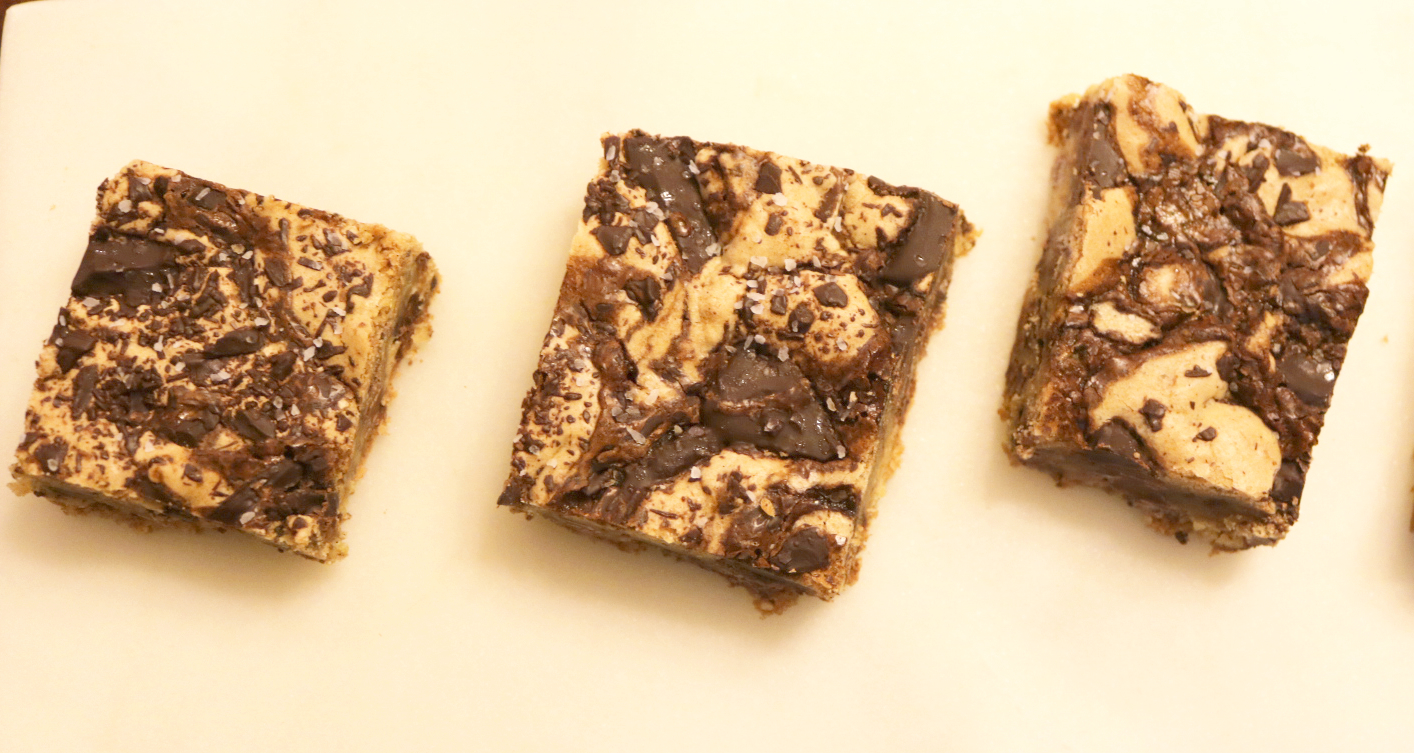 To finish them off
To make them even better I sprinkle a little sea salt over the top as soon as I bring them out of the oven. It add just the right about of saltiness to the sweet blondies.
It really is the perfect finish
Hope you will give these a try. Make sure and tag me @sparklesnsprouts with your blondies.
Also feel free to leave a comment below with your review or questions you might have.