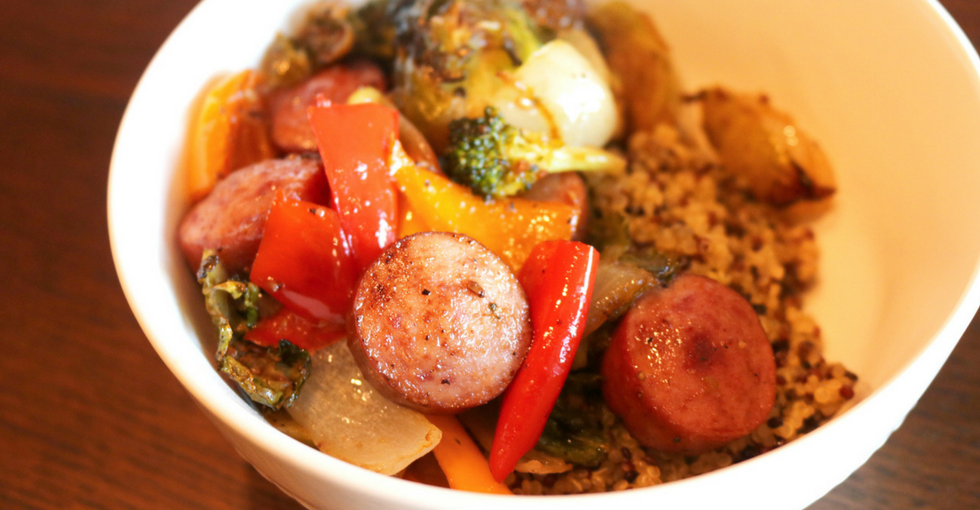 One Pan Sausage & Veggies
YES you read that right this is a one pan dinner…yes ONE pan. Even better it is loaded with veggies and yummy turkey smoked sausage making this dish not only easy but also delicious and not so bad for you too.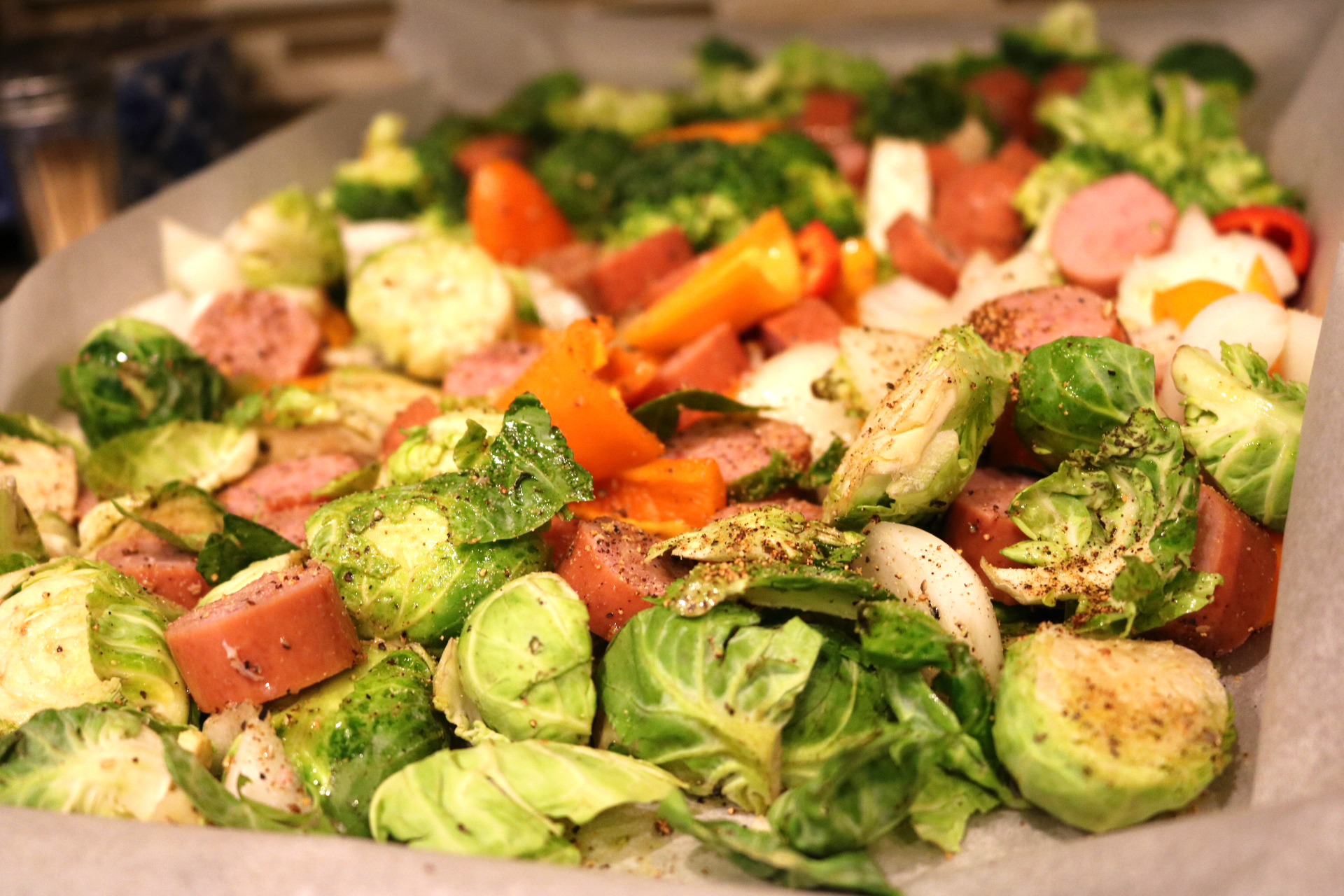 Season, Season, Season
To make this dish really stand out it is all about the seasoning. To keep it simple though I chose a seasoning mix that brought a ton of flavor but you probably already have everything you need in the pantry.
I mixed together salt, pepper, garlic powder, chili powder and dried parsley. If you wanted to use your favorite all purpose seasoning you could and not mess with mixing your own seasoning mix up. You could also lemon pepper if you wanted for a lighter spice mix.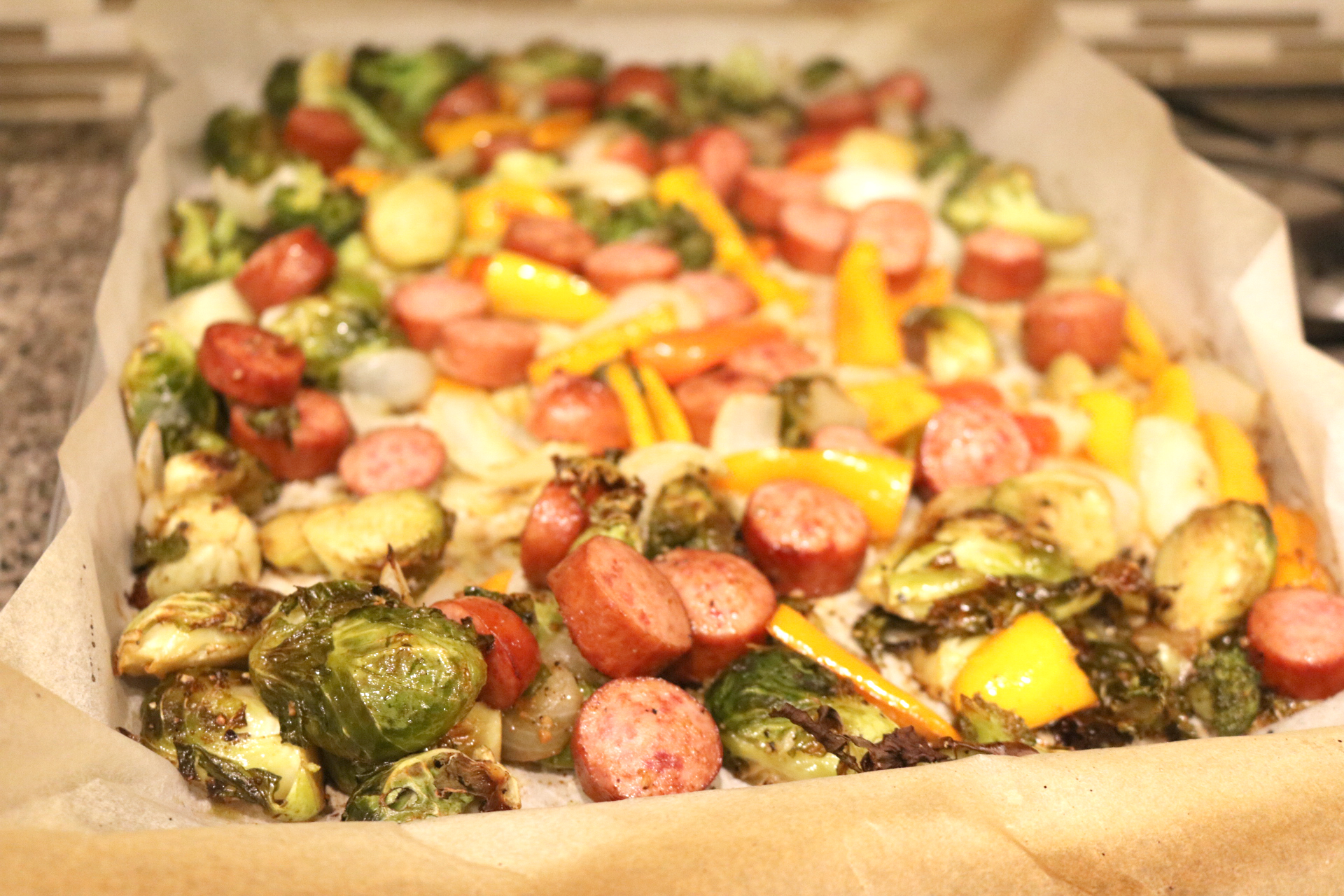 Bringing a little char
As you cook everything on one sheet pan you will get a little bit if char on the veggies. This is honestly one of my favorite parts of roasted veggies. I cook mine until the sprouts are crispy on the edges and the peppers have a little charred bits on the skin.
If you like more of a crisp tender veggie, that will work too. You will just need to reduce cooking time by a few minutes and maybe cut the sausage a little thinner to ensure it heats through in plenty of time.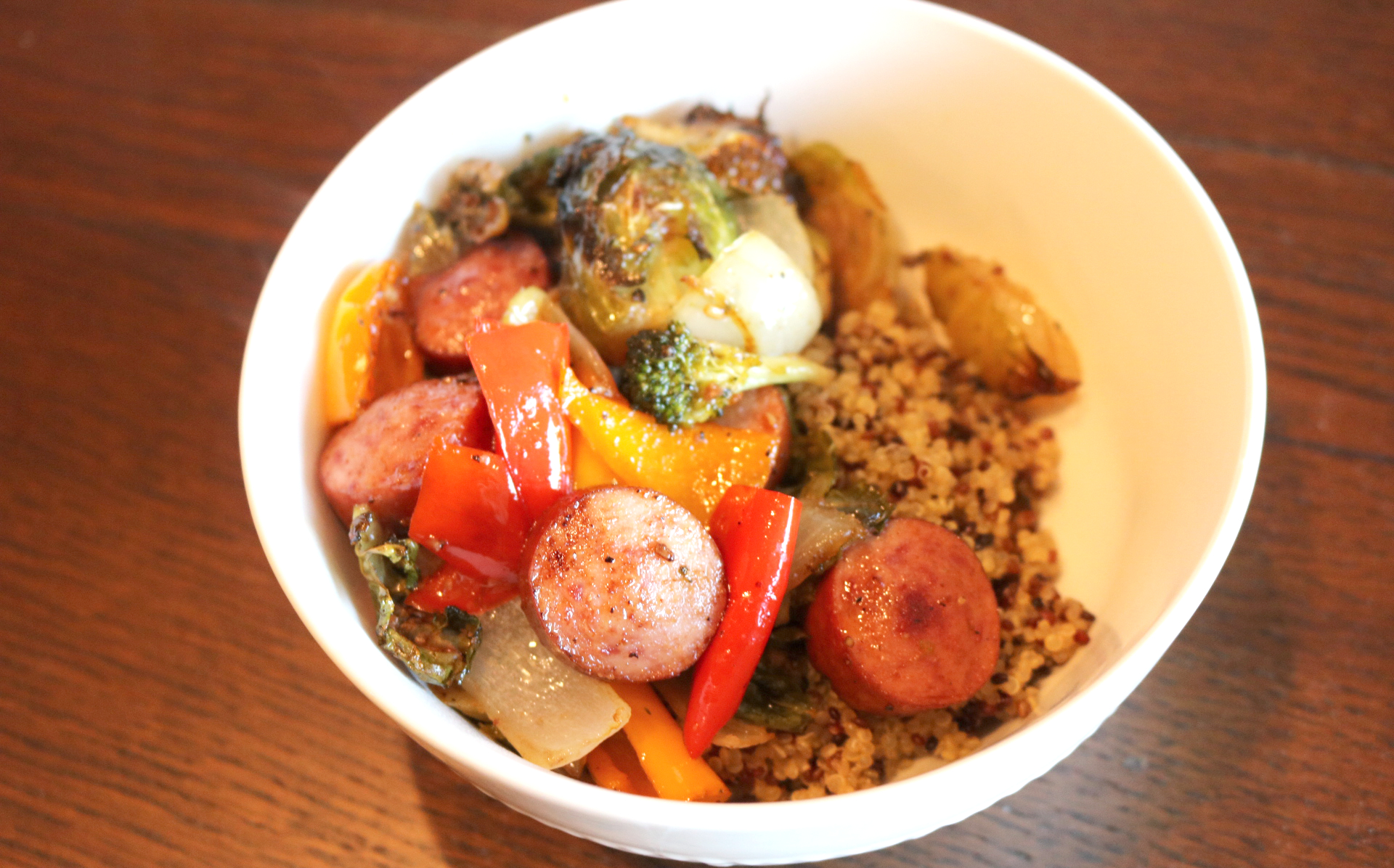 The mix of veggies & sausage options (options are good)
For this dish I used brussels sprouts, broccoli, onion and bell peppers. You could add in or replace veggies with asparagus, cauliflower, eggplant or even potatoes (new, russet or sweet) cut into small cubes or thin slices.
For the smoked sausage I went with a smoked turkey sausage. If you wanted to use your favorite pork smoked sausage you do that without having to adjust cook times. You could also use chicken without adjust the cook time, just make sure to cut chicken into smaller pieces.
You really can make the combo perfect for you and your family.
One pan and done
Chelle Chelle
4-6 servings
One Pan Sausage & Veggies
A quick one pan dinner that is perfect for those busy weeknights, Use any combo of veggies and meat that you like to make this a perfect dinner for your family.
10 minPrep Time
20 minCook Time
30 minTotal Time
Ingredients
1 pound smoked turkey sausage (or any variety you like), cut into 1 inch slices
1 bunch broccoli, chopped
2-3 bell peppers, sliced into strips
1 pound brussels sprouts, trimmed and cut in half (or quarters if needed)
1 onion, sliced
2-3 tablespoons extra virgin olive oil
1 tablespoon salt
1 tablespoon pepper
2-3 teaspoons garlic powder
2-3 teaspoons chili powder
1 teaspoon dried parsley
Directions
Preheat oven to 425
Line a rimmed baking sheet with parchment paper
Spread veggies into prepared pan in an even layer
Drizzle olive oil over veggies
In a small bowl combine salt, pepper, garlic powder, chili powder & parsley
Sprinkle over veggies
Toss all to combine and make sure veggies are evenly coated
Placed sliced sausage into pan, spreading it out in between veggies
Place into oven and roast for 20-25 minutes, tossing once, until veggies are tender and sausage begins to brown
Remove and serve over quinoa, rice or on its own
ENJOY!!
Notes
To use chicken, cut into bite size pieces and toss with the seasonings before cooking.
7.8.1.2
385
https://sparklesnsprouts.com/2018/04/28/one-pan-sausage-veggies/
All images are the property of Sparkles n Sprouts, to use image please contact the webmaster at michelle@sparklesnsprouts.com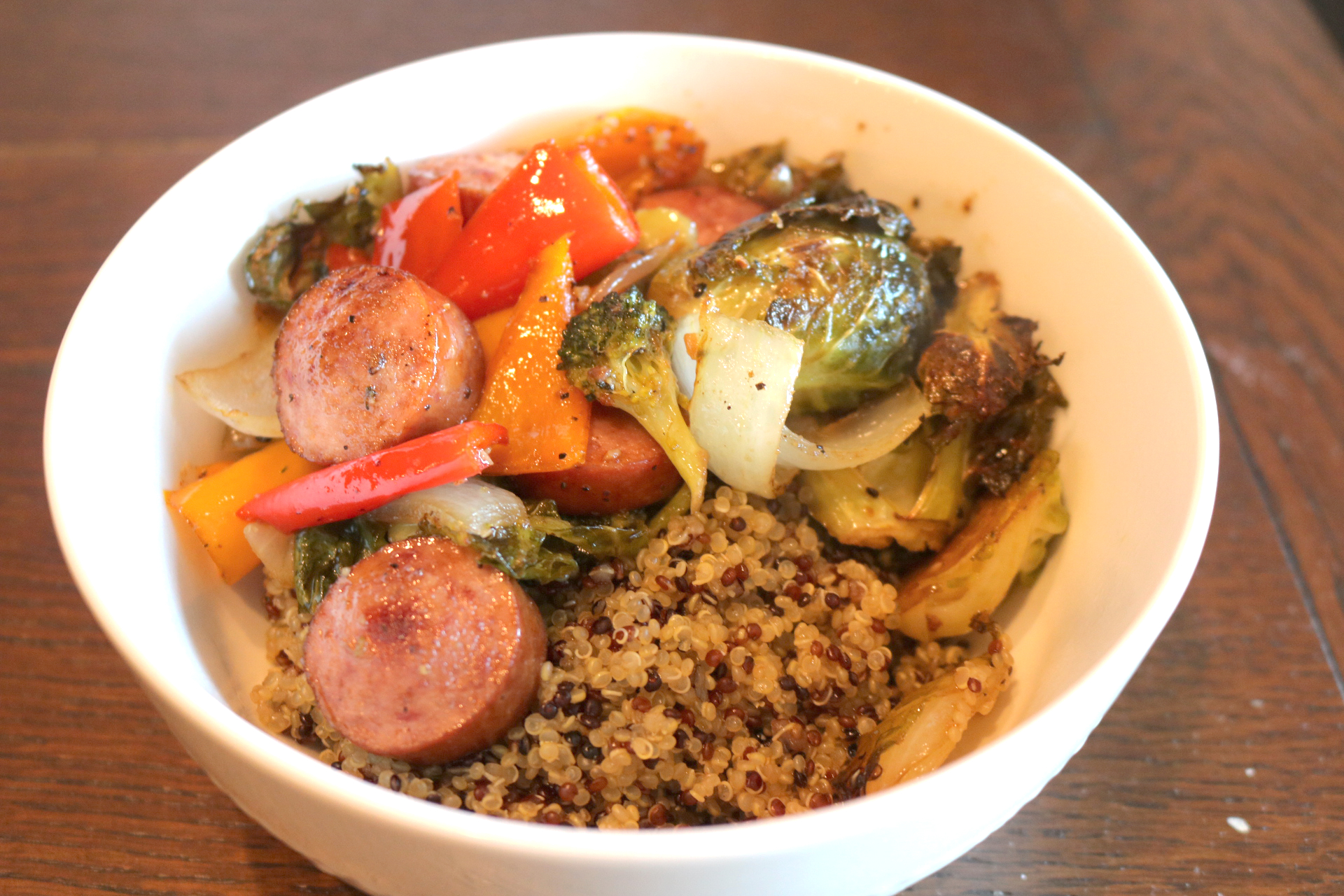 Quinoa, Rice or on it's own
I served the sausage and veggies over quinoa for some added protein and texture. You could serve it over rice (white or brown) or for a low carb option all on it's own.
Anyway you choose it will be delicious.
This one pan dish has become a favorite quick weeknight dinner option in my family, as I hope it will in yours. Make sure and tag me in your photos after you make it with #sparklesnsprouts