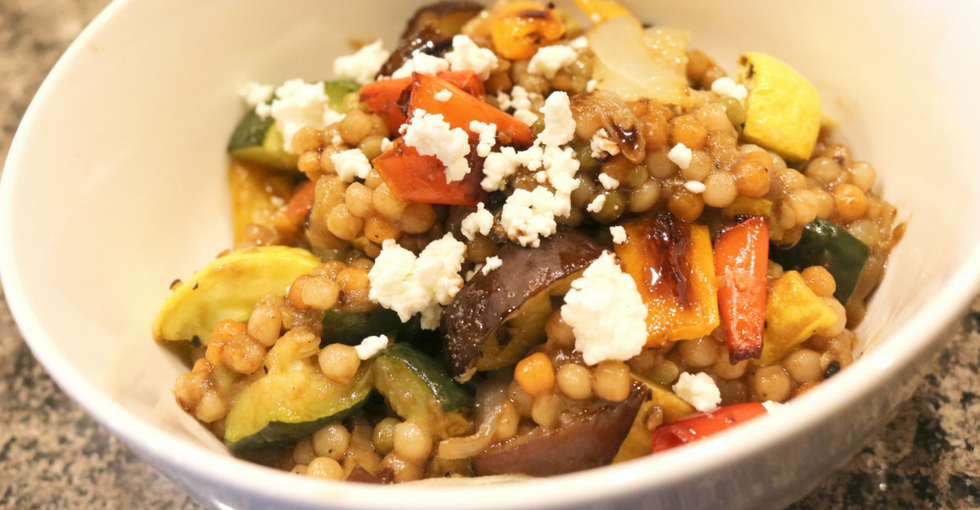 Spring veggies are just about ready in my part of the country. The farmers markets are starting to get loaded up with beautiful produce and this couscous dish is one of my favorite ways to highlight so many of those veggies.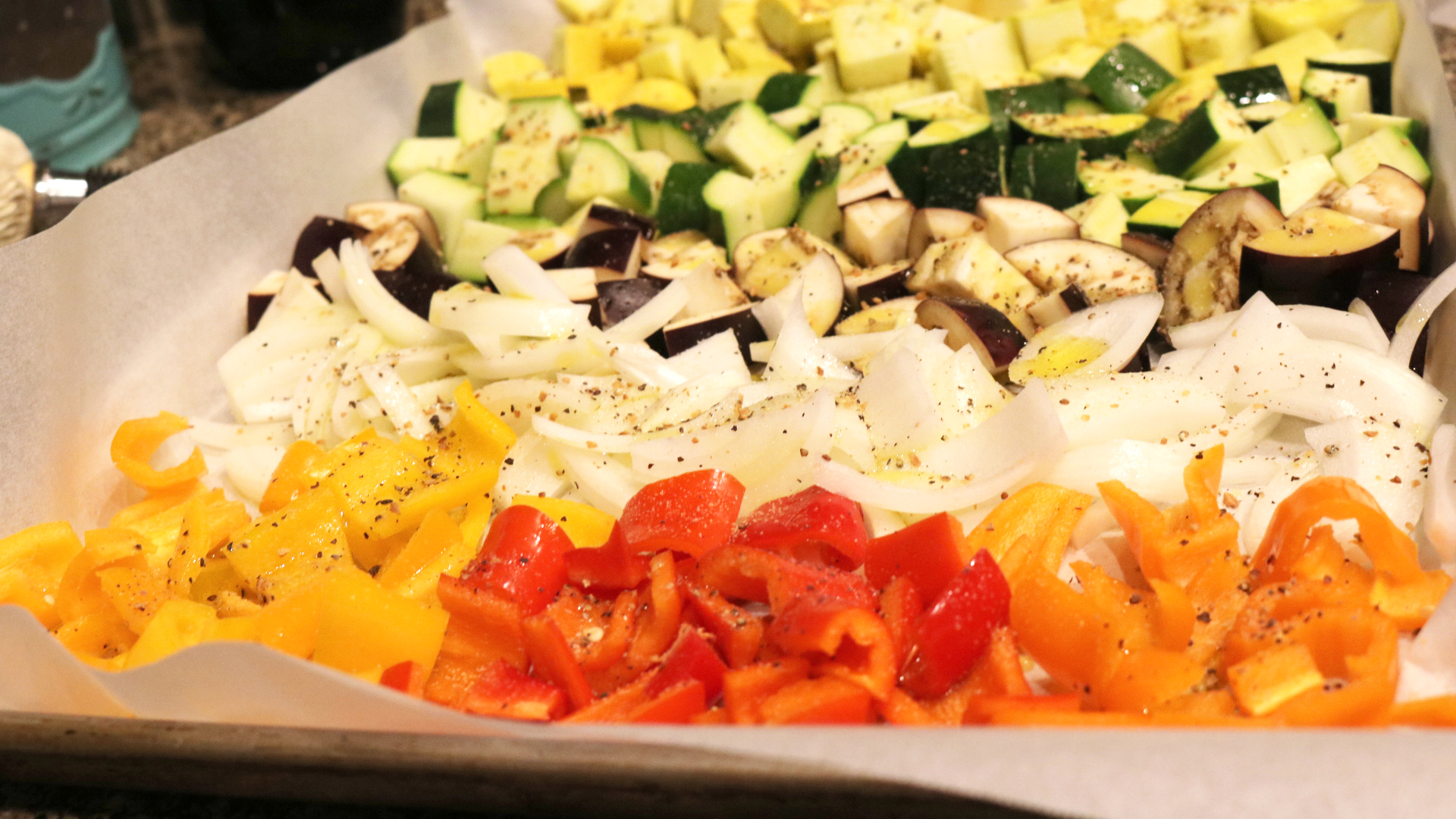 It starts with the veggies
With so many beautiful veggies popping at my farmers markets and in my grocery store it was hard to choose which veggies to use for this delicious salad. First I knew I wanted to use peppers, red, yellow and orange. I love how sweet early spring peppers are and these were just perfect. Next I threw in an onion. I used a white onion, but a yellow or purple would work great.
Next came the eggplant. I just couldn't resist them. Now I know not everyone is a fan of this beautiful purple treat, so if you want to replace it feel free. After the eggplant I grabbed yellow squash and zucchini, both of which I love, and when they are roasted they are even better.
The beauty of this side dish is you can add in any veggies you would like such as asparagus, cherry tomatoes, brussels sprouts (which I am doing next time), or even green beans. The options are endless. Make it perfect for you and your family.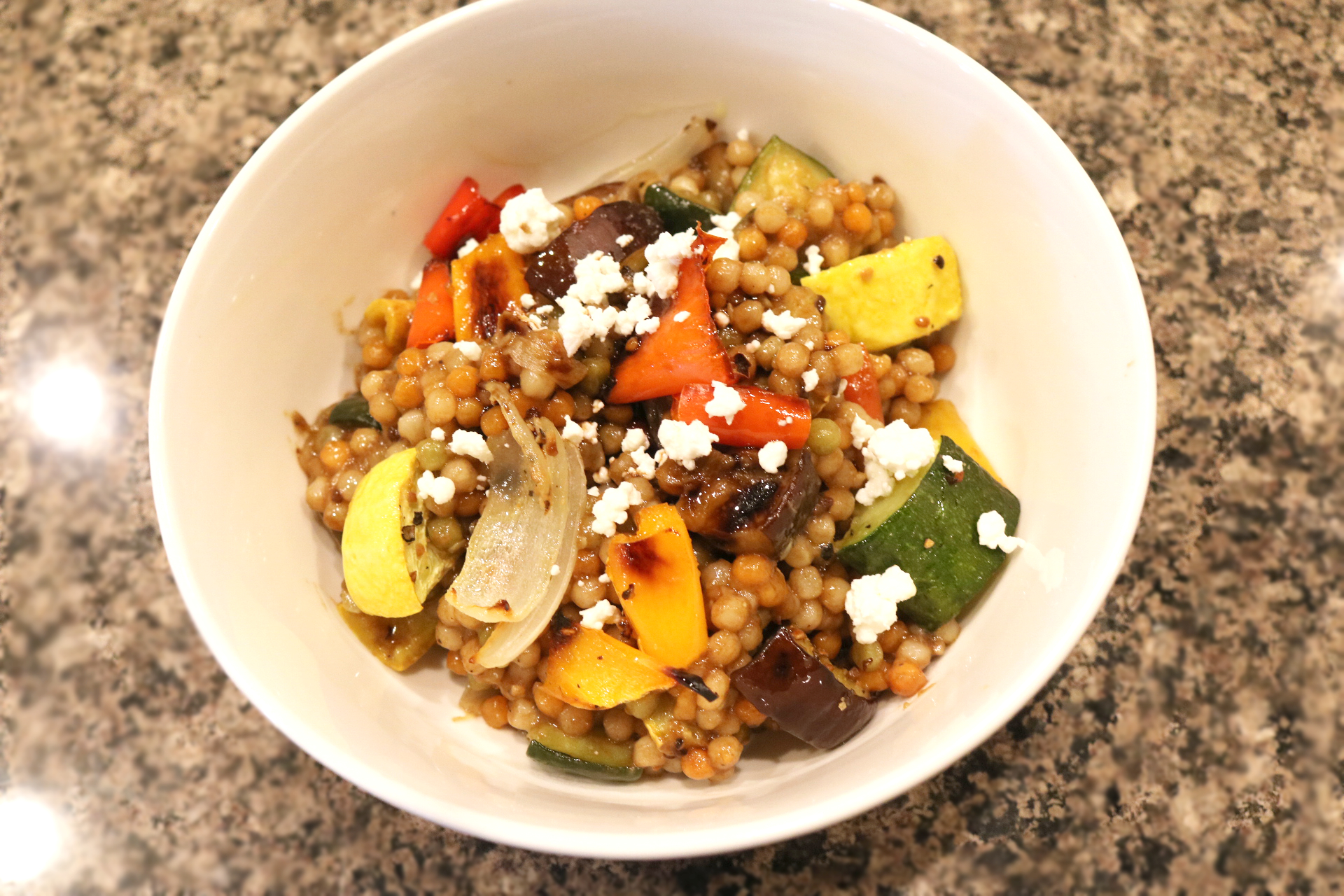 Next comes the couscous
For me I am a fan of the Israeli Couscous. I love these little balls of yummy goodness, over the more grain like traditional couscous. Either would work great in this dish, but for me I choose the Israeli version.
I always cook my couscous in chicken stock. I find it adds just a little extra flavor, but if you want to keep it vegetarian you can use veggie stock or even water.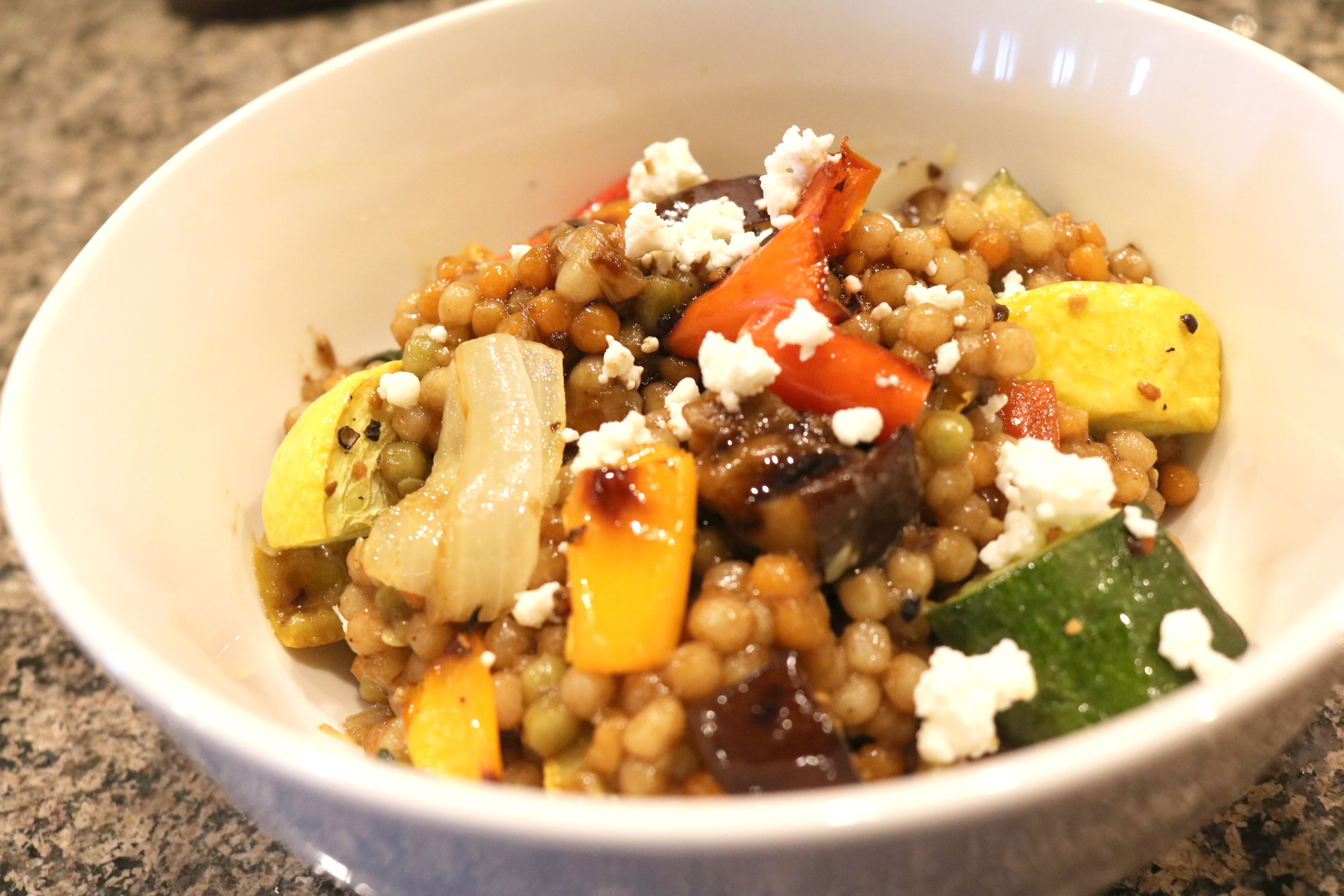 And now the Balsamic drizzle (& goat cheese)
For me the Balsamic drizzle is what makes this salad come together. It adds a bit of sweetness with a bit of a tang making each bite just about perfect. The drizzle when paired with the veggies and the couscous it makes for the perfect spring side.
If serving warm drizzle the dressing over the couscous and veggies once you have it in the serving bowl. I love it cold over salad greens and I wait and drizzle it over when serving.
If you do not want to make your own you can buy a balsamic reduction (Trader Joes has a great one) or you can use your favorite balsamic dressing.
I am also a BIG, BIG fan of the goat cheese crumbles. It adds a bit of creaminess and richness. You could use feta or cojita cheese if you wanted, or leave it out all together.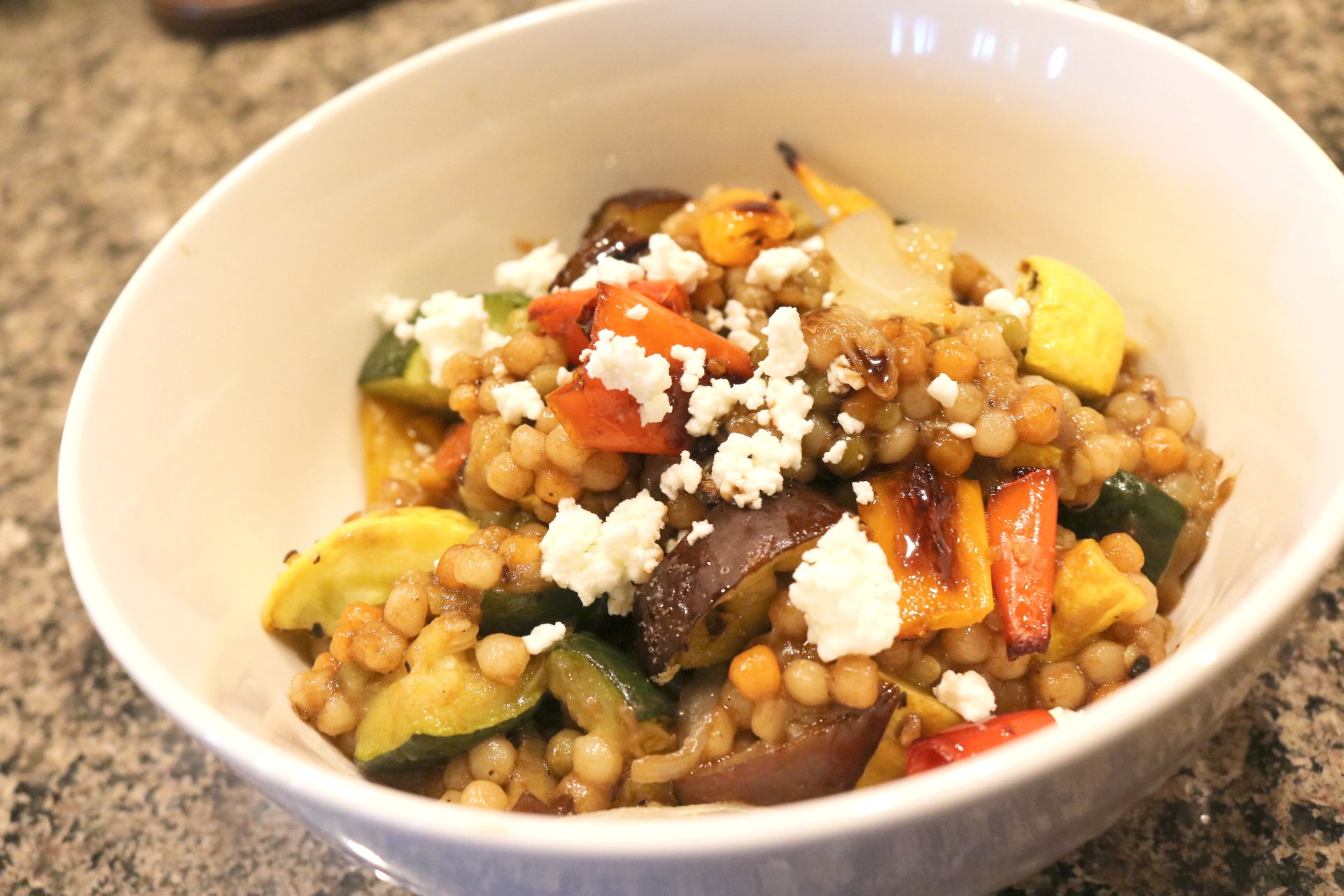 Welcome in Spring
Chelle Chelle
Roasted Veggie Couscous
A delicious light couscous salad that is loaded with tons of flavor, veggies and yummy goodness in each bite.
15 minPrep Time
30 minCook Time
45 minTotal Time
Ingredients
Veggies
1 medium zucchini, cut into 1" pieces
2 medium yellow squash, cut into 1" pieces
1 eggplant, cut into 1 1/2" - 2" pieces
1 yellow bell pepper, sliced into 1" strips, making sure to discard seeds
1 red bell pepper, sliced into 1" strips, making sure to discard seeds
1 orange bell pepper, sliced into 1" strips, making sure to discard seeds
1 onion (white, purple or yellow), cut into 1/2" pieces
2-3 tablespoons extra virgin olive oil
3 teaspoons all purpose seasoning
Couscous
3 cups chicken stock (or veggie stock or water)
2 cups Israeli Couscous
1 teaspoon salt
1 teaspoon extra virgin olive oil (or butter)
Balsamic Dressing
1 cup good quality Balsamic Vinegar
1/4 cup brown sugar
2 garlic cloves minced
1 teaspoon salt
1 teaspoon pepper
1 lemon, juiced
Toppings
Crumbled goat cheese
Chopped Parsley
Directions
Preheat oven to 425
Line a large rimmed baking sheet with parchment paper
Place all cut veggies onto parchment paper
Drizzle olive oil over veggies
Sprinkle all purpose seasoning over veggies, tossing to coat
Roast for 20-25 minutes, tossing once, or until veggies are tender and starting to char
While veggies are cooking, in medium saucepan bring water for couscous to a boil
Stir in couscous and salt into water
Cover and reduce heat to a medium, cooking for 15-20 minutes or until liquid is absorbed and couscous is tender
Once cooked, remove from heat and stir in olive oil
While couscous is cooking in a small saucepan combine balsamic vinegar, sugar, garlic, salt and pepper
Bring mixture to a boil and cook for 10 minutes or until sauce is reduced and thickened slightly
Once sauce coats back of a spoon remove from heat to let cool
Stir in lemon juice just before tossing with couscous
Once veggies are cooked toss into couscous
Drizzle 1/2 of the balsamic sauce over the couscous and toss to coat
Taste and adjust seasoning as needed
Put into serving bowl and drizzle with remaining balsamic sauce
Top with crumbled goat cheese and parsley (if using)
Serve warm or at room temperature, or cold if using for a picnic
ENJOY!
Notes
Use any combo of veggies you prefer
7.8.1.2
416
https://sparklesnsprouts.com/2018/04/05/roasted-veggie-couscous/
All images are the property of Sparkles n Sprouts, to use image please contact the webmaster at michelle@sparklesnsprouts.com
A side to remember
This side is something that people will ask you to make over and over. It is just one of those dishes that people love, even if they don't think they will. Trust me you need to make this.