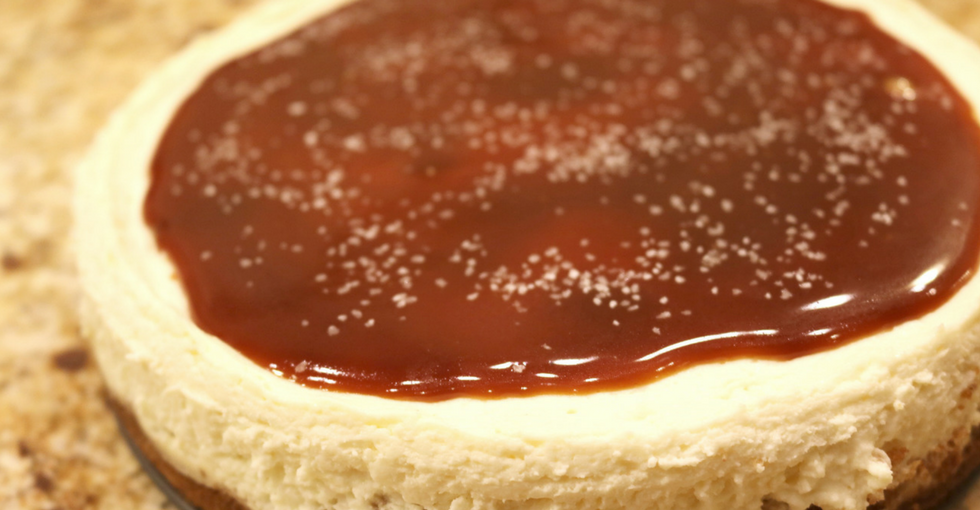 Instant Pot recipe ? Cheesecake? Yes, please. That is my answer always.
YES, please I will have cheesecake.
Will you make cheesecake? Ummmm do I have too?
Well not anymore…my new answer….YES, PLEASE!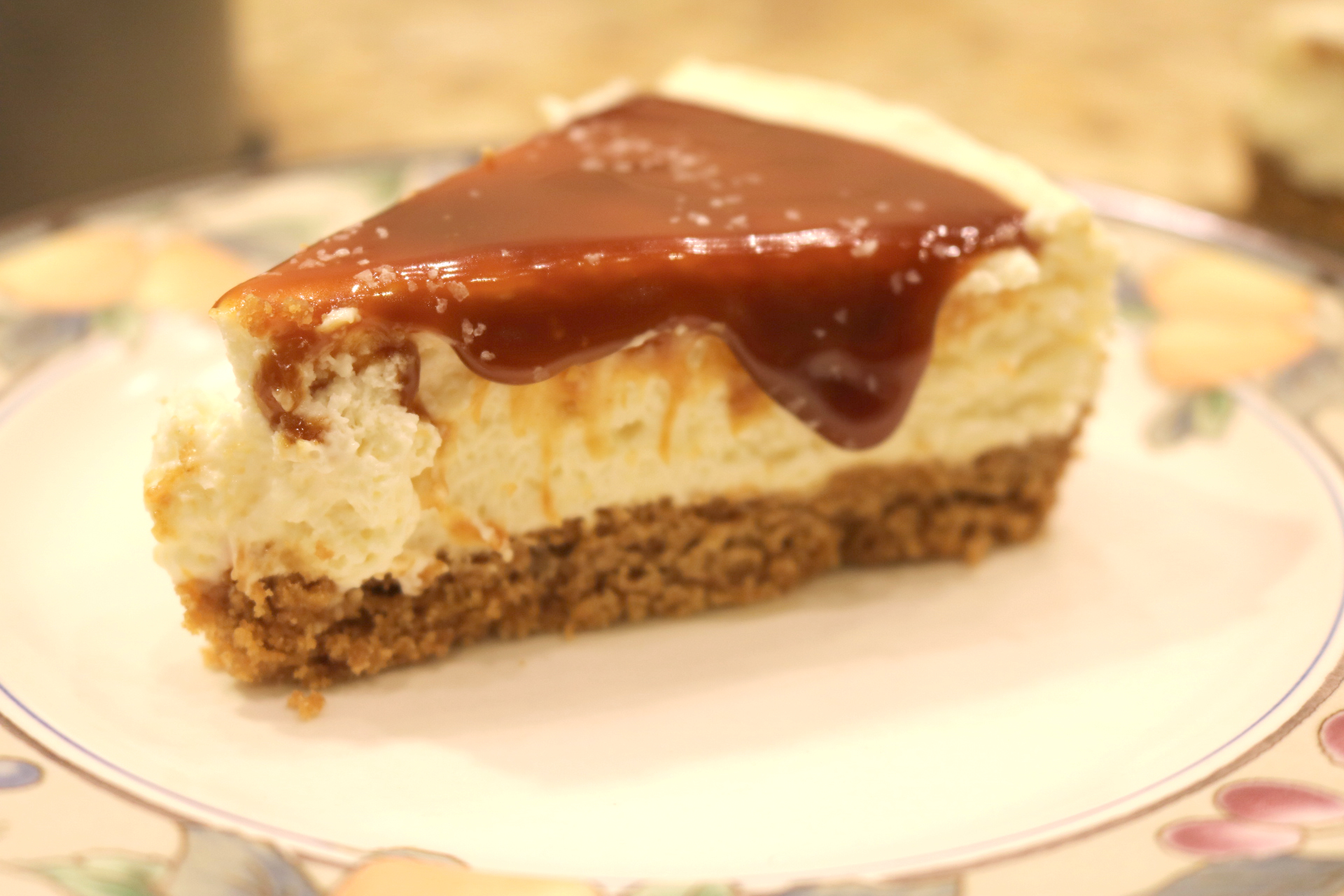 Instant Pot…Love (maybe obsessed)
Yes, I am obsessed with my new InstaPot. There are so many recipes I want to try but one of the first I wanted to tackle was the cheesecake. I have been hearing about how easy and delicious this cheesecake is but honestly I was a little skeptical.
Could it really be THAT good? Well, it is time to find out.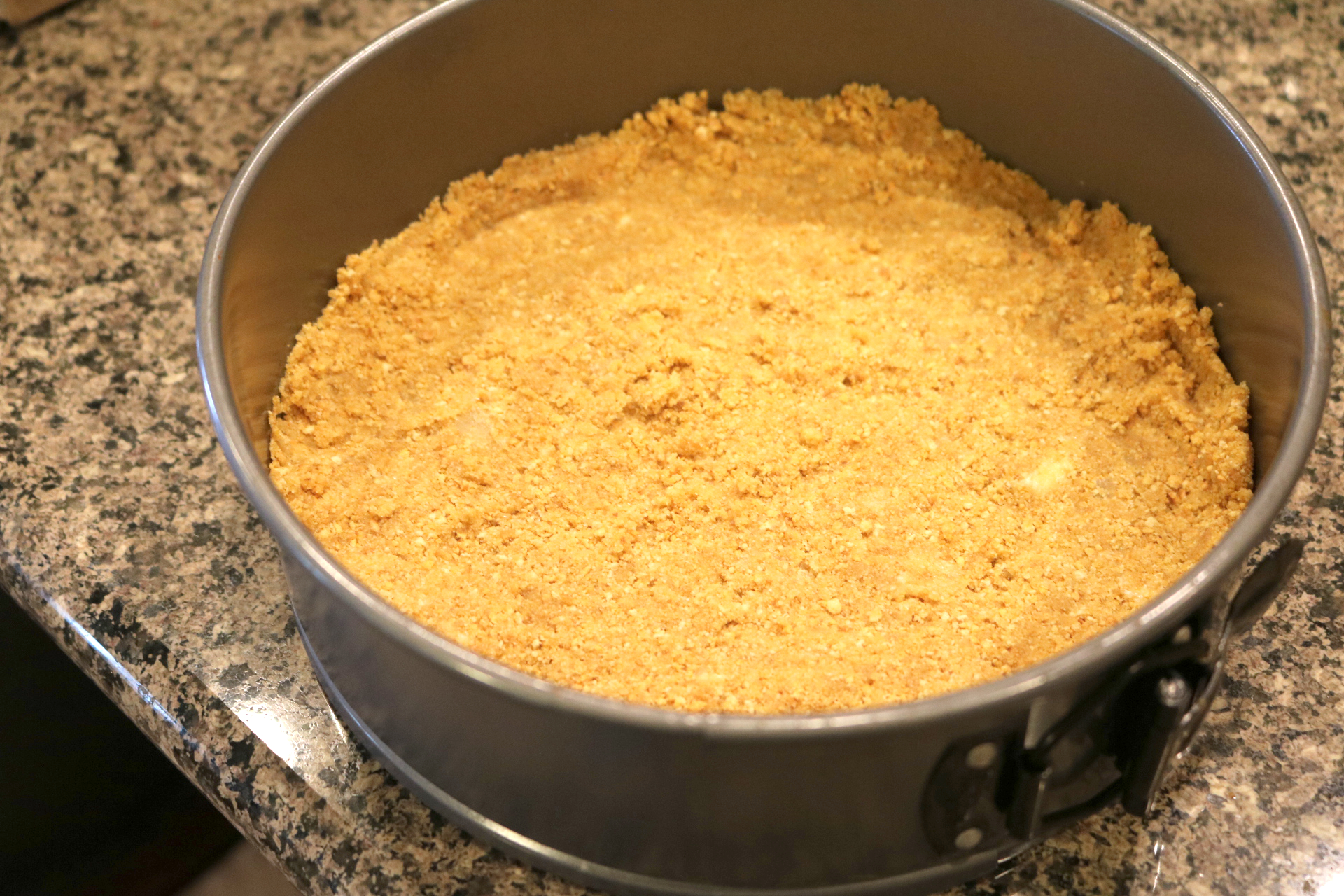 It starts with the Crust…
For me a good cheesecake ALWAYS starts with the crust. For me I like a crispy graham cracker crust that is not overly sweet and without cinnamon and nutmeg. I like a simple graham cracker butter crust with just a hint of salt to let the cheesecake really shine.
Several recipes online tell you to just freeze the crust and then bake with the cheesecake in the instant pot. For me though I decided to blind bake the crust. It is an extra step but one that I think makes this cheesecake extra special.
If you wanted to skip this step you could, just freeze it as you make the cheesecake batter. Also you could add in some cinnamon or nutmeg if you want, just not my preference.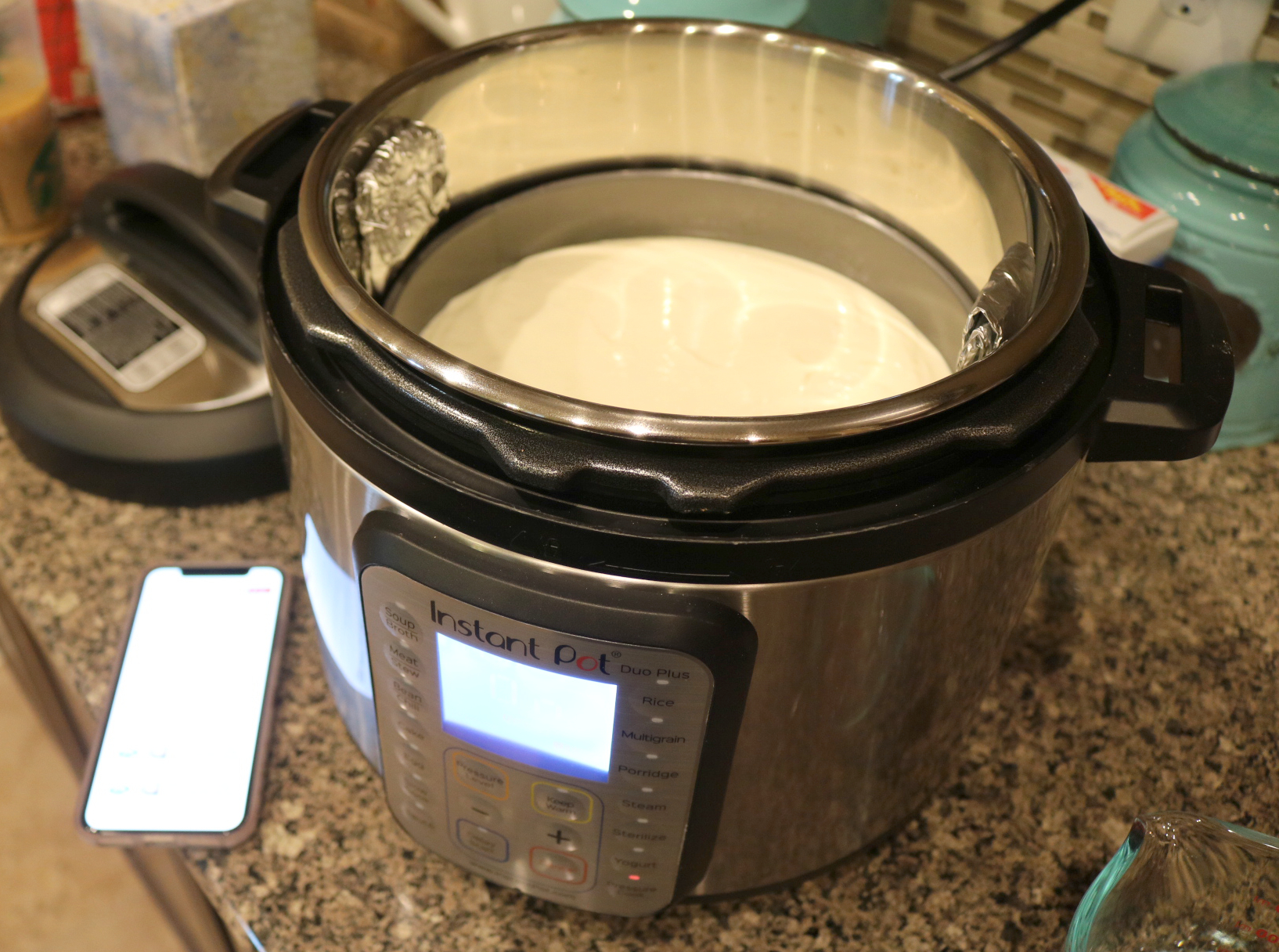 Yes it really cooks in there…
When I told my bestie that I was going to make a cheesecake in the Instant Pot she questioned me.
Can you really make a "good" cheesecake in an Instant Pot? Will it be creamy? Are you sure you want to do this?
To be honest I was asking myself the same questions, but decided we had to give it a try. I mean the internet if going crazy over it, could it really be bad? Right?
One quick tip…make sure to make the sling with aluminum foil. It is 100% necessary to get it out of the Instant Pot after it is done cooking.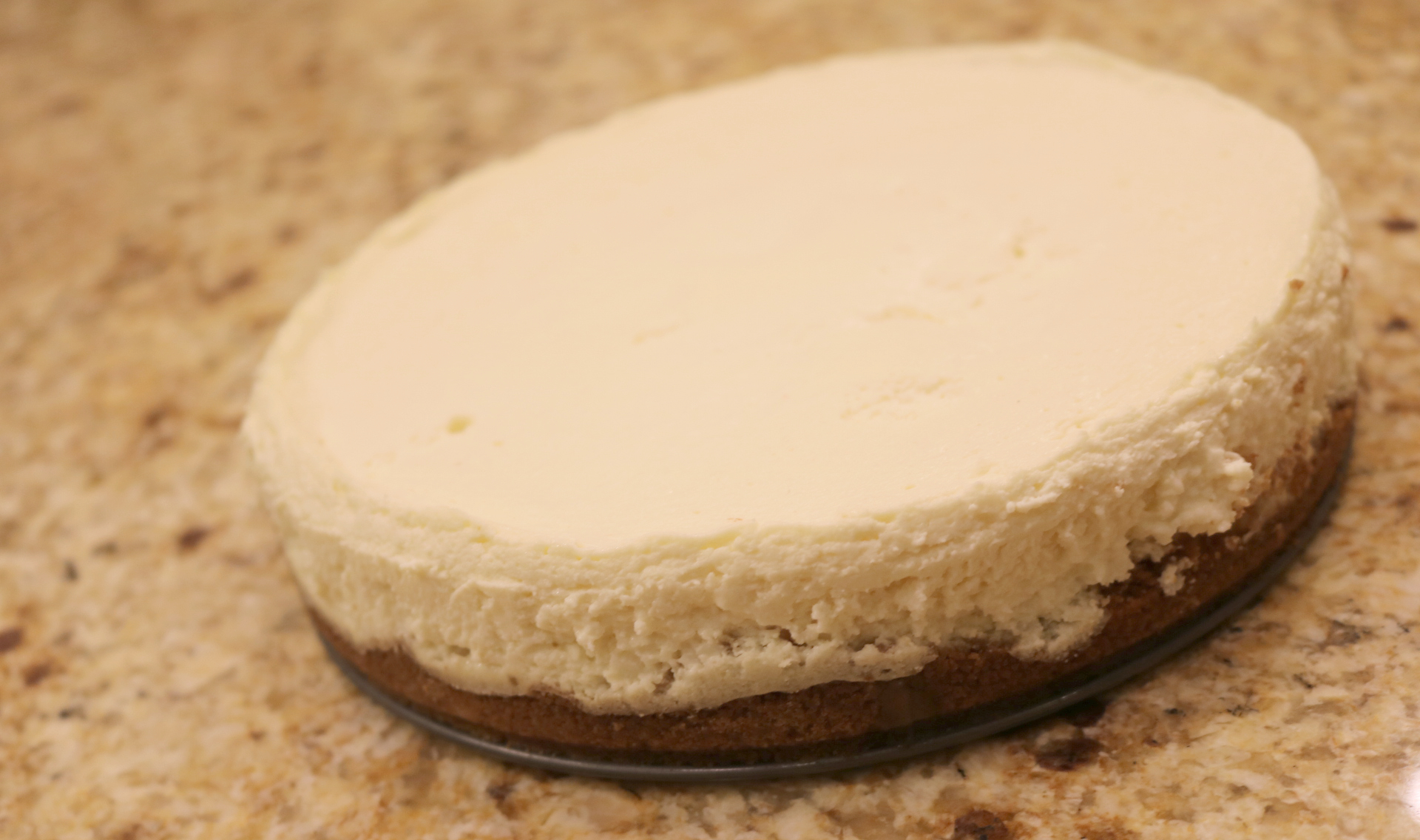 It's good on its own…but why?
This cheesecake is definately good on it's own but why leave it plain when there are so many options. For this cheesecake I topped it with salted caramel sauce with an extra sprinkle of sea salt. It would also be delicious with chocolate ganache, strawberries and whipped cream or berries with some lemon juice and zest.
Even better make a bar with all your favorites and let your family and friends top it with whatever they want. That way you can have a little bit of everything.
You know you want to make this ASAP…
Chelle Chelle
8 servings
Instant Pot Cheesecake
Rich and creamy cheesecake made in the instant pot in a fraction of the time a traditional cheesecake takes
20 minPrep Time
25 minCook Time
1 hr, 30 Total Time
Ingredients
Cheesecake
2 Blocks (16 oz) Cream Cheese, room temperature
2 Eggs, room temperature
1/2 cup Sour Cream
1/2 cup Sugar
2 teaspoons vanilla extract
18" inch piece of aluminum foil
1 cup water
Crust
2 cups Crushed Graham Crackers
1/2 cup Butter, melted
2 Tablespoons sugar
Pinch of Sea Salt
Toppings
Salted Caramel
Chocolate Ganache
Strawberries
Cherries
Berries
Directions
Place cream cheese and eggs on counter to come to room temperature
Preheat oven to 350
In a medium bowl mix together graham cracker, butter and salt until well combined
Press crust into springform pan, using the bottom of a glass to press into an even layer
Place into oven and bake for 10-12 minutes
Remove and let cool as you make cheesecake batter
In the bowl of a stand mixer mic cream cheese until smooth, make sure it is room temperature before you begin mixing
Add in one egg at a time, mixing until well combined after each egg scraping down the sides as needed
Add in sour cream, sugar and vanilla mixing until well combined and batter is smooth
Pour over crust
Pour 1 cup water into instant pot
Place trivet into pot with water
Take aluminum foil and fold lengthwise making a sling
Place under and around the pan and place into the instant pot, folding down the handles of the sling fit inside the instant pot
Close lid and turn onto manual pressure cooking high setting and cook for 22 minutes
Once compete quick release and then remove from pot using the sling
Let cool on counter for 15-20 minutes and then place into refrigerator until ready to serve
Top with any toppings you prefer
Serve and ENJOY!!
Notes
Add in lemon zest or extract for a delicious lemon scented cheesecake
7.8.1.2
400
https://sparklesnsprouts.com/2018/01/25/instant-pot-cheesecake/
All images are the property of Sparkles n Sprouts, to use image please contact the webmaster at michelle@sparklesnsprouts.com
Pin this now so you can find it ASAP!