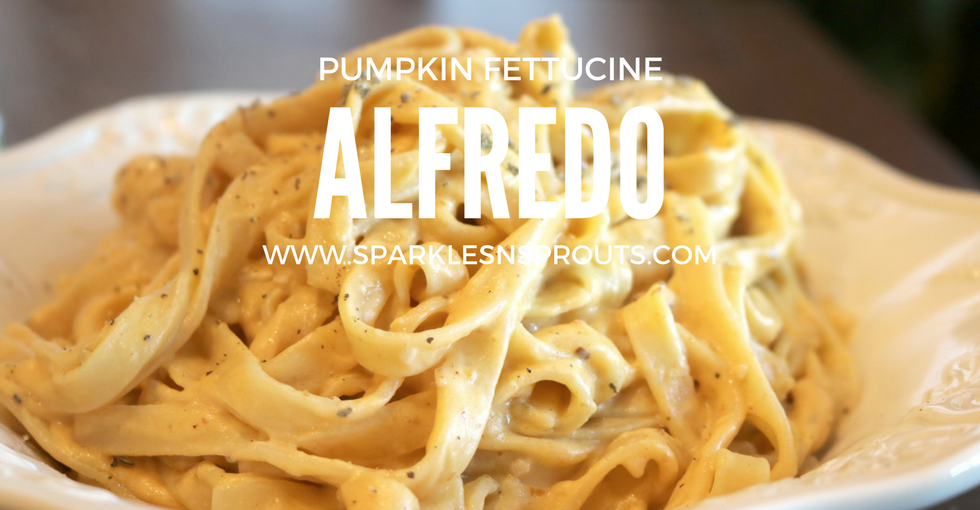 Pumpkin Pasta is a must for Fall
SO it is no secret that I love PUMPKIN everything. Literally I am the one who gets tears in her eyes when PSL makes it debut at starbucks each Fall. I am also that girl who goes to Trader Joes and buys EVERYTHING pumpkin they have (even the dog treats).
My last shopping trip…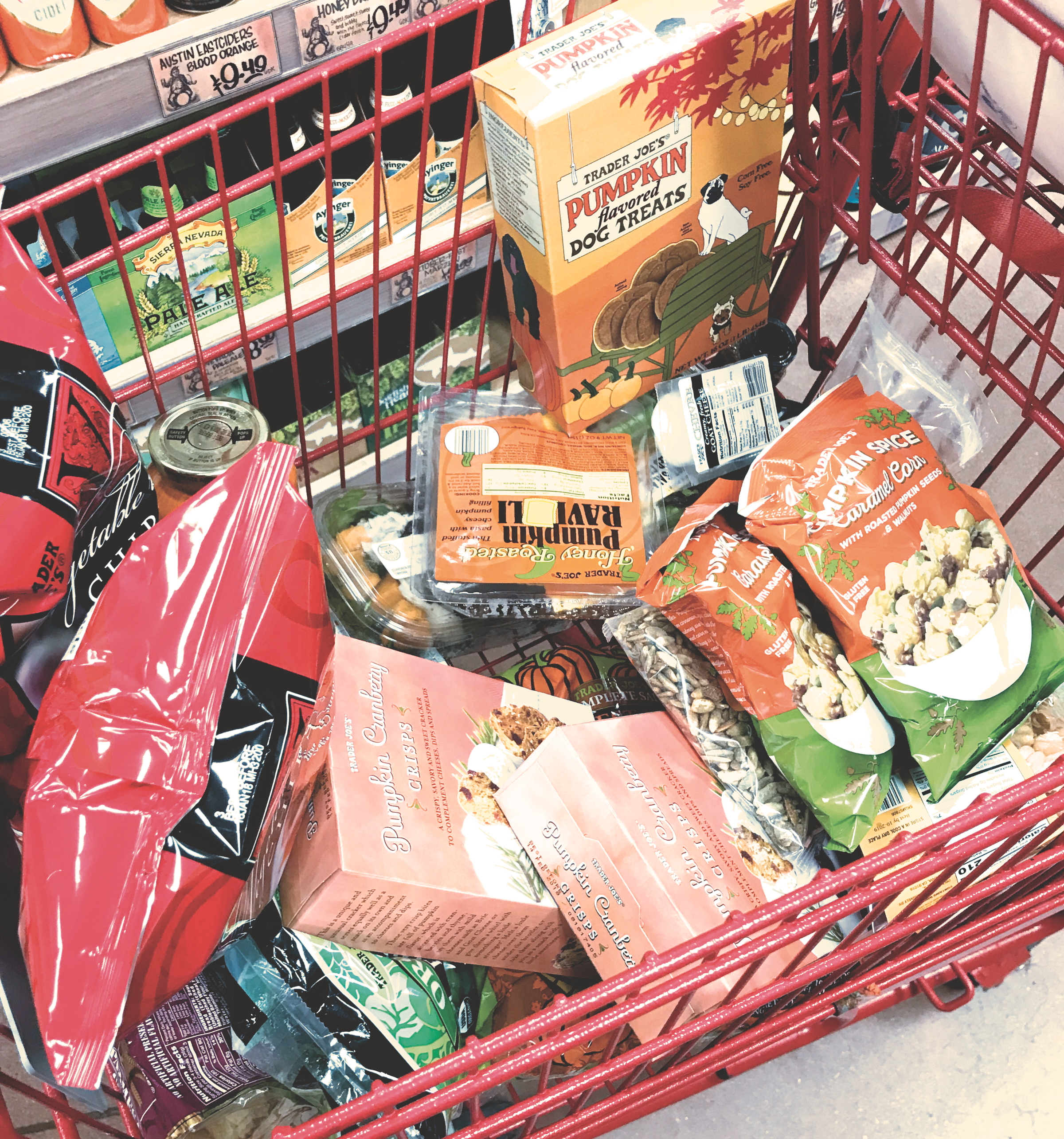 There was also a pumpkin kringle in there. I just CANNOT get enough pumpkin!!

Really in Pasta?
So I am a BIG, BIG pumpkin and pasta fan. My first experience with it was in a ravioli (similar to the ones I got from Trader Joe's) and then I had it with butternut squash in a lasagna which was so good. To change it up a bit I decided to try pumpkin in a family favorite…alfredo sauce.
Now my dad is a BIG, BIG alfredo fan. He likes my Mom's Alfredo Sauce the best which is a cream cheese based sauce, and for this sauce I was hoping the pumpkin would be that extra creamy piece of the sauce that would make my dad even like it. You have to understand when I told my dad we were having pumpkin alfredo he was not real excited, until he tried it…yes I won over the biggest pumpkin critic.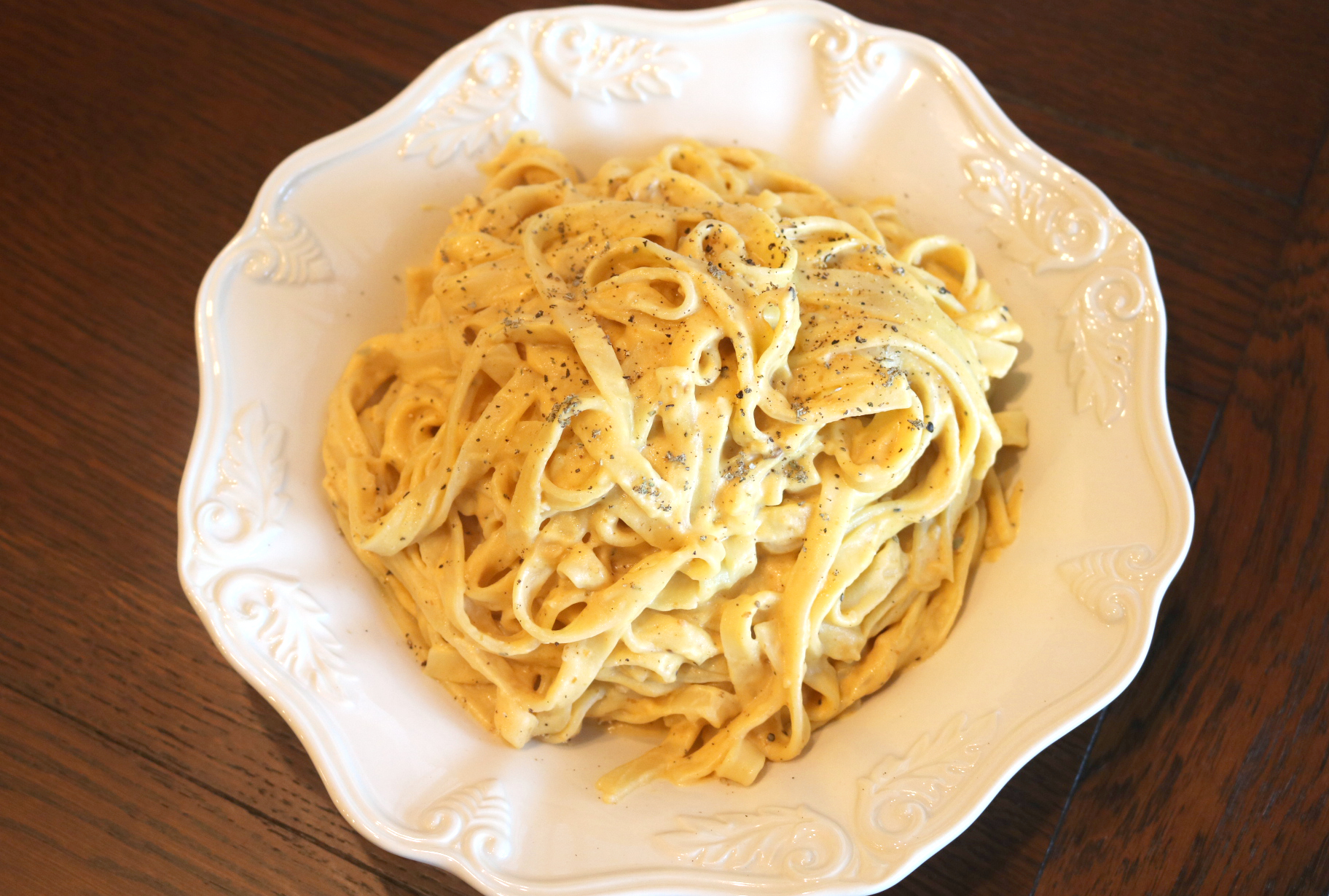 A little something extra
My favorite alfredo is my Goat Cheese One Pan Alfredo so I decided to marry my dad's favorite and mine.
I don't know about you but I have had my fair share of super heavy pasta dishes. You take 2 bites and your done because it is just too rich. Thankfully this pasta dish is creamy but not heavy…making it the perfect pasta for dinner tonight.
To add a little tang to the creamy pumpkin I added in a little goat cheese and a little cream cheese. If goat cheese is not your thing you can definately leave it out and only use cream cheese. Make sure and taste for seasoning as you might need a little extra salt at the end.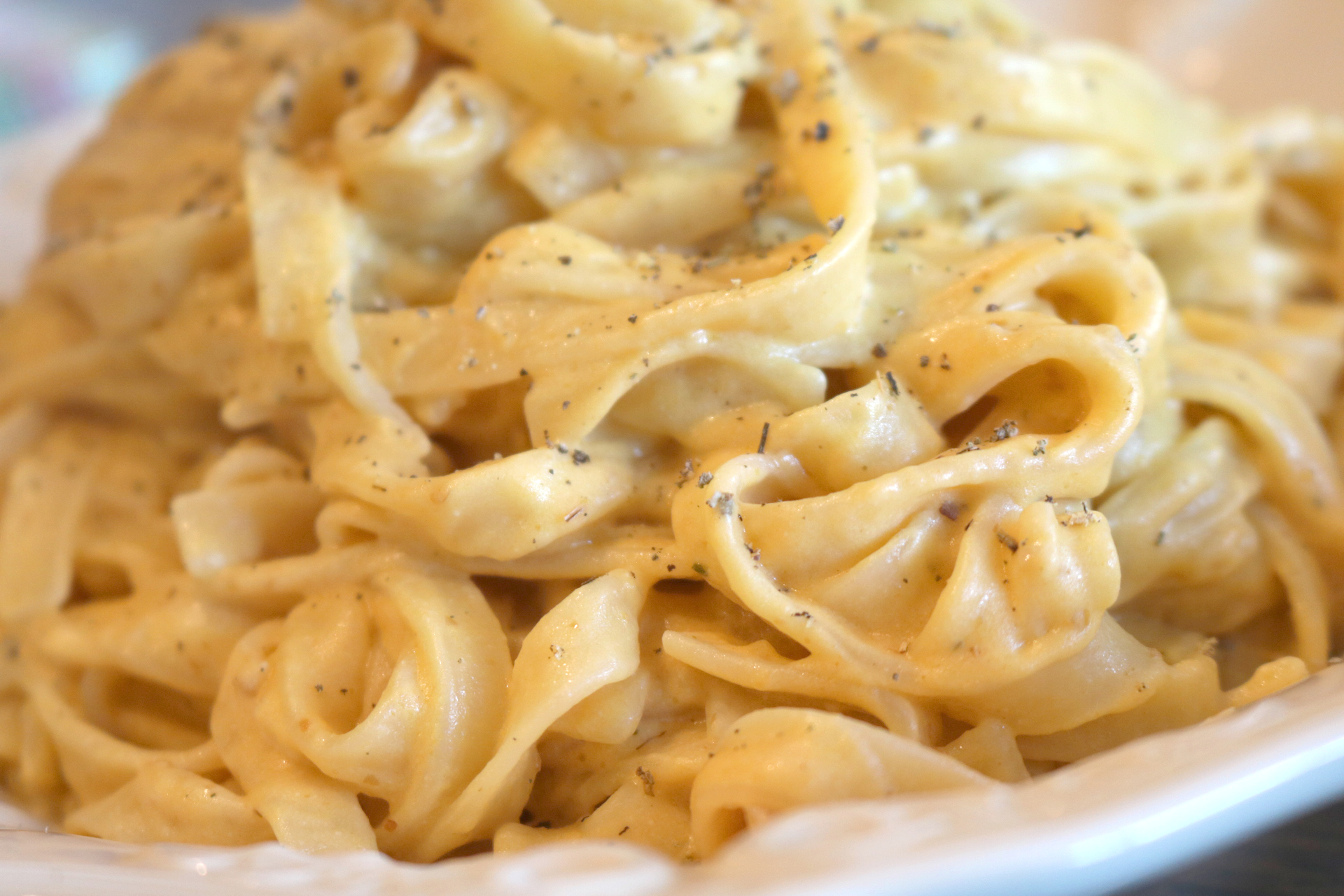 Just a hint…
To make this savory pumpkin pasta even better then it is already I added in just a bit of dried sage. I love sage and pumpkin together. The earthiness of the sage really helps to ground this dish. It will bring you back to all those beautiful fall memories you have of sitting around the table enjoying a dinner with family and friends.
Don't worry there is not a ton of sage. It will not over power the dish at all, it is just a hint in the background making it the perfect dish for fall.
Bring Fall to the Table
Chelle Chelle
6 servings
Pumpkin Alfredo Pasta
A quick, rich and creamy fettuccine that is a perfect fall dinner every
5 minPrep Time
20 minCook Time
30 minTotal Time
Ingredients
1 pound fettuccine (or your favorite pasta)
3 tablespoons butter
3 garlic cloves, minced
1 cup pumpkin puree (not pie filling)
4 ounces cream cheese
4 ounces goat cheese
2/3 - 1 cup half & half
2-3 teaspoons salt
2-3 teaspoons pepper
1/2 teaspoon dried sage
Directions
Cook pasta in large pot according to package instructions to desired doneness
In a medium pot heat olive oil over medium heat
Add in garlic and cook for an additional 1-2 minutes
Stir in pumpkin, cream cheese, goat cheese and 1/2 cup half & half until smooth
Add in salt, pepper and sage and another 1/4 cup half & half
Cook for 4-5 minutes, stirring often
Taste and adjust seasoning or add in additional half & half as needed to reached desired thickness
Drain pasta and return to pot
Pour sauce over pasta and toss to coat
Serve immediately
ENJOY!
Notes
You can use parmesan cheese instead of goat cheese if so desired, replace goat cheese with additional cream cheese
7.8.1.2
383
https://sparklesnsprouts.com/2017/09/29/pumpkin-pasta-is-a-must-for-fall/
All images are the property of Sparkles n Sprouts, to use image please contact the webmaster at michelle@sparklesnsprouts.com

Pumpkin Please
Whether you are a huge pumpkin fan or not, this pasta dish is a perfect option for dinner this fall. It is rich and creamy but still light with the perfect hint of fall in each bite making it warming on the coolest of nights.
It is great with roasted chicken and a salad or your favorite roasted veggies.
I also will promise that 90% of the people who taste it would never know there is pumpkin in it of you don't tell them. Give it a shot and see what you think. Make sure to let me know!!