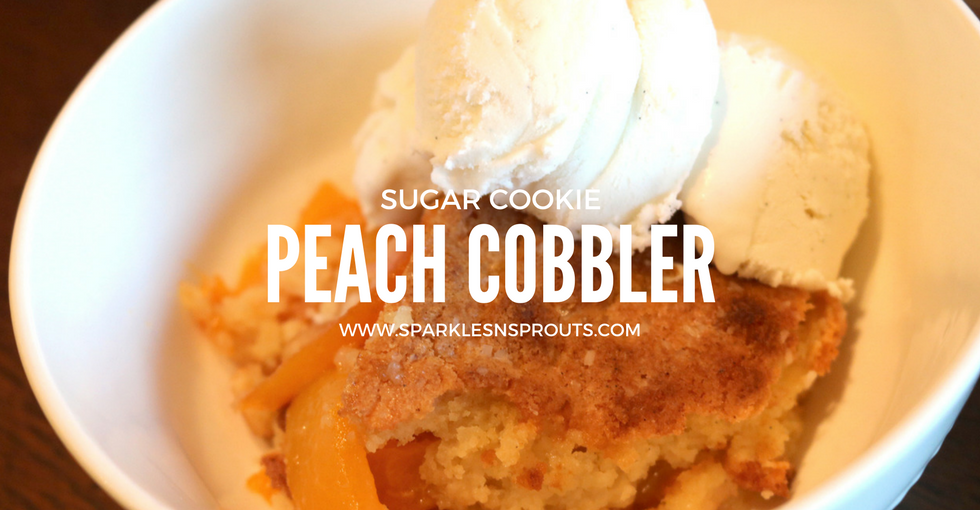 I started writing this post over a week ago. That is before Hurricane Harvey crashed into Texas and changed everything in our world. Thankfully my family is safe and dry but so many others around us are not. If you want to help support to disaster relief you can donate here or to the American Red Cross. Anything you can give will be used to help restore a family!!
Not too long ago I was asked what my favorite dessert was and I really had to think about it. You see there is not just one that stands out above everything else, but there are a few that I crave. First up is my caramel brownies, next would be lemon bars and third would be cobbler.
Now I am not super picky when it comes to the fruit in my cobbler, but peaches are definately a favorite.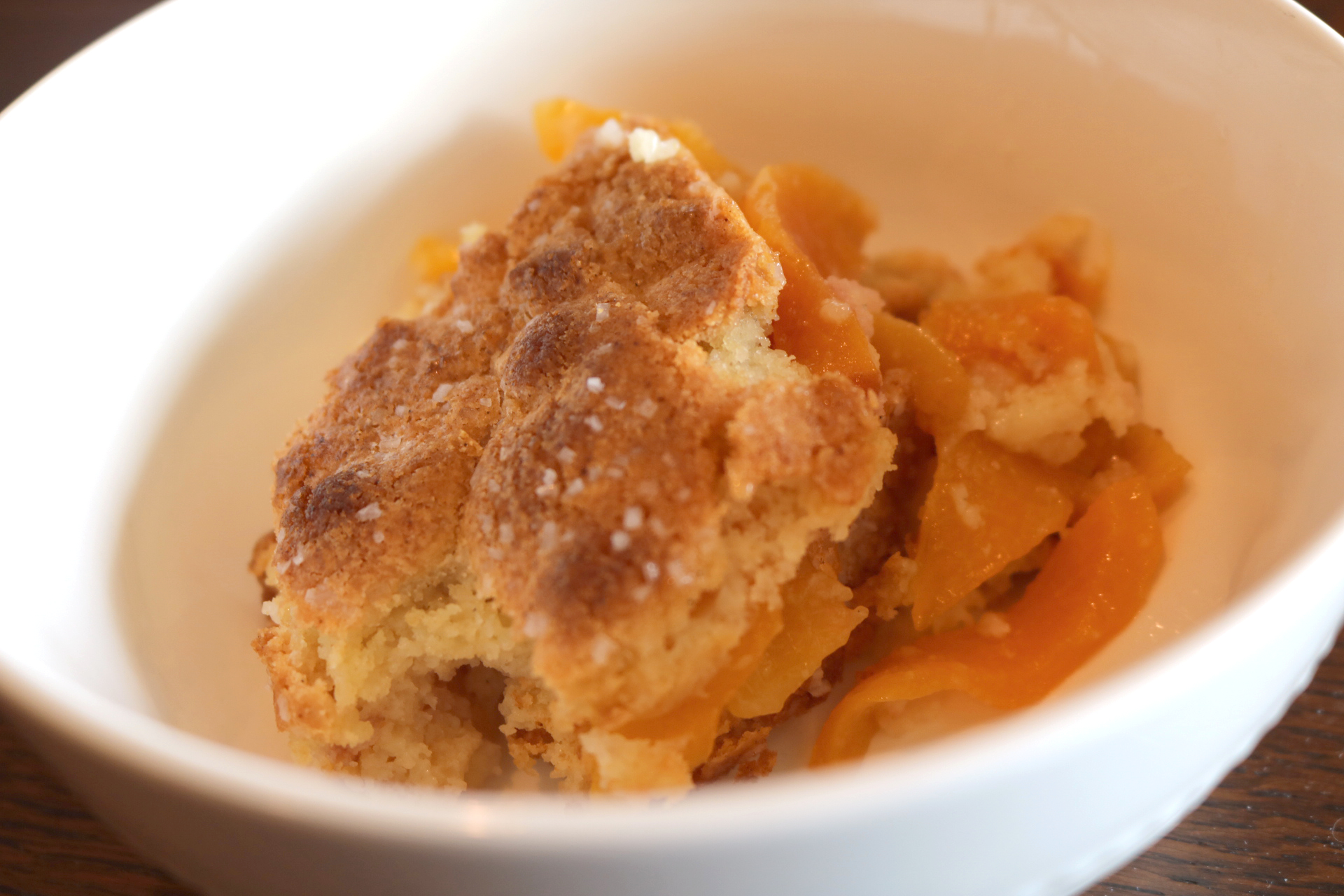 It's all about the crust
No kidding my most favorite part of cobbler is the crust. Honestly I am a big fan of crust…period, but especially in cobbler. Now traditional cobblers have more of a traditional pie crust, but this cobbler….well this one is special. This crust is more like a sugar cookie.
Yes you read that right. This cobblers crust is like a sugar cookie…and I LOVE IT!

It is so easy
Even better than the crust is how easy it is to make. With traditional cobblers you have to roll the crust out, but with this one you do not, making it so easy. Literally you spread the peaches out (I used fresh but canned work, just drain all the liquid) and then you spread the cookie batter over the top. Really it is that easy.
It can be ready to go in less than a hour making this a perfect last minute Labor Day treat.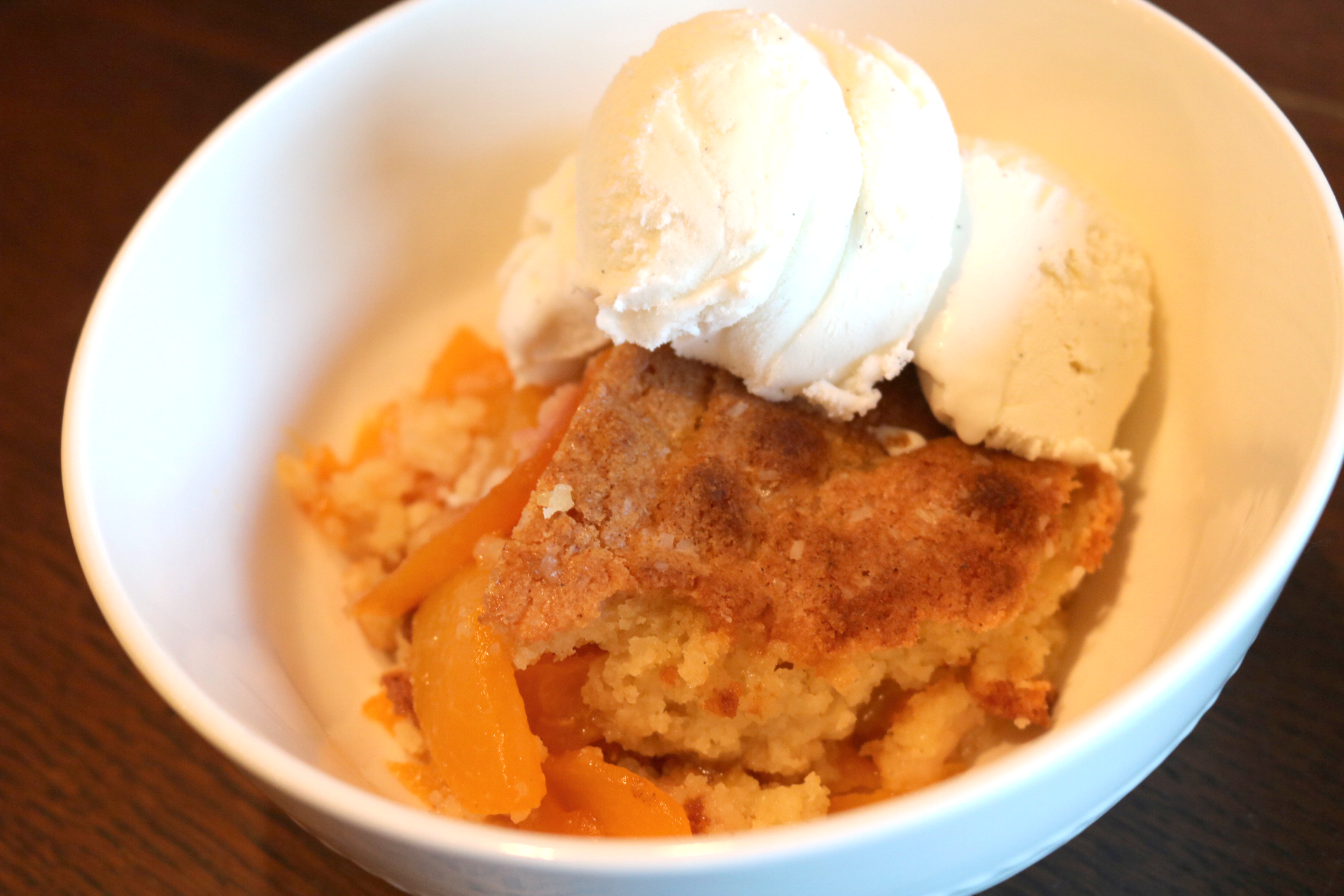 Chelle Chelle
12 servings
Sugar Cookie Peach Cobbler
A delicious fresh peach cobbler with a delicious sugar cookie crust and tons of peaches in bite making this the best peach cobbler ... EVER
20 minPrep Time
40 minCook Time
1 hr, 20 Total Time
Ingredients
3 cups peeled & sliced peaches
1 1/4 cup sugar, divided
1/2 cup butter, room temperature
1 egg
2 teaspoons vanilla bean paste, or vanilla extract
1 cup flour
1 teaspoon baking powder
1/2 teaspoon salt
2-3 tablespoons course sugar, optional
Directions
Preheat oven to 350
Spray a 2 quart baking dish with nonstick spray
Spread sliced peached over bottom of prepared pan in a single layer
Sprinkle with 1/4 cup of sugar over peaches
In the bowl of stand mixer cream together remaining 1 cup sugar and butter until light and creamy
Add in egg and vanilla, mixing until just combined, scraping down the sides as needed
Add in flour, baking powder & salt, mixing until just combined
Using your hands and a spatula spread batter over the peaches, spreading it out as evenly as possible
Sprinkle course sugar over top, as evenly as possible
Bake for 35-40 minutes, or until top is golden brown and set
Remove and let sit for at least 10 minutes before serving
ENJOY!
Notes
You can used canned peaches, but drain them before placing into baking dish
7.8.1.2
377
https://sparklesnsprouts.com/2017/09/03/summer-party/
All images are the property of Sparkles n Sprouts, to use image please contact the webmaster at michelle@sparklesnsprouts.com
Summer is not over…Yet
This is the last official weekend of summer, so lets take it out with a bang. Celebrate family, friends, freedom and all the blessings you have. This last week has changed everything in our community, our city and our state. We are humbled by the love and support we have seen from all around the country, so if you can celebrate this weekend with those you love…do. Spend as much time with those close to you as you can.
Pin this NOW so you never lose it!