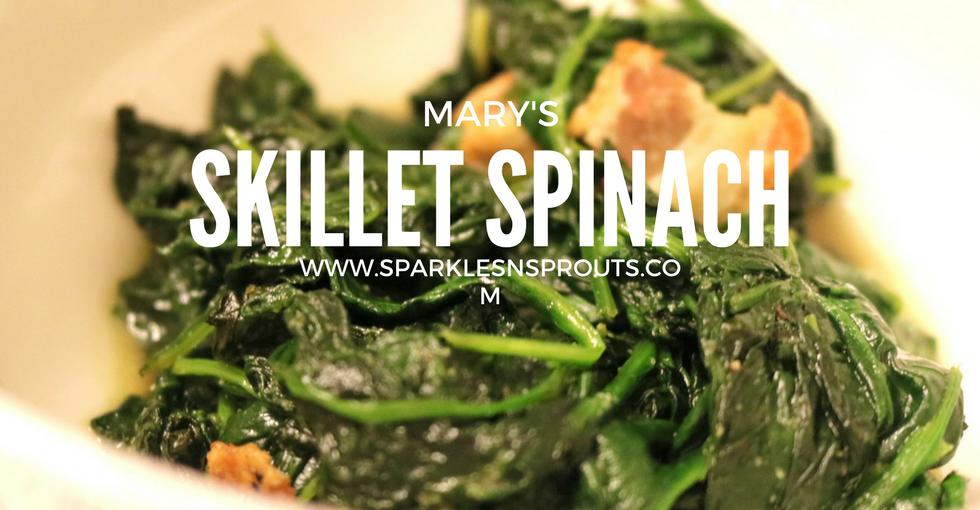 what happens when a skillet and spinach meet…
The Sis-in-Law is queen of good and easy sides and she did not disappoint with her latest creation. They came over not too long ago for dinner and she offered to make the side. I was thrilled as I was busy with the rib roast and twice baked potatoes, and I knew it would be super yummy and I was right.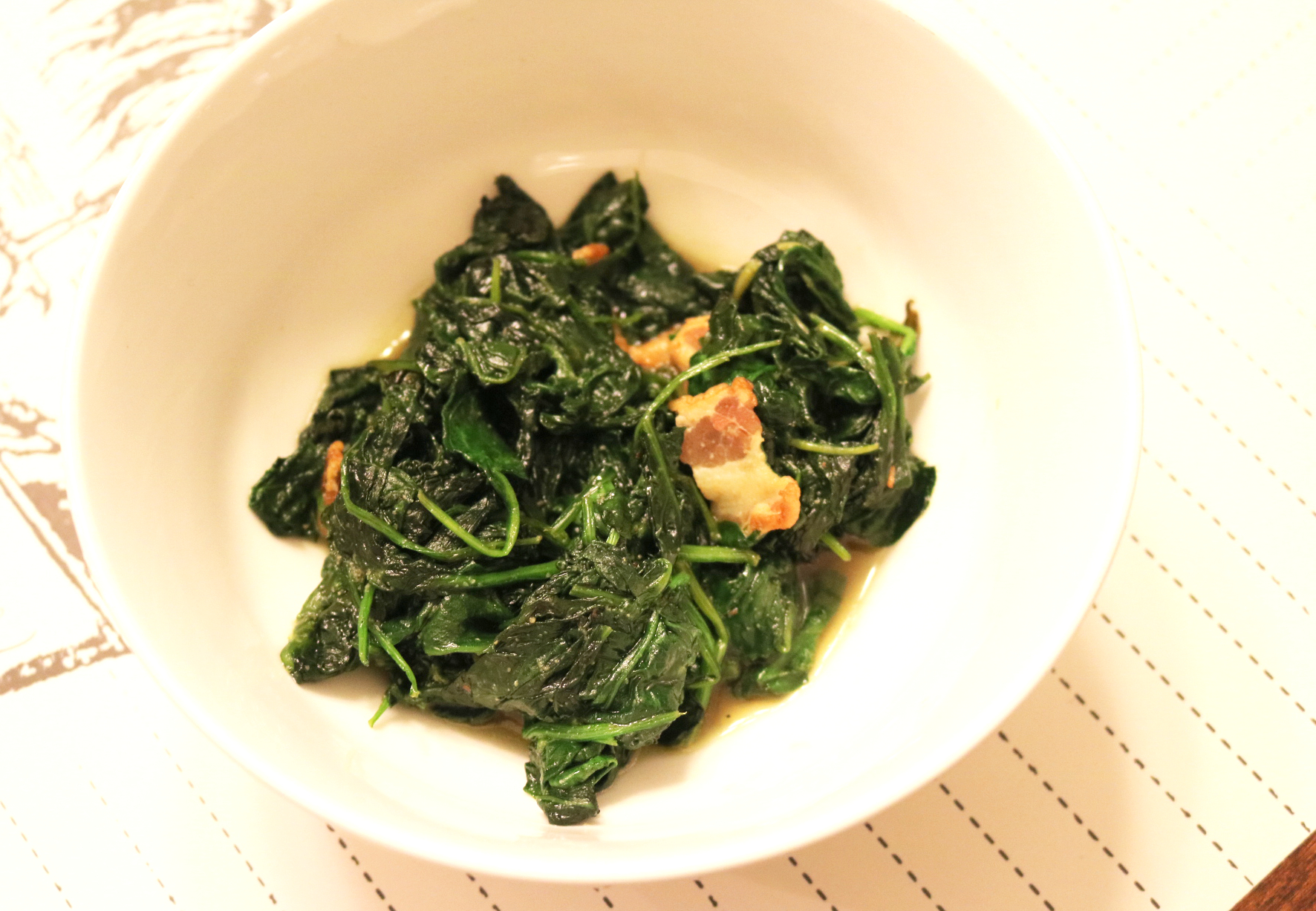 Super simple but so good
When she came walking in she had a bag of spinach and that was it. All sorts of options ran though my head. We were going to steam it, microwave eat, eat it raw, but never did I think about a quick sauté. Good thing she did.
All she needed was a skillet, some olive oil, spinach and some spices and then of course bacon. That's all and SOOO Good.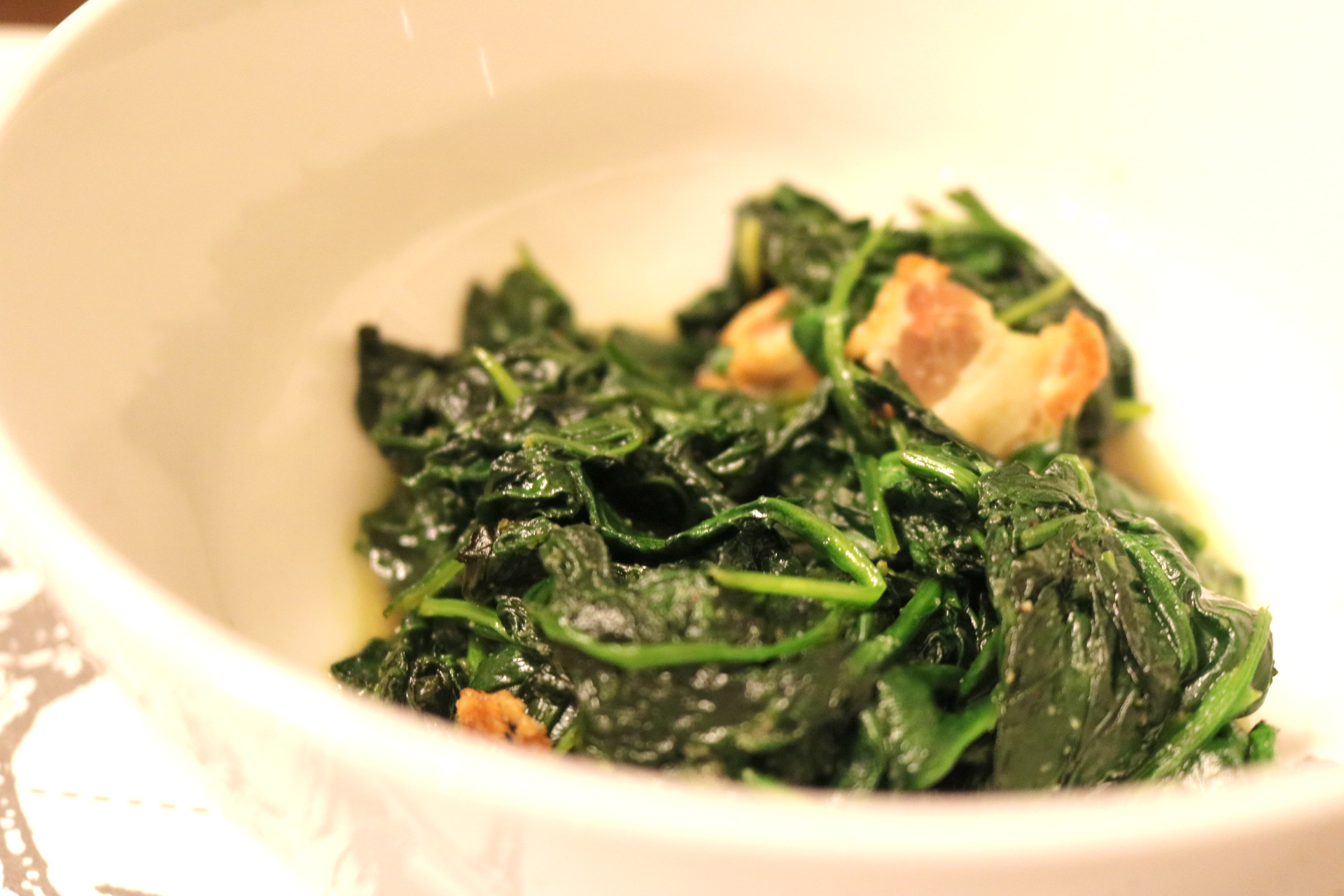 Amazing Color
The beauty of this quick sauté is the color. It keeps the spinach bright green making this a side dish that is not only delicious but also so pretty. I don't know about you but I think a dish tastes better if it is pretty and this is definately pretty.
By cooking it in the skillet the color stays nice and bright…making this a side dish I can get behind anytime.
Spinach Time….
Mary
6-8 servings
Mary's Skillet Spinach
A super quick and easy sautéed spinach that is a perfect side for dinner tonight....plus it has a little bacon in it making it a side everyone is sure to love (even the non-spinach peeps)
5 minPrep Time
10 minCook Time
15 minTotal Time
Ingredients
16 oz spinach (I used the organic boxed spinach)
3-4 slices cooked bacon, crumbled
2 teaspoons extra virgin olive oil
2-3 teaspoons salt
2-3 teaspoons garlic powder
1 teaspoon pepper
Directions
Chop spinach if not chopped already & wash if needed
In a large skillet heat bacon over medium heat just until it starts to sizzle a little
Add in olive oil and stir
Add in 1/3 of the spinach and let cook, stirring as it cooks down, until there is room to add more
Keep adding spinach until all is cooked down
Add in salt, garlic powder and pepper to taste
Serve immediately
ENJOY
Notes
If you do not want to use bacon you can add in more olive oil or a bit of butter
7.8.1.2
374
https://sparklesnsprouts.com/2017/08/22/what-happens-when-a-skillet-and-spinach-meet/
All images are the property of Sparkles n Sprouts, to use image please contact the webmaster at michelle@sparklesnsprouts.com
Even the kids like it
In my opinion because the color stays so bright it the kids are more drawn to it. And lets be real, when you add in bacon kids of all ages (even the biggest ones) will love this side.
Just give it is shot…trust me.