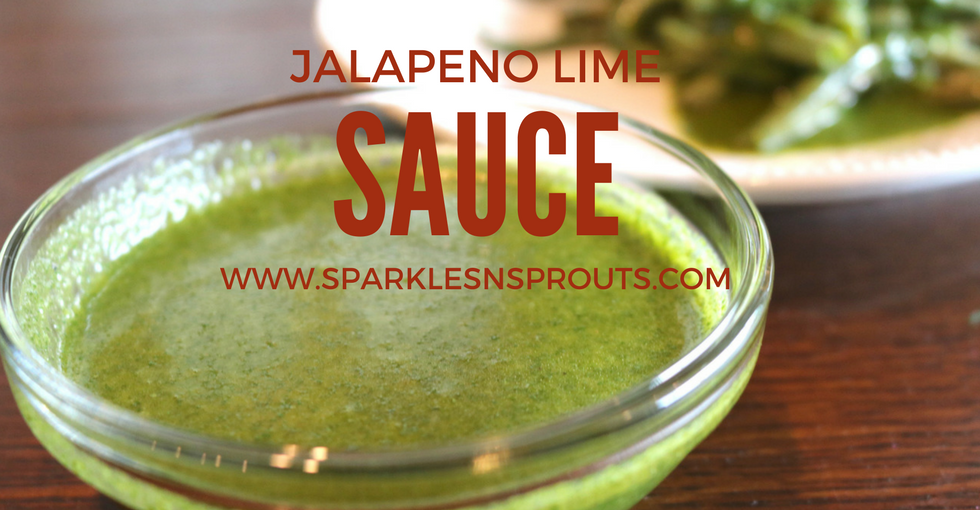 I know, I know summer is coming to an end. If you go to any store you are already seeing fall and pumpkins starting to invade all the aisles. (Although I kinda love everything pumpkin so I am ok with that part). But in my part of the world it is still in the 90's, feeling like to 100's, and I am still craving light but super flavorful dishes. This Jalapeño Lime Sauce is all that and SO MUCH MORE!

Just a little heat (unless you want more)
I know Jalapeño is in the name, but don't worry it is not super spicy. The trick to this sauce is that you roast the jalapeños. Not only does this add a ton of flavor, but is also mellows out the spiciness of the pepper.
It also helps because I removed the seeds, but if you want more heat, leave the seeds in.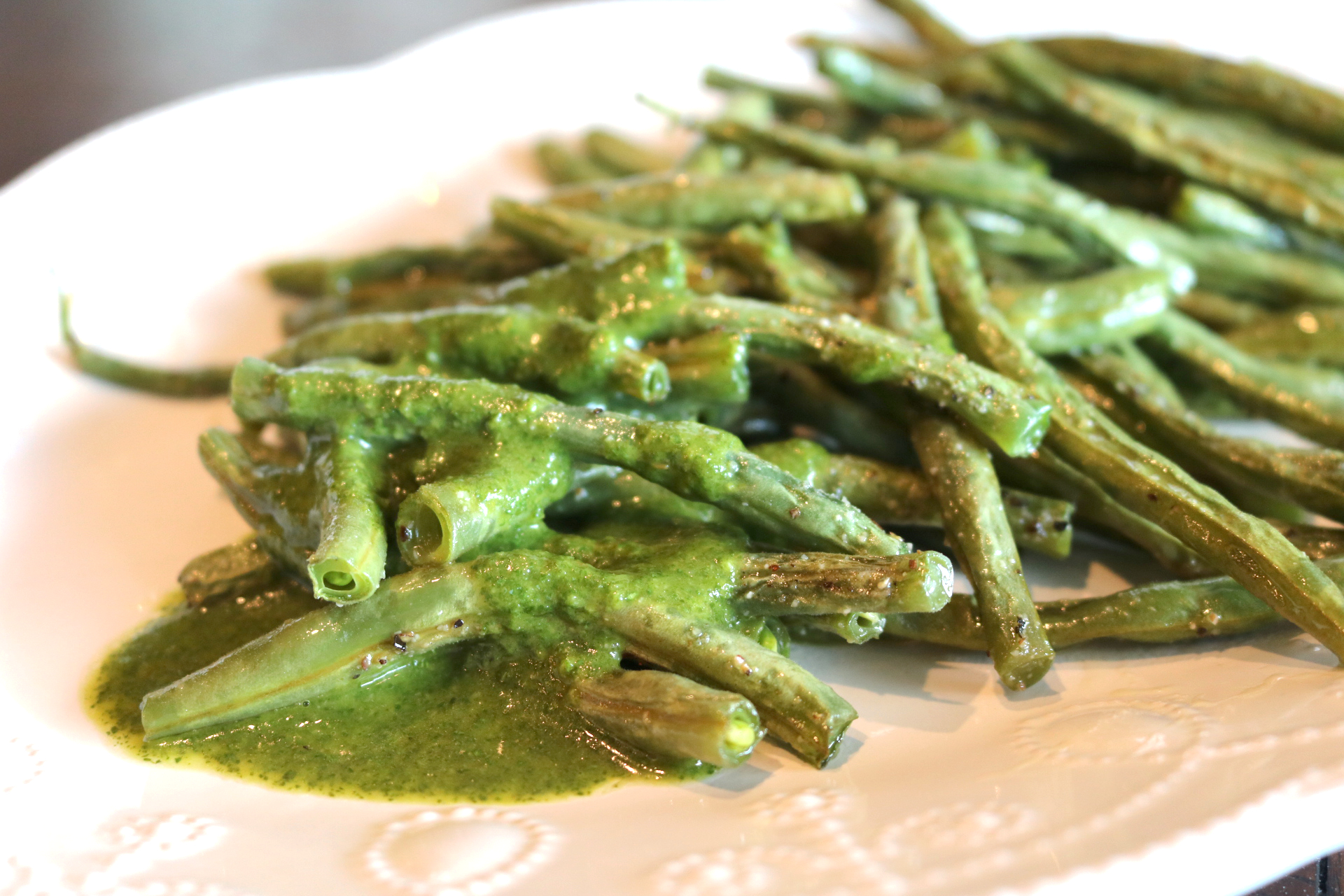 Bring on the Veggies
This sauce is amazing with chips but I really, really love it on roasted veggies. My niece and nephew love roasted veggies, but especially roasted green beans. When they were over for dinner a few weeks ago I roasted green beans for them and then for fun I drizzled this sauce over some for the adults and it was AMAZING!!!
When I say amazing … I mean really AMAZING. It adds just that perfect little extra something to take veggies to the next level.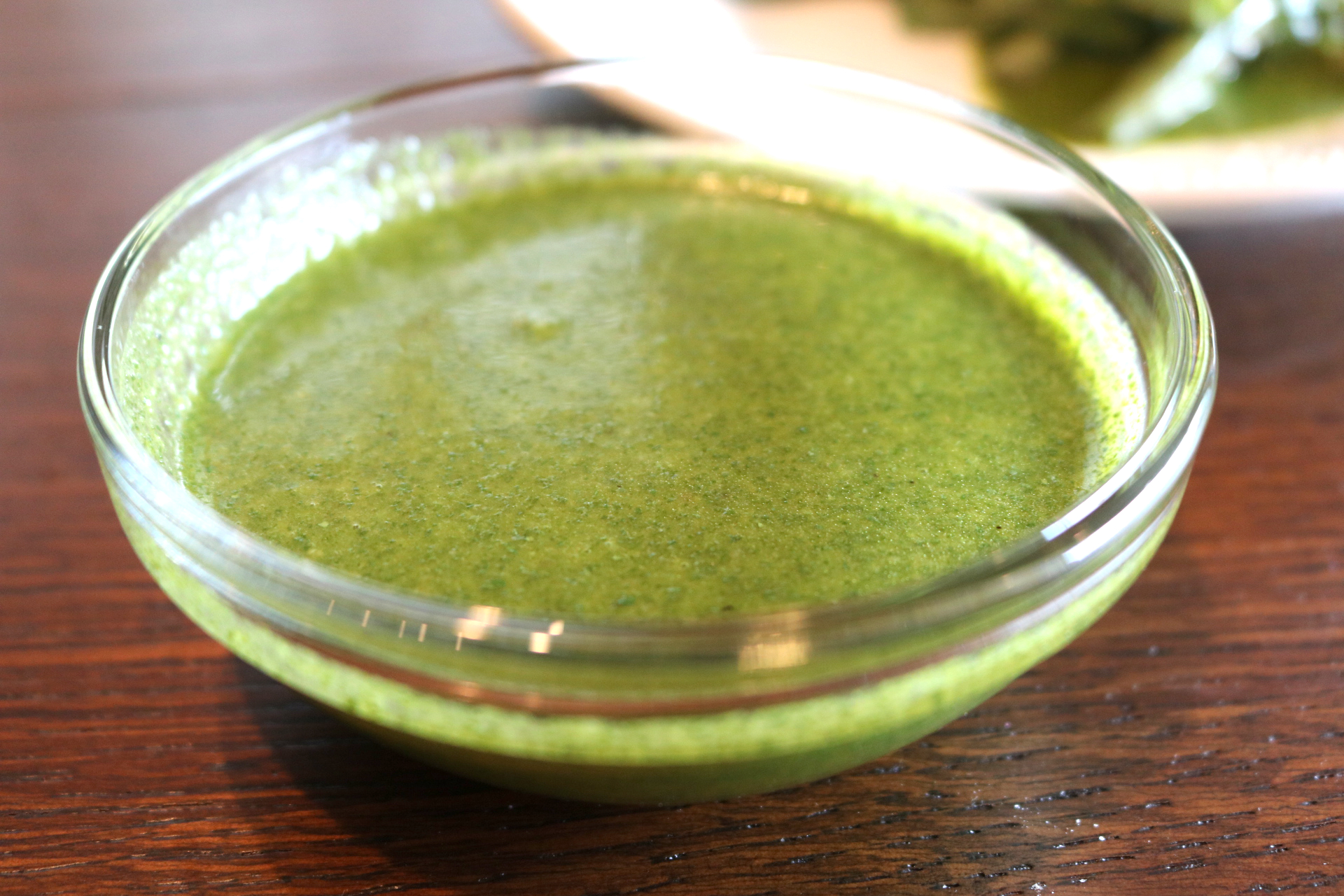 You need to make this ASAP
Chelle Chelle
12 servings
Jalapeno Lime Sauce
A light and fresh sauce that is perfect over roasted veggies, as a dip, in pasta...IN EVERYTHING!! It is so, so good!
5 minPrep Time
20 minCook Time
25 minTotal Time
Ingredients
1-2 Jalapeños
1 teaspoon extra virgin olive oil
1 bunch cilantro
3 garlic cloves, minced
2 teaspoons salt
1 teaspoon pepper
1 teaspoon chili powder
3 limes, juiced & zested
1/4-1/2 cup extra virgin olive oil
Directions
Preheat oven to 425
Line a small rimmed baking sheet with foil
Drizzle oil over jalapeños, tossing to coat
Roast until outside is shared, 8-10 minutes
Remove and let cool for about 5 minutes, or until you can handle it
Cut stem off and remove seeds from the inside
Place roasted jalapeno pepper, cilantro, garlic, salt, pepper, chili powder, lime juice & zest into a blender
Combine until cilantro is broken up
Add in olive oil, starting with 1/4 cup, and mix until sauce reaches desired consistency
Taste and adjust seasoning as needed
Serve with roasted veggies, with fresh veggies, in pasta with chips or eat it with a spoon (yep, it is THAT good)
ENJOY!!
Notes
Use only 1 jalapeño for a less spicy sauce, and 2 for more intense spice.
7.8.1.2
370
https://sparklesnsprouts.com/2017/08/15/summer-is-not-over-yet/
All images are the property of Sparkles n Sprouts, to use image please contact the webmaster at michelle@sparklesnsprouts.com

And it is pretty too
The sauce is not only so, so good but it is pretty too. The color is AMAZING. I used it on green beans (you know for the kids) but I also have used it on these Quick Marinated Grilled Veggies and it was even better.
Make sure to take pics and share them with me on Instagram and Twitter and tag me @sparklesnsprouts so we can all see your creations.