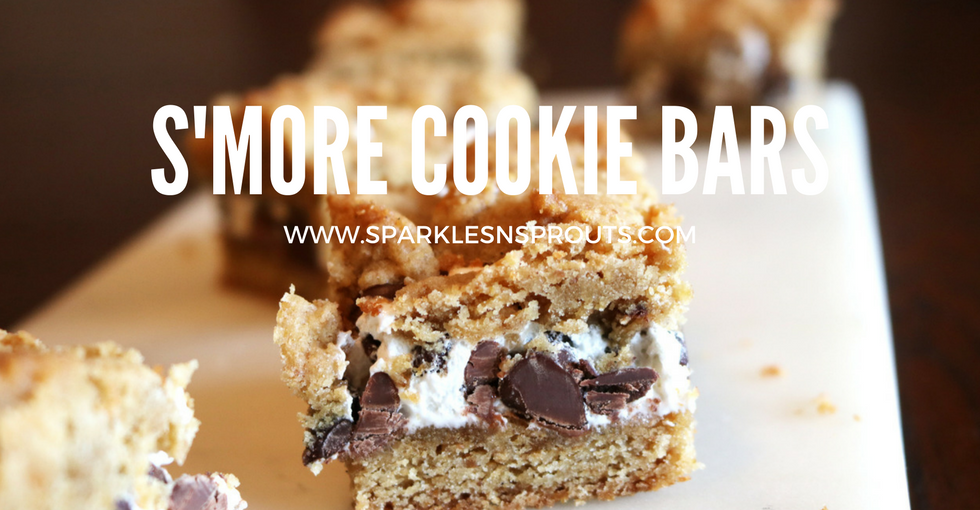 S'more's for EVERYONE…don't worry no fire needed
Summer may be coming to an end but there is still time for a fun summer treat…S'mores!!! Don't worry…no campfire needed but you still get all the super yummy goodness of a traditional s'more.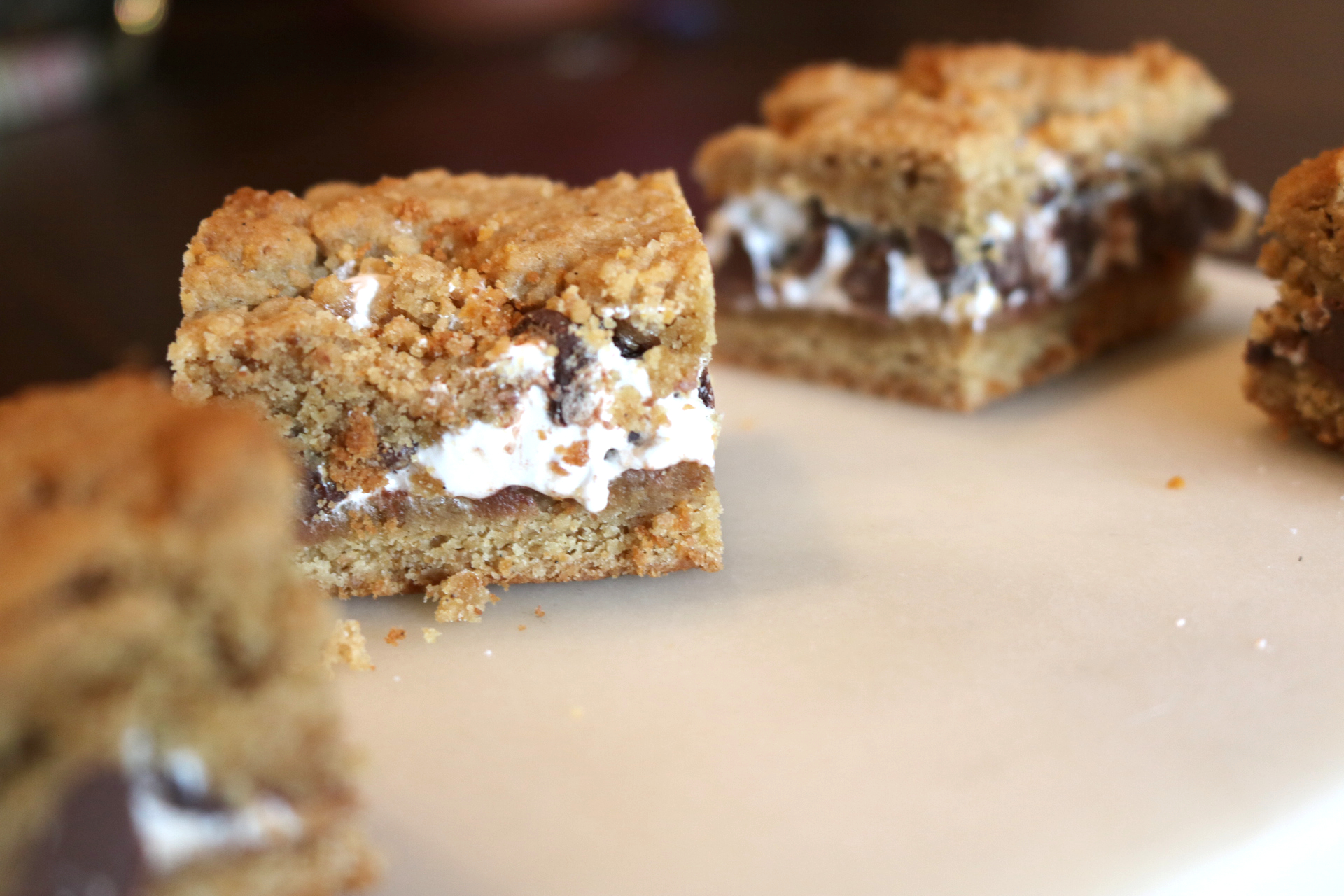 S'more fun for all
I am a big fan of a s'more. I grew up eating them all summer long at my grandparents anytime we would have a bonfire on their farm. Well now I live in a subdivision and there is not really an option for a big bonfire, but I have really been craving a s'more…so I decided it was time to whip up some S'more Bars.
Even better I can introduce my niece and nephew to everything yummy about a s'more without having to worry about them around an open flame.

Graham crackers, marshmallows and chocolate…YES Please!!
The bars start with a delicious graham cracker dough, that honestly I literally could eat on it's own without even being cooked. IT IS SO GOOD! Just wait you will see what I am talking about.
Next come the ooey gooey marshmallow layer. For the bars I use marshmallow cream. If you use actual marshmallows they will actually melt into the bar, and you will never even know they were there, and that would be NO GOOD!
For the chocolate I used semi sweet chocolate chips, but you could use milk chocolate, dark chocolate, white chocolate or a combo of any. You could even get a little crazy and use peanut butter chips or even butterscotch chips. Be as crazy as you want!!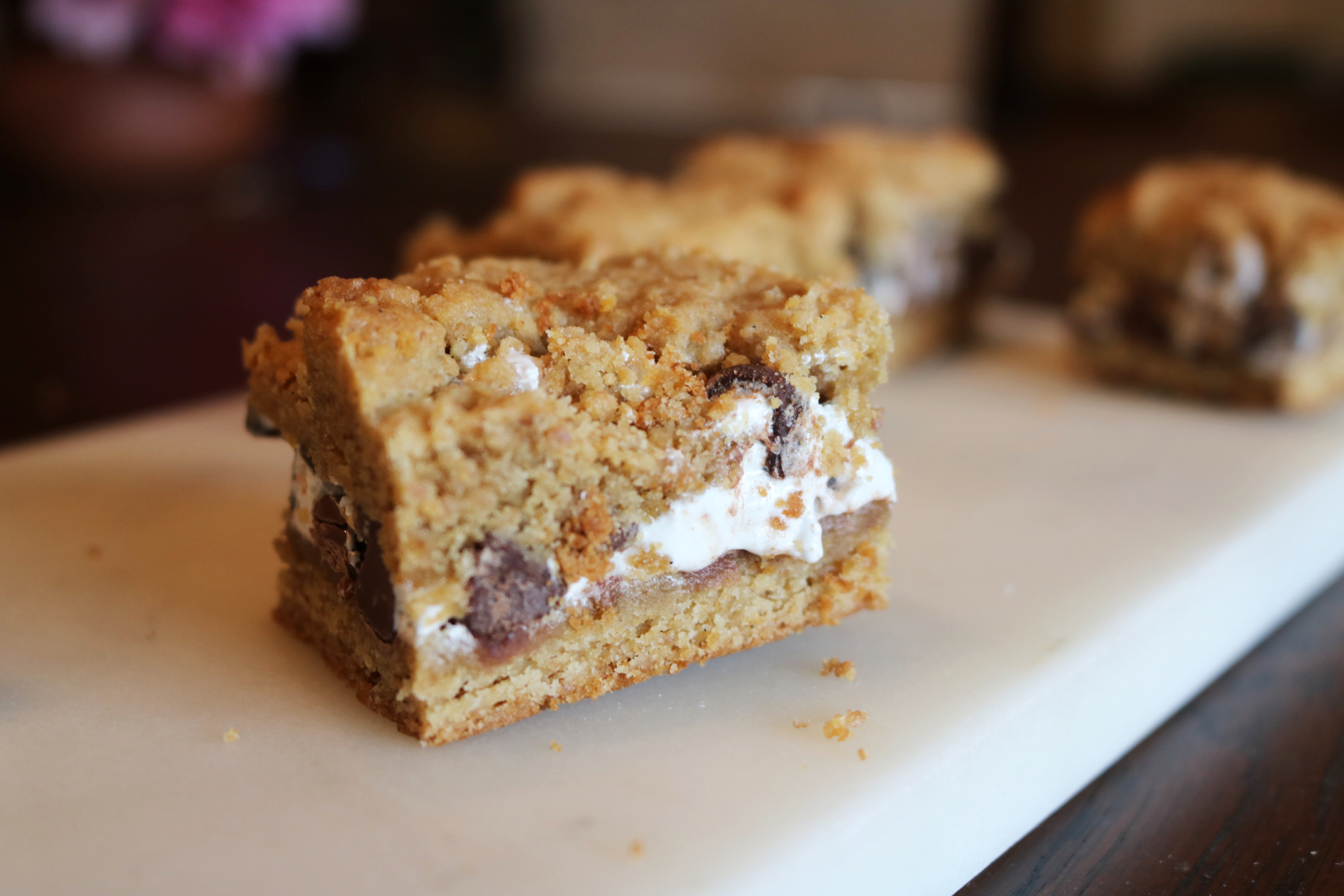 I want to make these NOW!
Chelle Chelle
36 bars
S'more Cookie Bars
Delicious and super easy S'more Bars that bring together all the best this favorite summer treat into a bar that you can enjoy anytime (no fire needed)
15 minPrep Time
30 minCook Time
1 hrTotal Time
Ingredients
2 cups flour
2 cups graham cracker crumbs
1 teaspoon baking powder
1/2 teaspoon salt
1 cup butter, room temperature
1 1/2 cups brown sugar
2 teaspoons vanilla bean extract or vanilla extract
2 eggs, room temperature
2 1/2 -3 cups marshmallow creme
2 cups milk chocolate chips
1/2 cup semi sweet chocolate chips
Directions
Preheat oven to 350
Line a 9x13 pan with parchment paper (or foil), set aside
In a large bowl whisk together flour, graham cracker crumbs, baking powder and salt, set aside
In the bowl of a stand mixer or a second large bowl with a hand mixer, cream together butter and brown sugar until light
Add in vanilla and eggs, mixing until just combined, scraping down the sides as needed
Slowly add in flour mixture, mixing until just combined
Press 3/4 of the mixture into the bottom of the pan in an even layer
Spread marshmallow creme over bottom layer, making sure you get it to the edges
Sprinkle chocolate chips evenly over the marshmallow creme
Drop remaining crust over the top, spreading it out as needed to cover as much as you can
Bake for 30-35 minutes or until top is golden brown and middle is set
Remove and let cool for 10 minutes in pan and then remove to cool completely
Cut into bars to serve
ENJOY!
Notes
Make sure to use marshmallow creme and not marshmallows as they will dissolve in the oven
7.8.1.2
372
https://sparklesnsprouts.com/2017/08/08/smore-cookie-bars/
All images are the property of Sparkles n Sprouts, to use image please contact the webmaster at michelle@sparklesnsprouts.com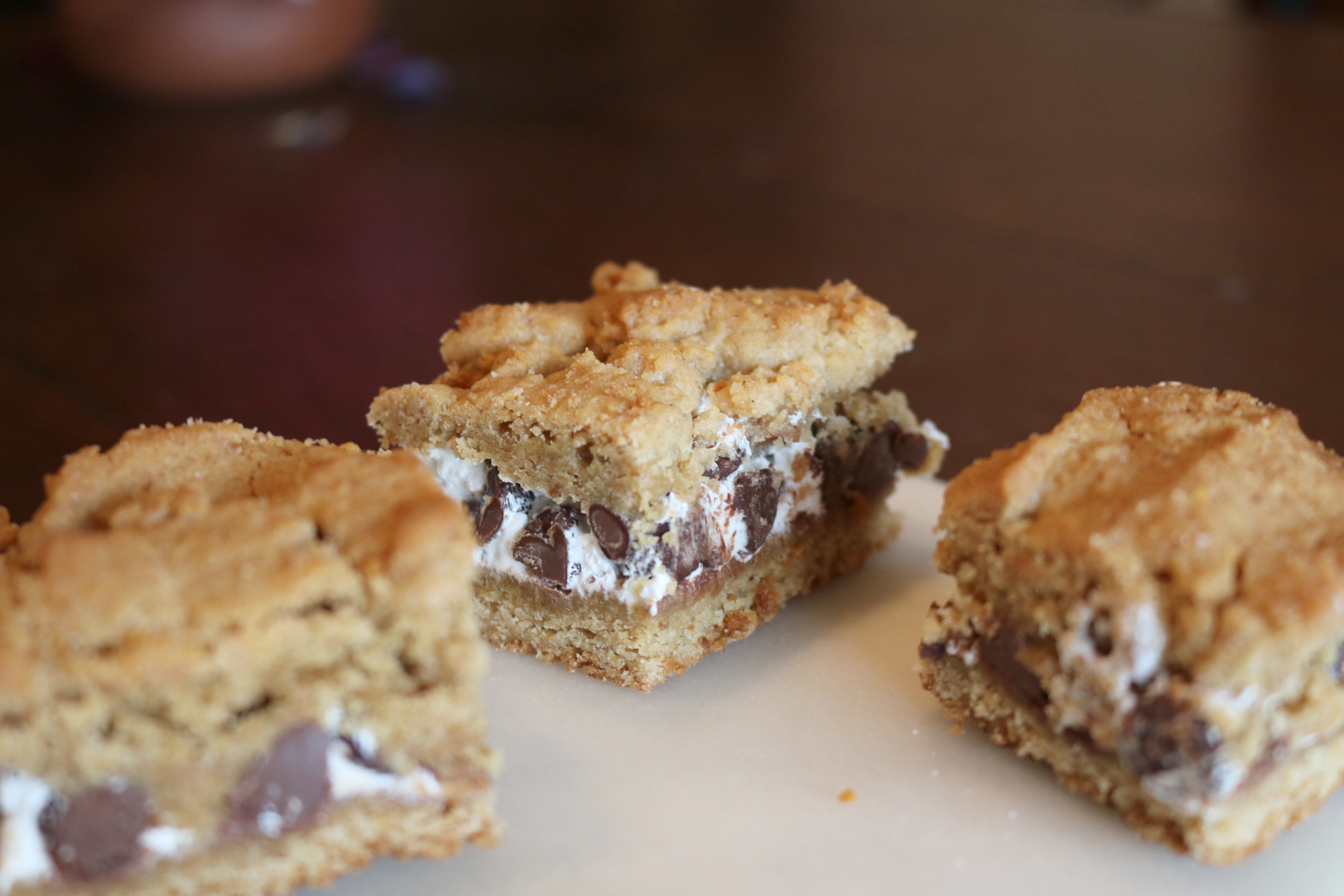 Summer is NOT over…YET!
Enjoy the last weeks of summer and make these S'more Bars. Kids of all ages, and the adults too, will LOVE, LOVE, LOVE these bars.
I think I ma going to go make some more right now.
ENJOY!!