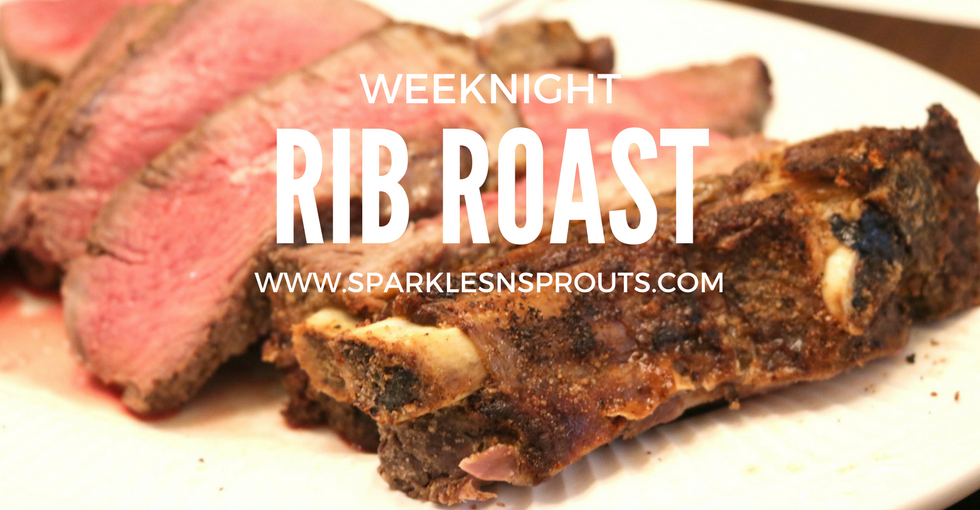 Have you ever been with a group of friends or family and decided to have a little dinner party last minute? Well that happened to me a few weeks back. I was visiting with my God parents and my sis-in-law and we decided to have dinner all together. I had already planned on having my weeknight rib roast so it was no problem to add a few more to the table.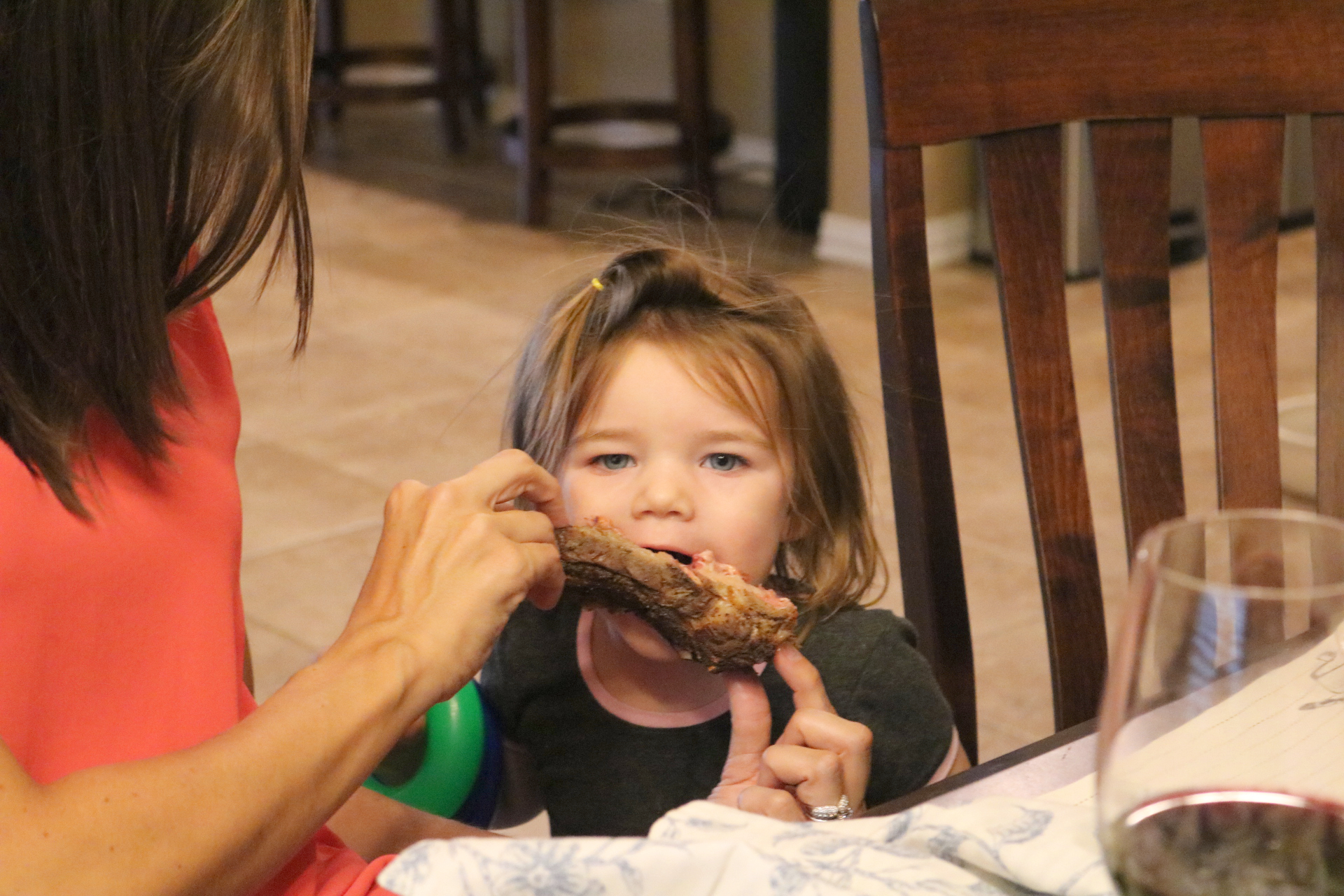 A dinner for everyone
Now I know rib roast is not something you normally make for a quick weeknight dinner, but my dad found it on sale and picked up 2 bone-in rib roasts. One had 2 bones and the other had 1, but was cut very thick on both sides.
My original plan was to only cook the 1 rib roast but we had not frozen the other one so I just added it to the pan. There was going to be 7 adults and 2 toddlers. Now as you tell from the picture above my niece, and nephew (see below) will eat anything so essentially it was 8 adults. The 3 ribs we had were more than enough, we even had a little left over for a sandwich the next day.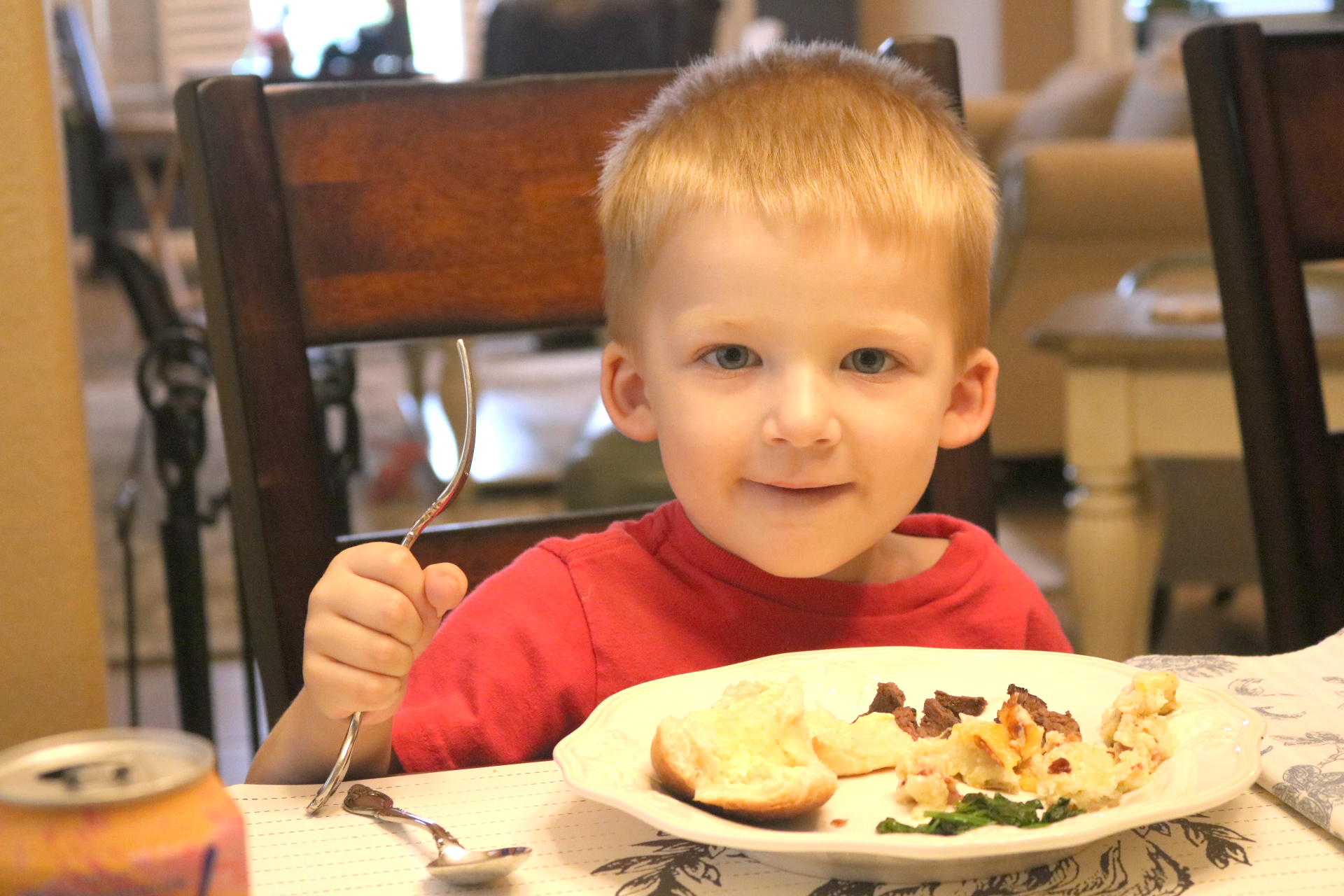 The best part
The nest part about this rib roast is literally you season it and forget it. You just put it in the oven and let it go. It really is that easy, but no one ever believes me. It looks so fancy and like it took all day to make that they think I am lying to them, but I promise it really is that easy.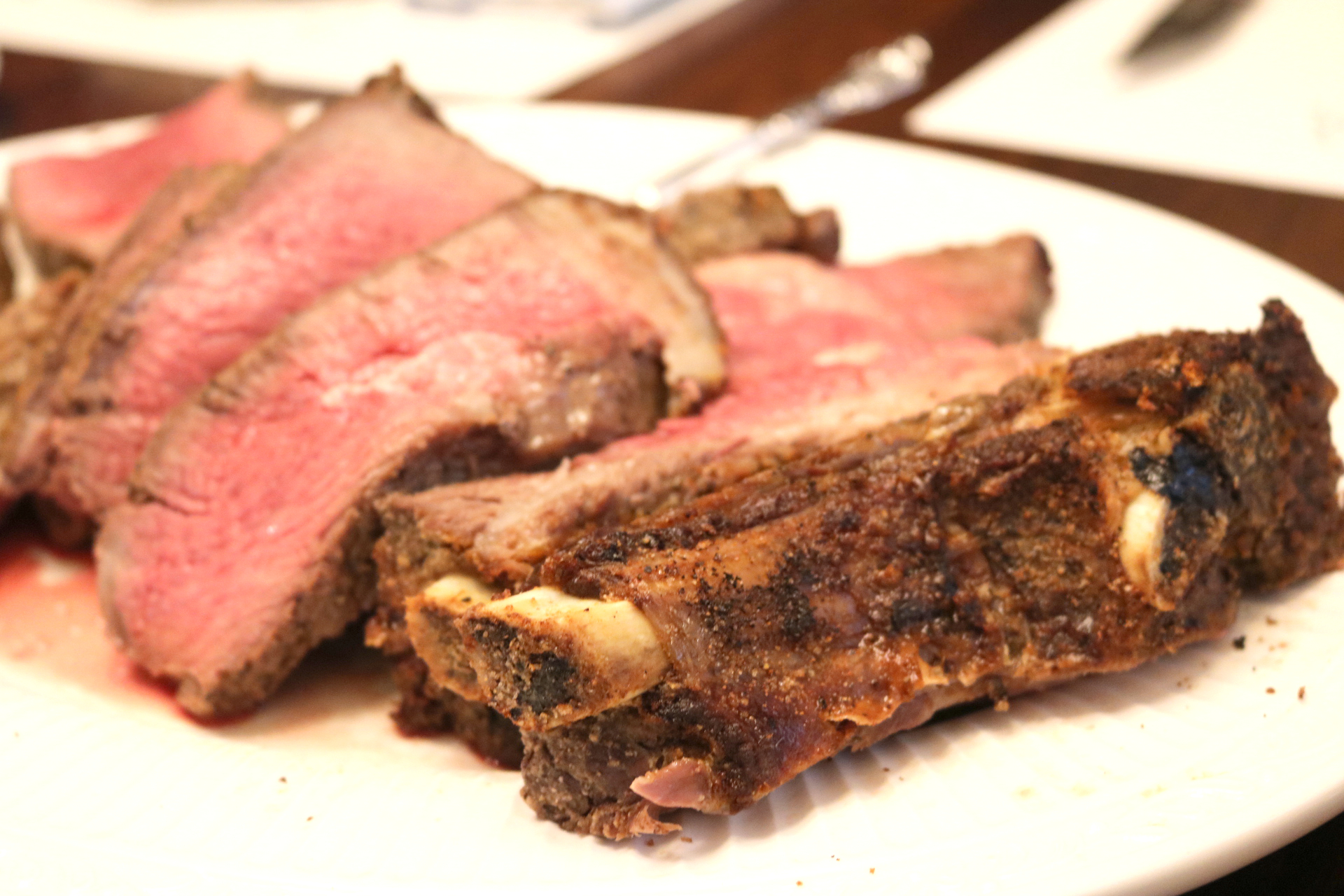 Chelle Chelle & Big Daddy
8-10 Servings
Weeknight Rib Roast
AN EASY STANDING RIB ROAST (PRIME RIB) THAT YOU CAN MAKE FOR A SUPER NICE WEEKNIGHT DINNER OR FOR YOUR NEXT CELEBRATION...TRUST ME THIS IS AN IMPRESSIVE MEAL!
15 minPrep Time
1 hr, 30 Cook Time
2 hrTotal Time
Ingredients
4-5 pound Bone-In Rib Roast (mine had 2 ribs in it) or a thick cut Bone-In Rib Eye
2 tablespoons salt
1 tablespoon pepper
1 tablespoon garlic powder
Directions
Preheat oven to 350
Line a roasting pan with foil and place roasting rack on top of foil
Let roast sit out at room temperature for at least 15 minutes before seasoning
In a small bowl combine salt, pepper and garlic powder
Sprinkle seasoning all over rib roast, making sure to get the ends as well
Place roast, ribs side up, on rack
Place into oven and roast for 1 hour, or until internal temp reached 90-95 degrees
Increase oven temp to 425 and continue roasting for another 15-20 minutes or until internal temp reaches desired temp, keeping in mind it will continue to cook as it rests. I remove mine when it reach 115 degrees for a medium rare roast all the way through.
Remove and let rest for 10 minutes before slicing
Serve with this Easy Horseradish Sauce
ENJOY!
7.8.1.2
376
https://sparklesnsprouts.com/2017/08/07/dinner-party-no-problem/
All images are the property of Sparkles n Sprouts, to use image please contact the webmaster at michelle@sparklesnsprouts.com
Season well
The key to this rib roast is to season it well, so that a delicious crust forms on the outside as it roasts. The seasoning is very simple, but I do rub it on very generously and trust me it makes each bite so, so good.
If you wanted you could use a course steak seasoning, but I really do love my simple salt, pepper and garlic powder combo.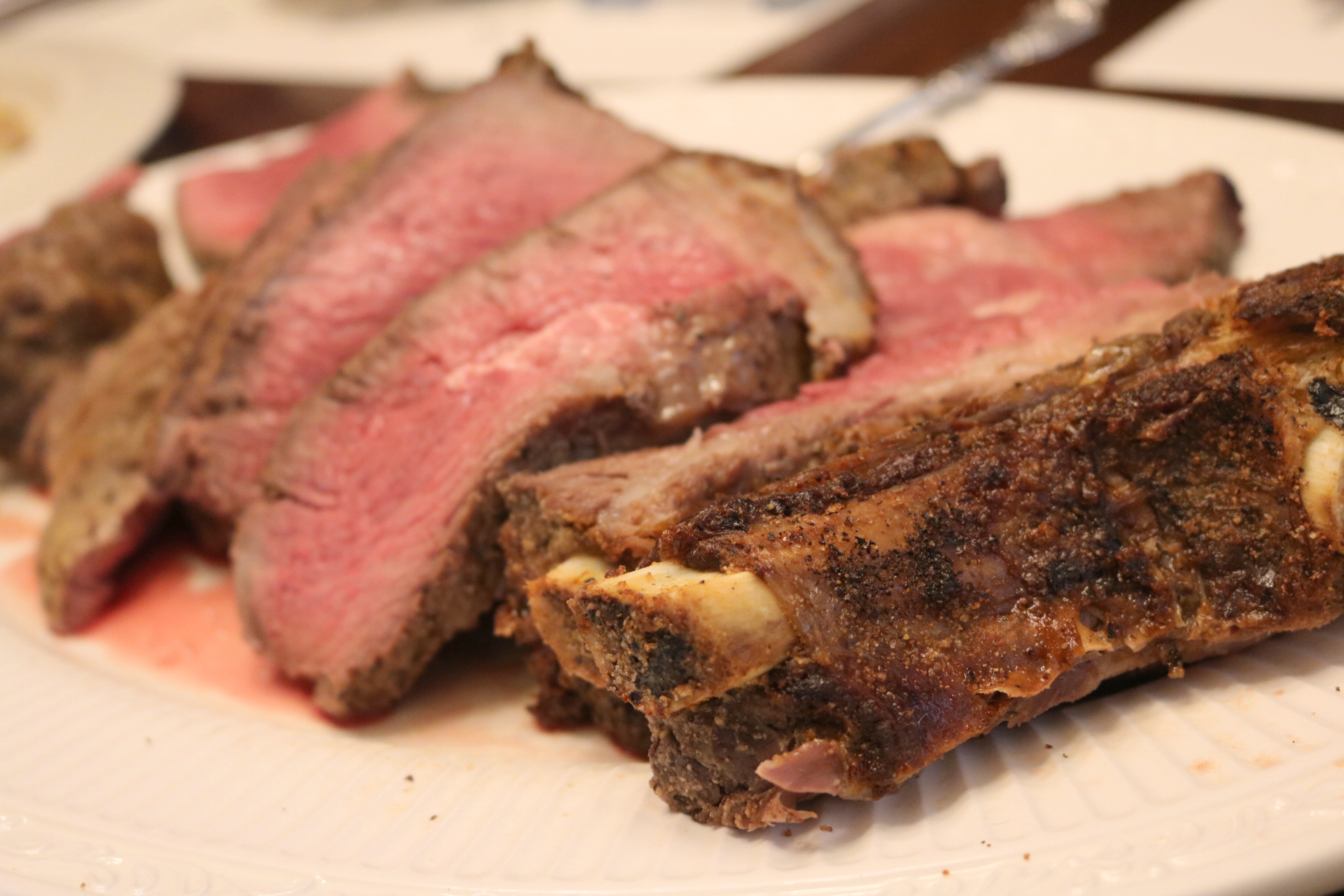 The sides matter too….
As good as this meat is (which by the way how good does it look), the sides are also super important. For this quick dinner party I did a quick Horseradish Sauce, some twice baked potatoes and my sis-in-law did her skillet spinach.
You could also do simple baked potatoes or these Au Gratin Potatoes would be amazing with these Crispy Brussels Sprouts.
Go ahead and call the gang over and have a super fun weeknight dinner party that everyone is sure to remember!!
Make sure and take pics of your rib roast and tag me @sparklesnsprouts!!
Pin this NOW so you never lose this recipe!