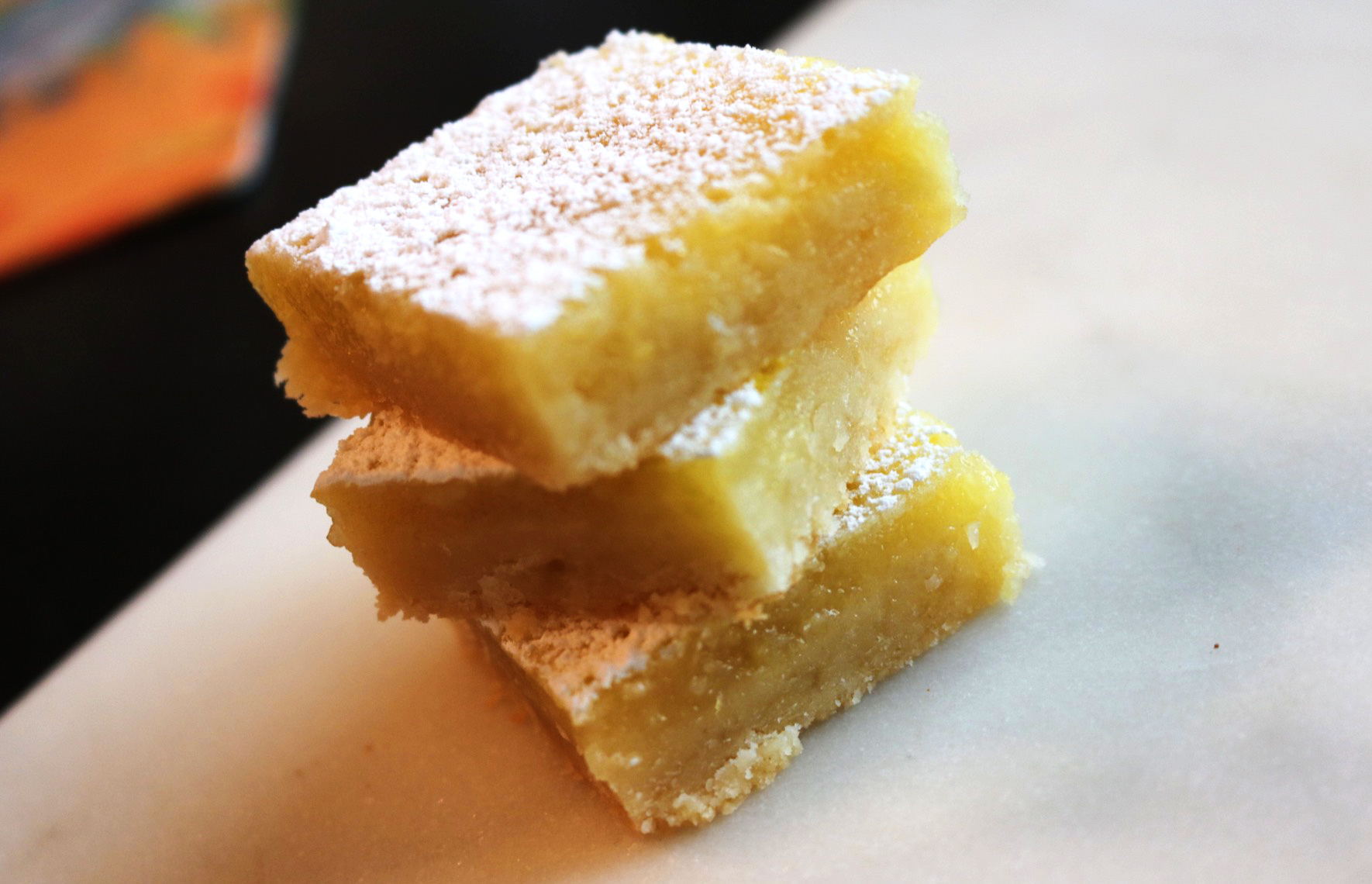 Summer is here . It is time to enjoy friends and family around a BBQ or campfire…or for a fun night in with all those that you love.
For me summer means it is time to indulge a little and these lemon bars are a perfect treat, and even better they are gluten free making it even more perfect for all of our family and friends.
I have several friends who are living a gluten free life, and I am so, so impressed with them, but I know it can sometimes be hard for them when they are out with family and friends to enjoy everything…especially dessert, so I always try to have at least 1 dessert that is gluten free at my get togethers. One of my favorites are these Gluten Free Chocolate, Chocolate Chip Cookies (don't worry they are not just for Christmas) but these new Gluten Free Lemon Bars are definitely a must make.
The crust is very similar to a shortbread crust, it is rich & buttery while the filling is a delicious lemon dream. It is a perfect balance of sweet and tart, making each bite a treat that everyone will love…while being gluten free so everyone can enjoy them!!
MJ
24 bars

Gluten Free Lemon Bars

A gluten free lemon bar that is a perfect summer treat that everyone can enjoy.

40 minCook Time

1 hr, 30 Total Time

Ingredients

-Crust-

1 1/2 cups Gluten free flour

1/2 cup powder sugar

3/4 cup butter, softened

-Filling-

4 large eggs

1 1/2 cups sugar

1 tsp vanilla extract

3/4 cup lemon juice

2 tablespoons cornstarch

1 tablespoon lemon zest, divided

3 tablespoons powder sugar

Directions

Preheat oven to 350

Line a 9x13 pan with parchment paper, set aside

In a medium bowl stir together gluten free flour, powder sugar and butter until well combined

Press into bottom of prepared pan

Bake crust for 20 minutes, or until just turning a light brown

While crust is baking, prepare the filling

In a large bowl beat together eggs & sugar until light and fluffy

Add in vanilla, lemon juice, cornstarch and 1/2 of the lemon zest until well combined

Pour mixture over warm crust

Place back into oven and bake for an additional 15-20 minutes or until filling is set

Remove from oven and let cool for 10 minutes in pan, and then remove from pan and let cool completely

Once bars are cooled completely sprinkle remaining powder sugar over the top with the remaining lemon zest

Serve & ENJOY!

**Store in the refrigerator until ready to serve

Notes

Each bar is 8 WW Smart Points:

Nutritional Info Calories 158 - Calories from Fat 54 - Total Fat 6 g - Saturated Fat 3.2 g - Monounsaturated Fat 2.7 g - Polyunsaturated Fat 0.6 g - Trans Fat 0 g - Cholesterol 50 g - Sodium 52 mg - Potassium 23 mg - Total Carbohydrate 23 g - Dietary Fiber 0 g - Sugars 17 g - Protein 1 g - Vitamin A 4 % - Vitamin C 5 % - Calcium 1 % - Iron 0 %

7.8.1.2

149

https://sparklesnsprouts.com/2017/07/17/gluten-free-lemon-bars/

All images are the property of Sparkles n Sprouts, to use image please contact the webmaster at michelle@sparklesnsprouts.com
The Hubby is not a huge lemon fan. Over time I have tried to sneak lemon in on some dishes, but for the most part he will do whatever he can to stay away from anything lemon. The first time I made these bars they were for his office. A few of the ladies are gluten free, and I knew they would love them, but I was very surprised to find that The Hubby loved them too. He said that tried one, before everyone ate them all up, and he really liked them and even asked me when I was going to be making them again…to tell you I was surprised is an understatement, I was in shock.
Now he still won't take lemon in his tea or drizzle lemon on his salmon, but at least he likes my lemon bars…it's a a start.
Jump into summer (& maybe a pool to cool off) and enjoy these Gluten Free Lemon Bars